Quick & Easy: Is Dominatrix Simulator worth it?
Absolutely unique concept
Great for exploring your sexuality
Good graphics
HOT as hell goddesses
It's definitely not for everyone
Could feature more nudity (it's a porn game after all)
Welcome to the world of Dominatrix Simulator, an immersive and engaging adult game unlike any other. With stunning visuals and an engaging storyline, this game stands out from the crowd and offers an unforgettable experience. Get ready to explore this kinky world and get incredibly turned on as you discover the secrets of Dominatrix Simulator.
Good things come to those who obey!
What kind of a game is Dominatrix Simulator?
Dominatrix Simulator is a VR sex simulator developed by Orcus Games and released in 2015. I'll tell you straight up - This game isn't for you unless you're into dominance and submission. The game puts you in the submissive role where you are punished and given commands. Basically, you grovel and worship before a digital dominatrix who teases you with her big tits and long leather whip. The goal of the game is to create a fun and satisfying experience for the submissive. The game is also great if you want to explore your sexuality in a safe environment! This is one of the best games I have reviewed so far and for a good reason! It's just so unique!
What kind of content and storyline does Dominatrix Simulator offer?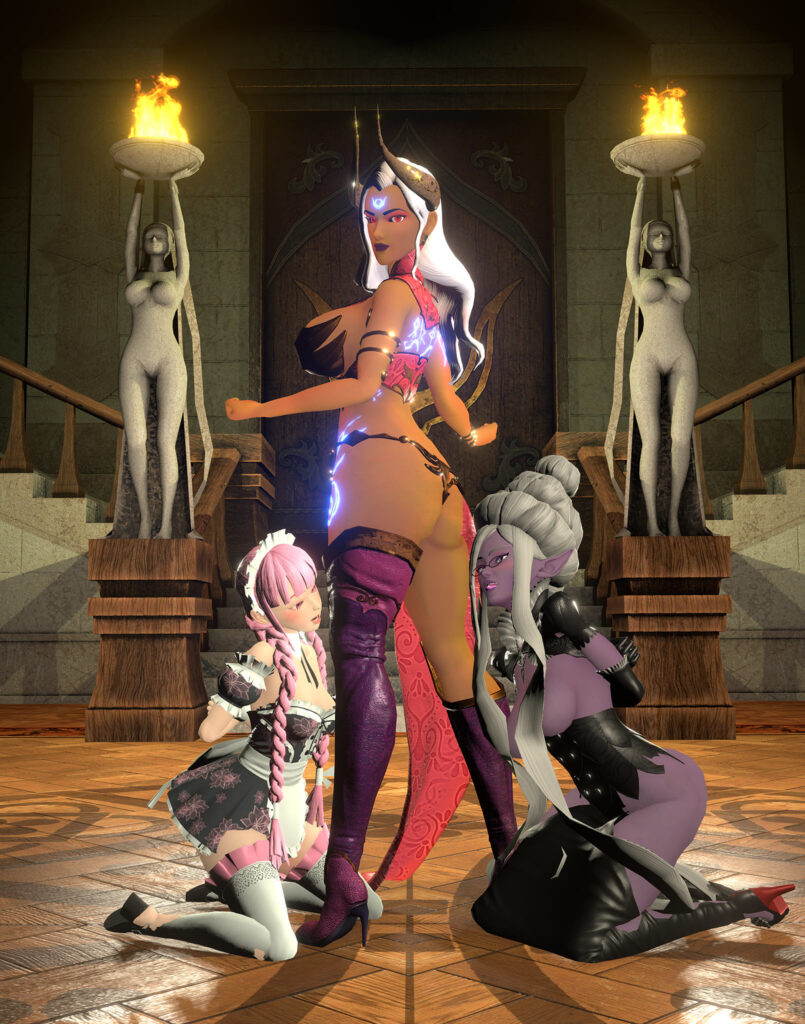 In this game, you're a submissive slave trapped in a mysterious temple where hot, nasty goddesses do whatever they want with you. The gameplay is based on the commands you receive and how well you execute them. Be careful, your choices will affect the storyline and the dialogue! But trust me, you will obey them.
At different levels, you'll meet different Goddesses, and they all come with their own personalities and looks, all asking for different things! You just have to be a good boy - please them and keep on playing. It doesn't end with different goddesses, though. There are also different rooms within the temple you're trapped in, all with their own styles. The only question that remains is - Will you play naughty or nice? You can always try both and see what happens.
A shout-out here for the voice acting in Dominatrix Simulator – it's fantastic! It is sexy, firm, and appealing at the same time - it sounds natural and adds a lot to the overall experience. Great job guys!
Great job, 4.5/5 from me!
The interaction in Dominatrix Simulator
Yes, Dominatrix Simulator has a great degree of interaction! After all, interaction is the most important thing here.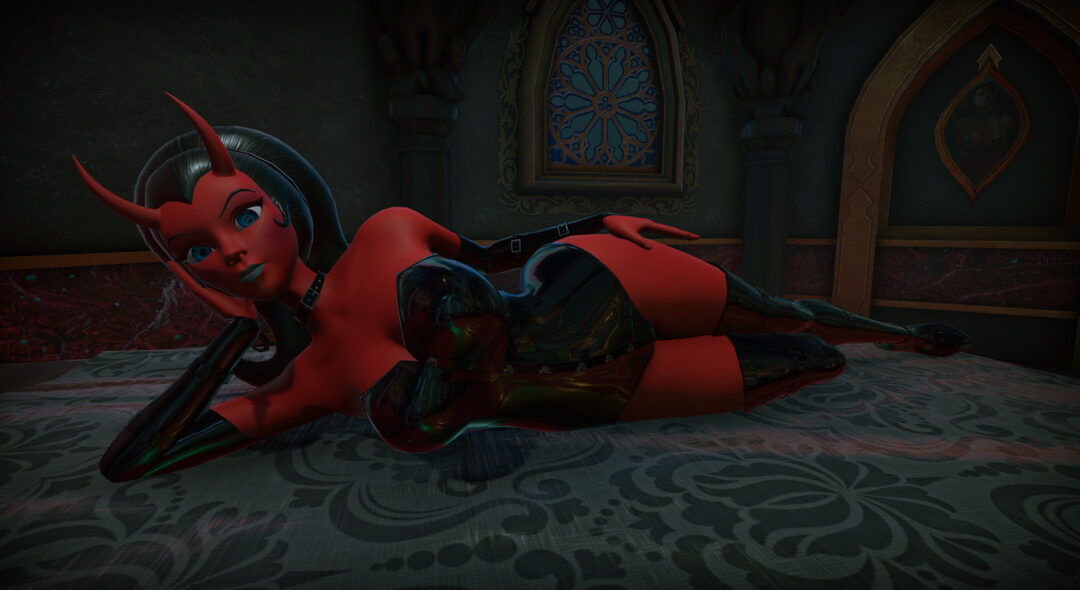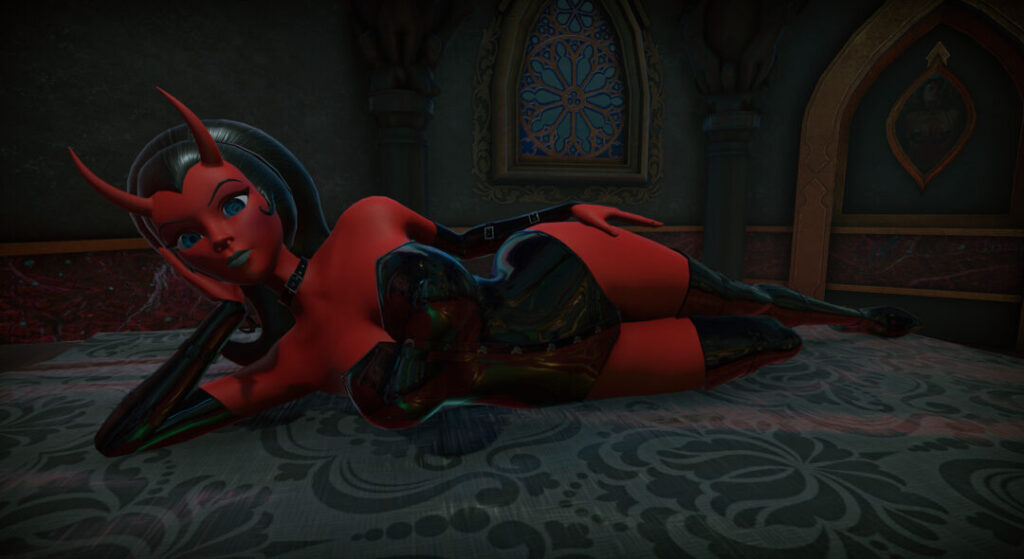 The game tracks your movements and position through your headset while asking you to do certain things with your body. It's basically this: your goddess asks you to kiss her feet, and you get down on your knees and do it! If you don't, your beautiful master will be disappointed by your disobedience and punish you. There's a lot of physical stuff in this game, and I think the way it's implemented is perfect for this kind of game. It's highly immersive because you need to do real-life things using your body in order to please your hot digital master and move on.
Amazing and immersive beyond belief - clean 5/5!
The graphics of Dominatrix Simulator
In a nutshell - the graphics of Dominatrix Simulator are good! The game is detailed and it uses dynamic lighting and shadows to create an even more realistic experience. There is a good deal of detail on the characters and you can tell straight away that the developer paid attention to their looks!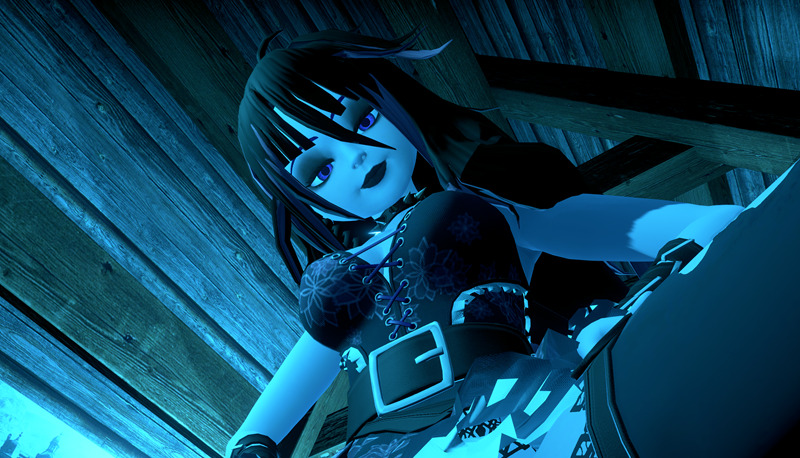 However, the graphics are not top-notch or hyper-realistic like you get in Holodexxx, for example. On the other hand they don't need to be, as they are not the focal point of the game. Rather than trying to offer realistic 3D experiences, the developer makes you feel dominated by a true goddess! And boy, she is really good at what she does!
In terms of performance, everything works fine and the game runs with no issues - It's really well-optimized for every setup. Despite the fact that the Dominatrix characters aren't too realistic, they're still well-made, and they look smoking hot!
I'll rate the graphics 4.5/5.
What are the system requirements for Dominatrix Simulator?
The system requirements for Dominatrix Simulator are these: 
Minimum Requirements:
Operating System: Windows 7/8/10

Processor: Intel Core i5-4590 or AMD FX 8350

Memory: 8 GB RAM

Graphics: NVIDIA GeForce GTX 970 or AMD Radeon R9 290

DirectX: Version 11

Storage: 15 GB available space
Recommended Requirements:
Operating System: Windows 10

Processor: Intel Core i7-7700K or AMD Ryzen 7 1700X

Memory: 16 GB RAM

Graphics: NVIDIA GeForce GTX 1080 or AMD Radeon RX Vega 56

DirectX: Version 12

Storage: 20 GB available space
Does Dominatrix Simulator provide an erotic experience?
I'll say it again, this game can only make sense to people who enjoy obeying and being treated as subordinates.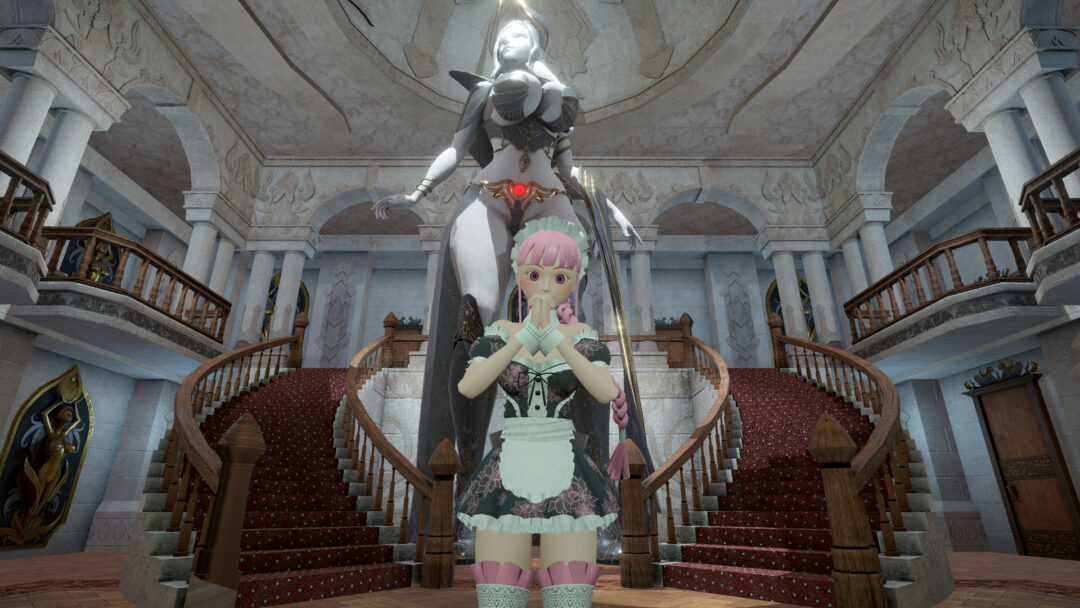 Nudity isn't much in this game, and sexual dialogue almost doesn't exist. And maybe it doesn't even need to as the game is not at all about that. On the other hand, it can satisfy a very complex fetish. In Dominatrix Simulator, you have to do things with your own body so it can feel sexy and arousing for the player. The game has a well-written and intricate dialogue. You can't help but obey the goddesses - they're really convincing and quite happy to have you obey them. As a slave, you'll follow orders and put your goddesses' satisfaction in first place, no doubt about that!
5/5!
Conclusion - Do we recommend Dominatrix Simulator?
Oh, definitely! Say you want to explore your submissive side. In that case, this game is more than worth it! It's a unique game, so if you like the idea (or just want to explore a little), you have to try it!
You can find it on ⇒ VRPorn.Com (Premium) with 13 more VR Porn games, including Virt-a-mate (⇒ Review), Holodexxx, and MANY MORE!
Dominatrix Simulator: Our Summary
Dominatrix Simulator is A UNIQUE VR Porn Game for the submissive! Please your SEXY GODDESS and MASTER! Good things come to those who obey!