Quick overview: Is VirtualRealPorn worth it?
Stunning visuals
More than 700 exclusive VR porn videos
Teledildonics integration
2 new releases every week
You get a lot for a low price
There's no trial
No access to sister sites
What is VirtualRealPorn's website like?
The most awesome part of their homepage is a section called "VirtualRealPorn recommends you." This is the team's selection of videos that best represent VirtualRealPorn. I admit I spent more time than I expected checking out these videos. Thanks for the recommendations, guys!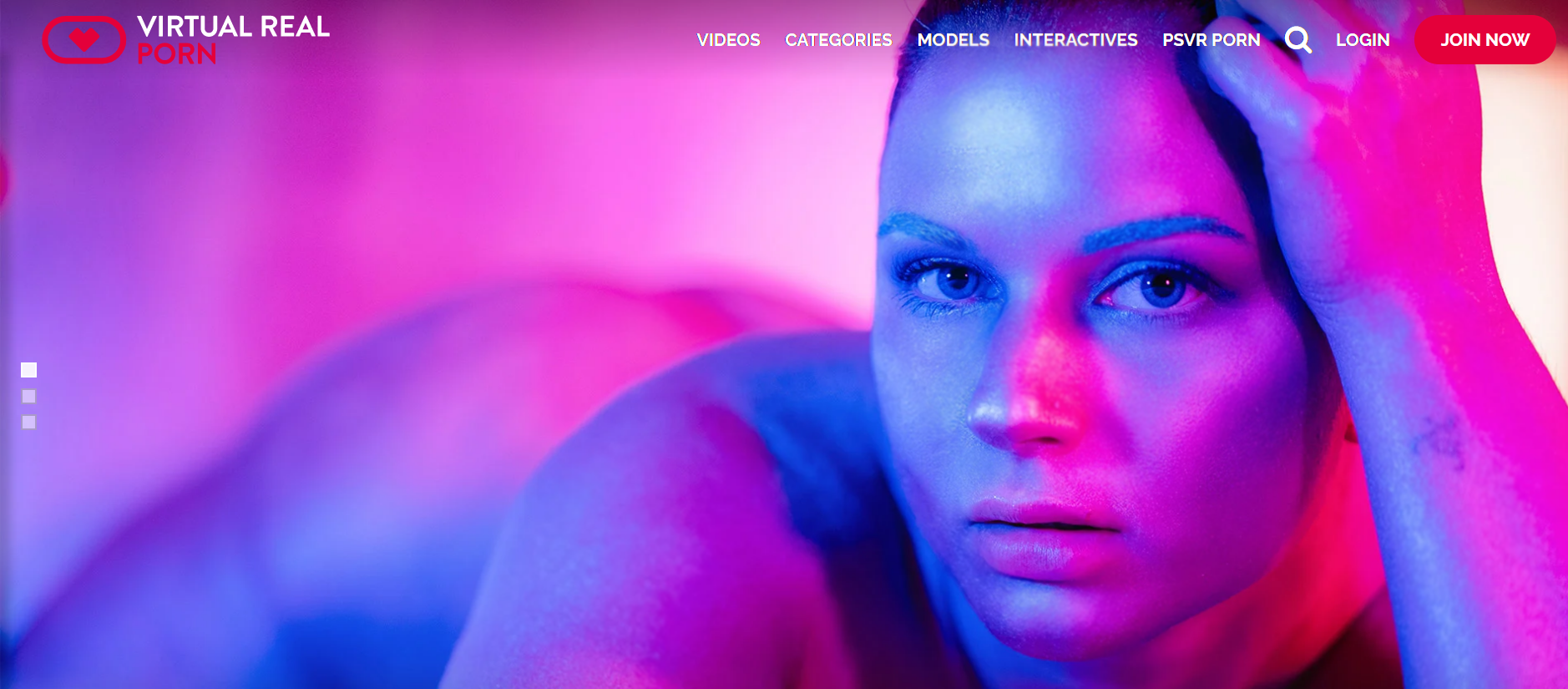 That's not the only selection of videos on the homepage, though. You can also browse through "New VR Porn Videos" and check out the "VirtualRealPorn Models" section. All in all, very easy to navigate and find exactly what you need.
What kind of content can you find on VirtualRealPorn?
Quality and quantity – VirtualRealPorn gives you both! They're not afraid to experiment with different genres, which means you'll find a unique and diverse selection of videos on their site. You won't find content like this anywhere else! They've got everything from softcore to hardcore and even put their own twist on common themes like Christmas. Getting bored with VirtualRealPorn is not an option.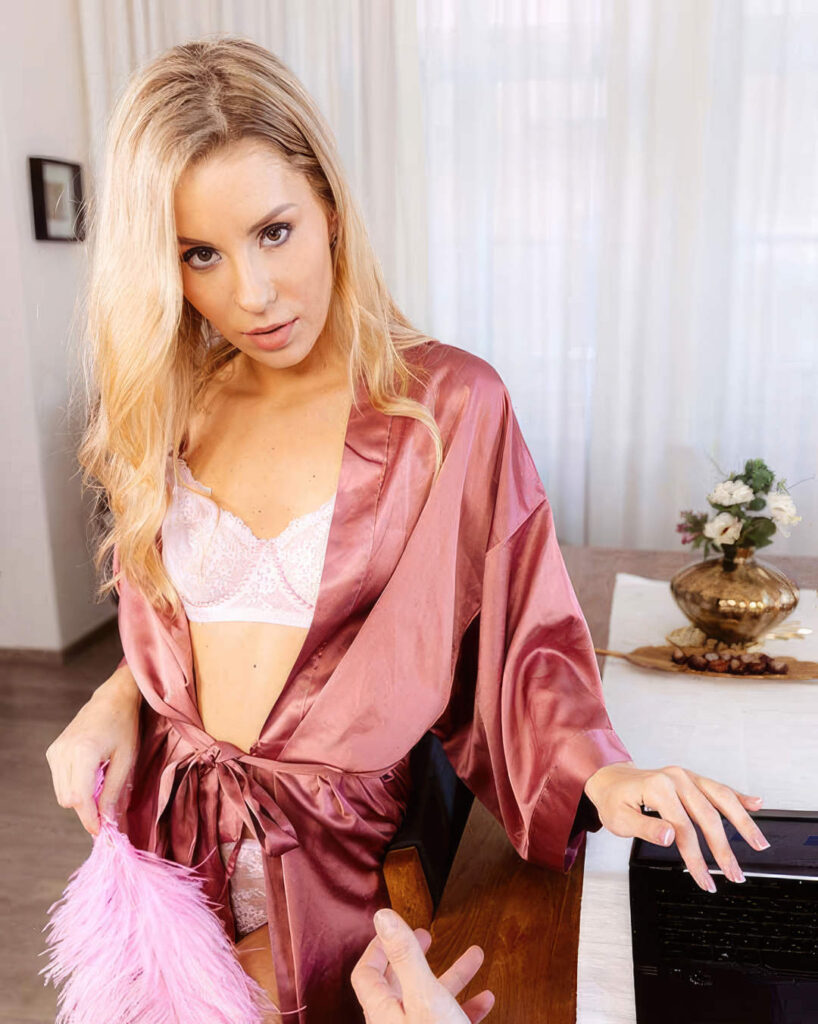 VirtualRealPorn has an impressive collection of videos that cater to a variety of tastes and preferences. From conventional to unconventional categories, they've got it all. Want to put it in a ⇒ big ass or between the ⇒ big tits of a beautiful pornstar? ⇒ BBW maybe? What about some ⇒ fetish VR Porn? Are you looking for an outright orgy? Do you want some sensual ⇒ softcore? Man, there's nothing these guys won't give you! 
And if you're looking for a more immersive experience, their ⇒ interactive VR Porn videos are simply amazing. With video synchronization and Kiiroo teledildonics, it's the closest thing you'll get to the real deal with a pornstar. Just make sure you have a compatible ⇒ sex toy and the Feelconnect app to take your experience to the next level.
You've got killer content here! Nothing to complain about. It's a 5/5 from me!
Does VirtualRealPorn have a good variety of models and scenes?
You'll find everything from ⇒ lesbian, ⇒ MILF, ⇒ Ebony, ⇒ Asian, ⇒ Latina, ⇒ teen, ⇒ cosplay, ⇒ orgy, and so much more on VirtualRealPorn. With such a wide selection, it's outright impossible not to become an instant fan. Plus, they have a ton of videos for each category, and I don't say this lightly: These are some of the best-produced videos I've ever watched! Plus, they keep pumping out 2 new releases every week!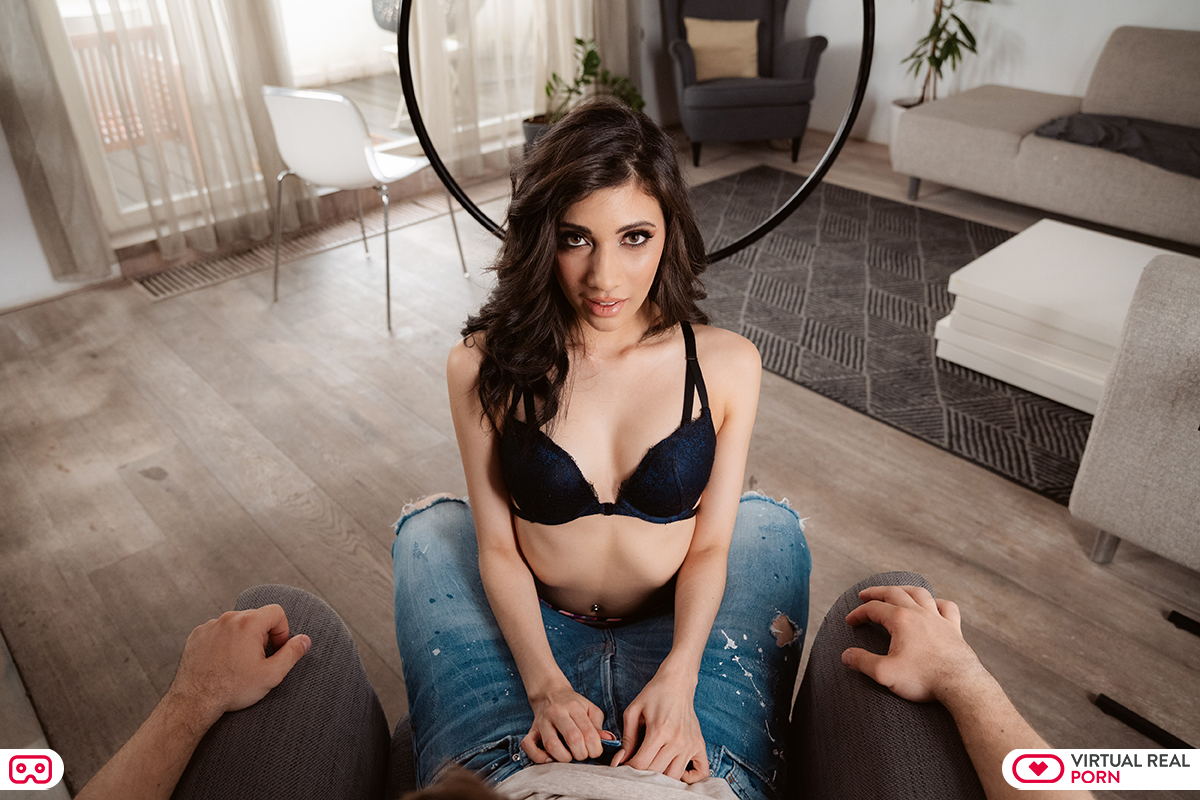 VirtualRealPorn doesn't just offer exceptional video quality but also boasts a diverse and unique selection of over 300 talented pornstars. You'll recognize industry gems like Chloe Lamour, Angel Wicky, Cherry Kiss, and more. These girls are sure to get your heart racing! Whether you prefer submissive or dominant, sensual or hardcore, lesbian or straight, you'll find all kinds of hot stuff here. Just sit back, relax, and choose the one that suits your fancy. She'll take care of the rest!
An easy 5/5 from me.
The audio and visual quality of VirtualRealPorn
VirtualRealPorn produces some of the highest quality videos in the industry, with resolutions up to 8K! Their videos are 3D and offer a 360 or 180-degree field of view with binaural sound, all at 60 frames per second. The editing, camera positioning, and scale have all improved, creating an immersive viewing experience. Their post-production adjustments are simply stunning, from lighting corrections to set locations.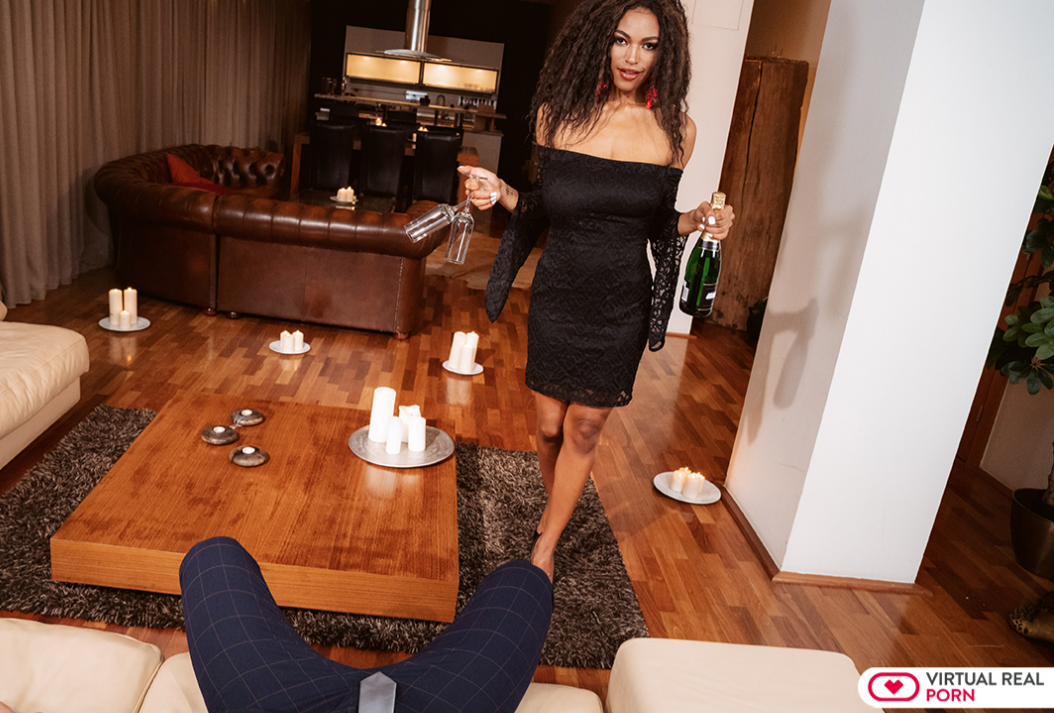 The sound quality at VirtualRealPorn is simply outstanding. The team puts a lot of effort into making everything sound perfect and natural, from every moan to every word spoken. It's like having your favorite pornstar whispering in your ear, encouraging you and maybe even rewarding you. It's experiences like this that make VR porn so amazing - it feels like it's straight out of your wildest fantasies, and you'll be completely immersed in the scene before you even realize it.
This is one dedicated team right here, and they get 4.5/5 from me.
Which headsets does VirtualRealPorn support?
Their virtual reality videos are available on every platform and VR headset. You can watch your favorite VR sex scenes on ⇒ Google Cardboard, ⇒ Samsung GearVR, ⇒ Google Daydream, ⇒ HTC Vive, and ⇒ Mixed Reality. Also, they support the Oculus series such as ⇒ Rift, ⇒ Quest, and ⇒ Quest 2. VirtualRealPorn was actually the first VR streaming platform to offer adult content on ⇒ PSVR!
Of course, if you have any doubts about how to set up your device to watch VR Porn, check out our  ⇒ Guides on How To Watch VR Porn on every device!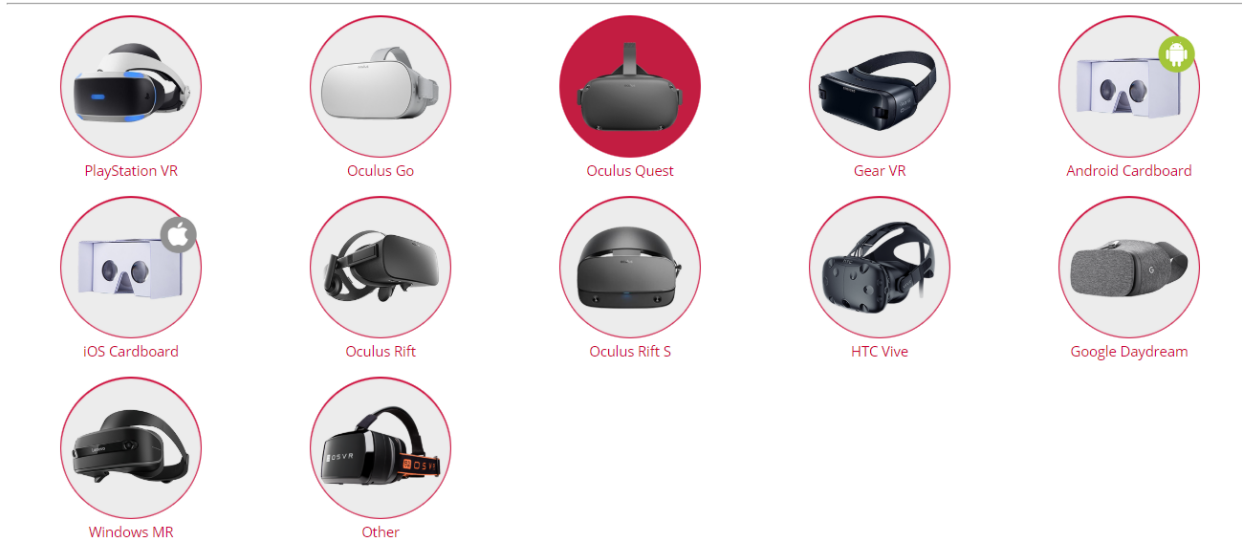 You should check out their dedicated VR porn app, VirtualRealPlayer. It's available for multiple devices, and it works amazingly well.
To make things even better, VirtualRealPorn is compatible with many super-interesting ⇒ sex toys that allow to really push your VR Porn game to its absolute limit. 
The user experience on VirtualRealPorn is top-notch! Navigation is a breeze, with an intuitive layout and easy-to-use filters. The Videos page offers advanced sorting and filtering options, including "The Best", "Most Viewed", "Top Rated", and "Hottest videos". Plus, the "Interactives" page features only VR sex toys integration videos like Kiiroo, while the "Model" page showcases the talent on the site and allows you to filter them too. And if you're looking for something specific, just use the universal search button at the top of the page to find it in seconds! With such great features and organization, you'll be able to find exactly what you're looking for in no time!

The Support option at the bottom of the home page provides guides on watching VR porn using different types of VR Headsets, including Oculus Quest, Meta and Meta Quest 2, Oculus Rift, Daydream, PSVR, Samsung GearVR, and any other possible question you may have about your VirtualRealPorn experience.
For design and user experience, I give VirtualRealPorn 4.5/5.
VirtualRealPorn subscription cost – Is it worth the money?
Let's talk about price-performance. There are four types of memberships at VirtualRealPorn. Streaming and downloading are unlimited!
1-Month Subscription  for 9.95€/month;
3-Months Subscription for 9.31€/month;
1-Year Subscription for 5.82€/month;
Lifetime Subscription for 199.00€.

There are always alternatives for porn you need to pay for, but keep in mind that free VR porn is always low quality. 
There's always a deal going on at VirtualRealPorn, so check their prices; maybe you're lucky today!
Conclusion: Do we recommend VirtualRealPorn?
In addition to surviving wave after wave of new VR porn sites, VirtualRealPorn has expanded its offering. New interactive experiences are constantly coming out!
We will be seeing VirtualRealPorn around for a long time! I'm sure of that.
After all, they are still one of the best value-for-money services out there.
VirtualRealPorn: Our Summary
VirtualRealPorn is a VR porn site that offers more than 700 exclusive VR porn videos, 820+ library of XXX VR videos, and 2 new releases every week. It has stunning visuals, teledildonics integration, and an amazing variety of categories.