Big Dick VR Porn is an amazing experience! Strap your headset on and fuck the most amazing chicks with your massive cock! 
#10: Games To Play In The Dark
⇒ Dark Room VR (Review) with Kama Oxi!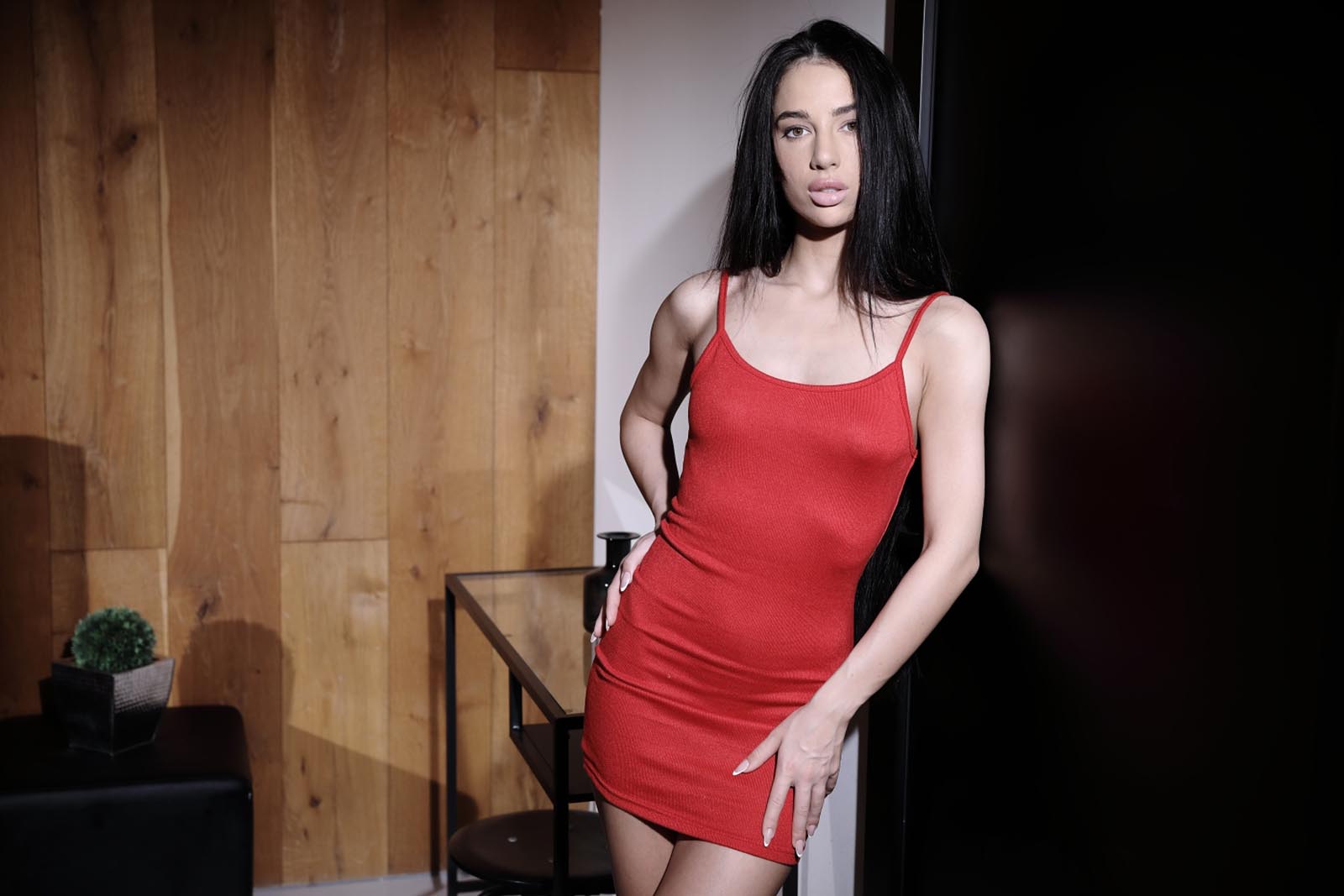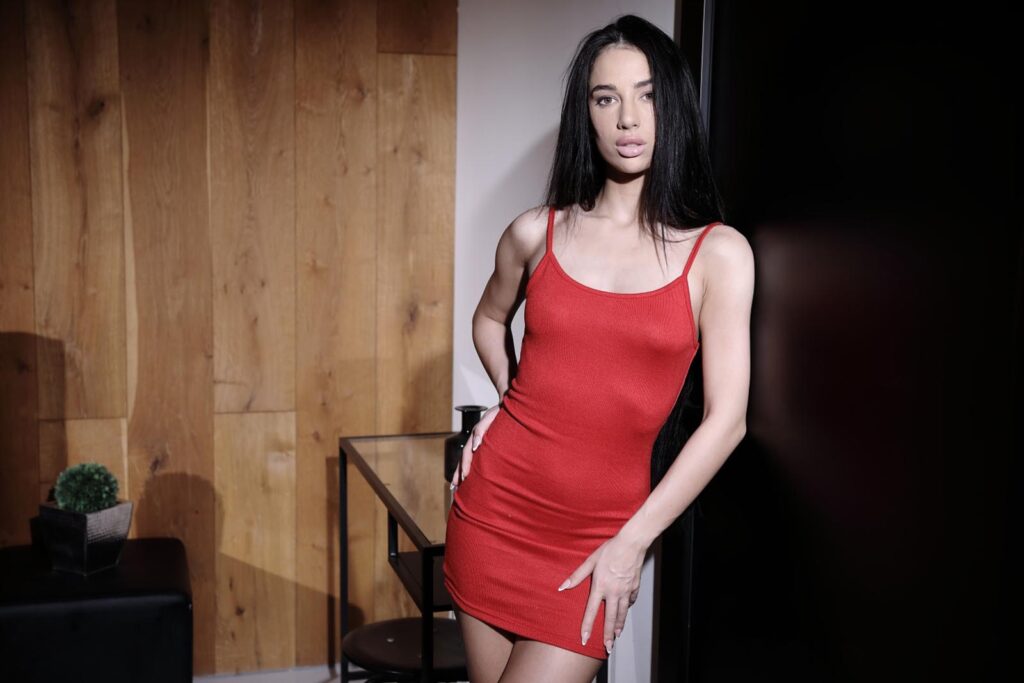 Kama Oxi VR is the most popular student on campus. She goes to the best parties, dates the hottest guys, and gets attention everywhere she goes. So she likes spending time with you at home. After being bombarded with lustful stares and pick-up attempts for years, it feels good to be with you. It was cute and a nice change of pace when you asked her to stay in for the game night. Kama had no idea that you wanted to get into her pants as much as any guy on campus, and you were a bit of a freak too. Your toys hint at some pretty kinky fetishes. Here, you pick out a sexy white lingerie outfit for your stepsister to go with your collar and leash.
⇒ TmwVRnet (Review) with Rebecca Volpetti!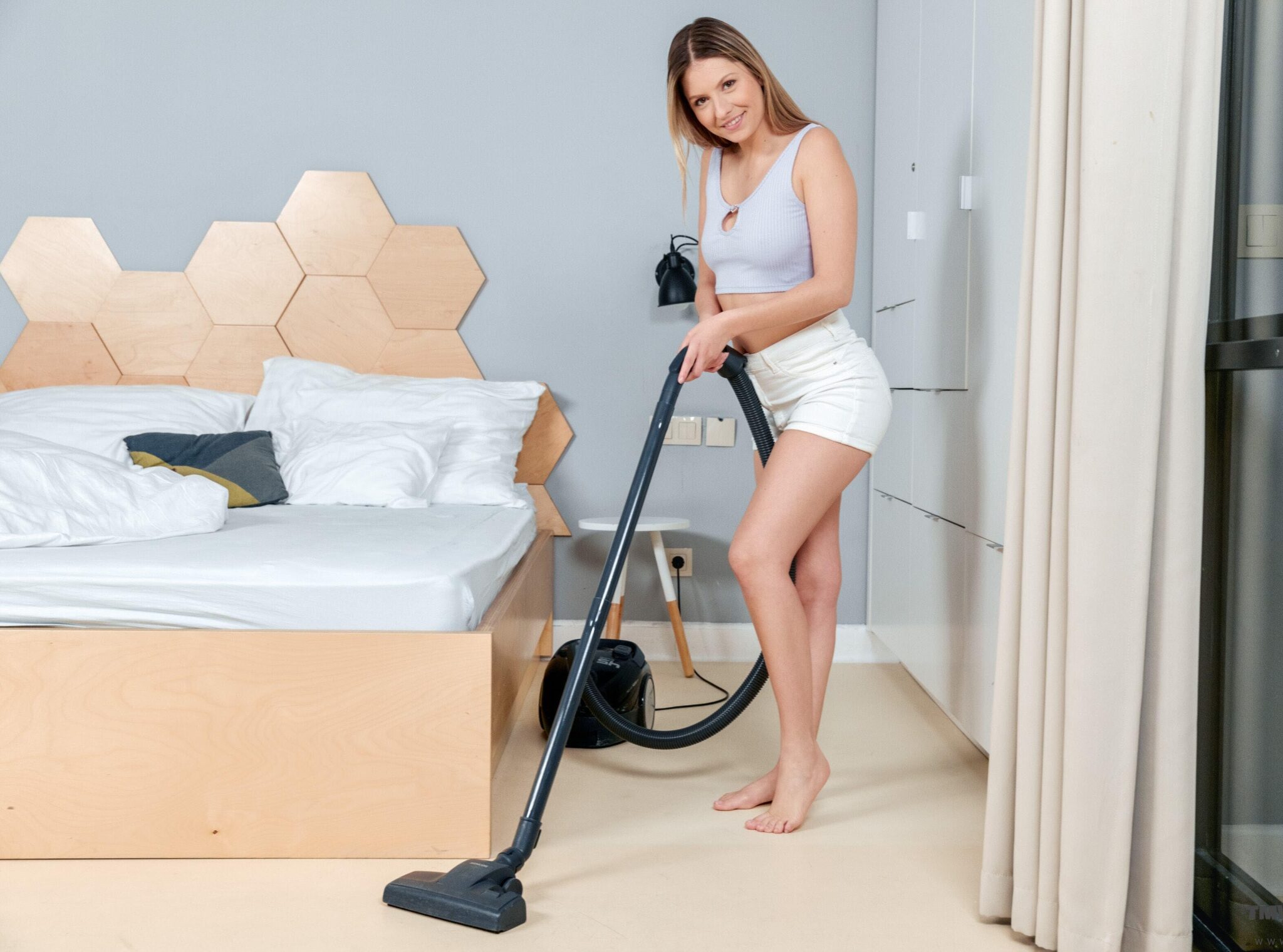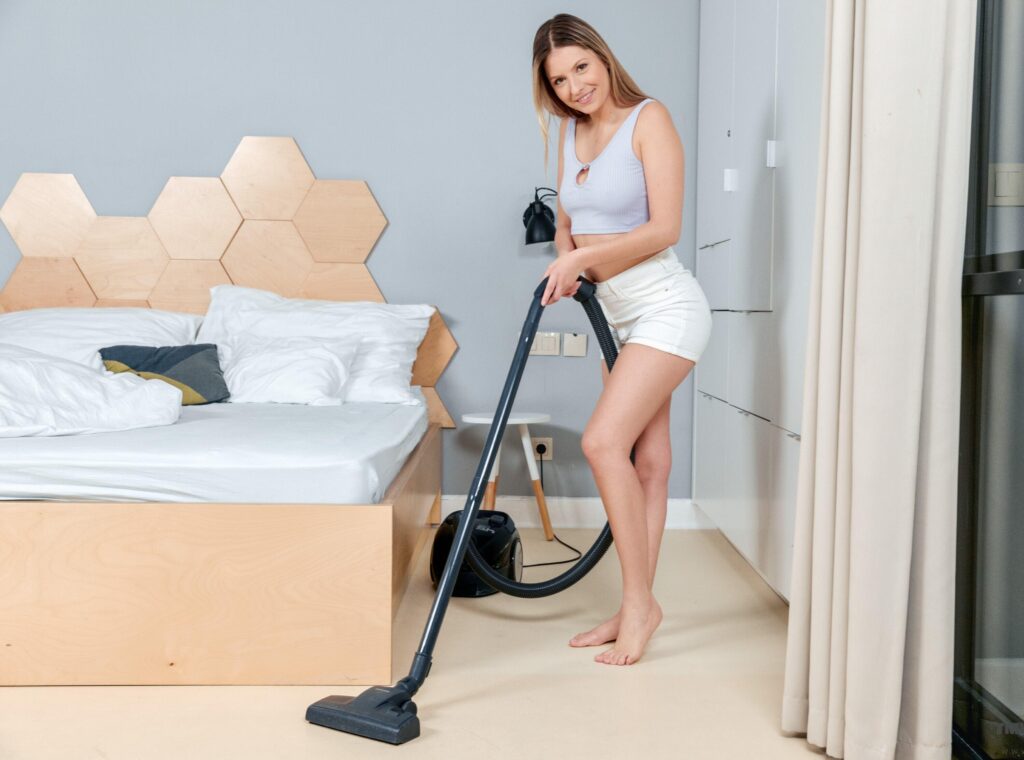 Rebecca Volpetti looks after the flat while her boyfriend (you) is at work. She's vacuuming the flat when she suddenly feels the desire to have sex. Other than the vacuum cleaner, she doesn't have anything else. It can't stop Rebecca Volpetti from getting satisfaction, so she takes off her shorts and starts caressing her pussy. You walk in just in time to be surprised and a little shocked. Rebecca Volpetti convinces you that she only dreams about your hard dick.
#8: Sexy Cheerleader Scarlett Cheers For Big Cock
⇒ Lethal Hardcore VR (Review) with Scarlett Alexis!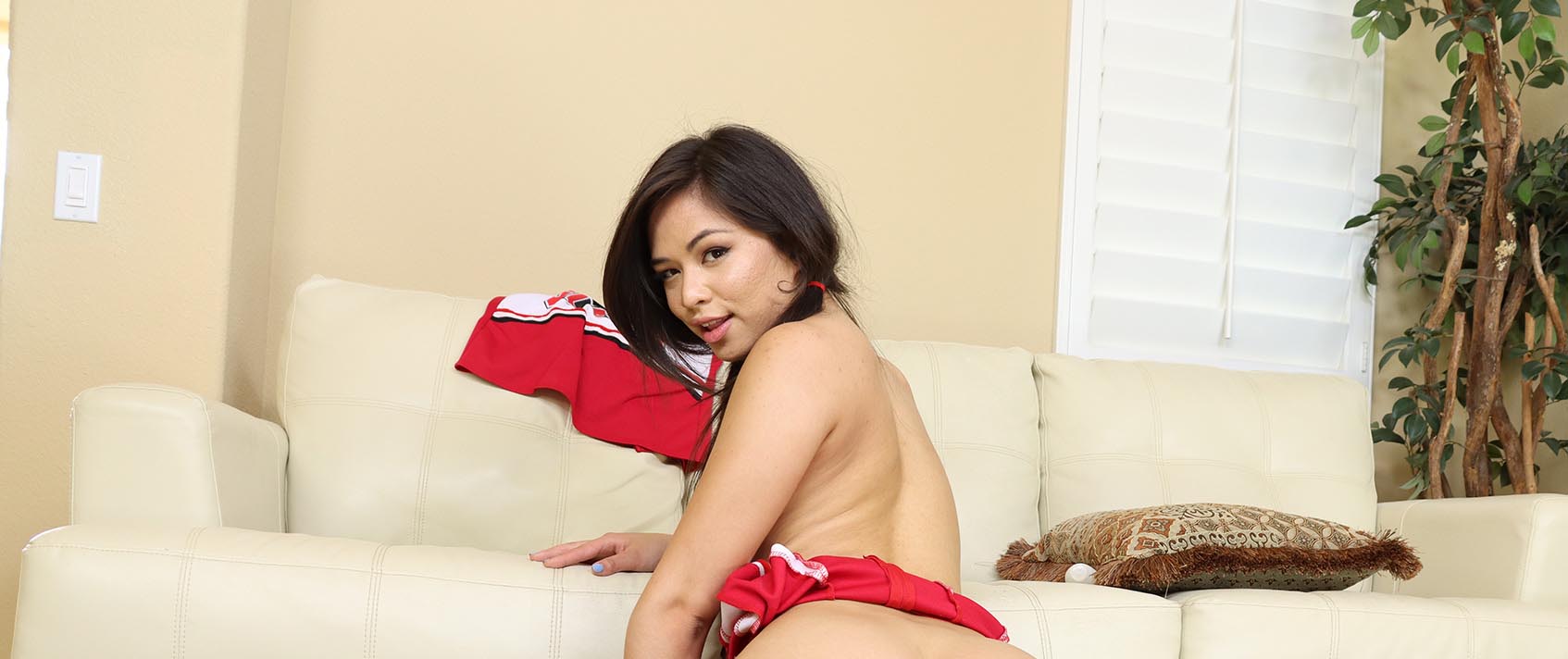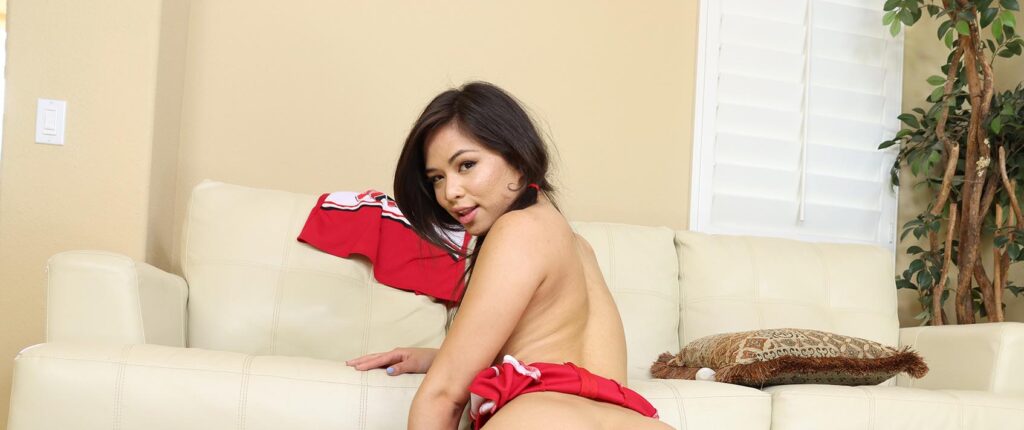 Here's your chance to fuck a crazy hot cheerleader (I know you've always wanted to!). Scarlett Alexis is begging for your throbbing dick to split her perfect pink pussy in two! After an amazing blowjob scene, Alexis invites you to fuck her doggy style and if that perfect ass of hers doesn't make you want to explode, I don't know what will! After riding your dick, she lets you cum all over her mouth! I dreamed of it in high school!
⇒ MilfVR (Review) with Katrina Colt!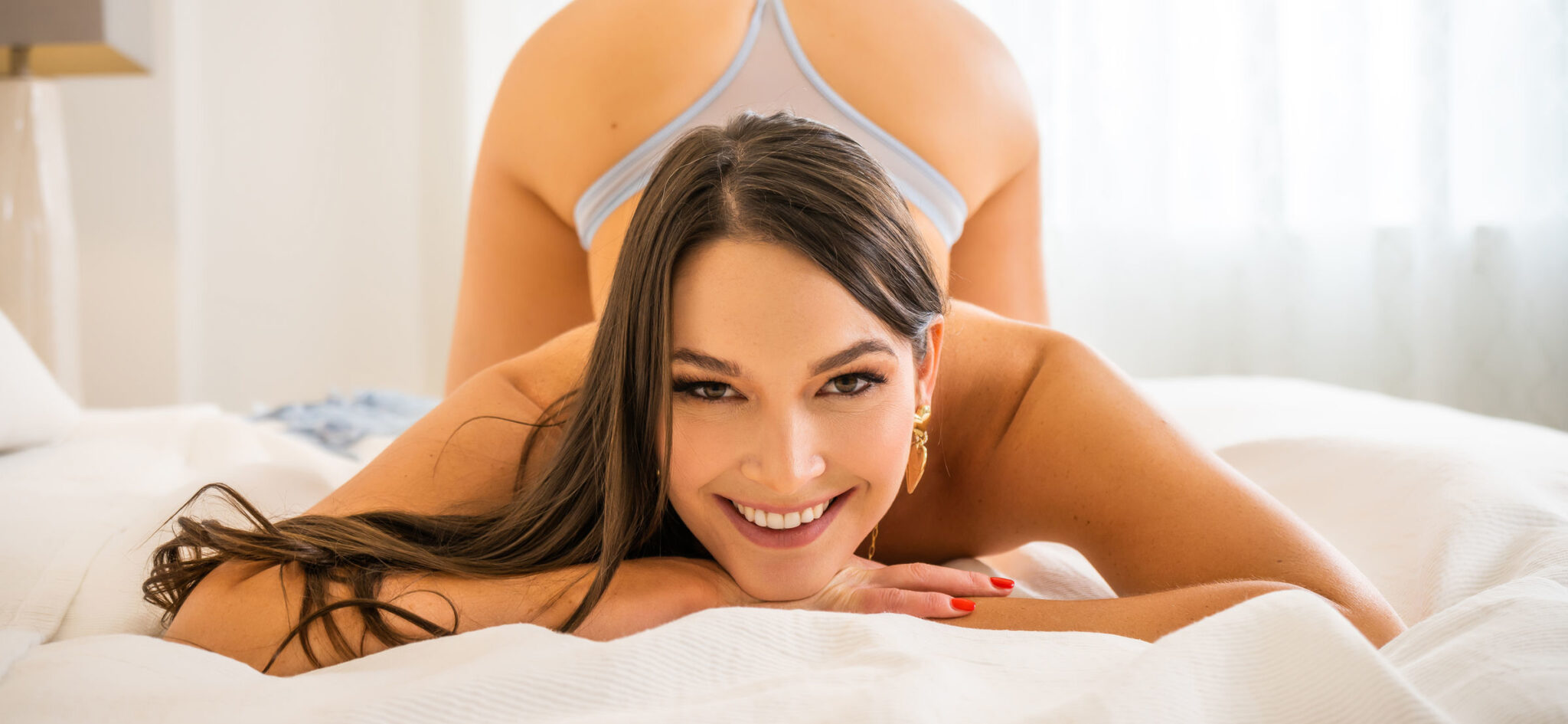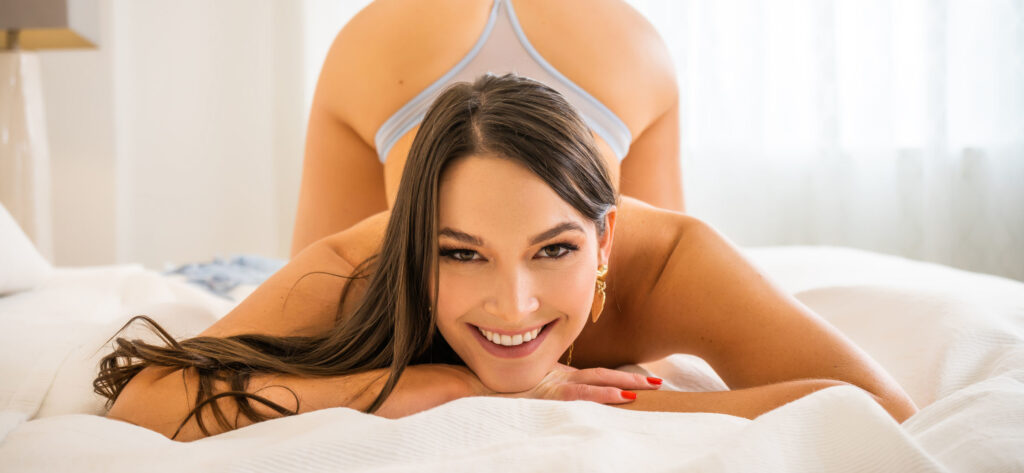 Enjoy Mother's Day with Katrina Colt, your new stepmom! The cake and card she received for Mother's Day were both delicious. Her old husband Bud is snoozing, so you'll get lucky as Katrina feels so horny on this special day! A sexy stepmom who lives life on the edge, Katrina bets she can suck you off as Dad snores. She'll kneel and thank you for being the best Stepson ever, but don't wake Daddy! After a covert blowjob, Katrina invites you for more, and this turns into sensual fucking when she lifts her dress. Big Dick VR Porn masterpiece!
⇒ BaDoinkVR (Review) with Maddy May!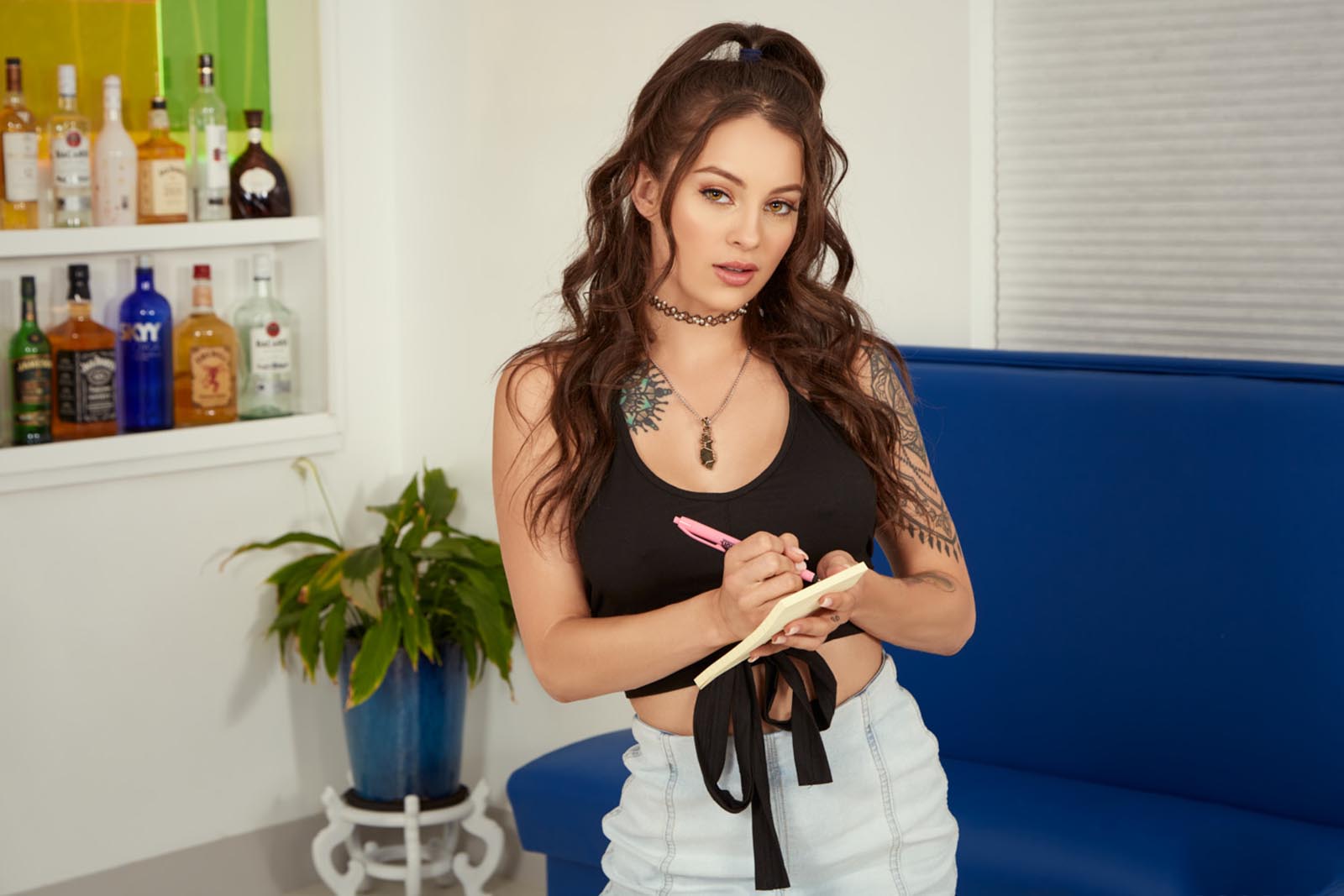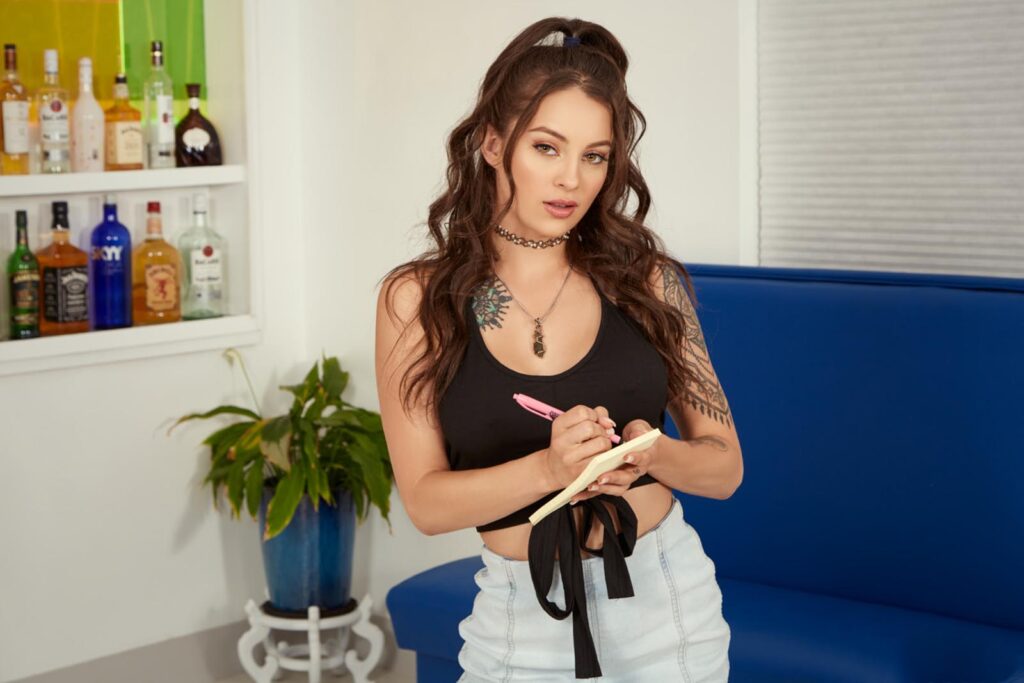 The restaurant is about to open, and you need a hot service girl. You have been eyeing Maddy May for a long time, so tonight, let's see what she has to offer. Your waitress Maddy is ready to assist you. What can she serve you tonight? Would you like a blowjob appetizer, a face-sitting soup, and a cowgirl special: Reverse, regular?
#5: Threesome With Octavia Red And Emma Rosie
⇒ RealJamVR (Review) with Octavia Red & Emma Rosie!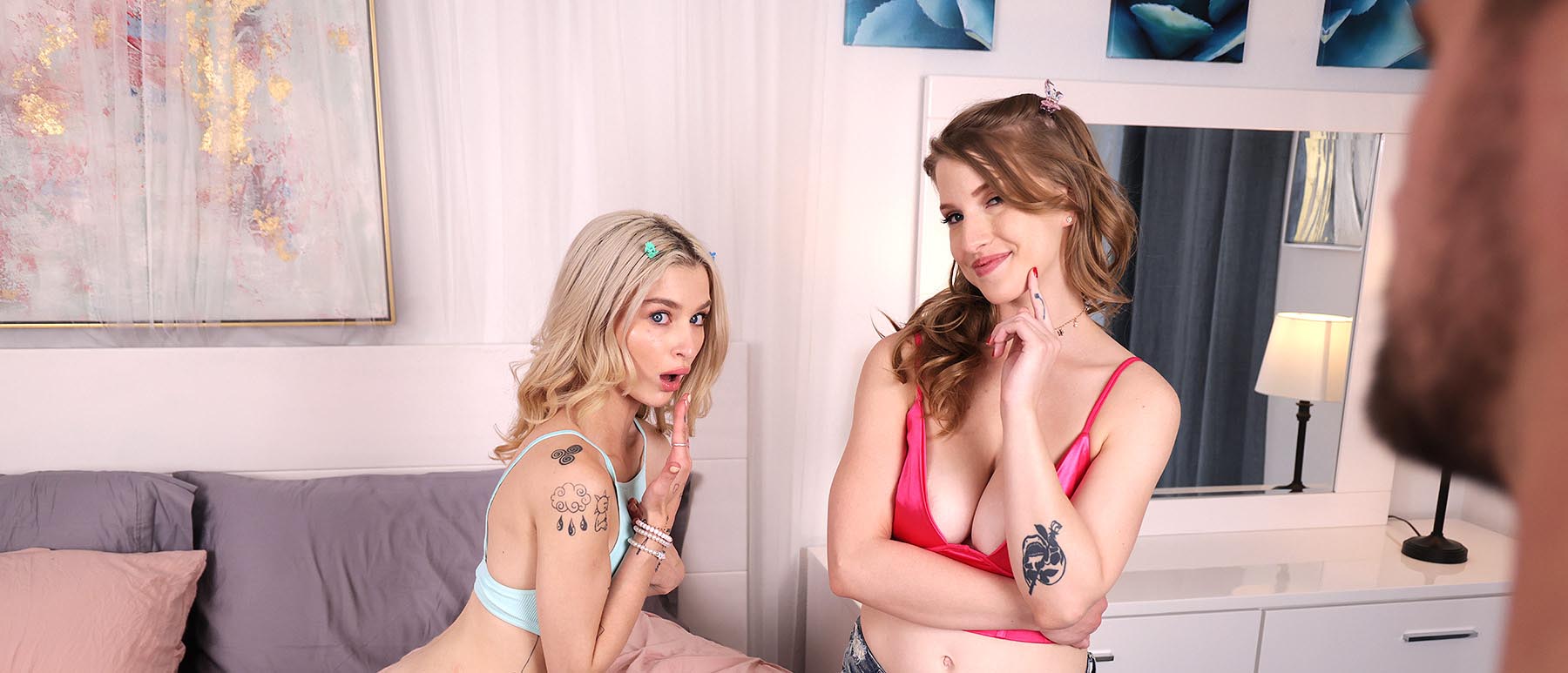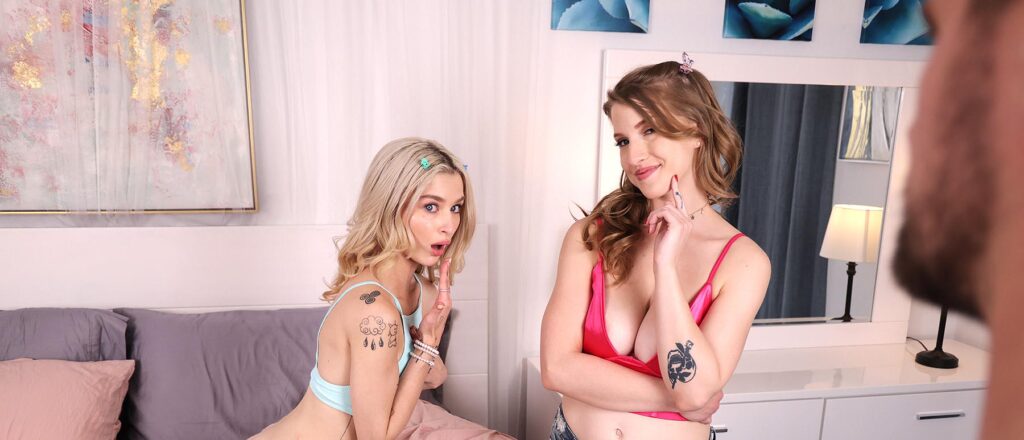 You were excited when Octavia Red introduced you to her roommate Emma Rosie. She turned your thoughts upside down as she turned out to be a hot, naughty, and sex-loving cutie instead of dull, shy, or ugly. She even took part in a threesome and opened her ass for your dick despite the fact that you disturbed her masturbating in her room.
⇒ WankzVR (Review) with Demi Hawks!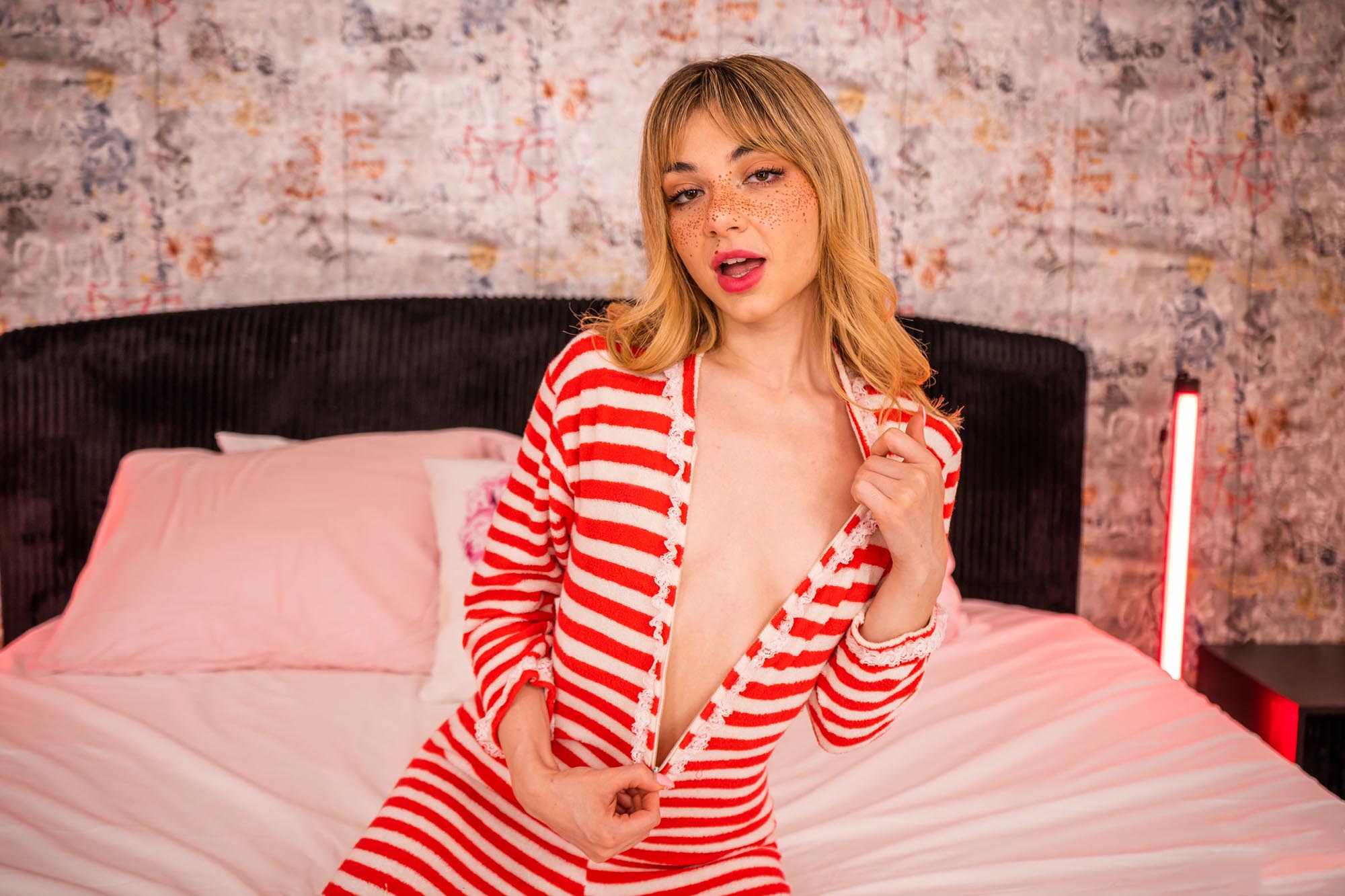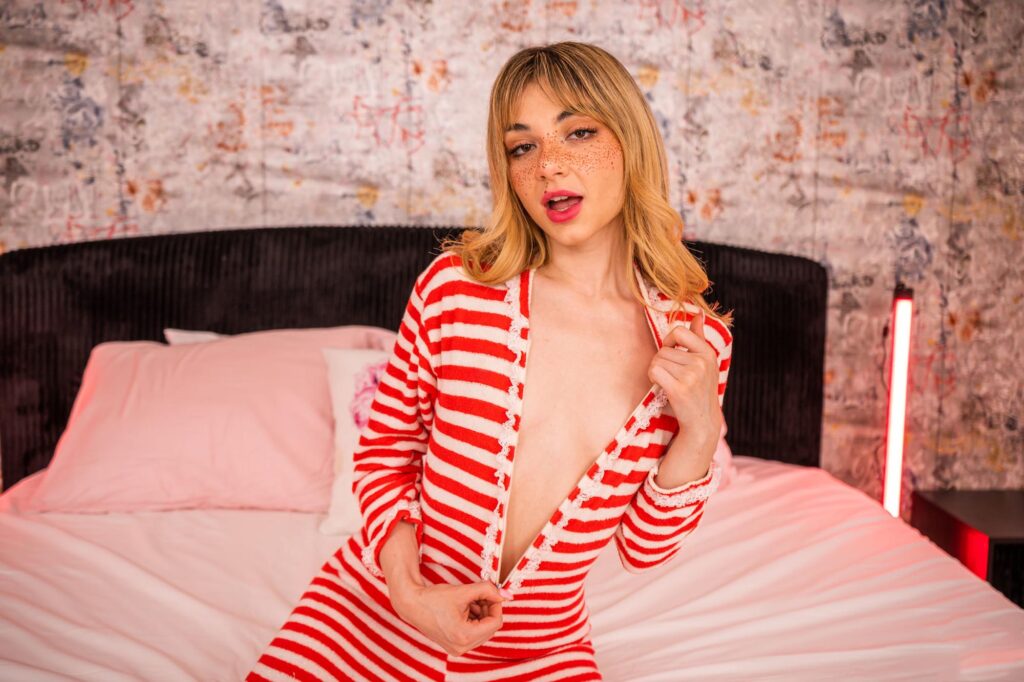 Since the campus is closed, your cute stepdaughter Demi Hawks will be at home today! She'll get to hang out with you while the school deals with some unexpected flooding! Do you plan on taking a break while working from home to have a pajama day with Demi? Yes, because Stepdaddy Day Care is open! You'll see her checking out her butt, and these pajamas come with a trap door! Demi's adorable booty will be on display, but don't tell Mom! Big Dick VR Porn as it should be!
#3: The Dark Side of Anya Olsen
⇒ VR Bangers (Review) and Anya Olsen!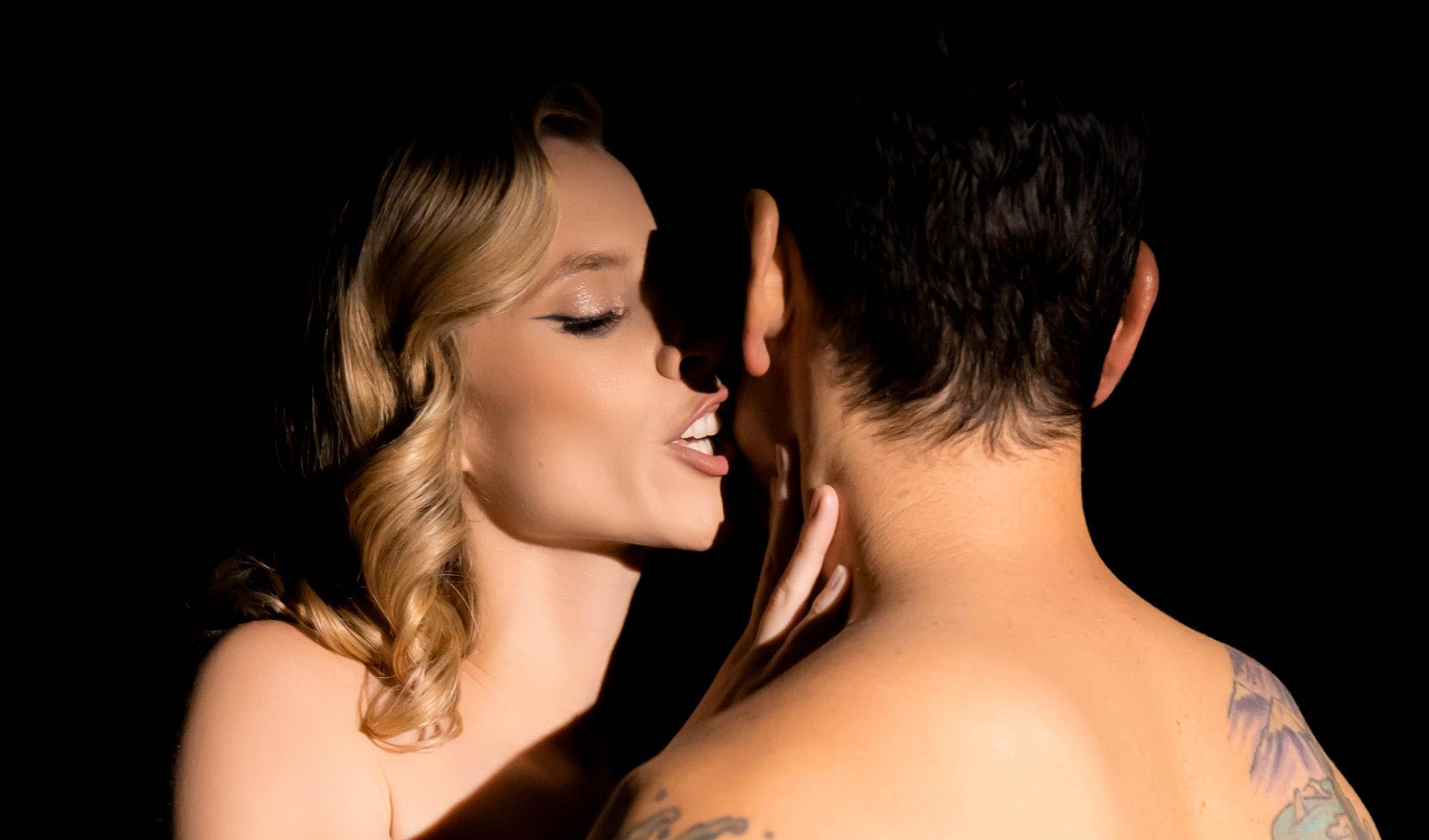 This handjob VR porn masterpiece has a ton of touching, kissing, and caressing right in front of your eyes, or to be more precise, right in front of your ears, since it was recorded in complete darkness so that you feel isolated while watching and listening. Regardless of how high your expectations are, Anya Olsen's VR Porn movie won't disappoint. You know your entire experience will be in good hands.
#2: She-Venom: A XXX Parody
⇒ VRCosplayX (Review) with Mina Von D!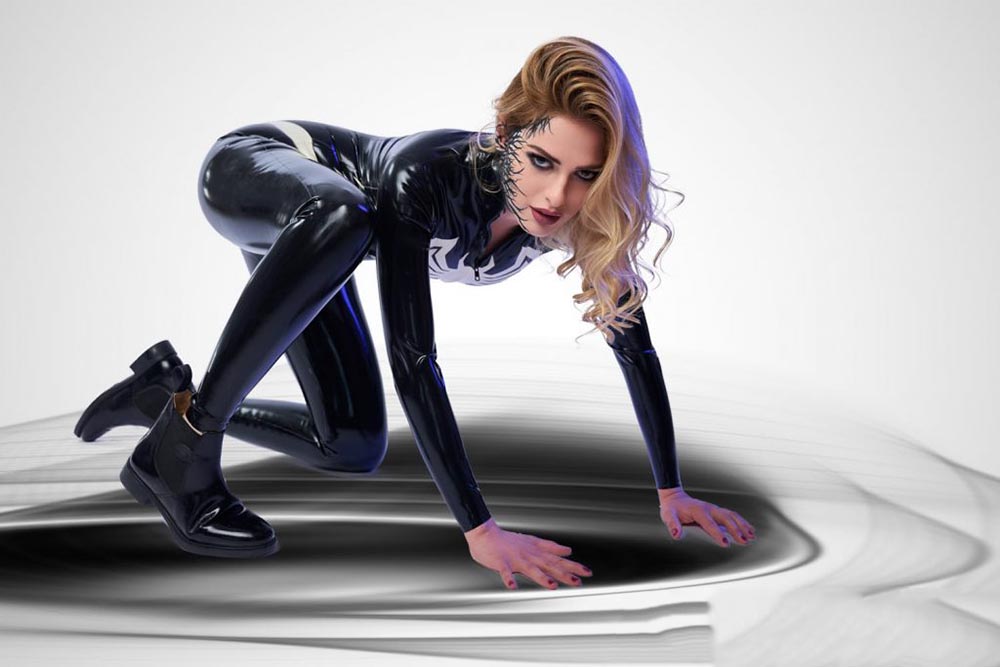 Mina Von D's got the best tits around, and you get to fuck her. Here she'll play She-Venom. Eddie, the Venom symbiote, is bound to Anne, and things aren't looking good. You're starting to regret some of your marital conflicts. Today, She-Venom'll come for you, but in truth, you'll be cumming for her. Fuck Mina Von D. in her skin-tight latex catsuit, and watch those perfect tits bounce back and forth.
#1: Tight Holes Filled Full
⇒ KinkVR (Review) and Eden Ivy!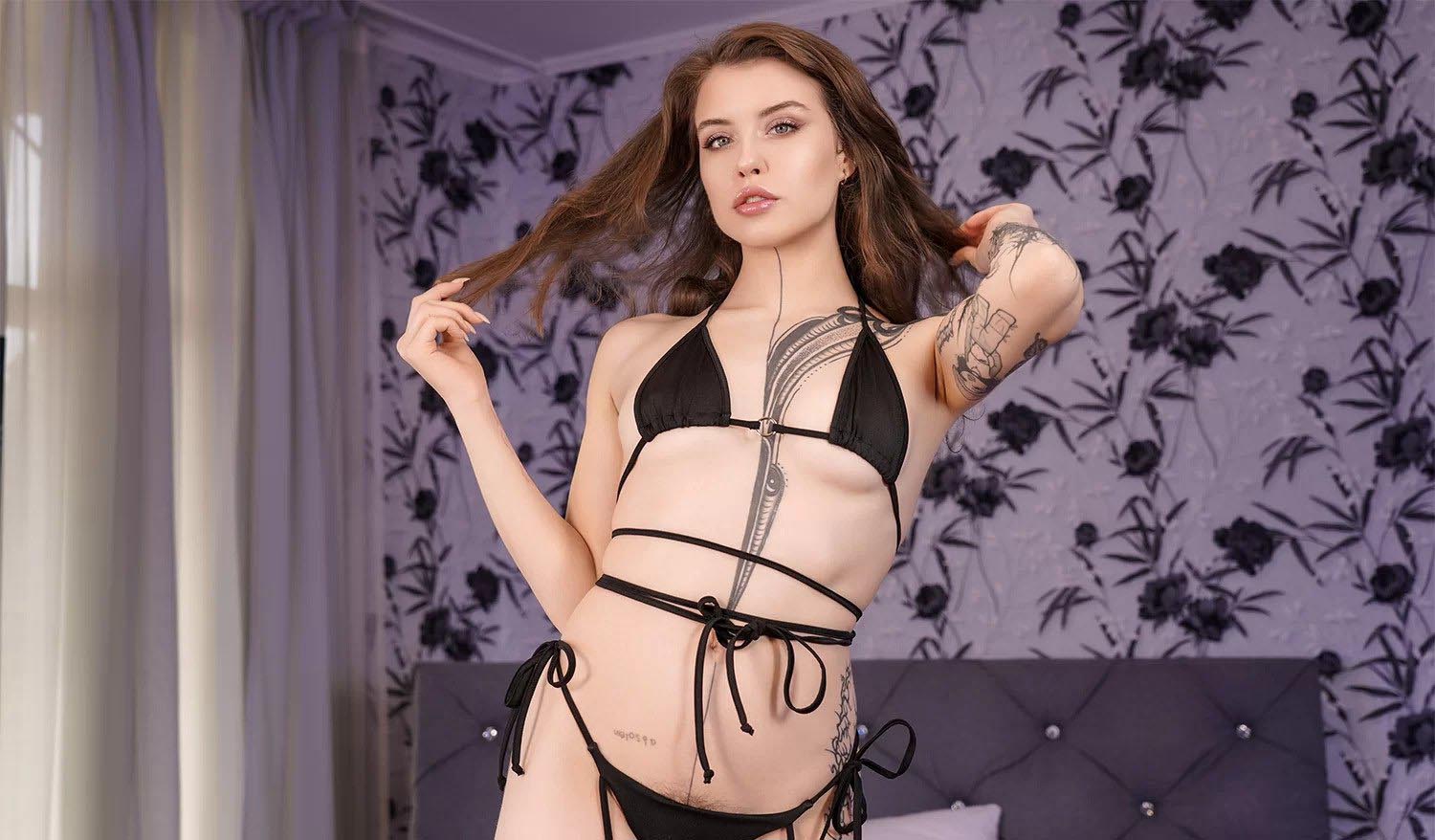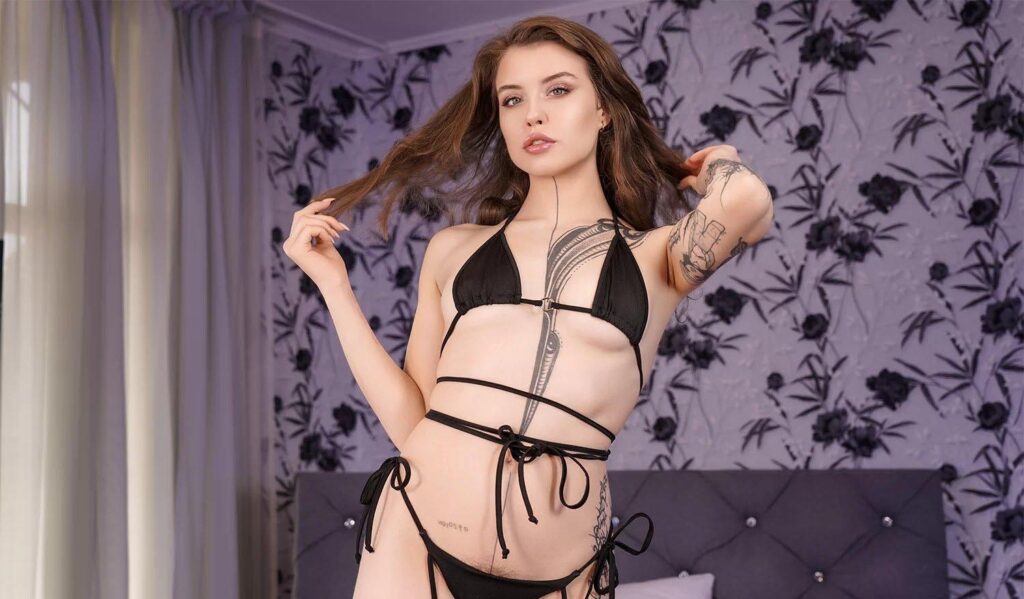 In this behemoth Big Dick VR Porn video, bombshell Canadian beauty Eden Ivy gets the KinkVR treatment. Eden has a confession. She's been really naughty lately and needs punishment. Eden's a freak in the sheet! She wants your big cock to fill her every hole. Let's hope you're up for the challenge.