Quick & Easy: Is XsinsVR worth it?
Amazing solo/masturbation scenes
Even better fuck sessions
Both famous pornstars and newcomers
Great audiovisual quality
Easy-to-use website
Safe and anonymous billing
It's kinda hard to find a real con here
XsinsVR used to be known as SinsVR. They've been around since 2018 and held their ground well! At some point, they had a short break of about a year, but they emerged from the ashes as XsinsVR! It's one of those all-round VR Porn sites that'll make you return for more daily!
What kind of content do you get at XsinsVR?
Back in 2018, SinsVR started churning out solo & lesbian VR Porn videos. And boy, those are some good videos! They still offer those videos, and I often find myself going back to them whenever I'm in the mood for some solo action. However, over time, they started including male actors as well for some mind-bending fucking sessions. And now, you have the best of both worlds! 290+ videos of pure VR Porn fun, and they update twice a week!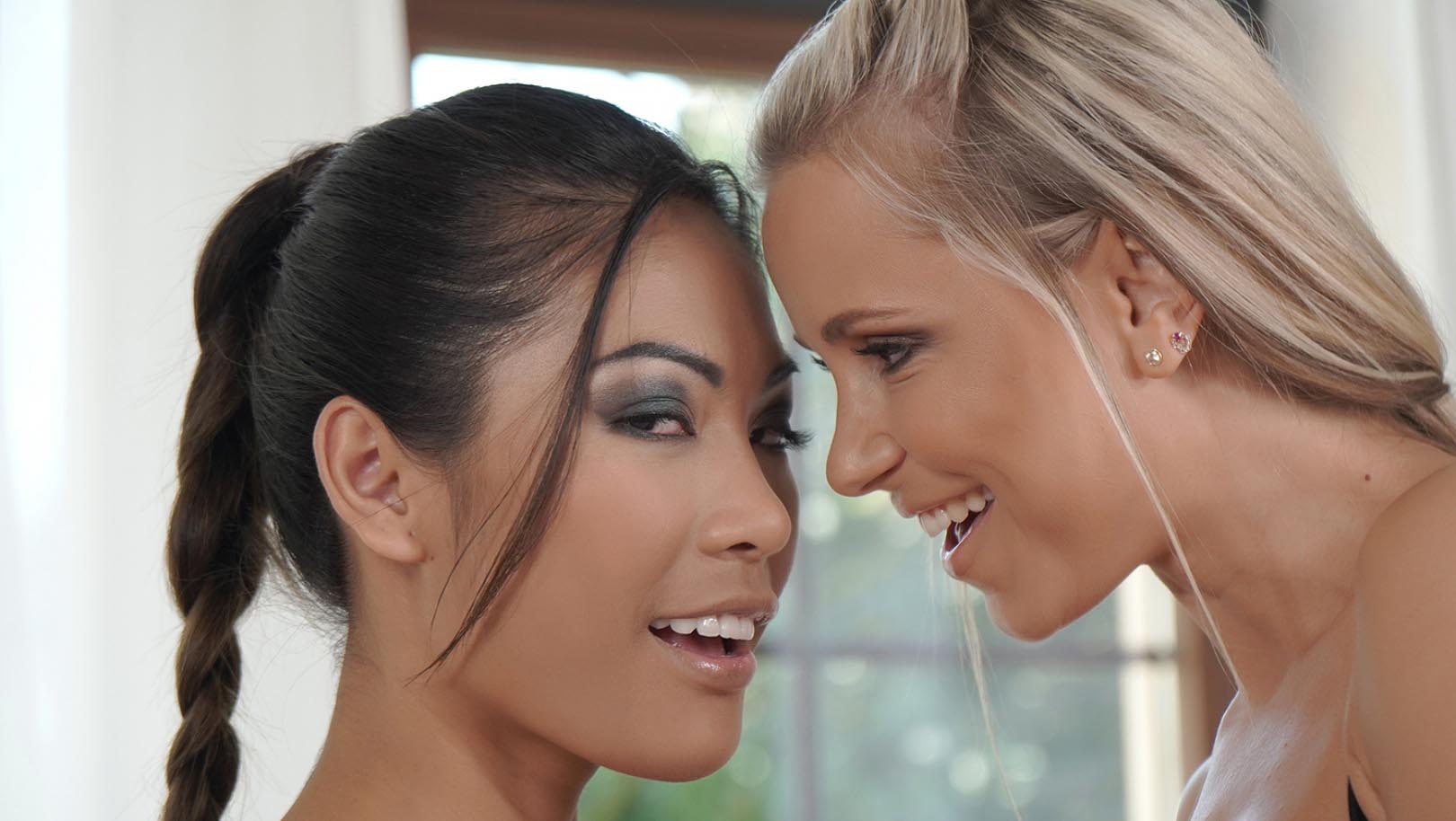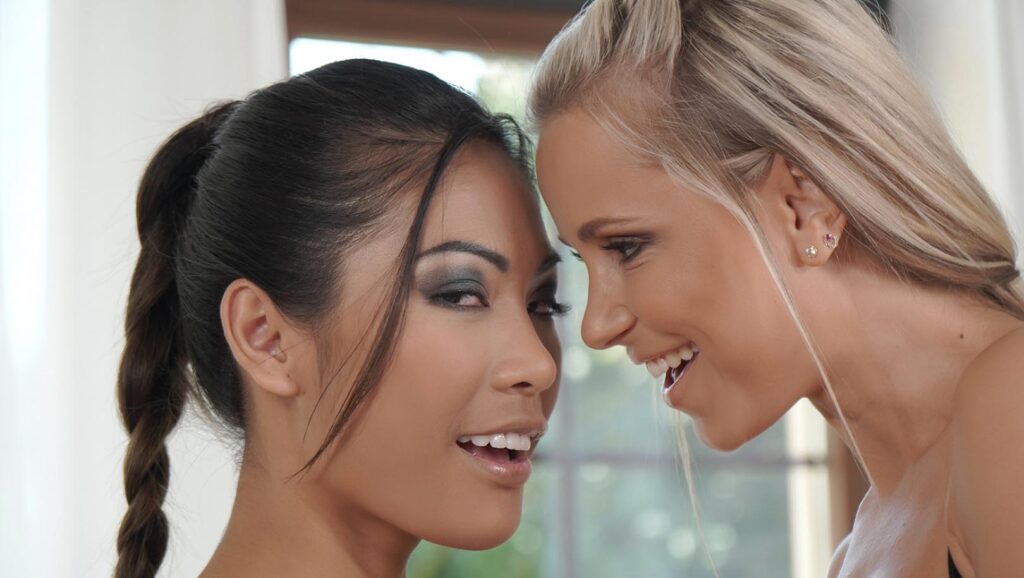 And they have all kinds of videos you could possibly desire as well! ⇒ Anal, ⇒ Blowjobs, ⇒ Lesbian, ⇒ Hardcore, ⇒ Threesomes, masturbation, titjob, pussy and ass licking, and all kinds of ⇒ fetishes such as golden showers, public sex, etc. I really enjoy their lesbian videos with scissoring. This is rare in VR Porn, and I'm always happy to see a studio that shoots scenes. Make sure you check out the scene called "Hands on... Bad Girls" with Polly Pons and Lola Myluv. I'll admit, that scissoring scene with a vibrator between their pussies made me cum early. I'm a sucker for good girl-on-girl action.
Great job, XsinsVR - 5/5 from me!
Does XsinsVR have a good variety of scenes and models?
XsinsVR works with some of the industry's most famous and well-established names, but they also have a decent number of fresh faces. I'm talking names like Eden Ivy (one of my favorite pornstars), Avrora Lacosta, Luna Corazon, Ria Sunn, Stacy Cruz, Scarlett Alexis, Tina Fire and so on. These chicks are famed for their skills around a hard dick, and they're always at their best at XsinsVR. This studio predominantly works with ⇒ teen Caucasian girls, but you'll find your share of ⇒ MILFs here as well! ⇒ Big tits (real and fake), ⇒ Big asses, ⇒ blondes, ⇒ brunettes, redheads, you name it. Also, you do get ⇒ Ebony, ⇒ Latina and ⇒ Asian pornstars, but I think they should be more of those, honestly.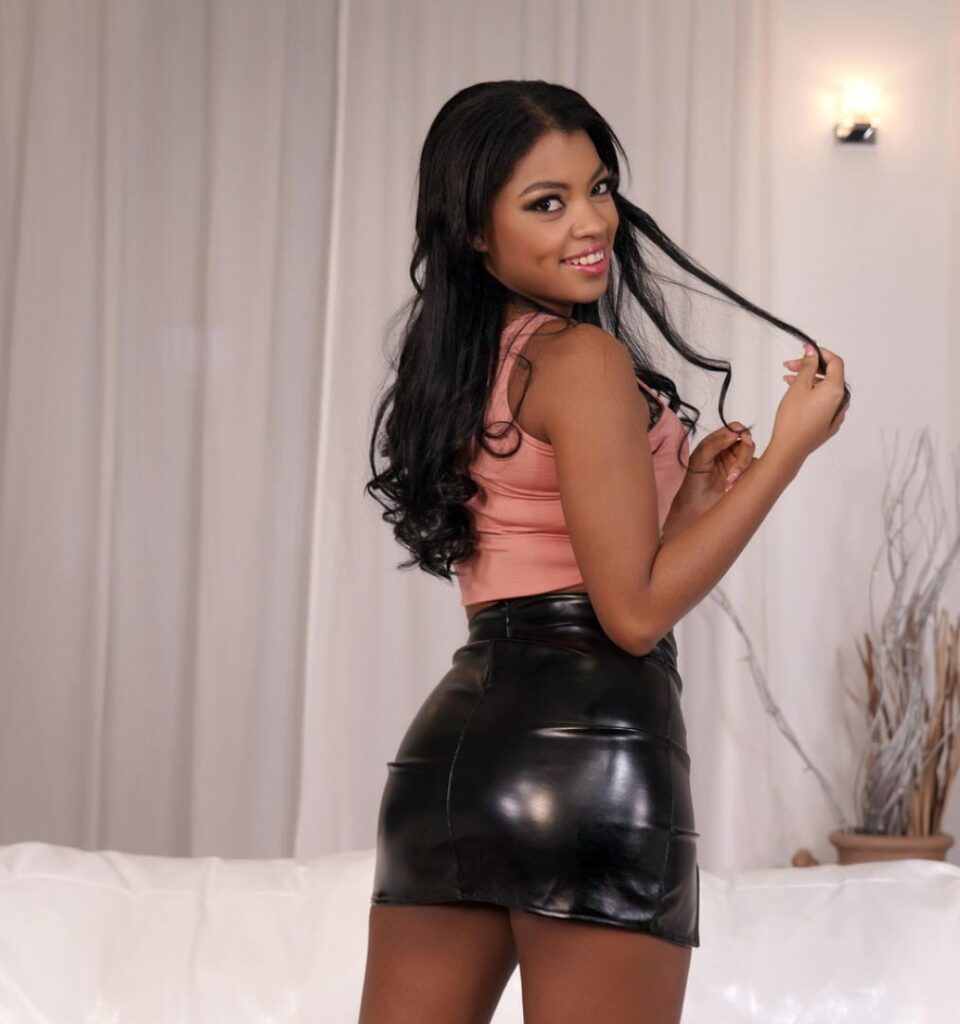 At XsinsVR, you'll fuck your favorite pornstar in a nice house, most of the time. Bedroom, living room, on a couch, on your bed, etc. Occasionally, you'll turn your room into a BDSM sex dungeon (like in "ASSolute Submission" with Lara Sins). I like that. It makes the whole thing feel more realistic and intimate. You get the feeling that the gorgeous pornstar you're ramming knows you, which really increases the immersion level. The average length of a SinsVR video is between 40 and 60 minutes. There are shorter ones as well, which is excellent for all those occasions when you don't really have too much time on your hands, but you still need to fap one out.
4.5/5 from me here.
What's the audiovisual quality of XsinsVR like?
In the beginning, SinsVR started shooting 5K videos, improving the quality to 7K and 8K over time.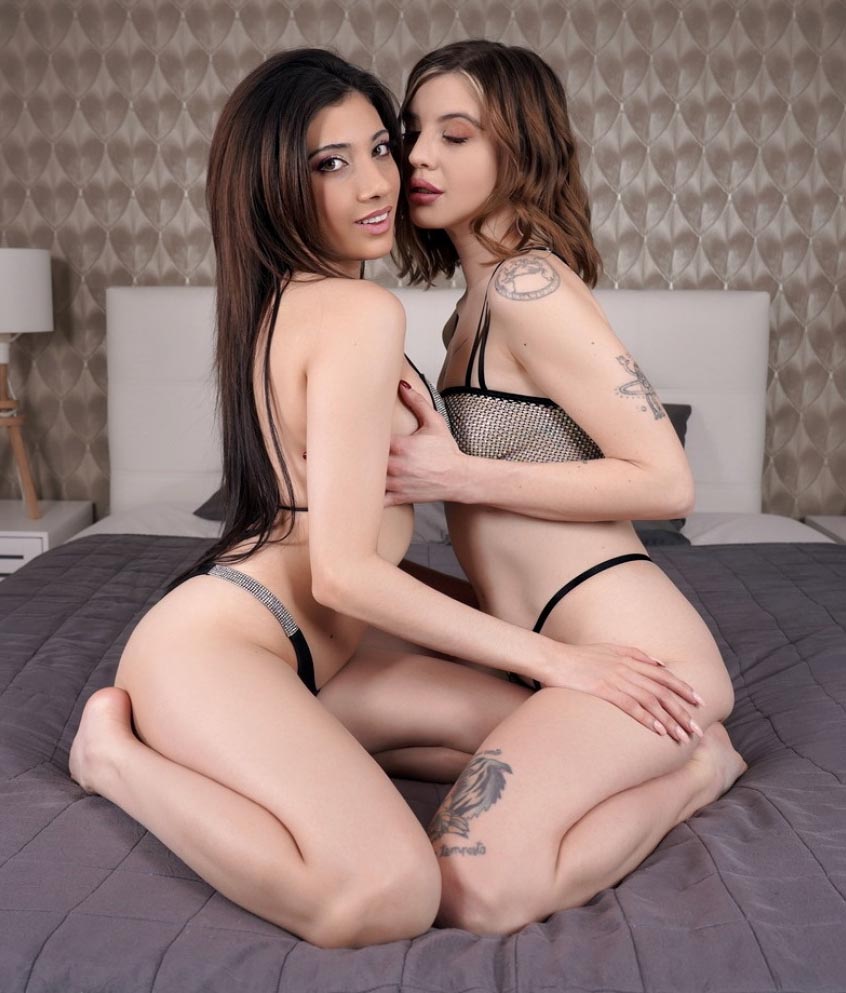 So, now, you get 180°, 60 FPS videos with a maximum of 8K resolution with a binaural sound system that'll just make you go crazy about these videos! The majority of the videos are 7K, though. The scaling, the camerawork, the post-production, and the lighting are just some of the aspects that a porn studio needs to get right in order to make it among the evergrowing number of new ⇒ VR Porn Sites. And boy, does SinsVR shine here. I love how everything looks and feels. It's all done very tastefully, and that's simultaneously the hardest and the most satisfying thing about VR Porn - if done right, these videos will trick your mind into believing you're actually in that room with that pornstar so quickly and convincingly - you won't believe it! 
Overall, it's a VR Porn paradise where you get to fuck some of the most famous chicks from the industry with crystal audio and visual clarity!
5/5 from me.
As you land on the homepage of XsinsVR and start scrolling, you'll see their "Featured Videos," "Trending Videos," "New Models," and "Trending Models." Moreover, you get handy filters at the top of the page to browse the content more efficiently. They are pretty standard - "Videos," "Models," "Categories," "Studios," "Help" and "Forums." The first three are self-explanatory. The "Studios" tab lists XsinsVR's partner studios, among which you'll find some of the most legendary VR Porn Sites, such as ⇒ 18VR (Review), ⇒ VRCosplayX (Review), ⇒ RealJamVR (Review), ⇒ BaDoinkVR (Review), VRVixxens, SinsVR (you'll find their old videos here as well) etc. The "Forums" tab will keep you updated with the latest and the greatest you need to know regarding the VR Porn industry and XSinsVR. You also get a handy search button to make browsing even easier for you!


The website is well-made, and it's tough to get lost. Along with every video, you'll get complete photo sets, but unfortunately, you don't get any additional extras, such as ⇒ VR Porn Games.
4.5/5 here.
Headset Compatibility of XsinsVR
XsinsVR is compatible with all the major VR headsets. So no matter if you're using a ⇒ Quest, ⇒ Quest 2, ⇒ Samsung Gear VR, ⇒ Oculus Rift, ⇒ Oculus Go, ⇒ PSVR, ⇒ HTC Vive, ⇒ Smartphone, or ⇒ Google Daydream, you'll have a blast! 
If you have any issues setting up your device to watch their videos, you can find guides in their "Help" section, or check out our ⇒ How-to Guides on how to watch VR Porn on every device!
How Expensive is XsinsVR?
XsinsVR gives you two subscription options - "Recurring" and "Non-Recurring." Both plans offer the same benefits, except "Recurring" is cheaper. And it's a decent amount of money you're saving, too! I love that XsinsVR offers the "Free" option, where you can buy individual videos in case you're only interested in a particular pornstar, or you want to try out VR Porn and see if you like it. Spoiler alert: You'll like it. All the top VR Porn Sites offer some free trials, and XsinsVR is no exception!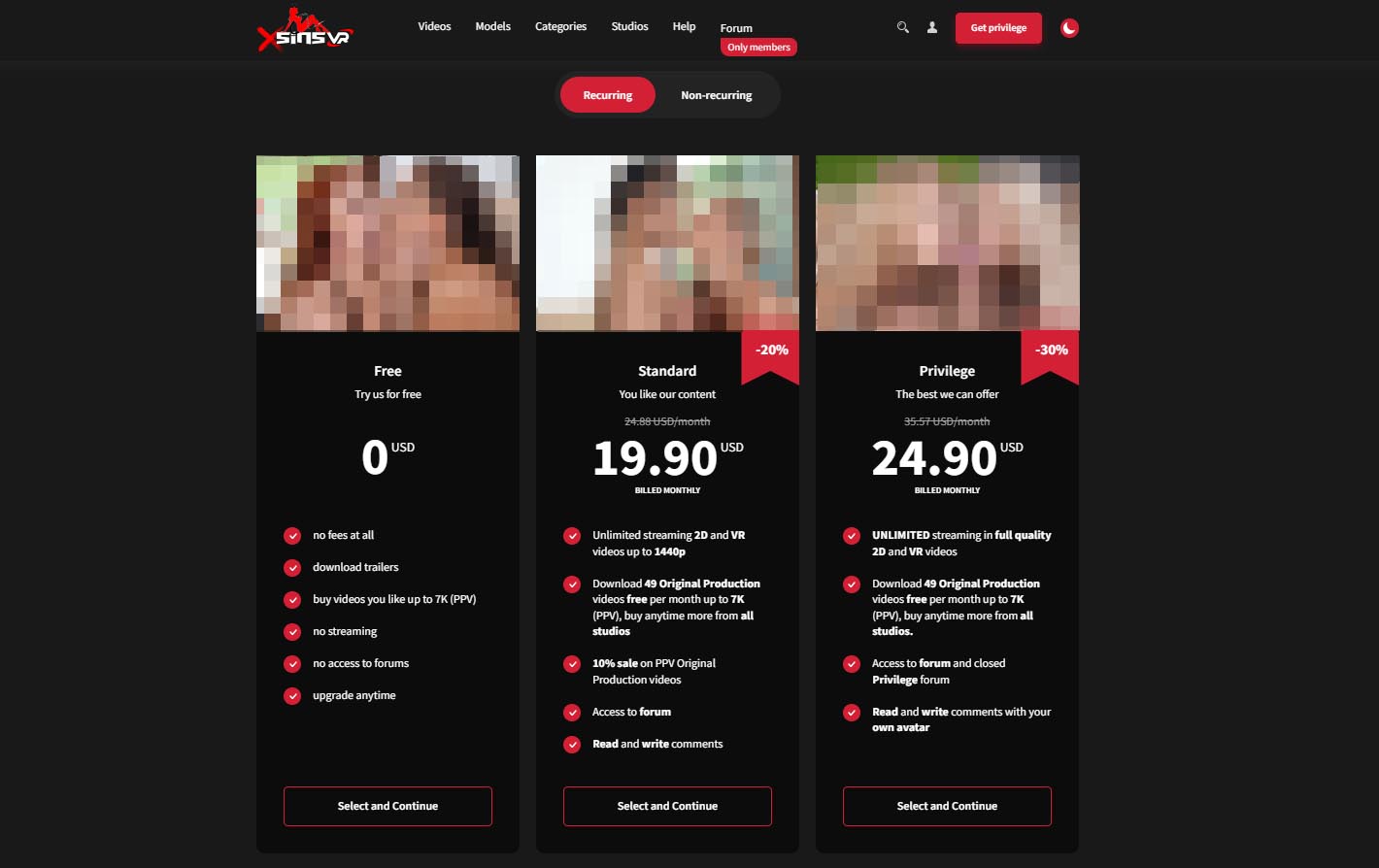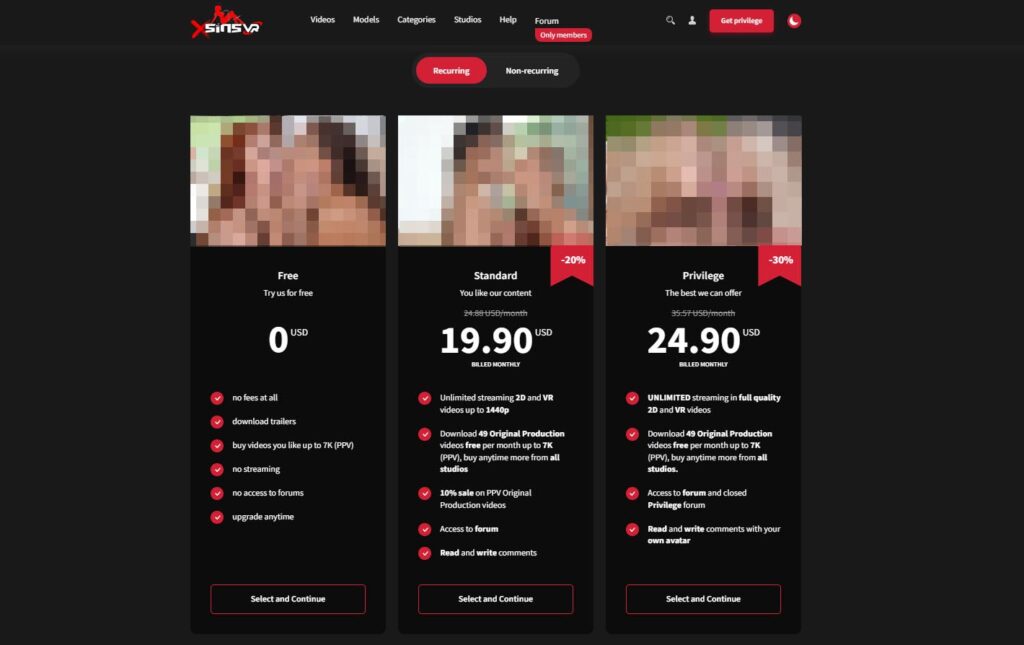 The billing is discreet and anonymous. You won't have to worry because your statement shows nothing related to the adult industry. It's also safe - I've been a subscriber for a year now, and I've had no issues with the subscription. Good job, guys; you've got a good thing going here!
Conclusion: Do we recommend XsinsVR?
In a nutshell, yes - I recommend it. These guys offer the best of both worlds - solo play, masturbation and toys on one hand, and on the other - some mind-bending lesbian and straight fuck sessions! XsinsVR quickly became one of my favorite VR Porn Sites, and they are on my top 10 list for a reason! You know what to do, my fellow fappers!
XsinsVR used to be known for its excellent solo and lesbian scenes. Over time, they started shooting crazy-good fuck sessions as well with some of the most famous pornstars in the industry, as well as with newcomers.