Quick & Easy: Is Dark Room VR worth it?
Awesome audiovisual quality
A fantastic roster of pornstars
Cool and unique content
Cheap subscription
Discrete and secure billing
Dark Room VR is a breath of fresh air in the VR Porn industry. When you've seen as many videos as I have, you find out that themes tend to get repetitive after a while. Not here! DarkRoomVR may look simple, but there's a lot more to it!
What kind of content does Dark Room VR offer?
The folks behind ⇒ Virtual Taboo (Review) directly power Dark Room VR. And if you are a regular here, you know that Virtual Taboo makes no mistakes. How else would you explain their popularity in a sea of VR Porn Sites? As the name itself implies, DarkRoomVR takes things to a whole new level, exploring some wilder and kinkier themes than their parent company. So, they're not only dealing with mild stepsister/mother/daughter fetishes. It's all about satisfying your naughty ⇒ fetshes with domination, blackmail, bondage, spanking, femdom, leashes, face-fucking, ⇒ hardcore threesomes, etc. A heaven for those of us who walk on the darker side of sex.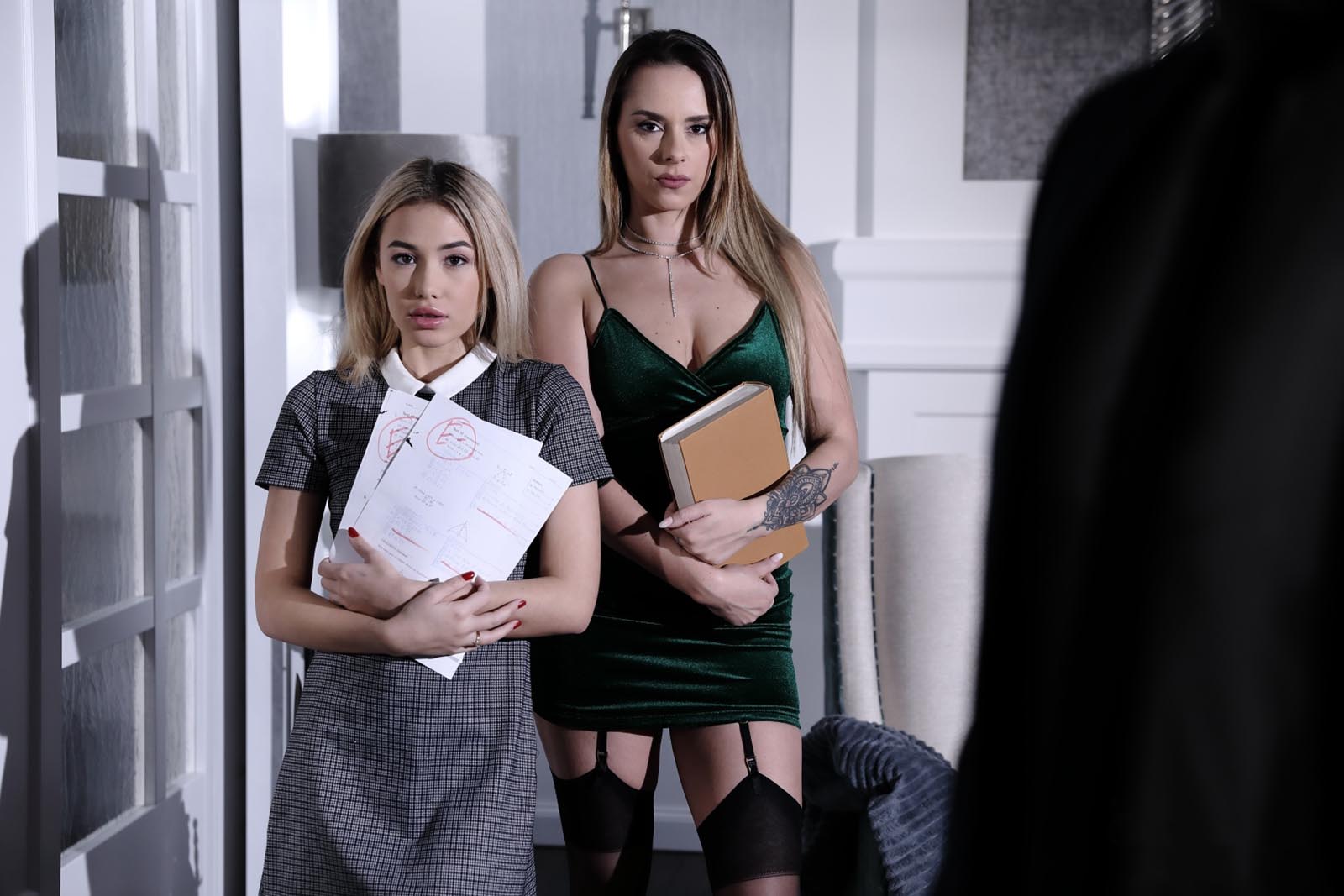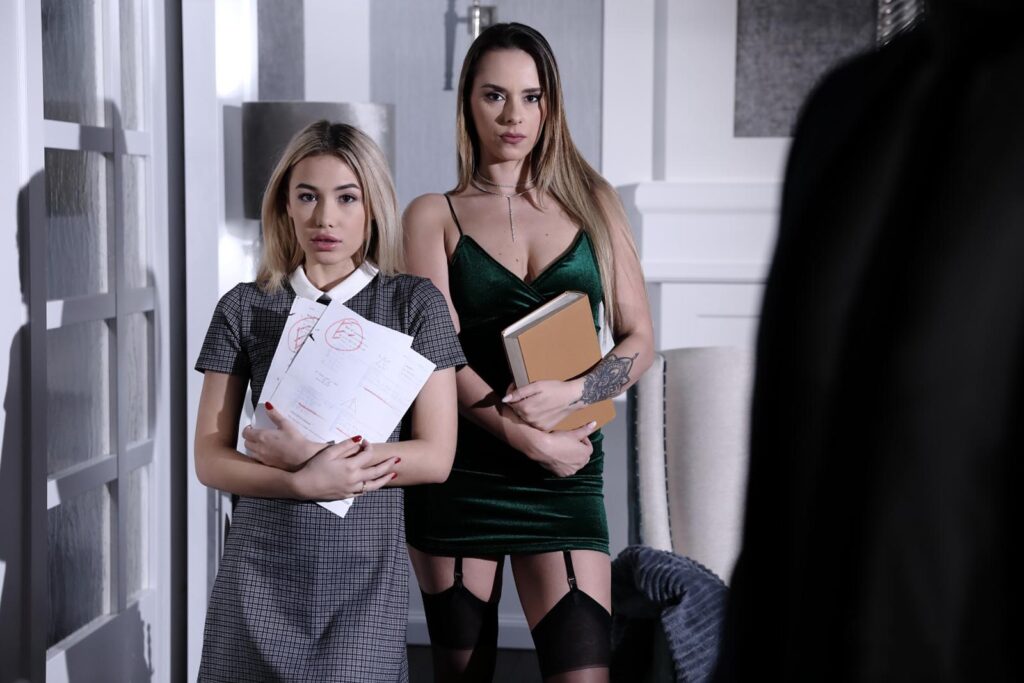 So far, they've racked up 150+ exclusive videos, and they publish new content four times per month.
Great content, guys! 5/5 from me!
Does Dark Room VR offer a good variety of scenes and models?
Oh, they do! The atmosphere in each DarkRoomVR scene is dark and gloomy, with a unique setup. The lighting primarily focuses on the characters, while the rooms remain hazy, dark and mysterious, with surrounding objects concealed by shadows. It sets the perfect mood! You won't be watching some cheesy plot of your girlfriend suddenly stripping for Valentine's Day or anything like that here. And with titles like "You will learn that lesson, bitch," "Ready to serve you," "Yes, Boss," "Punish me now," etc., you know where you're not in for a vanilla ride.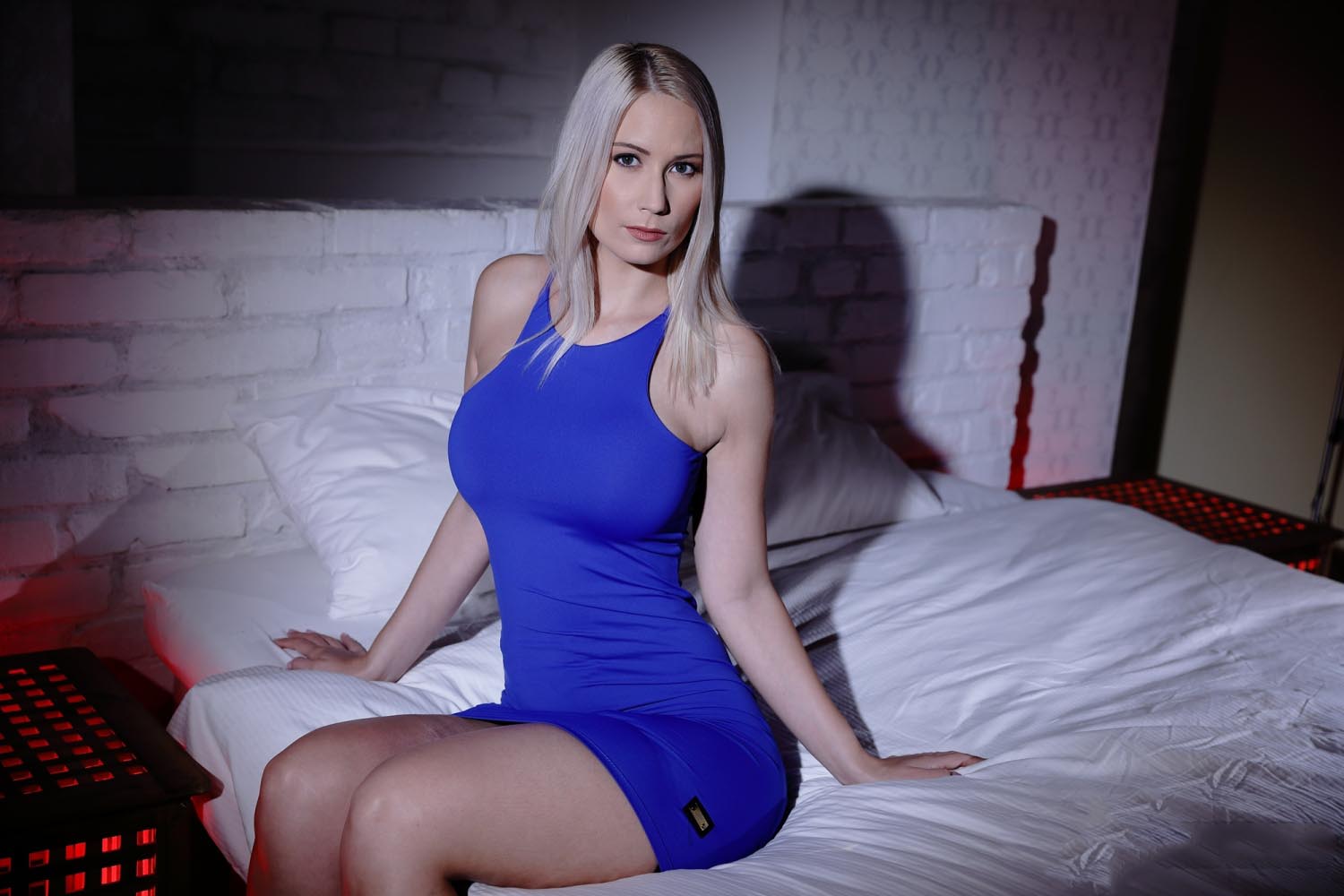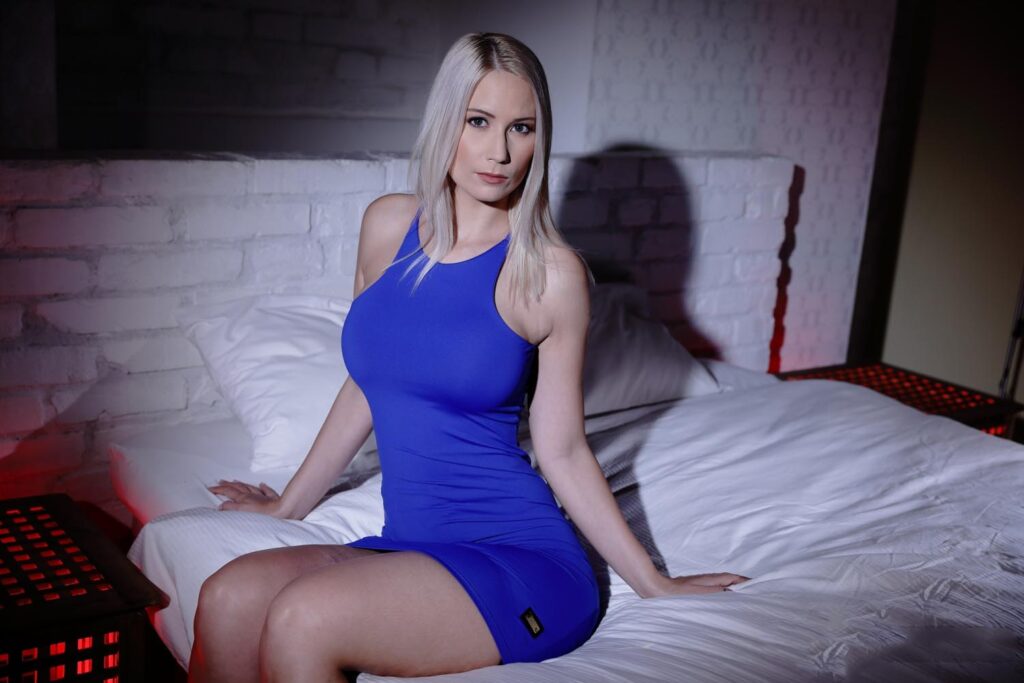 Dark Room VR's pornstars are great. They are very tastefully selected to fit the role they play exactly. And that's something that really bothers me - when someone says: "VR Pornstars don't act; They are just getting plowed onset, and that's it." Well, maybe elsewhere. But the acting is great here, and you can see the initial terror in their eyes. Of course, it all changes when you whip out that dick in front of them. The terror quickly turns to pleasure. And when you see names like Mona Blue, Stefany Kyler, Aubrey Black, Sia Siberia, Avrora Lacosta, etc., on the same list, you know things are going to get wild pretty quickly. And they have all the chicks you can possibly want - ⇒ Latina, ⇒ MILF, ⇒ Teen, ⇒ Asian, ⇒ Big tits, ⇒ Big asses… you see where this is going.
5/5 from me here!
What's Dark Room VR's audiovisual quality like?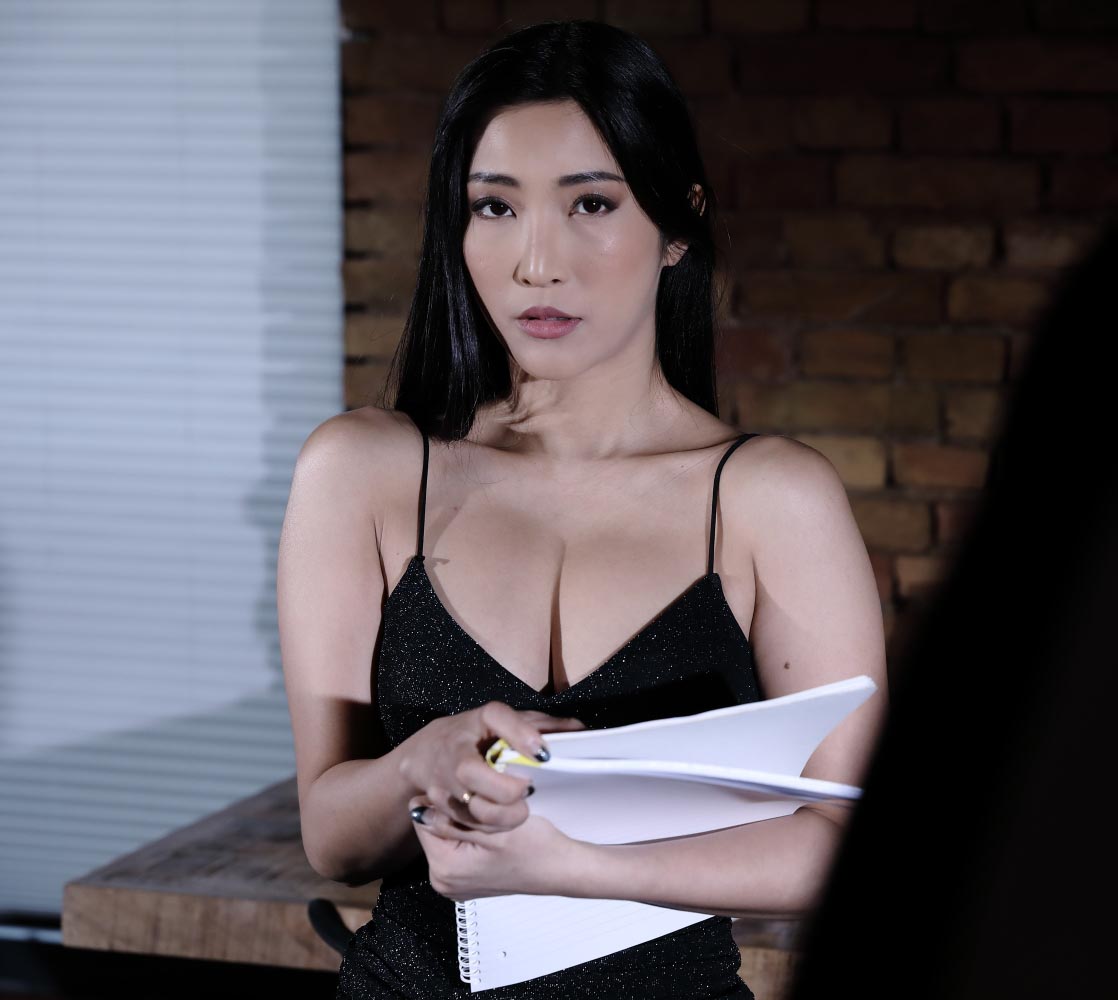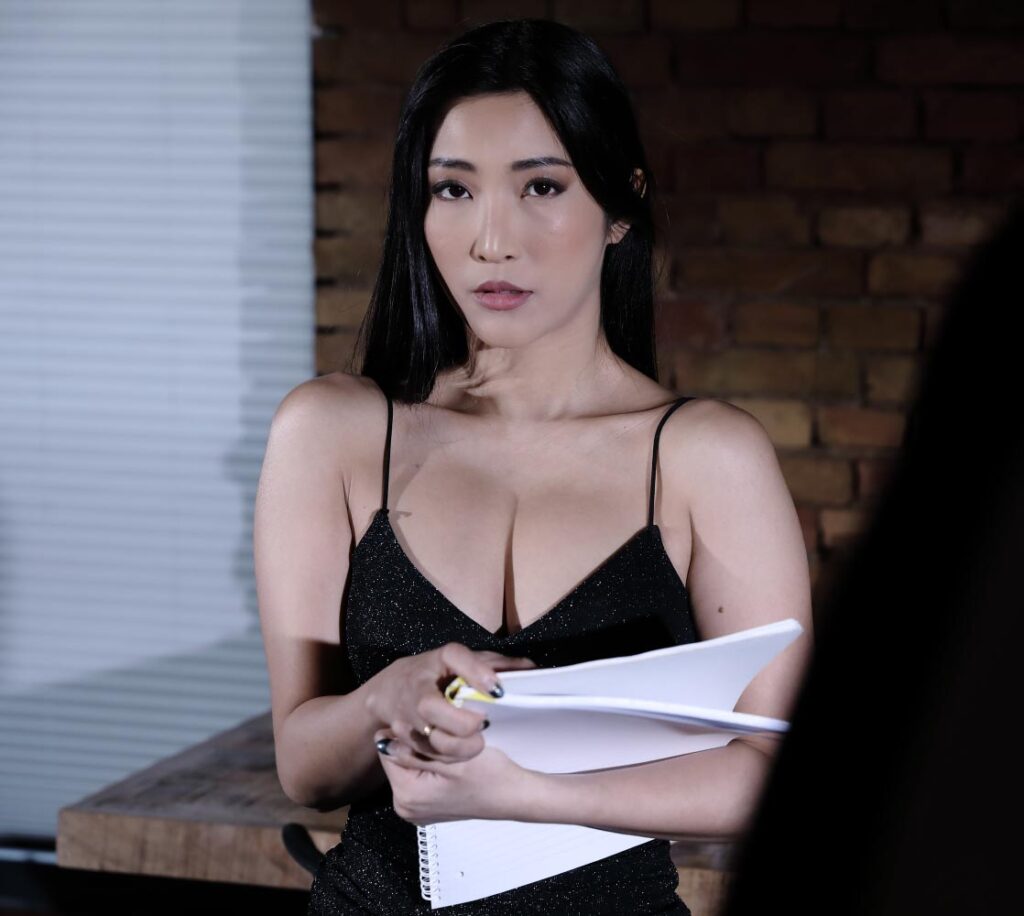 DarkRoomVR offers videos in 7K, 60FPS and 180 degrees FOV. I already mentioned that the light is focused on the models, while the rest of the room is gloomy and dark. Now, I understand that we're not exactly used to this in VR Porn, where everyone tries to be a bit flashy and colorful. So you may wonder if it affects the viewing experience in any way. It doesn't. I'll even go as far as to say that it works even better for me. There are no distractions whatsoever, the models are very well-lit, and you can see every single detail on their hot bodies you're about to fuck into submission! Pair that with binaural sound, and you've got yourself a ticket to VR Porn Heaven you'll visit more than once.
5/5 from me!
As you land on DarkRoomVR's home page, you'll immediately understand what I've been talking about so far. The website is professionally done, and it loads everything quickly. You get your standard filters here: "Newest," "Best Scenes," "Models," and "Tags." You also get a search bar which is always appreciated. You can also rate and comment on the videos, so feel free to tell them what you think!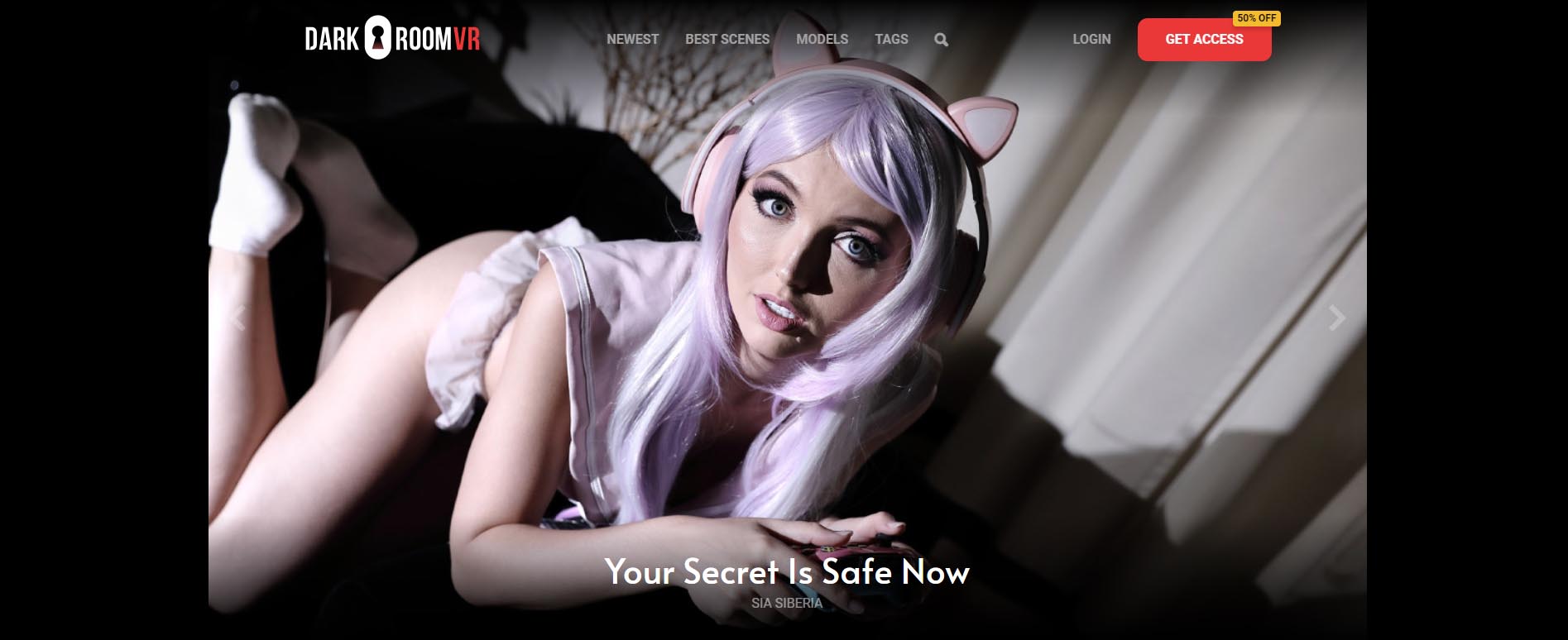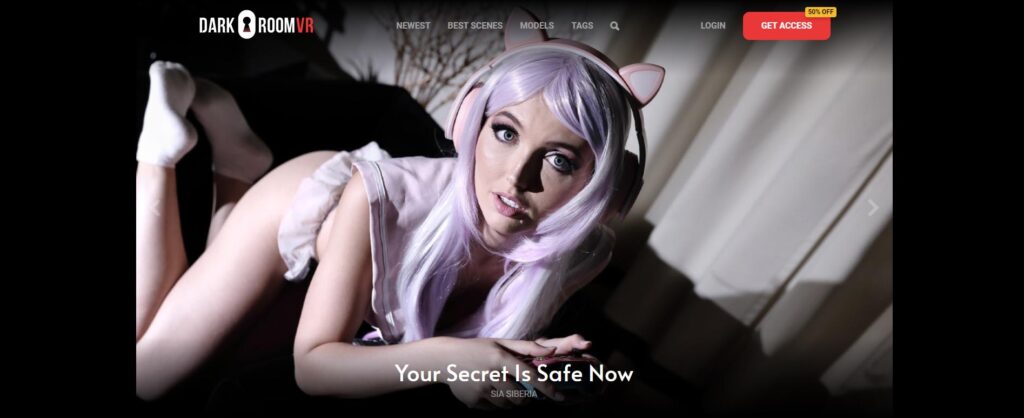 You don't get any extra sites with the subscription, though. At the bottom of the home page, you'll find guides on how to set up your VR Headset to enjoy their VR Porn Videos. If they go on like this, they have a bright future! I do hope they include some extras.
4.5/5 from me.
Is my headset compatible with Dark Room VR?
Dark Room VR supports all the big headsets - ⇒ Oculus Rift, ⇒ Oculus Go, ⇒ Oculus Quest, ⇒ Meta Quest 2, ⇒ PSVR, ⇒ HTC Vive, ⇒ Samsung GearVR, ⇒ Daydream, ⇒ Smartphones, etc. 
Should you have any issues with the setup, you can always refer to their guides or check out our guides on ⇒ how to watch VR Porn on every device!
Is Dark Room VR expensive?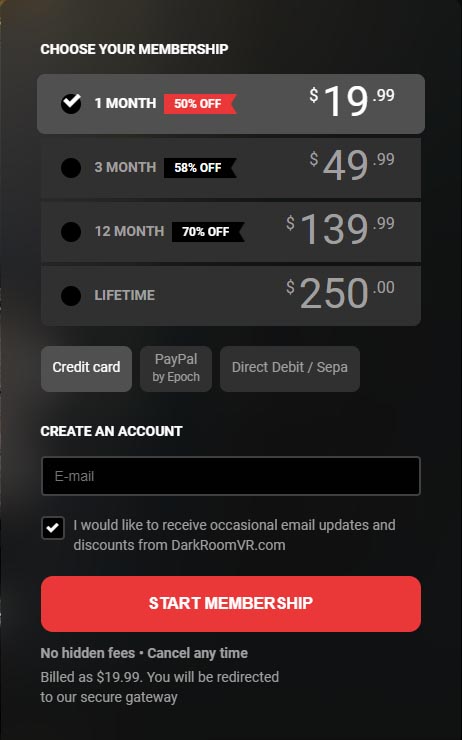 Based on what I've said, you'd think this is a super-expensive site. Well, it's not. DarkRoomVR is surprisingly cheap, considering its content's variety and quality.
You get four payment options: "1 Month," "3 Months," "1 Year," and "Lifetime." For the price of a subscription, you get unlimited streaming and downloading, and of course, you can cancel anytime. The payment is safe and anonymous, meaning you don't have to worry about scams, and your statement won't show adult-related stuff. I've never had any issues with my subscriptions, but then again - it's important to always subscribe to legit and professional ⇒ VR Porn Sites. And DarkRoomVR is one of them, for sure!
Conclusion: Do we recommend Dark Room VR?
DarkRoomVR is a pleasant change in the VR Porn Industry. If you're into that sort of thing, make sure you check them out! For the price they are asking and the quality they are offering, this is a must-have in your porn collection!
Dark Room VR: Our Summary
Dark Room VR is powered by Virtual Taboo. This is not an ordinary VR Porn site, though! This is a VR Porn playground where all your dirty and secret fetishes come to life!