Quick overview: Is Virtual Taboo worth it?
Scaling and visual quality are perfect
Good variety and amazing taboo plots
Suitable for all headsets
Downloads and streaming are unlimited
Secure and easy billing
Amazing choice of videos but no other extras
If you're into top-notch VR Porn, then you need to check out Virtual Taboo. These guys are one of the best in the game for a reason - they focus solely on creating excellent VR porn content. Their team is seriously dedicated to what they do, and it shows in their videos. They offer something for everyone, but if you're a fan of taboo plots with step-siblings or step-parents, then you're in for a treat! Virtual Taboo has a reputation for delivering immersive, high-quality content that's sure to leave you satisfied!
What does their website look like?
Virtual Taboo's website is a perfect example of highly-functional minimalism. The homepage offers an amazing collection of top-rated videos which is a great thing because you don't have to search for them manually. Also, you can see right away what kind of content works best for Virtual Taboo's audience. And let me tell you… the content is out of this world! This site is heaven for everyone kinky!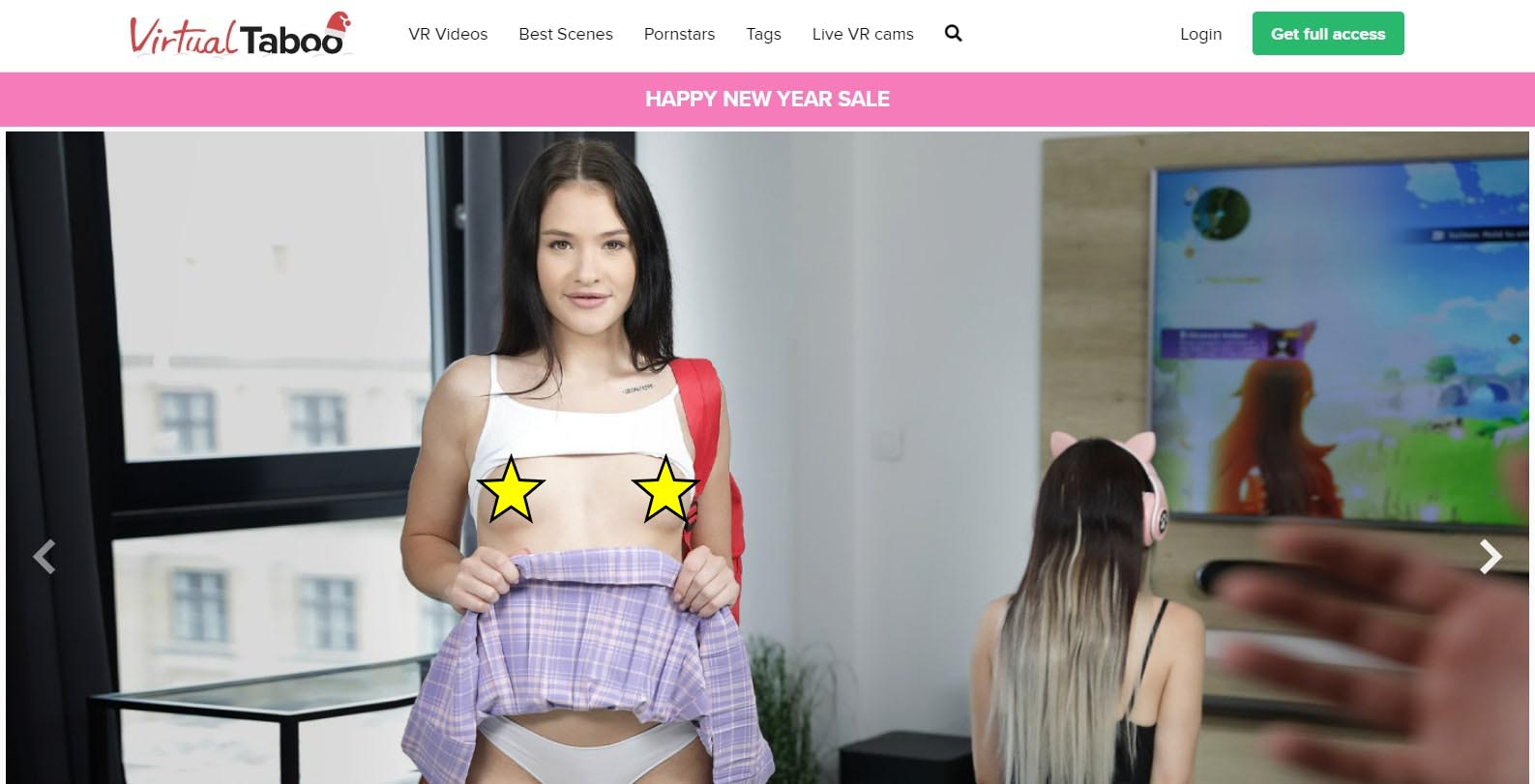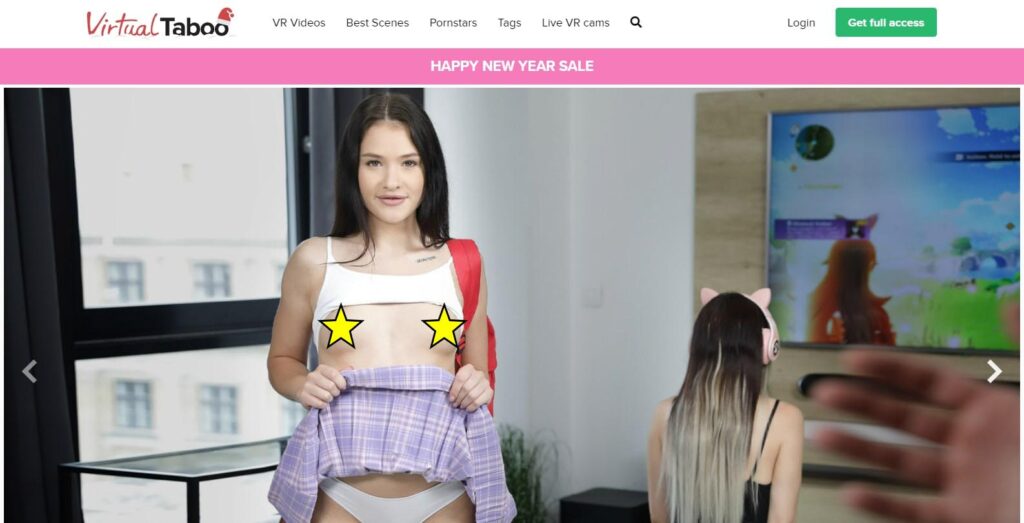 I love how easy it is to navigate the website. A couple of filtering options are available, and the most important one is VR Videos. This tab shows you their enormous collection of VR porn videos, starting with the newest ones. They give you 157 pages of videos to choose from, so no matter how picky you are, it's impossible not to find your thing here.
Does Virtual Taboo offer good content?
What makes Virtual Taboo truly stand out is the quality, variety, and length of videos! It's these qualities that keep them in the game, competing with the big boys! At this moment, you can choose from 871 amazing videos covering every taboo you can think of, and they upload 3 new videos every single week. You will never run out of high-quality content that'll keep you coming back to this amazing website! The videos they offer are some of the best out there. You'll find 15-minute scenes, as well as full-length 50-minute scenes, which is something we all really appreciate! Thanks, Virtual Taboo!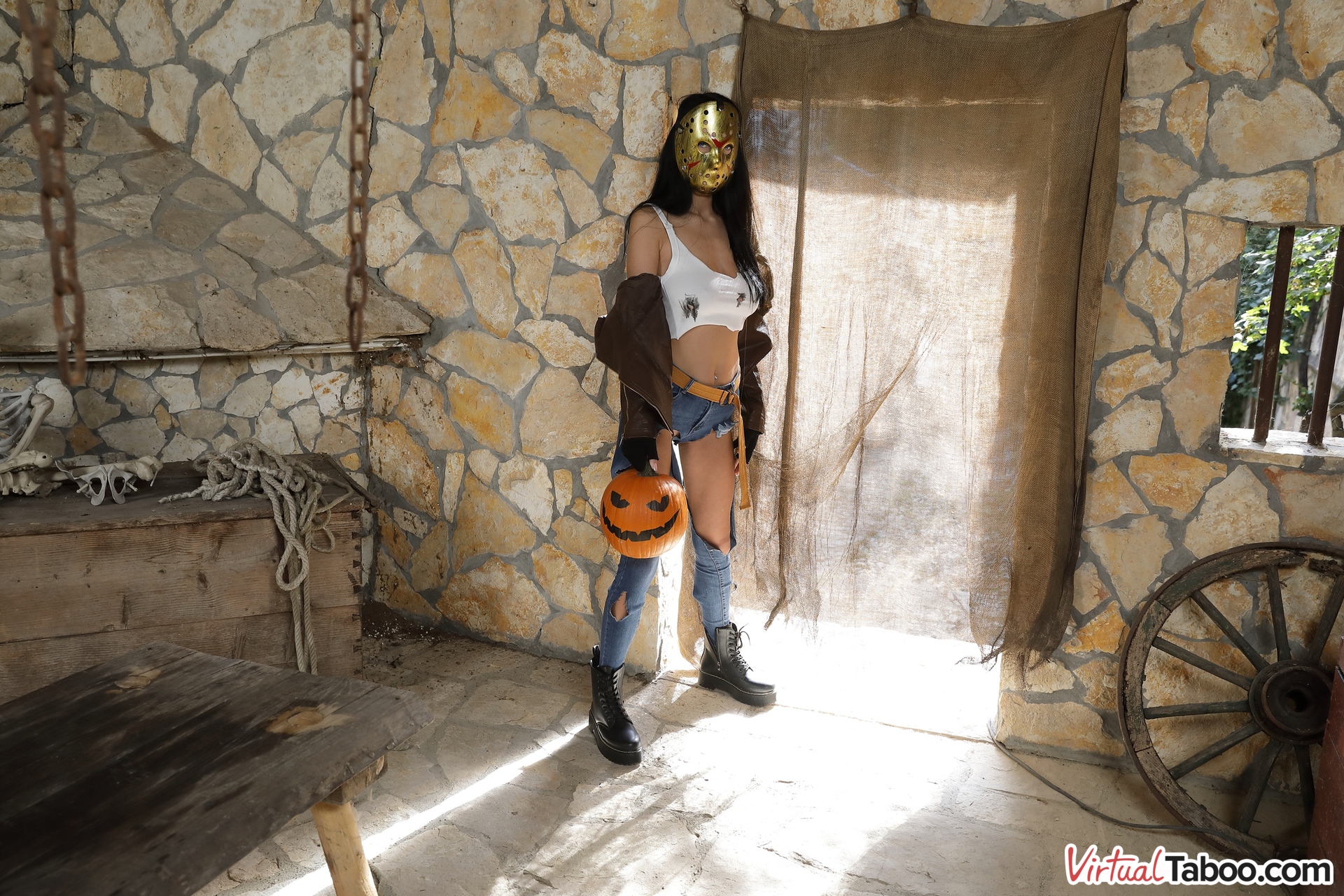 Virtual Taboo is a cut above other major brands as they offer more than just hetero sex. They've got an incredible selection of videos in categories like JOI, Female POV, Masturbation, ⇒ Lesbian sex, and even ⇒ fetishes. They're all about variety, something that many other leading brands could learn from. If you're a woman looking for VR Porn, Virtual Taboo is the perfect site for you. This is a rare find in the world of adult content, but it's a wonderful experience that even men can enjoy. And let's not forget about the amazing masturbation scenes, like the one with Liv Revamped that's currently trending. 
When it comes to content, they get 4.5/5 from me. I really enjoyed the woman's point of view videos, and I think there should be more.
Virtual Taboo's audio and visual quality
Virtual Taboo has certainly come a long way since the release of its first video. Their passion for perfection has always been evident and it's clear that they're doing an awesome job. Despite not being a young company anymore, they've managed to stay ahead of the game while many beginners in the industry have been left behind.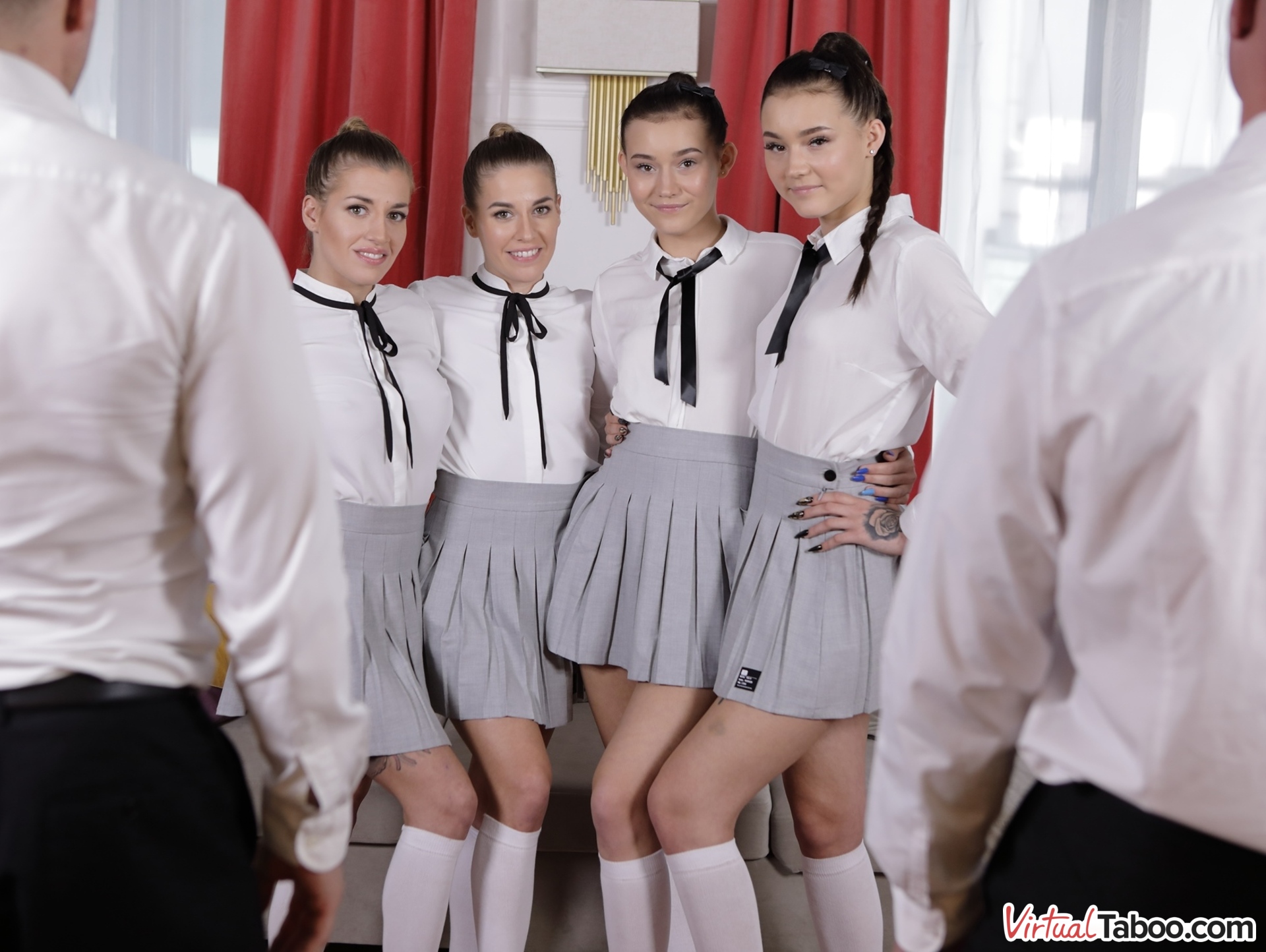 Virtual Taboo's newest videos are now available in 7K and 60 FPS, bringing them up to par with the rest of the industry. The visual quality of their recent scenes is excellent, and the 180 Field-of-View is a nice touch. While some of their older videos may not be as clear, this is a common issue in the industry and Virtual Taboo has undergone rigorous testing and feedback to improve.
All in all, amazing sound and video quality! Some of the most realistic I have come across so far, to be honest.
I'll rate it 5/5.
Is Virtual Taboo so good at model and scene variety too?
You noticed how I keep insisting that this website is the absolute king of variety. With 357 pornstars, it's hard to get repetitive since they're all so different and unique. Each model has their own acting style,  and they all deliver flawlessly. Just name your body type - they have them all! ⇒ Teen, ⇒ MILF, ⇒ big boobs, ⇒ big asses, ⇒ Ebony, ⇒ Asian, skinny, ⇒ chubby… it's impossible to list everything they offer. Just go and check it out for yourself! You may stay there for a while, so make sure you lock your room.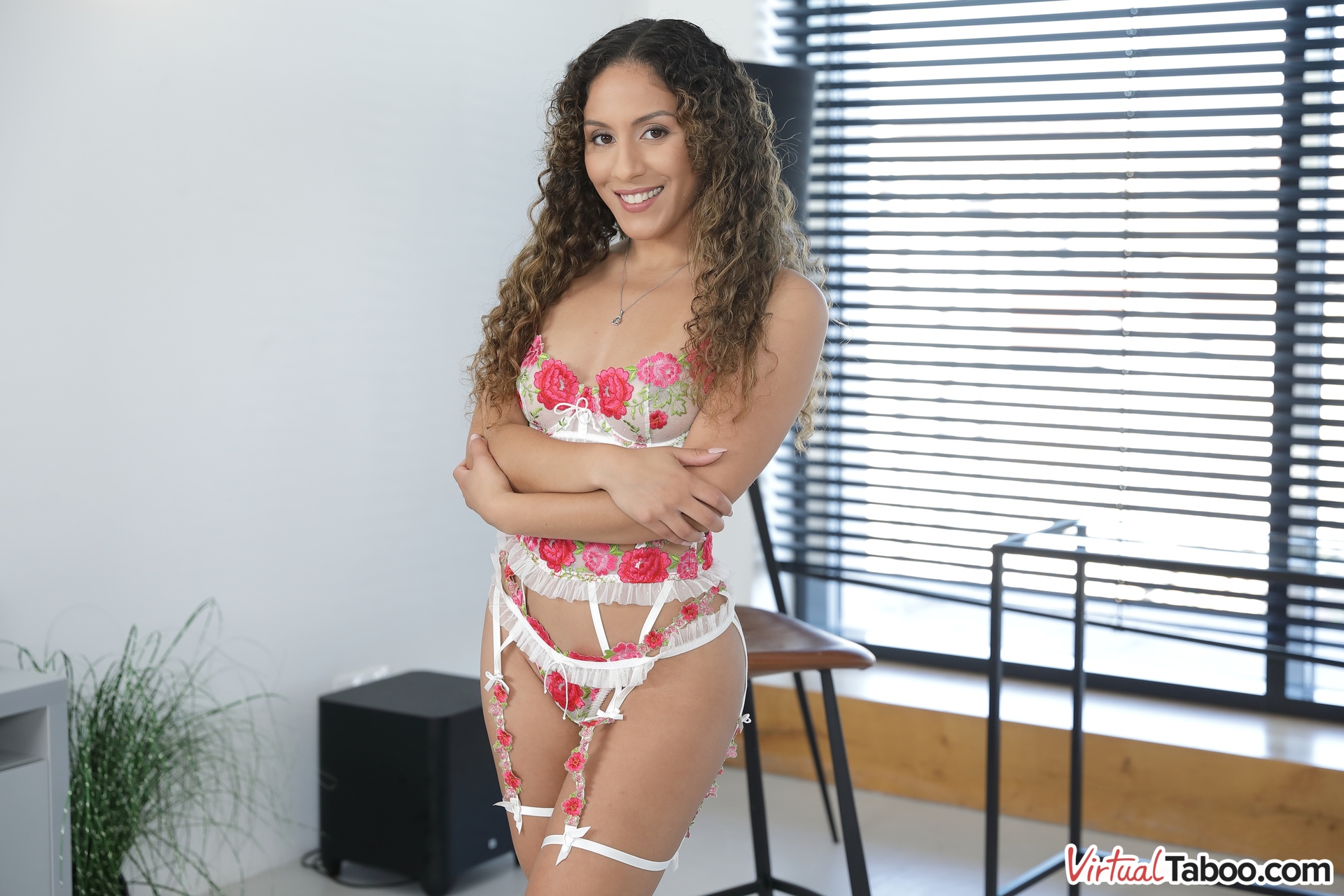 When it comes to Virtual Reality, the looks of pornstars matter way more than in regular porn. For a good presentation, everything from their voices to their reactions is important. In regular porn, I didn't care about their fake breasts or weird comments. However, in VR, I love everything that goes my way. My favorite thing about Virtual Taboo is that they have real pornstars with real bodies. I don't want some fake lips and tits!
Easy 5/5 from me.
Does Virtual Taboo have any deals or discounts?
Virtual Taboo offers sales and discounts all the time. Holidays are the most common time for discounts. However, it is very likely that you will find a discount on Virtual Taboo on any other day. You might be able to have fun for cheap if you keep an eye on them!
Visit their page!
Headset compatibility of Virtual Taboo
I love it when I can say that a VR porn website supports all headsets. It just says something about them.
Virtual Taboo is one of them. This amazing website works with ⇒ Oculus Rift, ⇒ Google Cardboard, ⇒ HTC Vive, ⇒ Valve Index, ⇒ PSVR, ⇒ Oculus Go, ⇒ Quest, ⇒ Quest 2, etc. Moreover, you're good to go no matter which operating system you use! Just plug in, lay back and enjoy the show! 
Of course, if you have any doubts about how to set up your device to watch VR Porn, check out our  ⇒ Guides on How To Watch VR Porn on every device!
It's been a long time since I've seen a VR porn site with such a simple yet effective design. Yeah, I know. This should be standard, but it's not. In general, Virtual Taboo have worked on their website a lot! It's now just perfect: A nice minimalist design, great structure, and everything is super-easy to find.
They allow filtering options with "Best Scenes", which lets you browse their videos based on positive feedback. Next, there is "Pornstars", and this one's pretty straightforward. It's a page dedicated to their amazing talent! "Tags" lets you browse through Virtual Taboo's Categories. And they offer a lot of categories! This is a great way to browse through their videos because their team really takes care to include as many niches as possible. Thanks, guys, we always appreciate that! In addition, they offer "Live VR Cams" - an option we are all very familiar with.


If you need help with the "how-tos", they're at the bottom of the page. Right next door is their support page.
Now here comes the kick! I can't stress enough how much I appreciate websites doing this - they have a free-video section for anyone new to VR. Say you got a VR set as a gift, and you want to check out the world of VR porn before investing - these guys have got you covered!
Virtual Taboo makes sure their site is perfect for taboo fans! I'll rate it 4.5/5.
Virtual Taboo subscription cost – Is it worth the money?
Virtual Taboo is pretty standard for a niche site at $29.99 a month. You just need an email address (any one will do) and a username. That's all. Totally secure and anonymous. Credit card payments go through a third-party company with no connection to you, and they won't show up under your name on your bill. Porn is hard to pay for, but it's so worth it!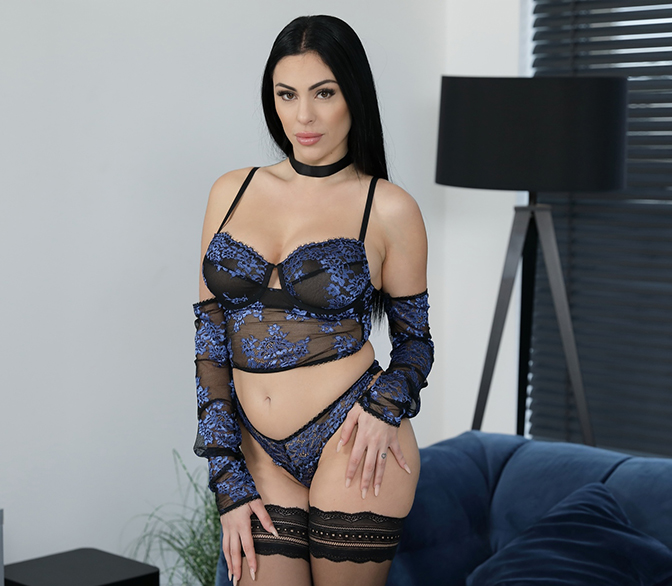 VR Porn is way too expensive for amateurs or freebies. I've been there, searching for free stuff. I don't think it's worth it. For that little money, you can download all the videos in the best quality. 
You can also get great prices for three months and a whole year with Virtual Taboo. With every new release, you'll get instant access.
Virtual Taboo is a bargain if ever I have seen one.
Conclusion: Do we recommend Virtual Taboo?
It's no wonder that more and more people choose this website as their preferred source of VR fun. I mean, this kind of quality, this kind of variety… for this price? This one is a no-brainer, guys.
Virtual Taboo: Our Summary
Virtual Taboo is a high-quality VR porn website that offers a great variety of taboo plots and video categories. Their website is user-friendly and their videos are available in 7K and 60 FPS. They have excellent visual quality and a nice 180 Field-of-View.