Quick & Easy: Is VRPorn.com worth it?
A huge selection of videos
Fantastic user experience
The hottest VR Porn games included
Top-notch pornstars
Lots of scenes and models to choose from
A secure and safe billing system
High-quality content
VRPorn.com is the world's most visited VR porn site, with over 3000 full scenes from almost 100 of the top studios worldwide. It offers high-quality videos, a fantastic user experience, and a secure billing system.
VRPorn.com's website - What is it like?
VRPorn.com's website is top-notch! The layout is sleek and easy to use, so you can quickly find exactly what you want. And they've truly outdone themselves with a speedy and user-friendly video player that lets you watch breathtaking 8K quality videos!
As soon as you land on the homepage, you're greeted with a fantastic selection of the latest videos. But that's not all - their filtering options are second to none. You can effortlessly browse through "Categories", "Pornstars", and "Studios" to find the perfect video for you. Even with a massive selection from various sites, VRPorn.com makes it a breeze to find your way around!
What kind of content does VRPorn.com offer?
The VRPorn.com website has an amazing collection of over 3000 full scenes from almost 100 of the top studios worldwide, including giants like VR Bangers (⇒ Review), VirtualRealPorn (⇒ Review), etc. They have the best virtual reality porn videos by category uploaded by each studio to make their website stand out to new customers. And the number of different categories is something to behold! With so many categories, it's impossible not to find what you're looking for.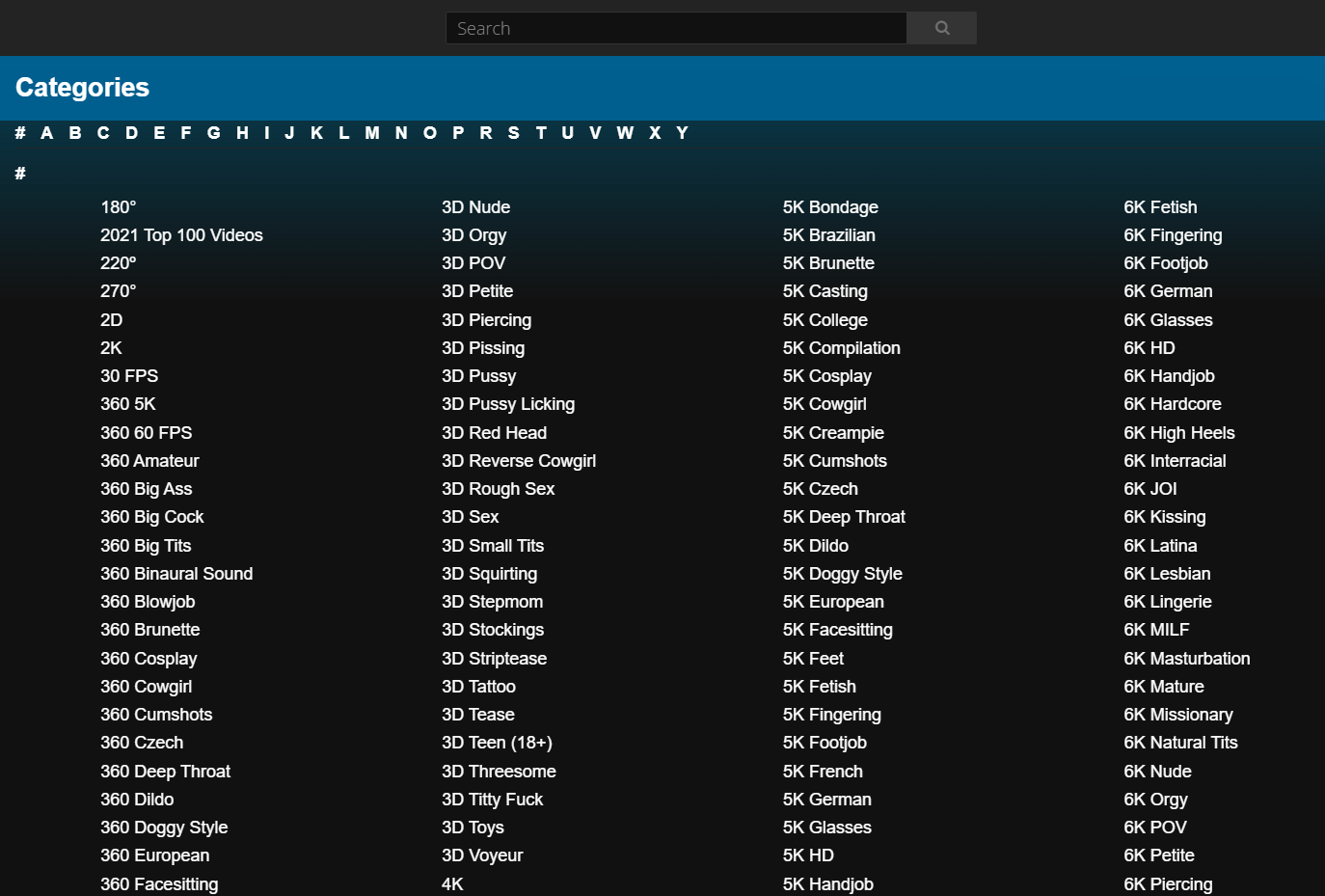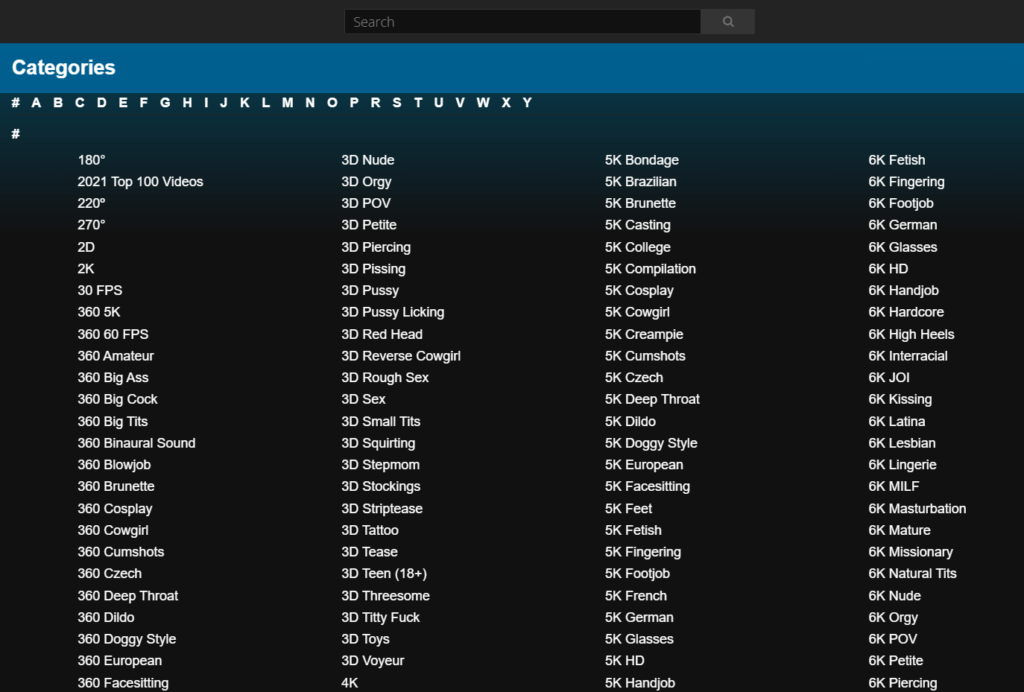 VRPorn.com has a ton of free videos for you to enjoy - and not just those boring short clips that other sites give you. But here's the deal: if you really want to unlock the full potential of this site, I suggest going premium. By doing so, you'll have access to almost 3000 full-length videos from some of the best studios around. Trust me, it's worth it!
When it comes to content, VRPorn.com is an absolute beast! Easy 5/5.
Premium Membership offers 38 Bonus VR Porn Games as well
Not only does VRPorn.com give you access to the best VR Porn scenes from top-notch studios, but they've also included something special as an extra: a huge VR Porn Games pack to help you optimize your VR experience and make sure that your VR experience is nothing short of amazing! You'll find some amazing titles here, like Virt-a-Mate (⇒ Review), one of the best porn games ever! In addition, you'll also find the full Holodexx Collection (⇒ Review), another very well-known 3D VR porn game that will take you right in the middle of your wildest sex dreams in seconds… with your favorite pornstars as protagonists!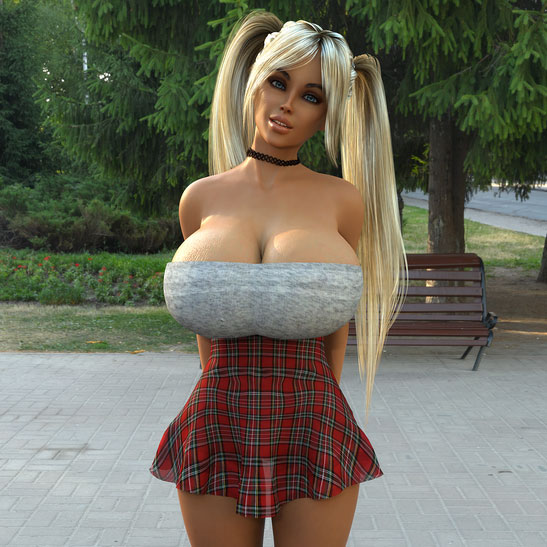 Captain Hardcore is a fantastic VR porn game that you won't want to miss. It's a sandbox game that lets you experiment with all sorts of kinky toys, from whips to dildos, and will keep you entertained and satisfied for hours. I speak from personal experience!
Of course, there are plenty of other amazing games out there too. But remember, many of these games can cost quite a bit on their own. So when you factor in the enormous amount of content you get with a Premium account on VRPorn.com, the value is unbeatable. Sign up today!
Does VRPorn.com offer a good variety of models and scenes?
VRporn.com is the reigning champion of content, and for a good reason. With an impressive range of categories, especially considering their focus on VR Porn, they've managed to beat even Pornhub in terms of variety. Believe it or not, they offer over 3,000 full-length movies and 15,000 videos overall! Unlike other premium VR porn sites where you're limited to a handful of videos, VRporn.com caters to almost every fetish you can think of. The sheer number of scenes they offer is virtually limitless.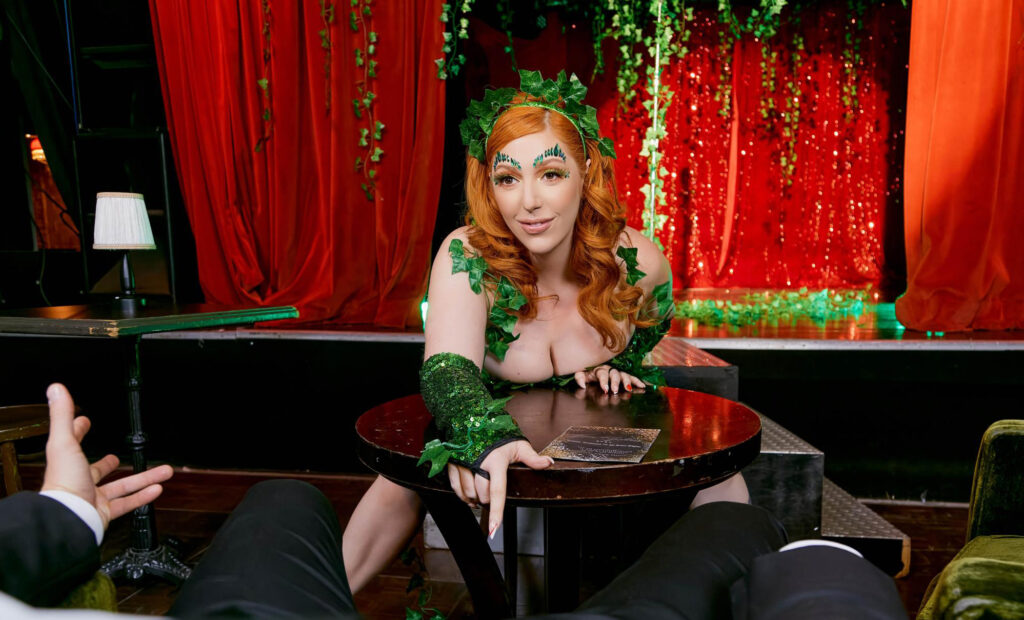 It's because over 90 studios upload their videos directly onto the site to take advantage of its huge popularity over the last 7 years. That means you're getting the cream of the crop in VR porn content, all in one place. You won't find this kind of variety and quality anywhere else! Plus, their pornstars are simply AMAZING! Their roster of pornstars is so huge and varied that it's impossible not to find one you like! Not even "like" - it's more like WORSHIP! 
A solid 5/5 from me.
The audio and visual quality of VRPorn.com
Both the audio and the visual quality of VRPorn.com are out of this world! I mean, I started watching a video, and about two minutes in, I forgot that I was sitting in my room! I forgot to lock the door. Don't make the same mistake. 🙂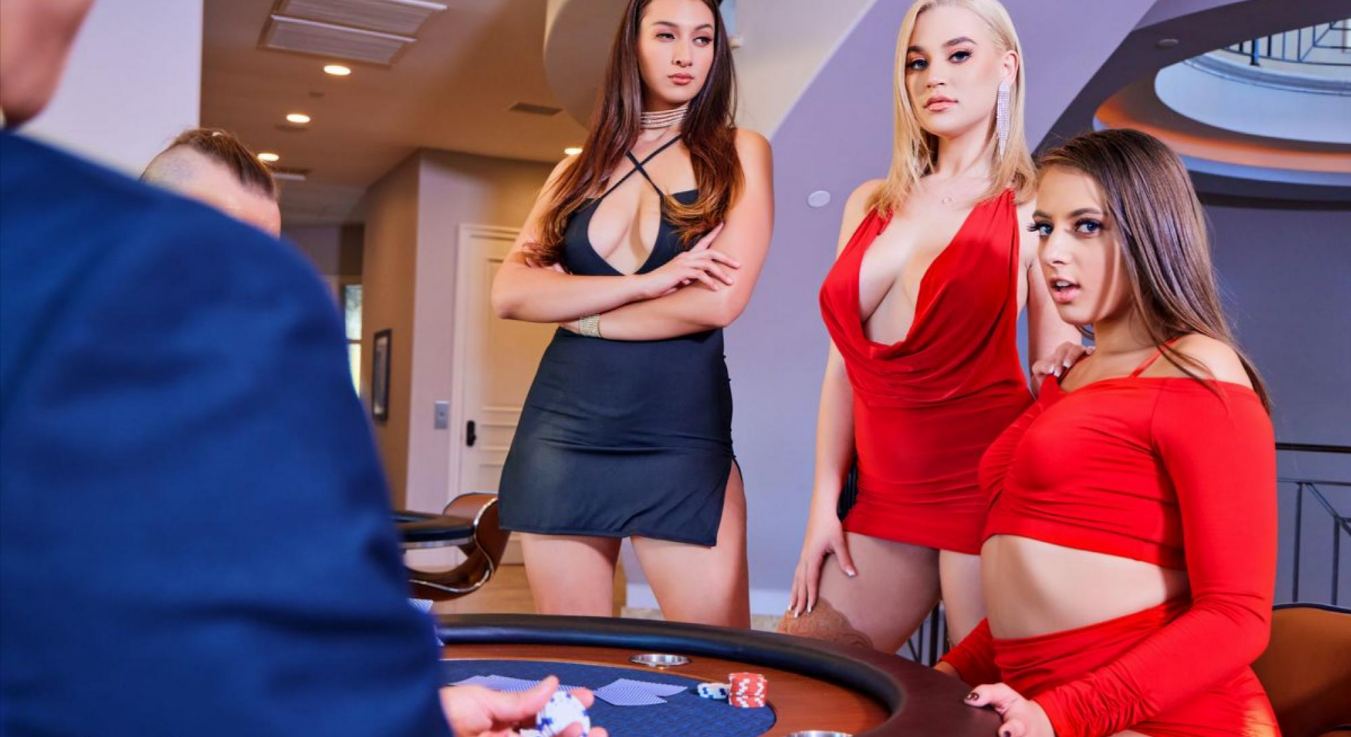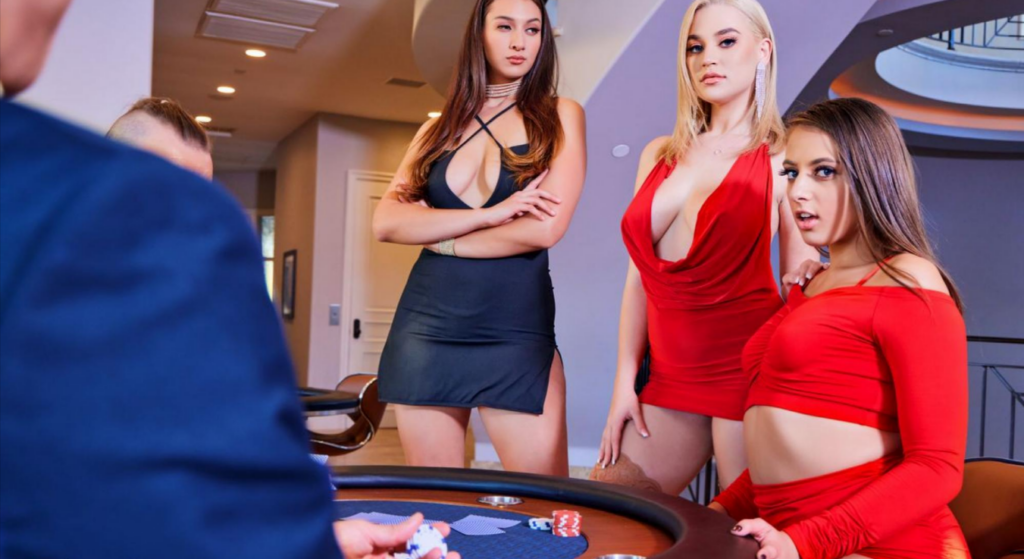 The audiovisual quality is so incredible that it takes immersion to a whole new level. You'll notice every detail on the models and feel like you can almost touch them. The sound is so realistic it'll make you feel like you're in the same room with the models. These guys definitely know what they're doing, whether they're recording or editing. Don't miss out on this mind-blowing experience!
VRPorn.com offer videos of various quality. You can choose from 4K, 5K, 6K, 7K, and 8K resolutions.
The audiovisual quality is legendary! I give it 5/5.
Is my headset compatible with VRPorn.com?
VRPorn.com works on the most popular VR devices, including ⇒ Quest,  ⇒ Quest 2, ⇒ HTC Vive, ⇒ PlayStation VR, and ⇒ Google Cardboard, among others. They have a wide range of compatibility, so you can enjoy their content no matter which headset you have. Of course, using a high-end headset will give you the best experience, but even if you're on a budget, you can still enjoy their content with the device you have. VRPorn.com wants to make its content accessible to as many people as possible.


You can either stream the video directly from the website, which connects the headset to the player, or you can download it and play it using a media player. Streaming is easier, but you should know that it comes with quality compromise! Downloading the video is always the recommended option!
Of course, if you have any doubts about how to set up your device to watch VR Porn, check out our  ⇒ Guides on How To Watch VR Porn on every device!
In the porn industry, a smooth user experience is key, and VRporn.com delivers exactly that. While testing videos, even in 8k, I had no buffering issues, and while downloading, the speed was always at 10 Mb/s.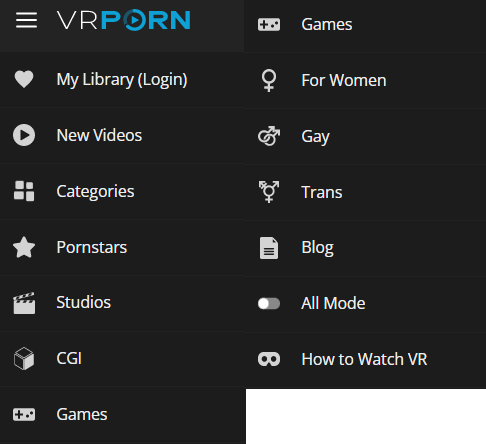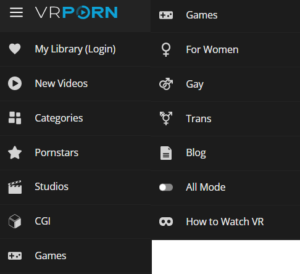 It's awesome to see that VRPorn.com is catering to everyone's needs with their audience-based content options. They have a menu that lets you choose between "For Women", "Gay", and "Trans" categories. This is a refreshing change compared to many other websites that don't offer this level of inclusivity.
Plus, the "Games" tab on VRPorn.com is a must-see if you're looking for a more immersive experience. They have an impressive collection of porn games that you can access directly from the homepage. Keep in mind that some of these games have high graphic requirements, so you might need one of the higher-end headsets to enjoy them fully. 
4.5/5 from me here!
VRporn.com subscription cost – Is it worth the money?
If you want to get the most out of your VR porn experience, then go ahead and sign up for the Premium service. It's a crazy good deal that you won't regret, especially since you get access to nearly 3000 full-length videos.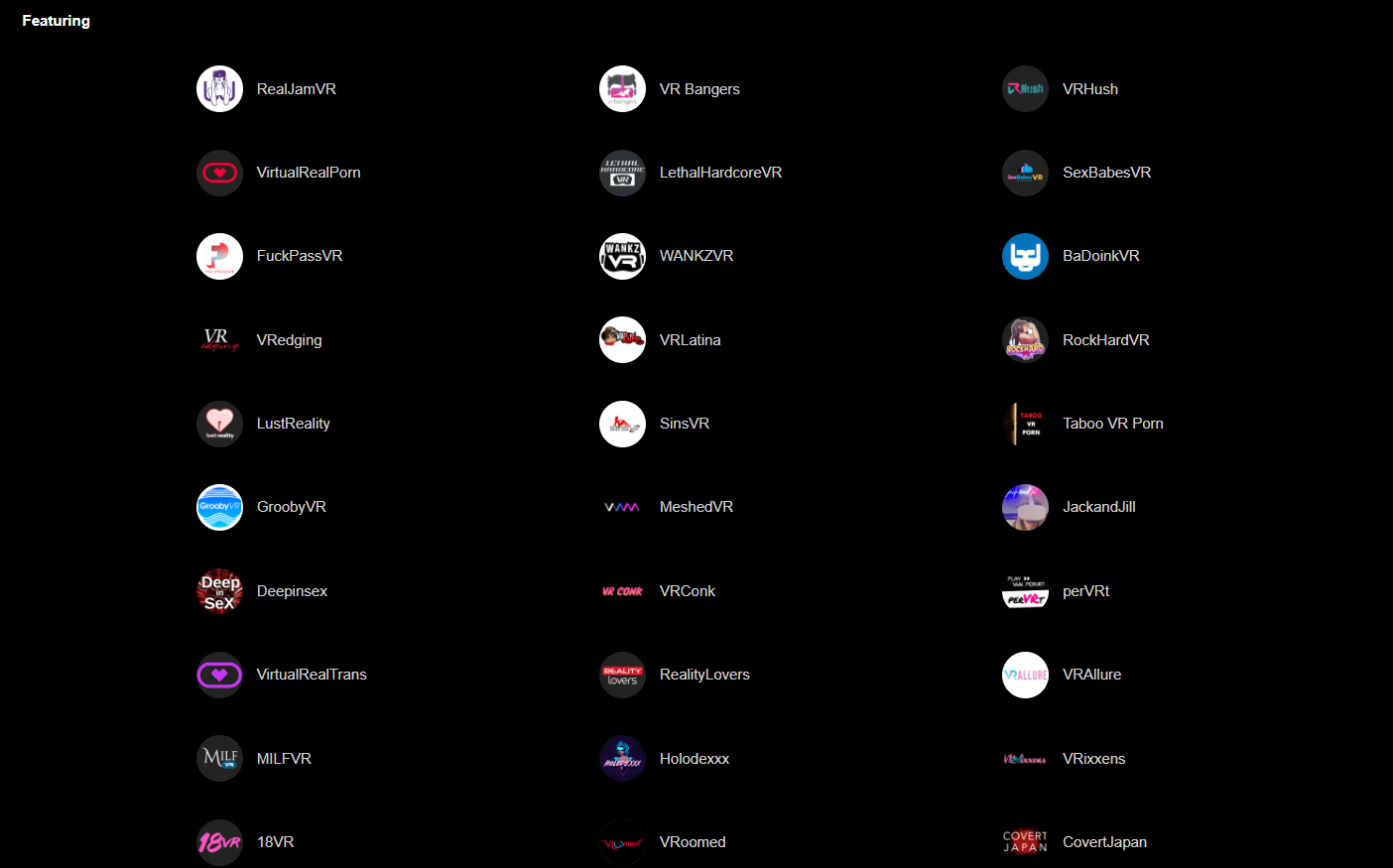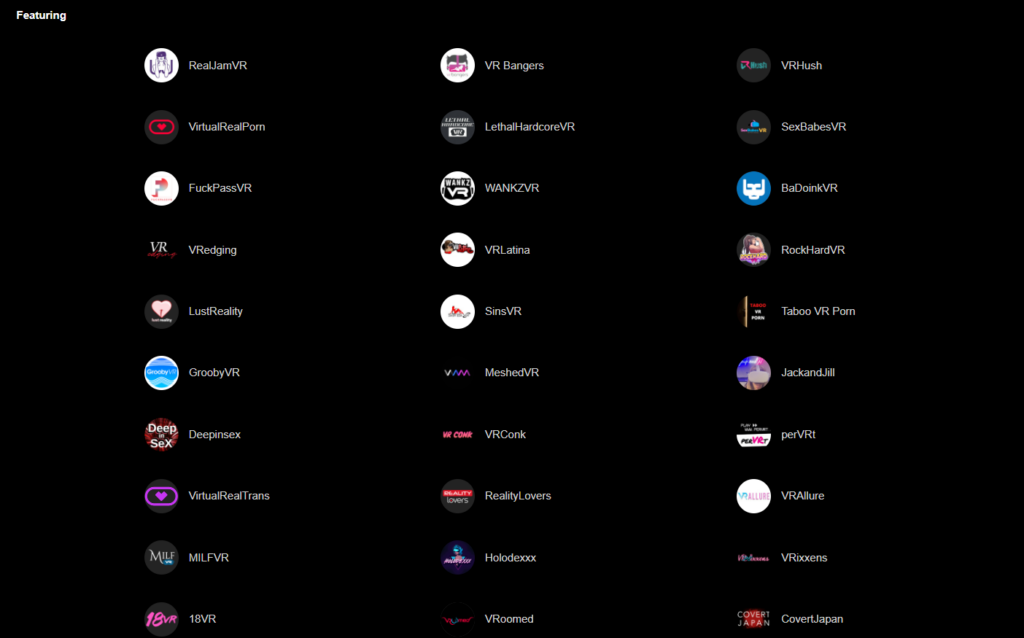 Only $19.95/month gives you access to 3000 full-length videos from top studios with the hottest and trendiest pornstars in the game, not to mention that 7.99/month on a yearly subscription is a no-brainer, this is one of the best deals I've ever seen. In terms of payment options, you've got Visa, MasterCard, PayPal, as well as cryptocurrency options like Bitcoin or Litecoin.
Does VRPorn.com have any deals or discounts?
VRPorn.com offers sales and discounts all the time! Holidays are the most common time for discounts. However, it is very likely that you will find a discount on VRPorn.com on any other day. You might be able to have fun for cheap if you keep an eye on them!
Visit their page!
Conclusion: Do we recommend VRPorn.com?
It's no surprise that VRporn.com is the world's most popular VR site. High-quality design, easy-to-use interface, and tons of content for a really low price are the things that make this site so popular. Definite recommendations from us!
VRPorn.com is the world's most visited virtual reality porn site, with over 3000 full scenes from almost 100 of the top studios worldwide. It offers high-quality videos, a fantastic user experience, and a secure billing system.