Awesome Female POV content
Really hot models
8K
User-friendly website
Exclusive content
Safe and anonymous
No extras from the network
Needs a bit more model variety
What kind of content does VirtualRealPassion offer?
Porn, in general, has traditionally been oriented towards men. There are VR Porn Sites that offer some Female POV videos (like ⇒ VR Bangers (Review), ⇒ Reality Lovers (Review), etc.), but a tiny number are strictly Female POV-oriented. And that's where VirtualRealPassion comes in.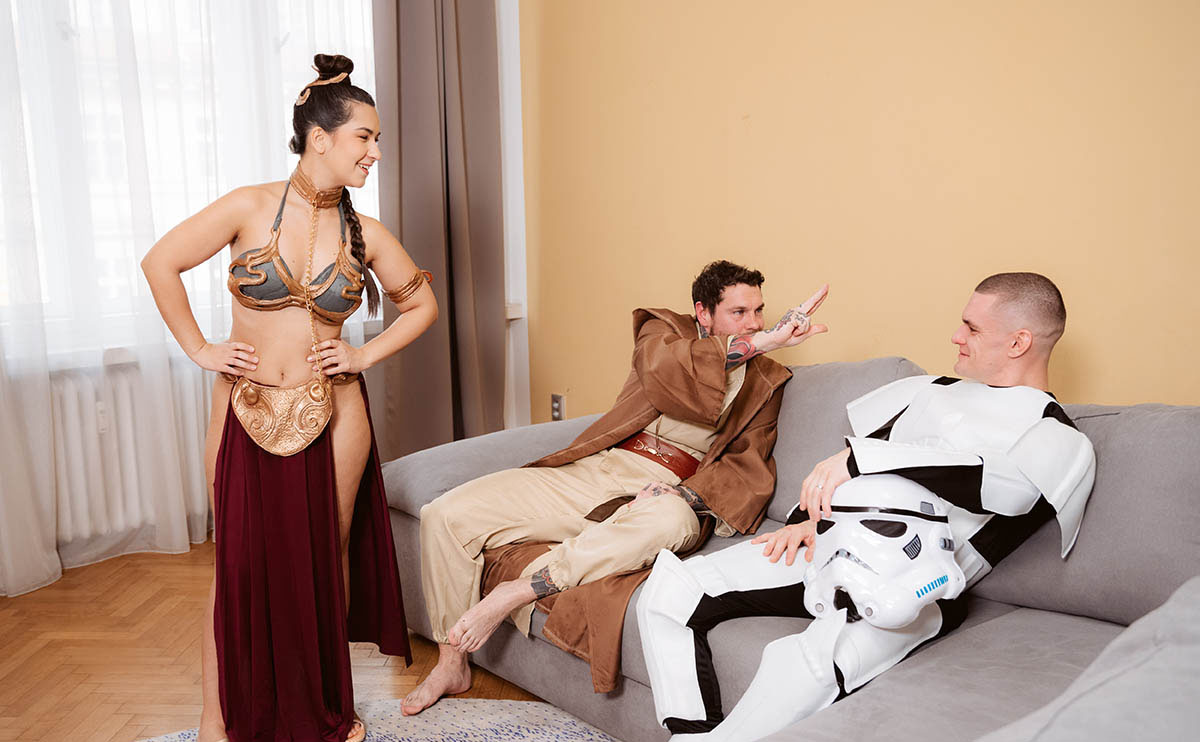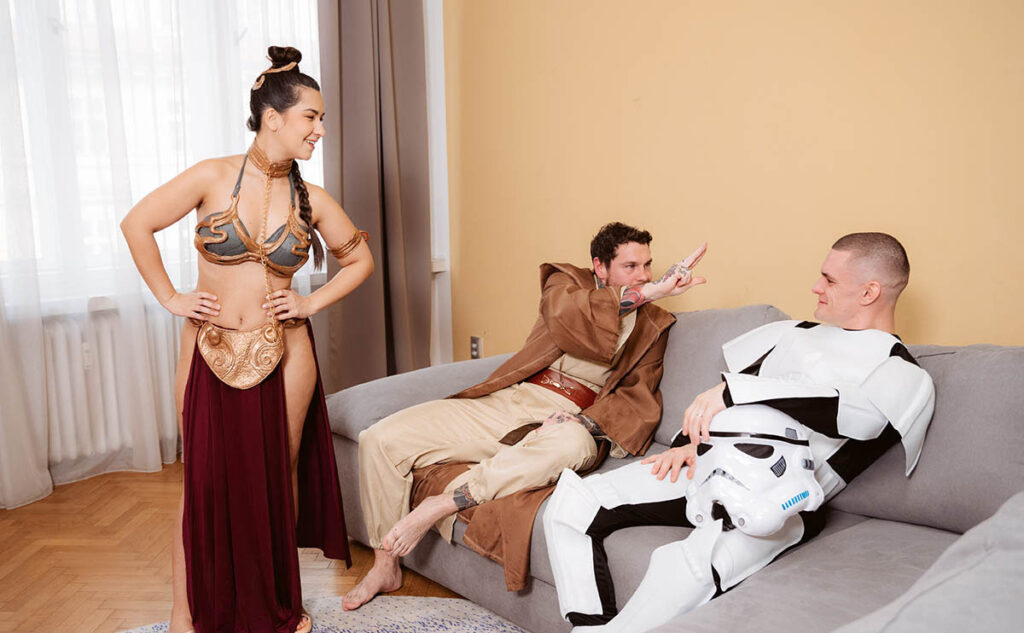 VirtualRealPassion launched their site in 2017, and so far, they've racked up 115+ incredibly immersive ⇒ Female POV VR Porn videos in their library! They update their content twice a month, and each new video is better than the previous one. Now, don't make the mistake of thinking this is a vanilla-only site. You'll get a ton of ⇒ threesome and ⇒ hardcore sex followed by everything we all love about porn - ⇒ blowjobs, doggy, cowgirl, ⇒ lesbian, outright ⇒ orgies, ⇒ masturbation, solo action, pussy licking, toys, etc. If you're a fan of ⇒ softcore sex instead, they've got you covered there as well! If, on the other hand, you're more into sexual experimenting, they have some great ⇒ FMM threesome bisexual videos you'll absolutely love!
The average video length is about 30 minutes. There are shorter and longer ones, of course. And that's really cool. Depending on your time, you can either go for a quick masturbation session or spend a good 50 minutes enjoying every single moment of it.
Great job, guys - 5/5!
Does VirtualRealPassion have a good variety of models and scenes?
Oh, indeed they do! Ladies, prepare for this. You'll get fucked by, or you'll ride any guy you want here. From muscular tattooed beefcakes to skinny models. You can choose if you want them to have a beard or to be clean-shaven, and you can even select them by hair color or ethnicity! The lesbian content is excellent, too. You'll get tons of great-looking chicks who are more than ready to lick you to orgasm or take a strapon and go all wild on you. Hell, if you're more into being the one with the strapon, you'll also get some of that! Overall, if there's one thing I could say here, it's that I think they should add more Latino or Asian models as well. Both male and female. It would be one hell of an addition!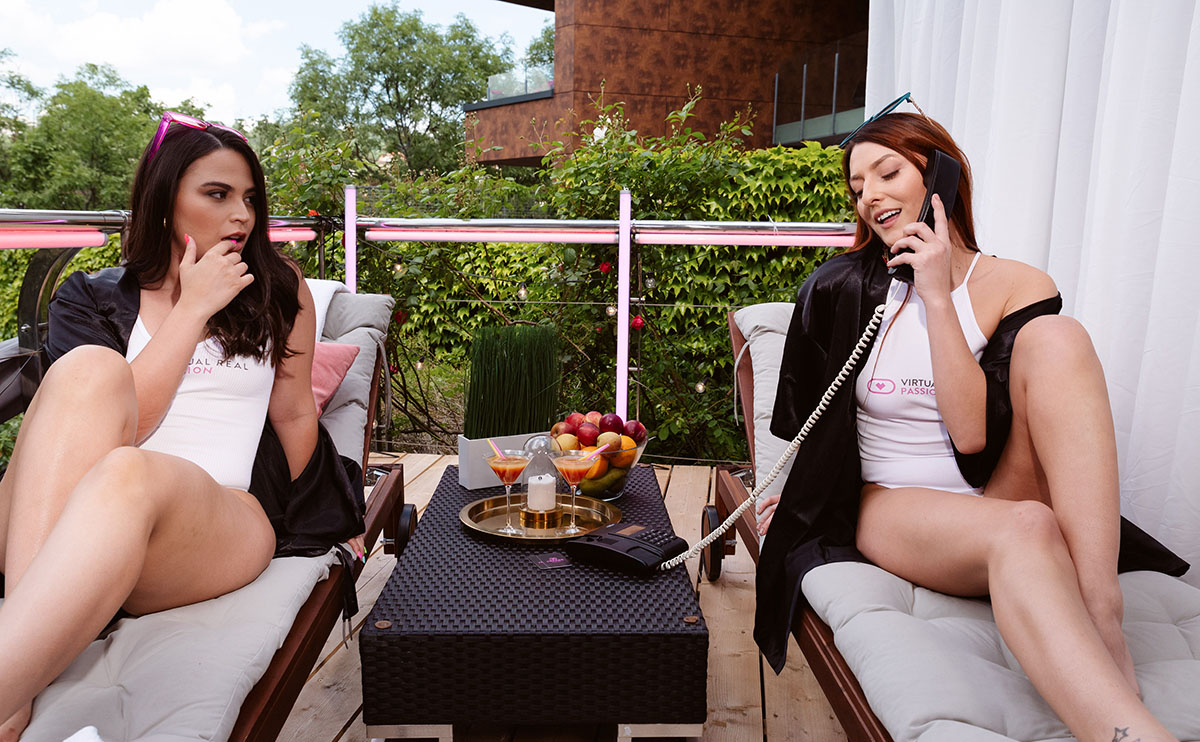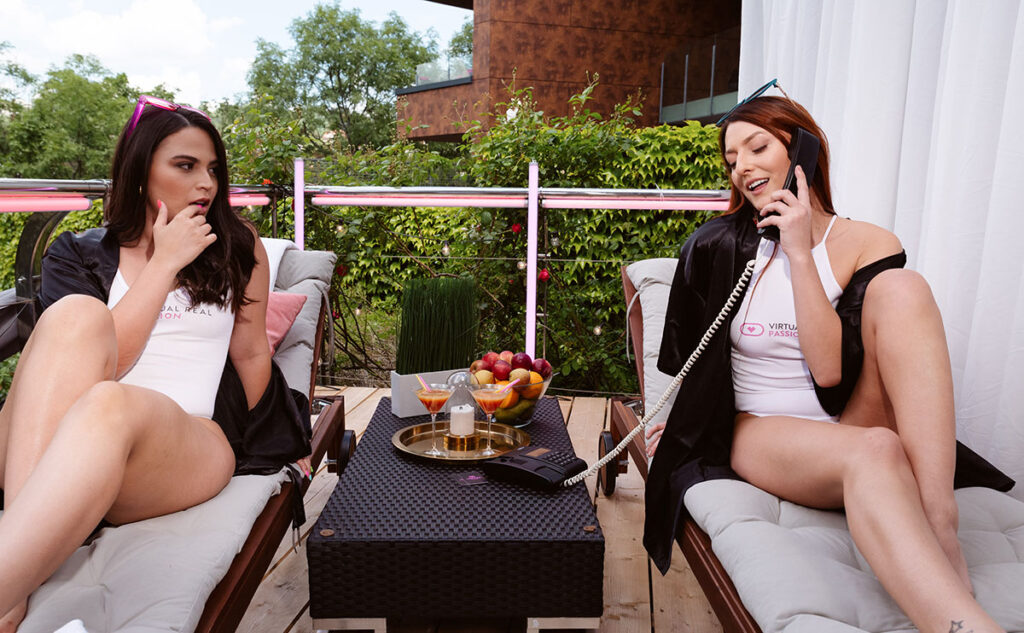 Now, porn is commonly all about the action. A lot of VR Porn Sites fall into the trap of focusing only on the action. I guess we can say that VirtualRealPassion had a similar problem initially. But come on, this is one of the best studios out there - we had to see it coming that they would quickly realize what the problem was. Thankfully, they fixed that because of their long experience in VR Porn. In their newer videos, the acting is really professional and believable. You won't think for a second that it's cheap or corny or anything like that.
Also, if you happen to own a Lovense or Kiiroo VR Sex toy, make sure you check out their collection of Interactive videos! You can connect them to your toy and feel whatever's going on on the screen.
4.5/5 here!
VirtualRealPassion's audiovisual quality
VirtualRealPassion used to shoot 5K videos when they started. Over time, they upgraded their rig, and they've uploaded only 8K quality videos for some time now. And the quality is something else entirely!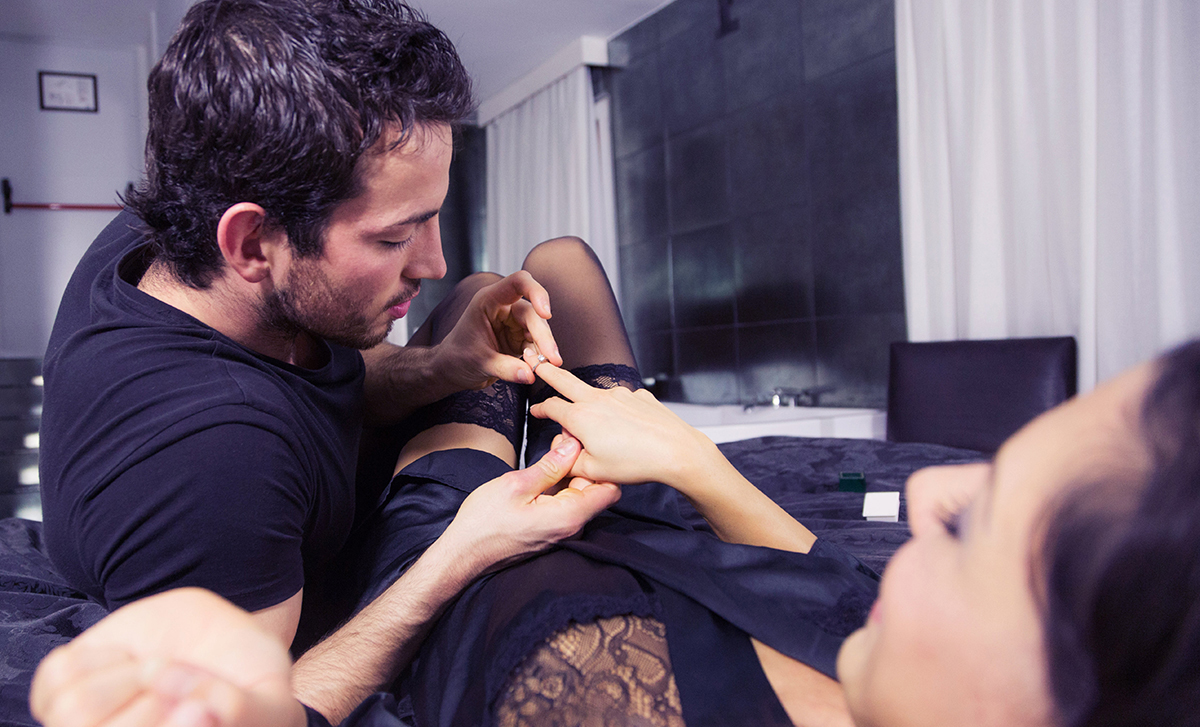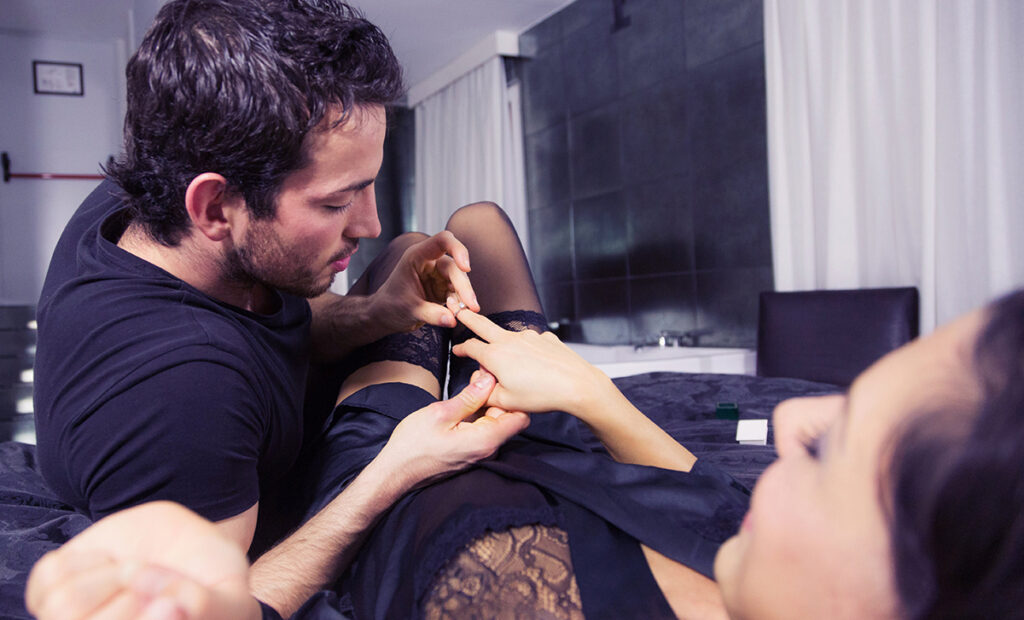 The videos are recorded at a smooth 60 frames per second, complete with immersive binaural audio. Plus, every video flawlessly incorporates 3D technology, giving you an unforgettable experience. All of these videos have a wide 180-degree field of view, so they're perfect for VR Porn. All the videos I watched while writing this review (God, I love this job) worked seamlessly. The camera was in all the right places, the angles were great, and the lighting and the post-production are just perfect!
Easy 5/5!
VirtualRealPassion's site is a breeze to use. As you land on the home page and start scrolling, you'll see their selections of Top Rated and The Latest Videos. The top of the page is similar, with tabs such as "VR Porn For Women," "Categories," "Models," "Interactives," a handy search button (always a big plus), and the Login options. You get a lot of ways to browse the content. Besides the Categories Tab, you have a bunch of tags underneath every video, so it's really easy to find what you want. Getting lost is not an option.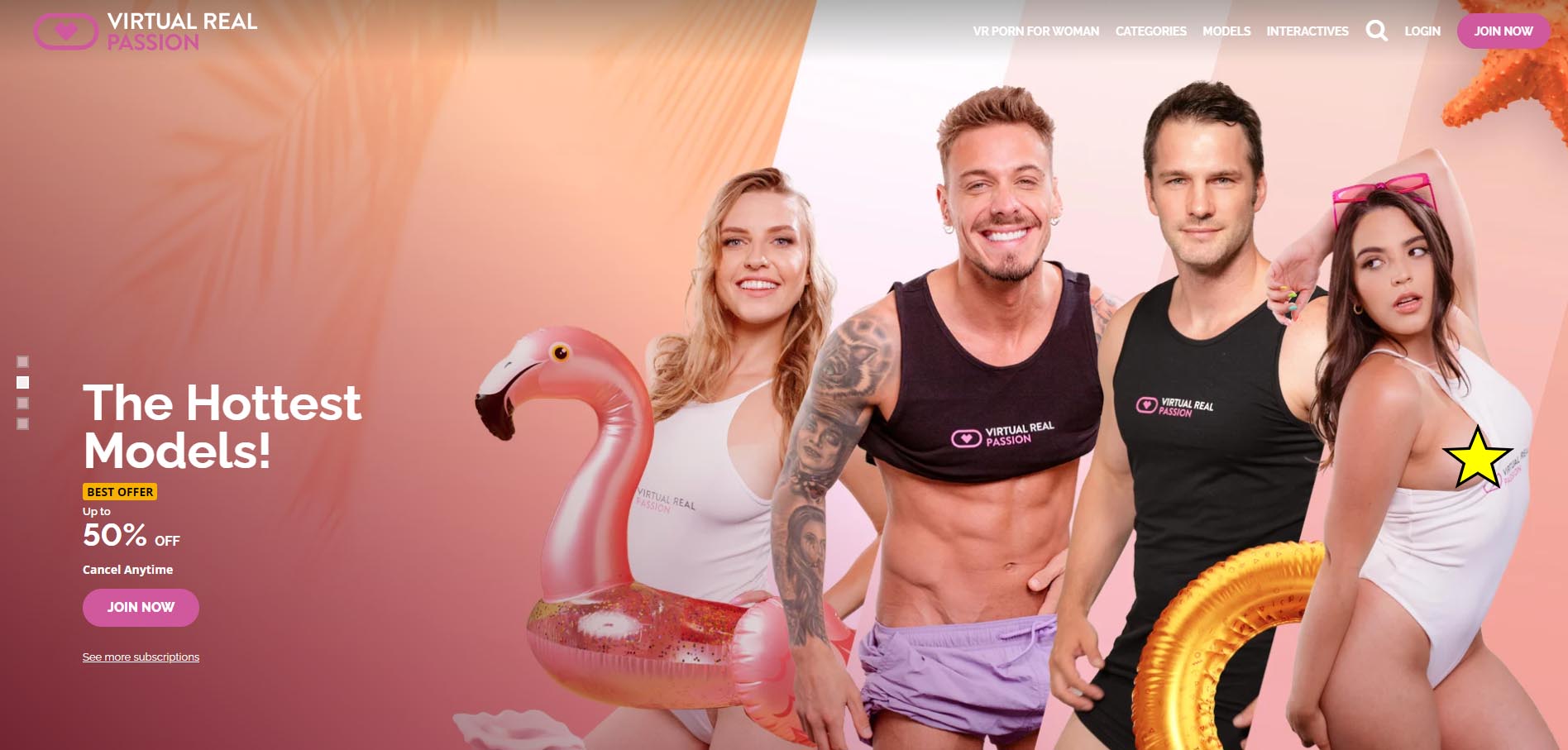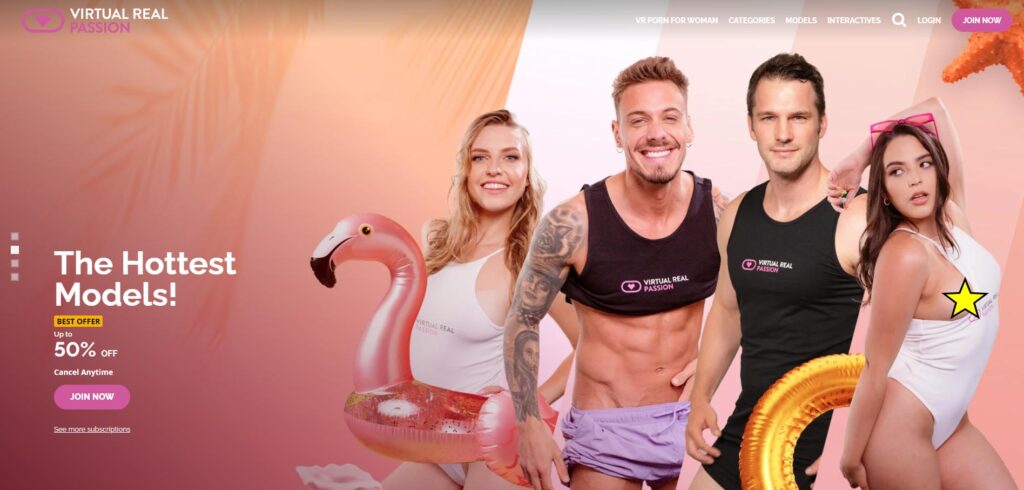 If you're hunting for extras, you should know that it's all about free trailers and professional photos from the sets. It's really cool that they offer them, but that's about it. You won't get a taste of other sites from the VirtualRealPorn network with it. While some websites are generous enough to give you the keys to their entire network, this one's a bit more selective, so you'll have to stick with the main course.
4.5/5 from me.
Is my headset compatible with VirtualRealPassion?
VirtualRealPassion is compatible with all the major VR headsets out there. So you'll have a blast, no matter if you're using an ⇒ Oculus Rift, ⇒ Oculus Go, ⇒ Quest, ⇒ Quest 2, ⇒ Gear VR, ⇒ Daydream, ⇒ HTC Vive, ⇒ Valve Index, ⇒ Windows Mixed Reality, ⇒ PSVR, or your trusty ⇒ Smartphone with ⇒ Cardboard! I can't wait to see their content through the lens of ⇒ Quest 3!
If you need help setting up your headset, check out our ⇒ Guides on watching VR Porn on every device. We've got all the info you need and all the tips and tricks to make the most out of your VR Porn journey!
Pricing: How expensive is VirtualRealPassion?
VirtualRealPassion offers four subscription plans: 1-month, 3-month, 1-year, and Lifetime subscription. They won't break the bank, even though their content's quality and quantity are awesome! I mean, for 10 bucks a month, you get the best Female POV VR Porn collection in the world. Plus, unlimited streaming and downloading! If that's not a sweet deal, I don't know what is.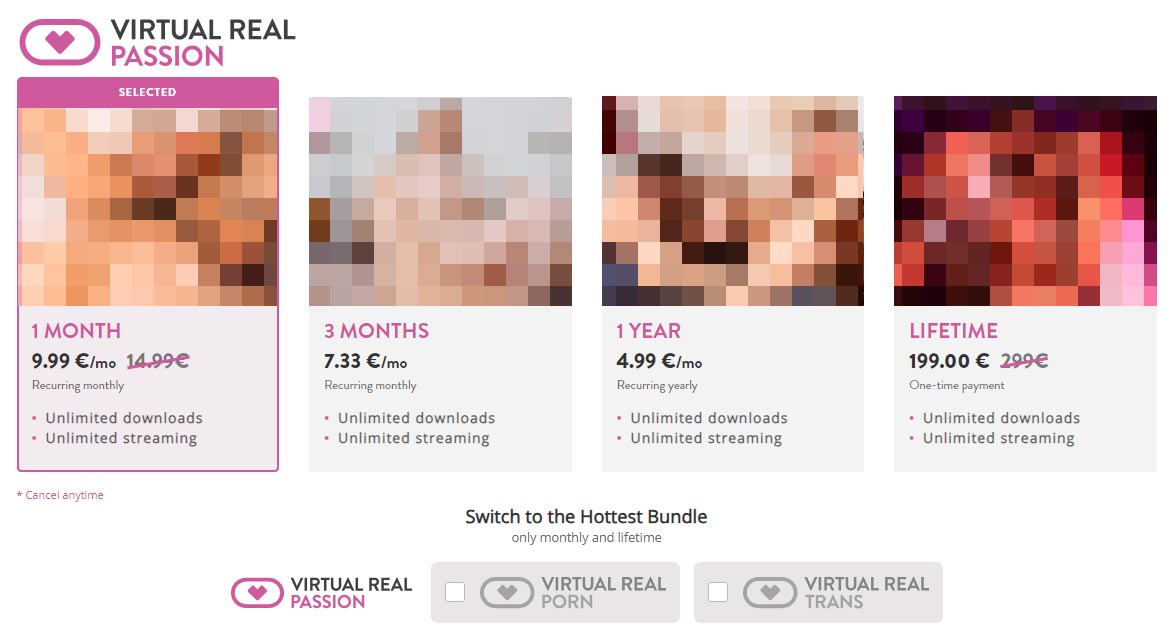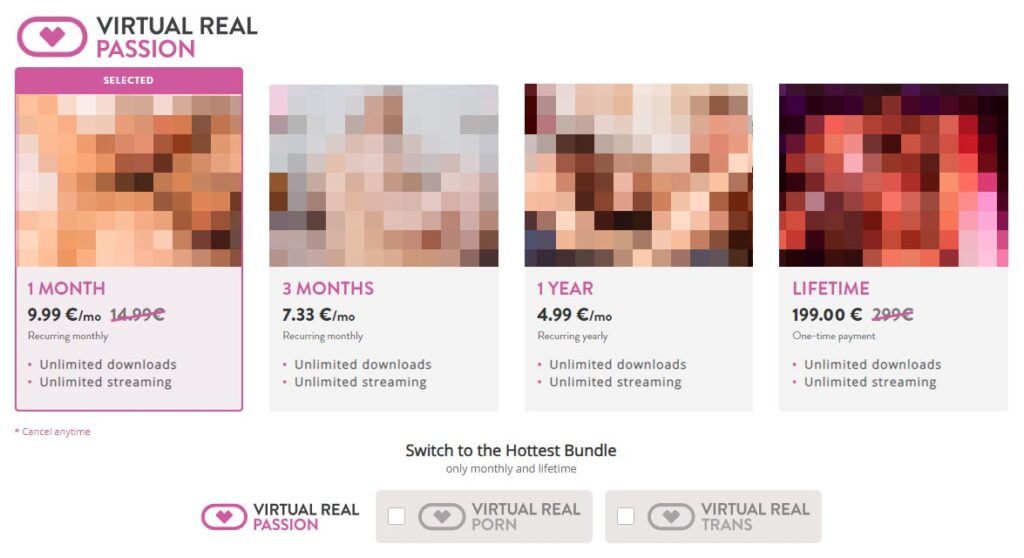 Now, we mentioned earlier that you don't get any of the sites from their network. Technically, you could get them, but you'd have to get a more expensive subscription option. You can choose between ⇒ VirtualRealPorn (Review) and ⇒ VirtualRealTrans (Review). You can choose both of them as well, but you should know that the price gets higher with each added site.
The billing is safe and anonymous, so you don't need to worry about any scams, malware or anything like that. The bank statement won't show anything related to the adult industry.
Future: Will we be seeing more of them?
Oh, you better believe we will! With so few VR Porn Sites focusing on Female POV VR PORN, VirtualRealPassion will easily stay at the top of the game! Not because of the competition but because of the quality. This site easily has some of the best Female POV videos I've ever seen, and with the experience and the tech on their side, they'll be doing this for a long time!
5/5!
Conclusion: Do we recommend VirtualRealPassion?
Ladies, if you're into VR Porn (and I don't see a reason why you wouldn't be), go for it! VirtualRealPassion won't break the bank, and you'll get a ton of crazy-good content to enjoy! Guys, if you feel like experimenting, consider subscribing as well - it's a really cool change to see the whole action from the ladies' point of view! You know what to do!
VirtualRealPassion: Our Summary
VirtualRealPassion is the world's first and best Female POV VR Porn Site! You'll get a ton of awesome content and super sexy models for cheap. In 8K, no less!