Quick & Easy: Is VirtualRealGay worth it?
Incredibly hot guys
Great plots
Amazing visual quality
Easy-to-use site
Safe and anonymous
Compatible with most headsets
No extras other than free trailers
What's VirtualRealGay's content like?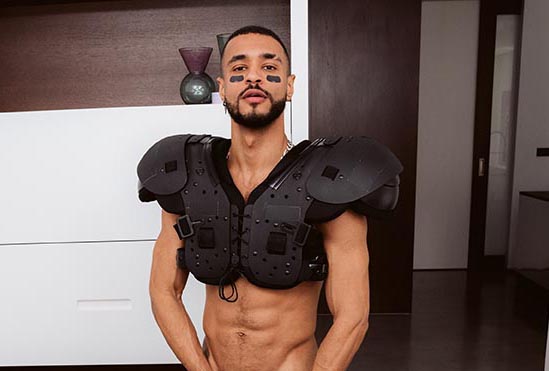 VR Porn studios tend to get stuck on the same scenario and repeat it repeatedly. Not VirtualRealGay. As they cover a broad niche, as is gay porn, they can cover a wide range of sub-plots and categories. They don't have as much content as the mother site, but it is as good in every aspect! Virtual Real Gay is like one of the OG VR porn sites, bringing you some seriously hot dudes, from twinks to daddies. And these guys will do anything for you - Threesomes, Foursomes, Ass Licking, Big Dicks, Blowjobs, Bearded guys, clean-shaven, Handjobs, Hardcore fucking, Softcore, Top, Bottom, Tattooed beefcakes, steamy shower scenes and gym fuck sessions to wild gay pride celebrations, poolside fun, party shenanigans, and even cosplay like Spider-Man and Saint Patrick's Day antics.… Whatever gets you going, VirtualRealGay's got it. You'll even get some taboo topics like stepdad on son.
Amazing content, guys - 5/5 from me.
Does VirtualRealGay offer a good variety of models and scenes?
Yeah. With 300+ videos in their library, you're bound to find a lot of different stuff. But what exactly are we looking for here? Well, the more variety in scenes and models - the better.
Let's start with the models. There's really a lot of them. Regarding variety, VirtualRealGay does an excellent job here. From age variety to ethnic variety to body types, they're trying to include as much as possible to fit everyone's tastes. And their models… they all look drop-dead gorgeous. Bodies that are well taken care of and asses just waiting for your dick to slide in. Latinos, Black guys, Caucasian, Asian… you can even browse by country - Czech, French, Brazilian, German, etc. I'm talking Kayden Gray, Tomas Salek, Dante Colle, Juancho S, Brute Club, and so on. You know you're in for a hell of a ride when you see some of these names on the same list.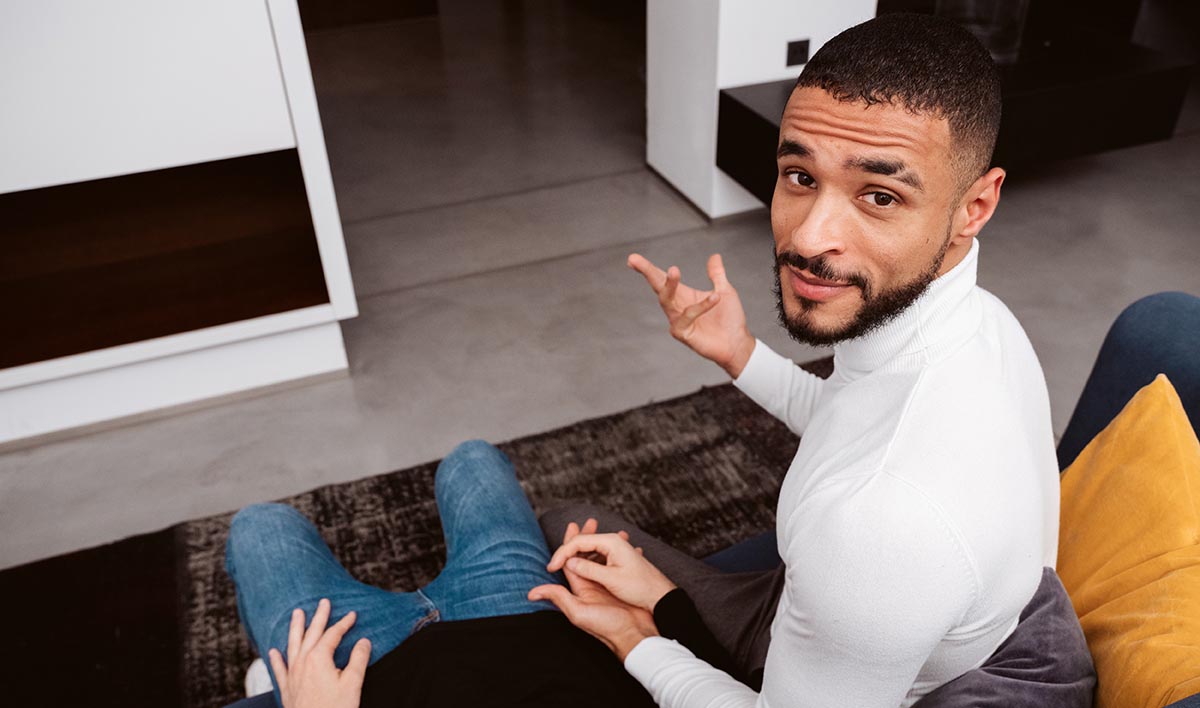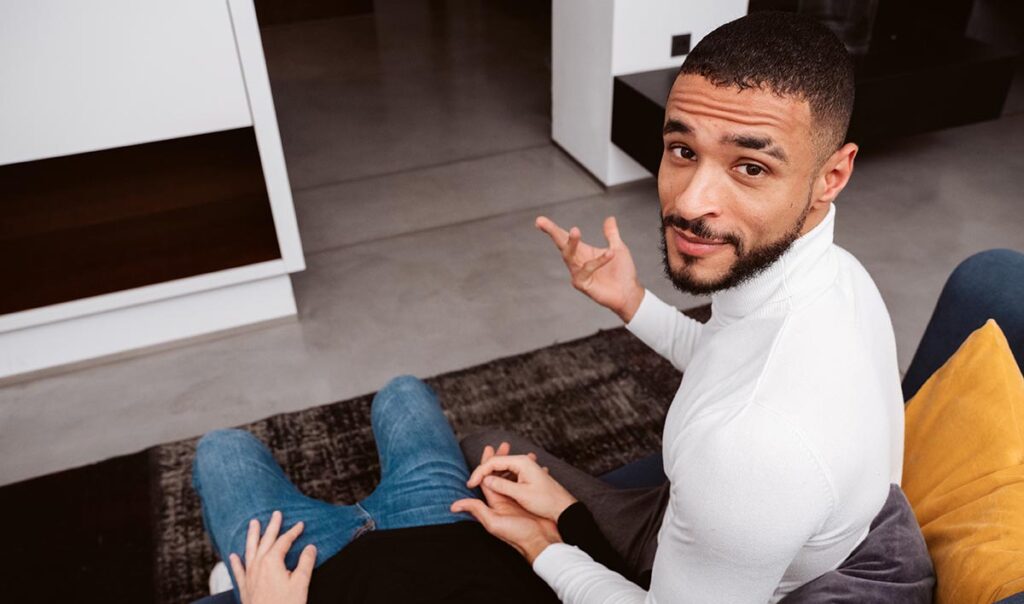 VirtualRealGay is like a storytelling champ, seriously acing the game when it comes to dishing out different storylines. They've got an impressive arsenal of plots that literally span all sorts of themes, leaving no stone unturned. And let's talk about their sub-plots – they're like the secret sauce that adds that extra zing to their videos. These guys are on a mission to explore every nook and cranny of backdrops and do it with style. It's like they're pulling out all the stops to craft their content in the most dynamic and captivating way possible.
Clean 5/5!
VirtualRealGay's entire catalog was shot in super smooth 60fps in that excellent 3D style. This means you can dive into high-def (HD) action with a crazy wide 180-degree and 360-degree FOV! I love it when a VR Porn Site offers both 180 and 360! The maximum quality is 8K.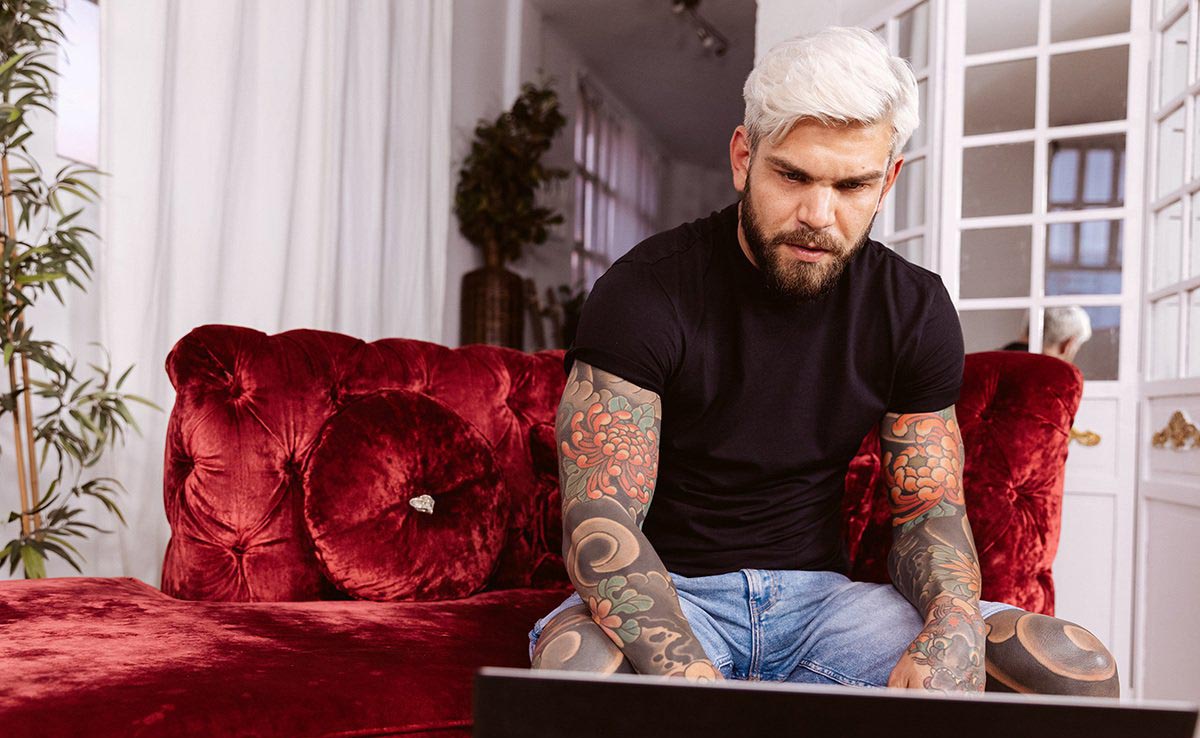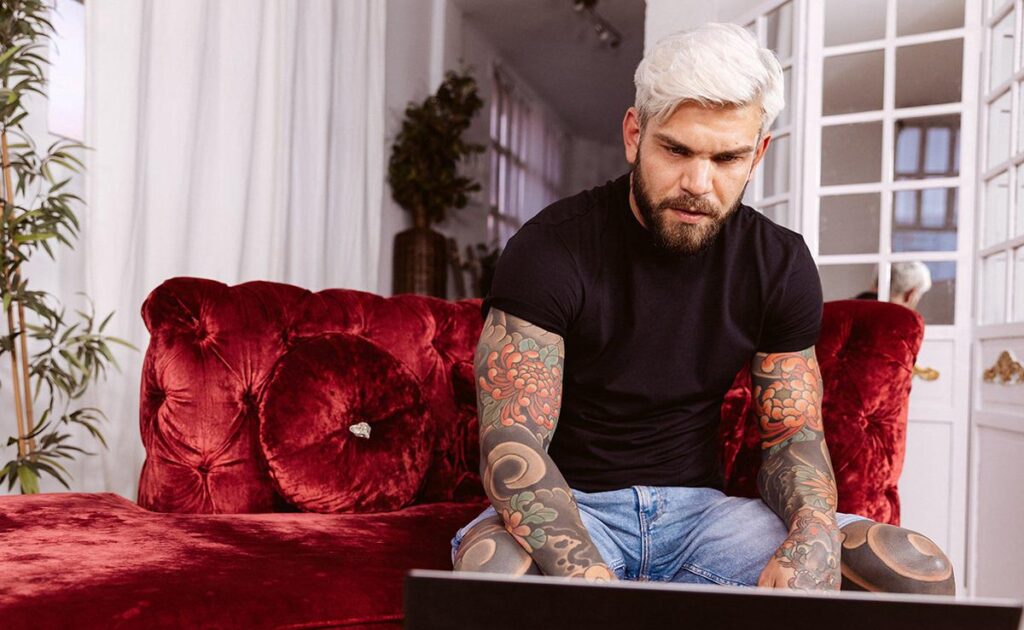 The audiovisual quality is top-notch, totally on par with what you'd expect from the industry nowadays – no letdowns here. And when it comes to those POV versions, both performers get in on the action behind the camera. It's like a tag team: the top one might handle the rig, or sometimes the bottom takes the reins. The immersion factor is great. The tech nowadays is so well-developed that your mind easily forgets you're in VR. It happens to me all the time. And VirtualRealGay adds to the equation. Check out the video "VirtualRealGay Hotel" with Andy Star and Craig Marks - God, the colors and the acting in this threesome VR Porn scene are just unique. Just remember to lock the door.
5/5!
VirtualRealGay's site is super easy to use and navigate. As you land on the home page, you'll find their selections of Top Rated Videos, Most Popular Categories, Latest Videos, and Models. The top of the page is pretty much the same, with tabs like VR Gay Porn (Videos), Categories, Models, Cams and Login Options; the Cams are a blast (not all of them are gay, though)! There's a search bar as well, which we always appreciate! Videos that are compatible with VR Sex Toys are marked with a yellow square in the upper left corner, and there are a bunch of tags under every video to make your browsing even easier! Don't forget to check out our list of ⇒ The Best Interactive VR Porn Sites that support VR Sex Toys! They're crazy fun!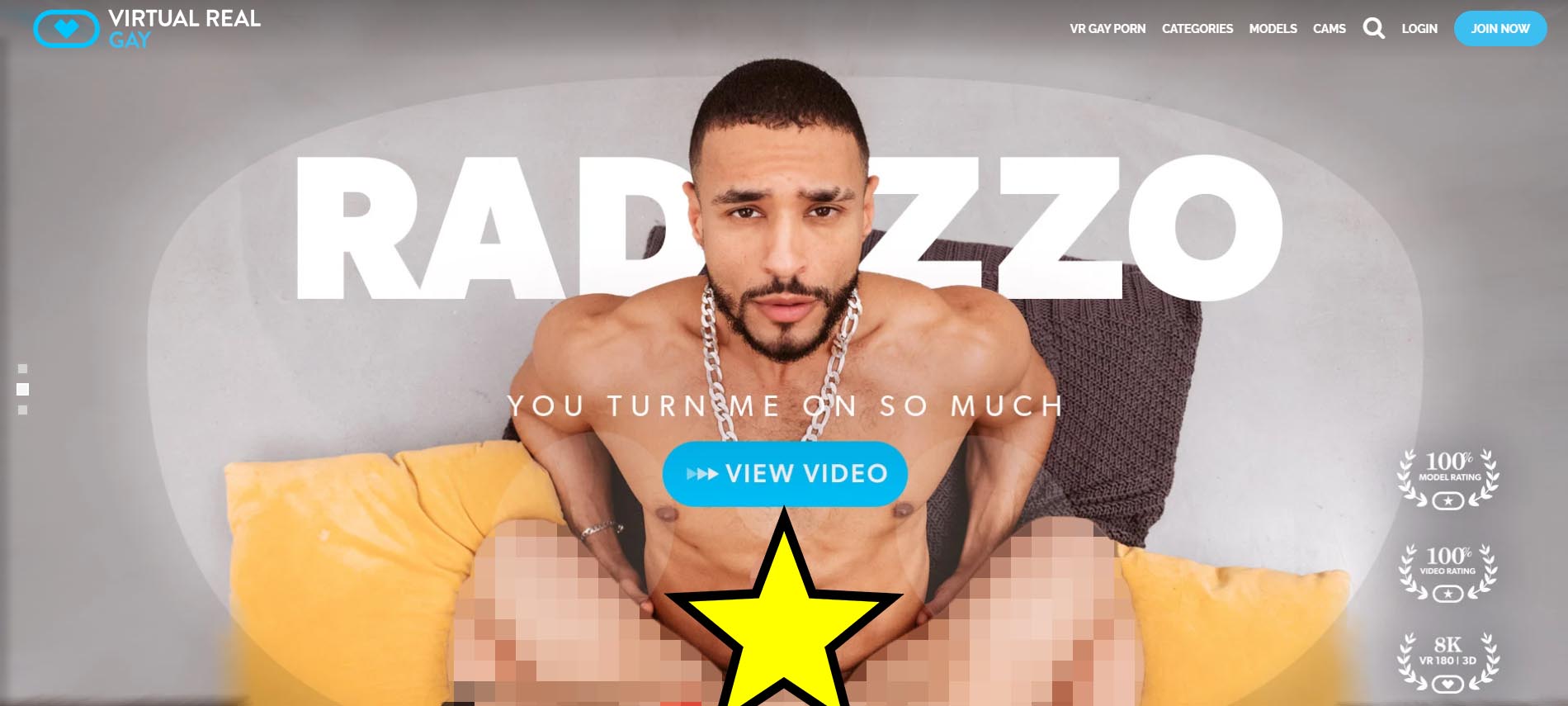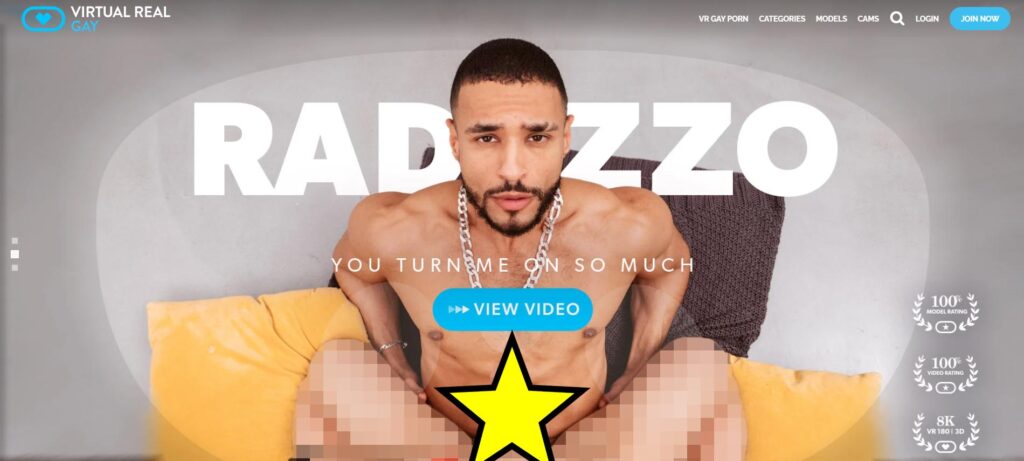 But here's the deal with extras – you're looking at free trailers only. VirtualRealGay keeps it focused, no hopping around their network like some other studios. You do get professional photos from the set, though! Oh, and by the way, you can also give their Twitter page a look for more stuff.
4.5/5 from me here.
VirtualRealGay's VR headset compatibility
VirtualRealGay gets along well with ⇒ PSVR, ⇒ Oculus GO, ⇒ Oculus Rift, ⇒ Quest, ⇒ Quest 2, ⇒ HTC Vive, ⇒ Windows Mixed Reality, ⇒ Gear VR, ⇒ Daydream, and your ever-reliable ⇒ Smartphone. So, whether you're rocking an expensive headset or just getting ready to dive into VR on your phone, they've got you covered. 


The "Help section" is not easily found on the site, so if you need any help setting up your device to watch their videos, check out our ⇒ Guides on how to watch VR Porn on all headsets!
VirtualRealGay is a bargain. For the content and quality you get, they won't break the bank at all. They're practically giving away such a huge library of videos of up to 8K quality for only 10 bucks a month. Regardless of your subscription, you can stream and download without limits, and you can cancel it anytime you want.

 The billing is discreet and safe. This is a must for a serious VR Porn Site. Your bank statement won't show anything related to the adult industry, so your privacy is guaranteed. Also, you won't have to worry about any malware, scams, or shit like that.
Conclusion - Do we recommend VirtualRealGay?
VirtualRealPorn is getting better by the day, and the fact that VirtualRealGay and VirtualRealTrans are getting super popular says it all.
You'll get some seriously high-quality man-on-man action, all thanks to their experience in the industry and some top-notch tech. You know what to do!
VirtualRealGay: Our Summary
VirtualRealGay is an amazing VR Gay Porn site that'll give you tons of fun for cheap! Amazing pornstars, super high quality, and great plots!