Quick & Easy: Is VirtualRealTrans worth it?
Awesome content
Some of the hottest Trans pornstars in the industry
Great audiovisual quality
Easy-to-use website
Safe and secure
Compatible with most headsets
No porn network as an extra
VirtualRealTrans has been rocking the VR porn scene for way longer than any of its competitors, with a more extensive collection of scenes than other sites with a similar vibe. So, they are the OG. But are they still worth it?
VirtualRealTrans' Content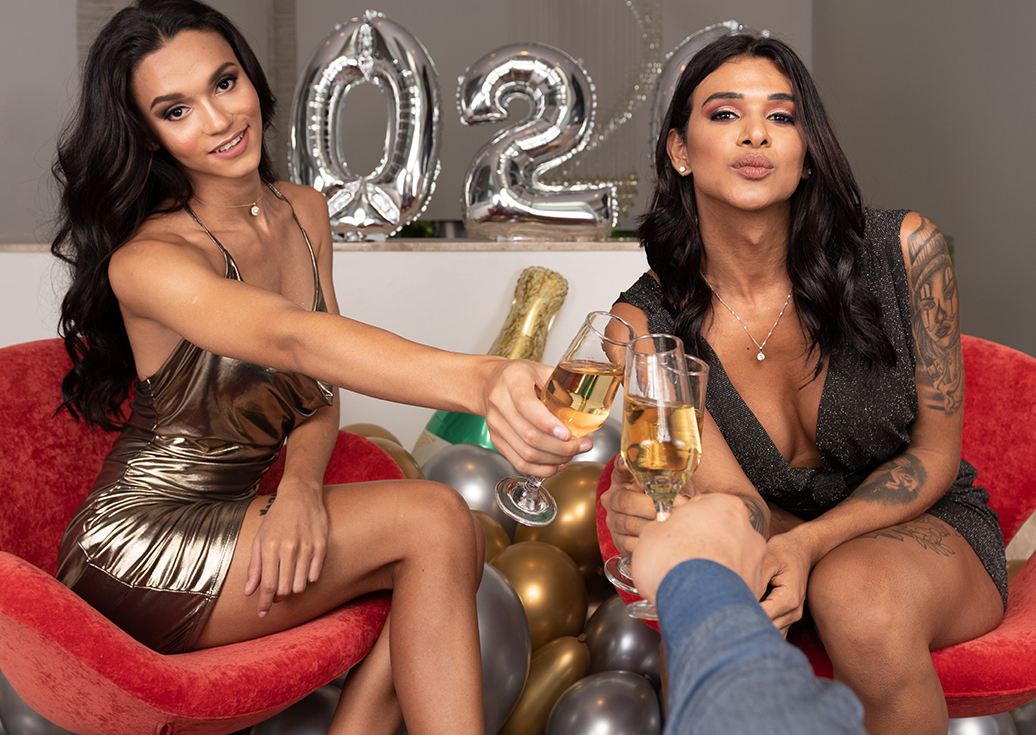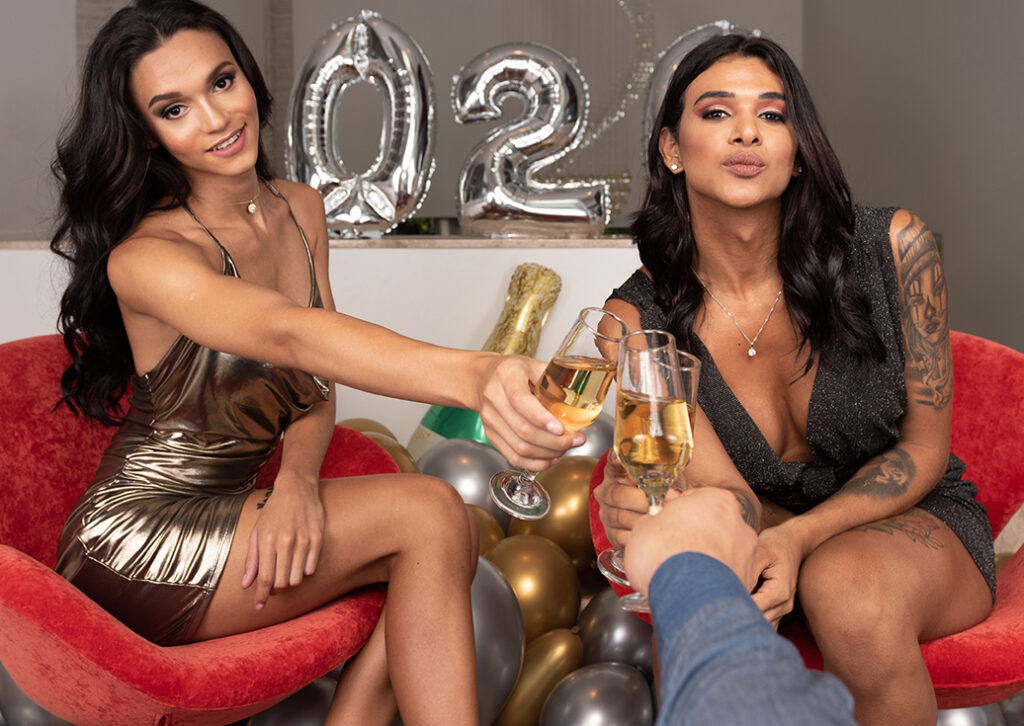 As Trans VR Porn is a huge niche, it opens up the door for studios to explore a lot of different sub-plots and sub-niches. Which only means more awesome content! And they've got it all! Shemale stepmoms, Handjobs, Toys, Threesomes, Foursomes, Girlfriend experiences, outright orgies, Trans fucks girls, Trans fucks guys, hell, they're even nailing the art of making everyday situations sizzle, like a steamy shower, meet-and-greet with pornstars, parties that turn hot. But here's the real kicker – they've gone all out with extra spicy stuff like massages that take a wild turn, casting couch antics, getting naughty with neighbors, heating up Valentine's Day, adding some VR Porn cheer to Christmas, etc. These guys aren't fucking around.
Wait, there's more. If you've got one of those amazing ⇒ VR Sex Toys, you should know that VirtualRealTrans has compatible videos. And if that doesn't knock you on your ass, I don't know what will. Not every video is Interactive, but the ones that are, have a yellow rectangle in the upper left corner. Don't forget to check out our list of ⇒ The Best Interactive VR Porn Sites while we're at it!
Great job - 5/5!
Does VirtualRealTrans have a good variety of models and scenes?
We already established that a huge niche such as Trans VR Porn gives you a lot of possibilities. But is VirtualRealTrans good at exploiting these possibilities?
You bet they are. Even though they have a wide choice of scene material, they always make it their point to make the scenes unique. Take my favorite VirtualRealTrans video, for example - "Welcome Back" with the stunning Izzy Wilde. Such an awesome deepthroating scene! And hey, I've never seen someone feeding popcorn to the person fucking them in VR, so… They are definitely going for that hot-as-hell vibe with a unique twist!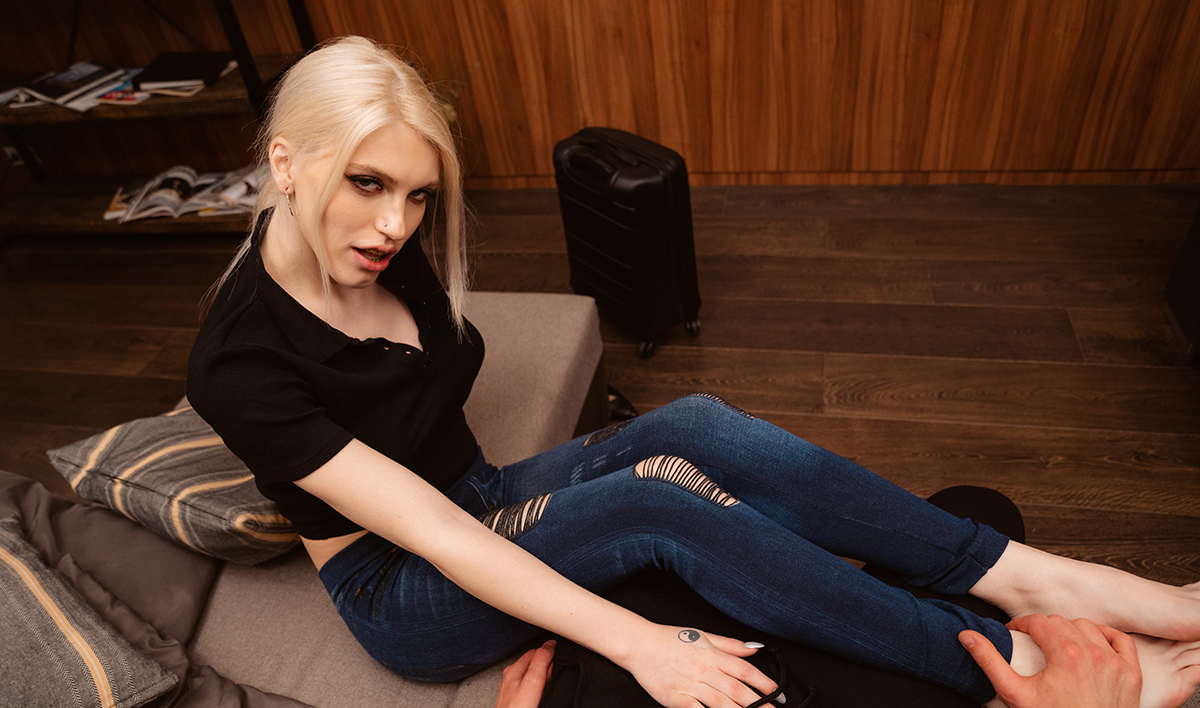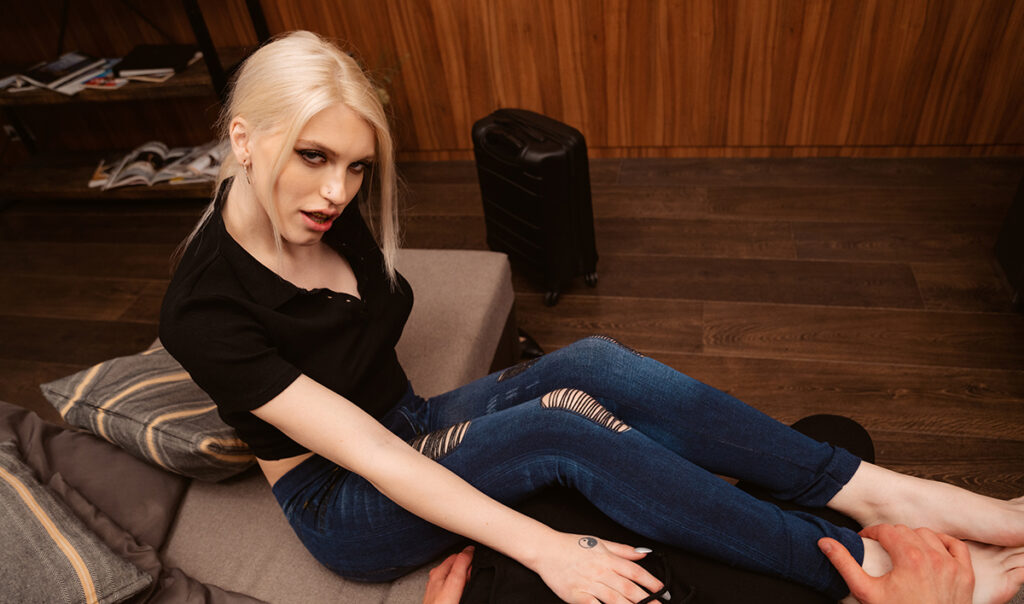 And the chicks you'll fuck (or get fucked by) here are just something else. The variety is amazing - Ebony, Asian, Caucasian, Latina… Big tits, big asses, big dicks, blondes, brunettes, redheads, skinny, curvy, etc. Whatever gets you going, VirtualRealTrans has got it.
VirtualRealTrans' website is a breeze to use and find your way around. When you hit the home page, you'll spot their Top Picks Videos, Hottest Categories, Newest Videos, and the Models section. The top part of the page keeps it consistent, with tabs like VR Trans Porn (Videos), Categories, Models, Cams, and the Login options. They've got a nifty search bar – props for that! Plus, they throw in a bunch of tags under each video to make your scrolling adventure even smoother.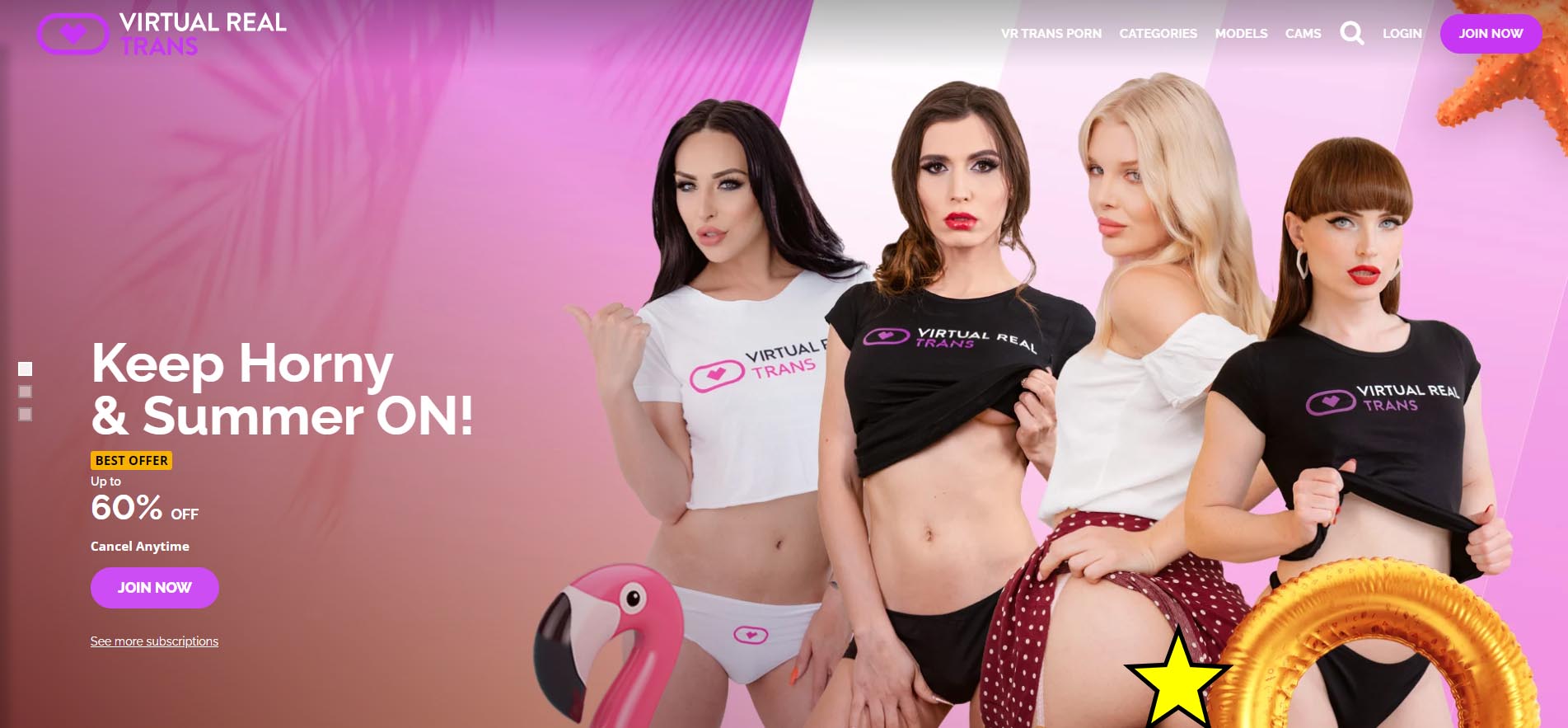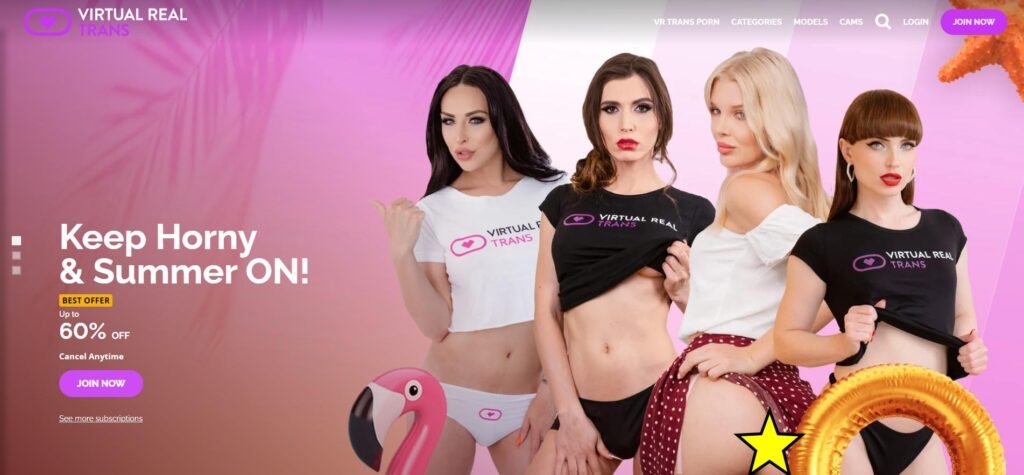 Now, here's the deal on the extras – you're getting the free trailers only. Unfortunately, virtualRealTrans is about keeping it simple, not jumping around the Porn Network. They do hook you up with some rad behind-the-scenes pics from the shoots, though. 
4.5/5 from me here.
VirtualRealTrans has gone all out, shooting everything super smoothly at 60fps in that awesome 3D style.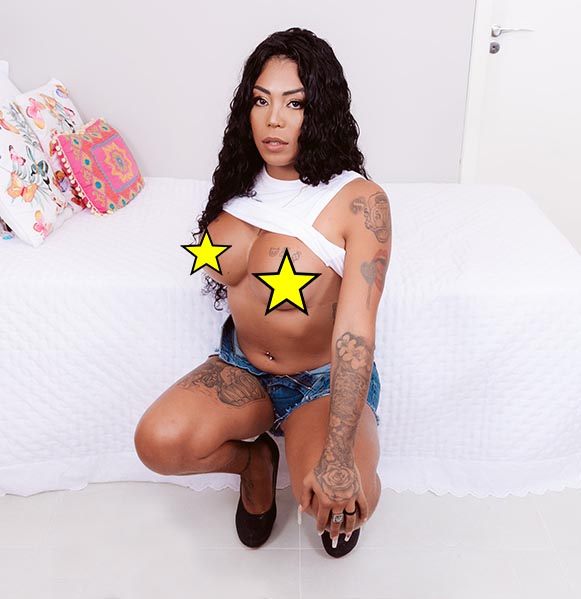 You get to jump into some seriously HD action with a mind-blowingly wide 180-degree and 360-degree field of view. It's like they read our minds – having both 180 and 360 options is just awesome! And the audiovisual quality is as good as it gets, matching up perfectly with what you'd expect from the big shots in the industry these days. Now, here's the fun part: the POV versions. Both performers are getting in on the action behind the camera. Sometimes the one on top's handling the camera, and other times the one on the bottom. It's cool teamwork, and I love it! The immersion is off the charts. The tech has come so far that your brain basically forgets you're in virtual reality.
5/5 from me!
Pricing - How expensive is VirtualRealTrans?
I know what you're thinking. Based on what I've said so far, this must knock out some serious bucks from your pocket. Yeah, no. VirtualRealTrans is cheap. Even compared to other VR Porn Sites. And for the quality and quantity you get, this is a bargain - a steal.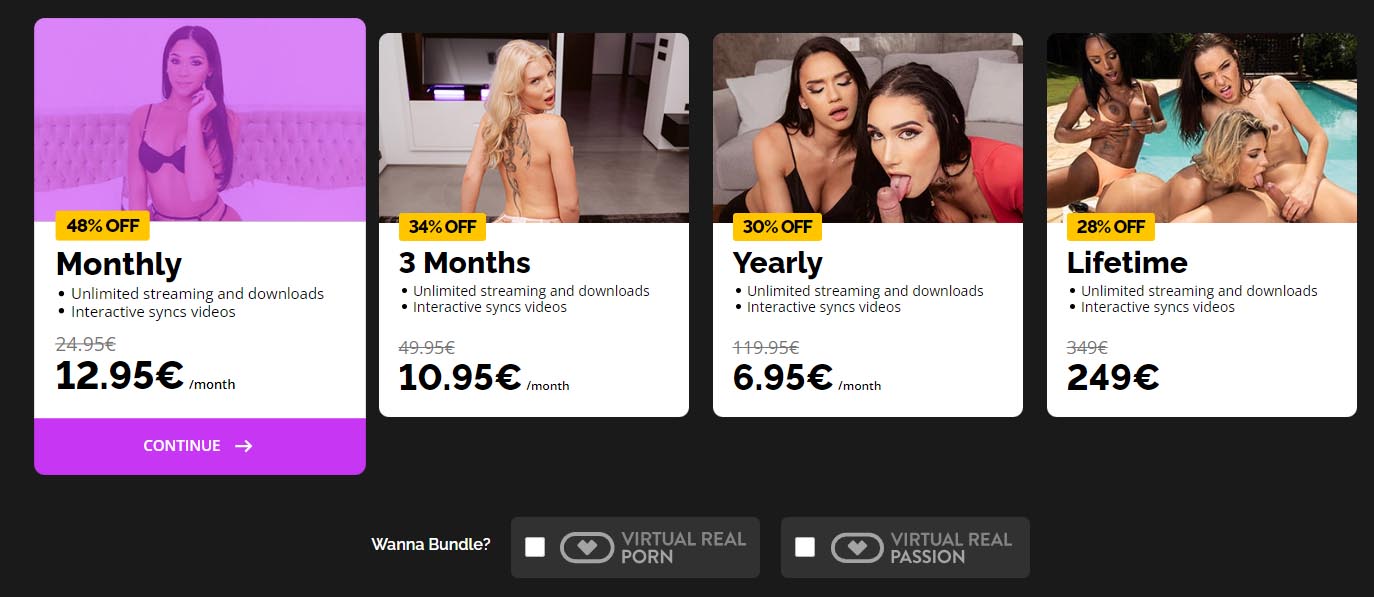 Regardless of the subscription type you get, you can stream and download as much as you want. Also, the billing is safe and anonymous. Every serious VR Porn Site must include discretion, and VirtualRealTrans is no exception. Your bank statement won't mention adult stuff, and you won't have to worry about malware and scams.
VirtualRealTrans is compatible with a bunch of headsets like ⇒ PSVR, ⇒ Oculus Go, ⇒ Oculus Rift, ⇒ Quest, ⇒ Quest 2, ⇒ HTC Vive, ⇒ Windows Mixed Reality, ⇒ Gear VR, ⇒ Daydream, and ⇒ Cardboard. So, whether you're strapping on a fancy headset or just entering the VR Porn world on your phone, they've got your back.


Tracking down the Help section on their site is like finding a needle in a haystack. But worry not! If you need a hand getting your gear all set up for their videos, stop by our handy ⇒ Guides on how to watch VR Porn on all headsets!
VirtualRealTrans is killing it with its stunning, steamy, and oh-so-sexy VR Trans videos. They're the ultimate go-to for mind-blowing VR Trans Porn on the web VirtualRealPorn has hit the bullseye with this awesome project, delivering top-notch entertainment that won't break the bank. You know what to do, my fellow fappers!
VirtualRealTrans: Our Summary
VirtualRealTrans is where you go when you are in the mood for some serious world-class Shemale VR Porn action! Great content, great models, great visual quality - for cheap!