Awesome teasing VR Porn
Super hot models
A good variety to choose from
8K - excellent quality!
Creative and immersive scenarios
New video every other day
No extra sites
No search button
If you're a fan of teasing and striptease, you've come to the right place. ZexyVR is a paradise for everyone who enjoys a nice glam striptease with hot European models. But is it worth the subscription? Let's see.
What's ZexyVR's content like?
ZexyVR is a sister site of ⇒ WankitNowVR (Review) (a master of ⇒ JOI VR Porn). So, we're already off to a good start! Much like its younger sibling, Zexy VR is a niche site. The niches are different, of course, but the quality is still world-class!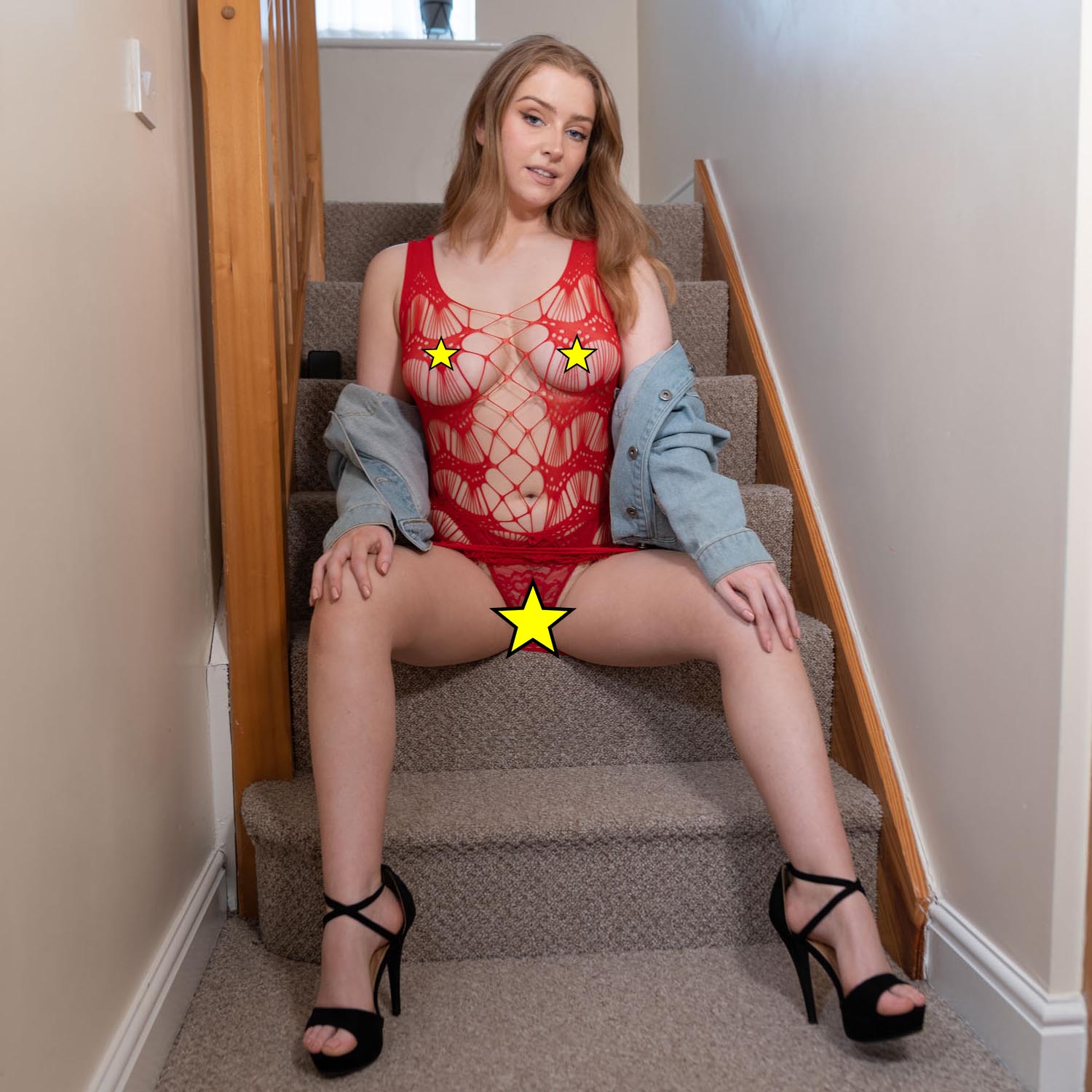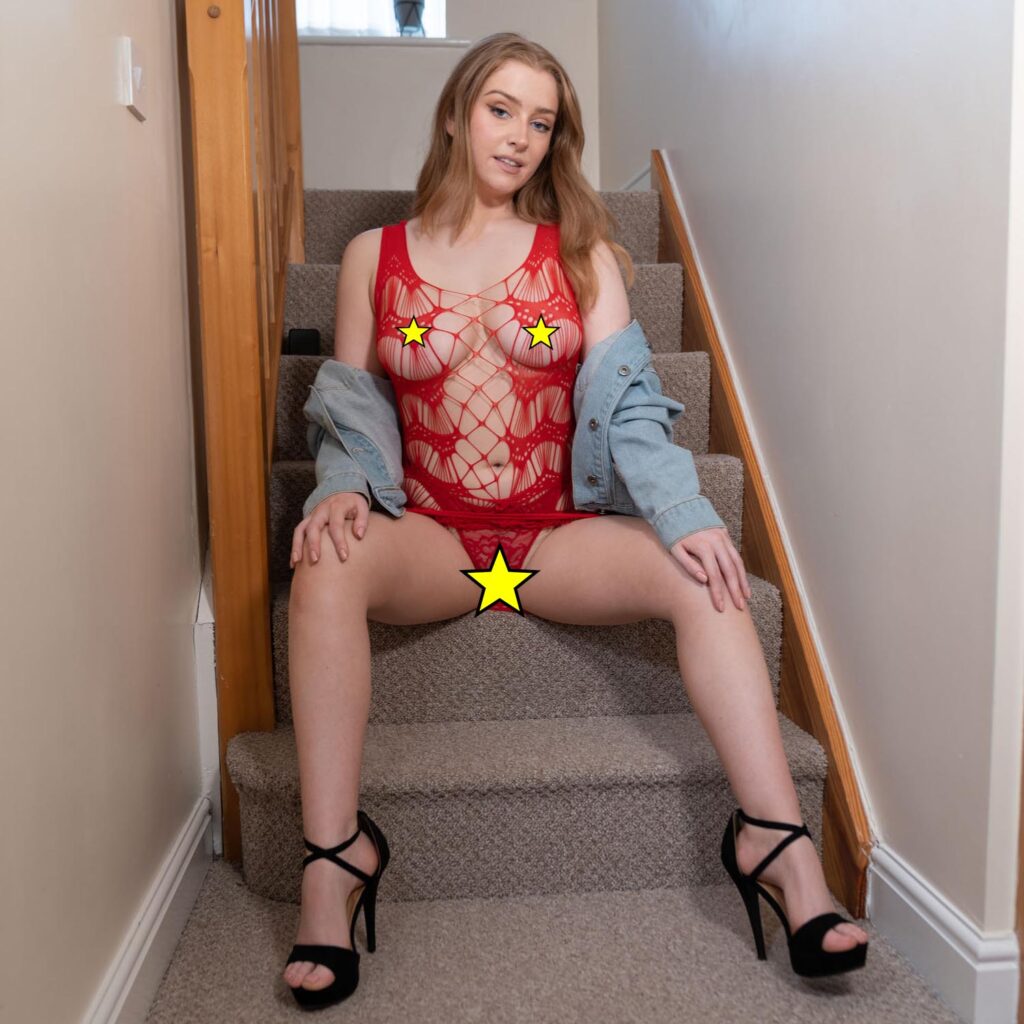 At ZexyVR, you can expect to see some incredible striptease with even more incredible chicks! At WankitNowVR, you have hotties who are talking to you and encouraging you to masturbate to/with them. On the other hand, ZexyVR dials down on the chatter and just lets those hot-as-hell bodies do the talking! An average video goes like this: A beautiful model opens the door, you enter a room, and she starts seductively stripping down to some music. Sometimes, they even dance a little, but it's very light dancing. The atmosphere is generally very soothing, and the videos try to relax and turn you on. And they are excellent at what they are doing! 
The list of categories is the same as with WankitNowVR. The thing is, some categories are just empty. And that makes sense. I mean, it's a glam striptease VR Porn Site, so it doesn't make sense to expect any content in categories such as Boy-Girl Action. So, no ⇒ Hardcore sex here. However, the filtering principles remain the same. You get a ton of categories to browse the content, and you can easily find the exact kind of video you're looking for. So, prepare for a lot of awesome ⇒ softcore solo erotic action that'll put a smile on your face even after a super hard day.
5/5!
Is the variety of models and scenes good?
I said it before, and I'll repeat it - ZexyVR has some incredibly hot models to offer! You'll enjoy watching beautiful women between 18 and 40 teasing you with their incredible bodies. So, the age variety is great. What about the variety of body types? Also great. There are chicks with ⇒ Big Tits, regular and even small tits. ⇒ Big asses, perfect bodies, ⇒ MILFs, ⇒ Teens, etc. What I really love about their model roster is that they all look incredible. There is a lack of ethnic variety, though. We could really use some ⇒ Ebony queens or some ⇒ Asian beauties. Or, just imagine an incredibly hot ⇒ Latina teasing and undressing for you! I suppose this is because they work primarily with British models.
Nevertheless, you can really see that the chicks they work with are taking good care of their bodies, and there is nothing better in this world than watching a hot-as-hell woman getting naked just for you! Definitely check out the video called "Classroom Nude" with Miss Gabriella. This chick will take your hot teacher fetish and satisfy the hell out of it.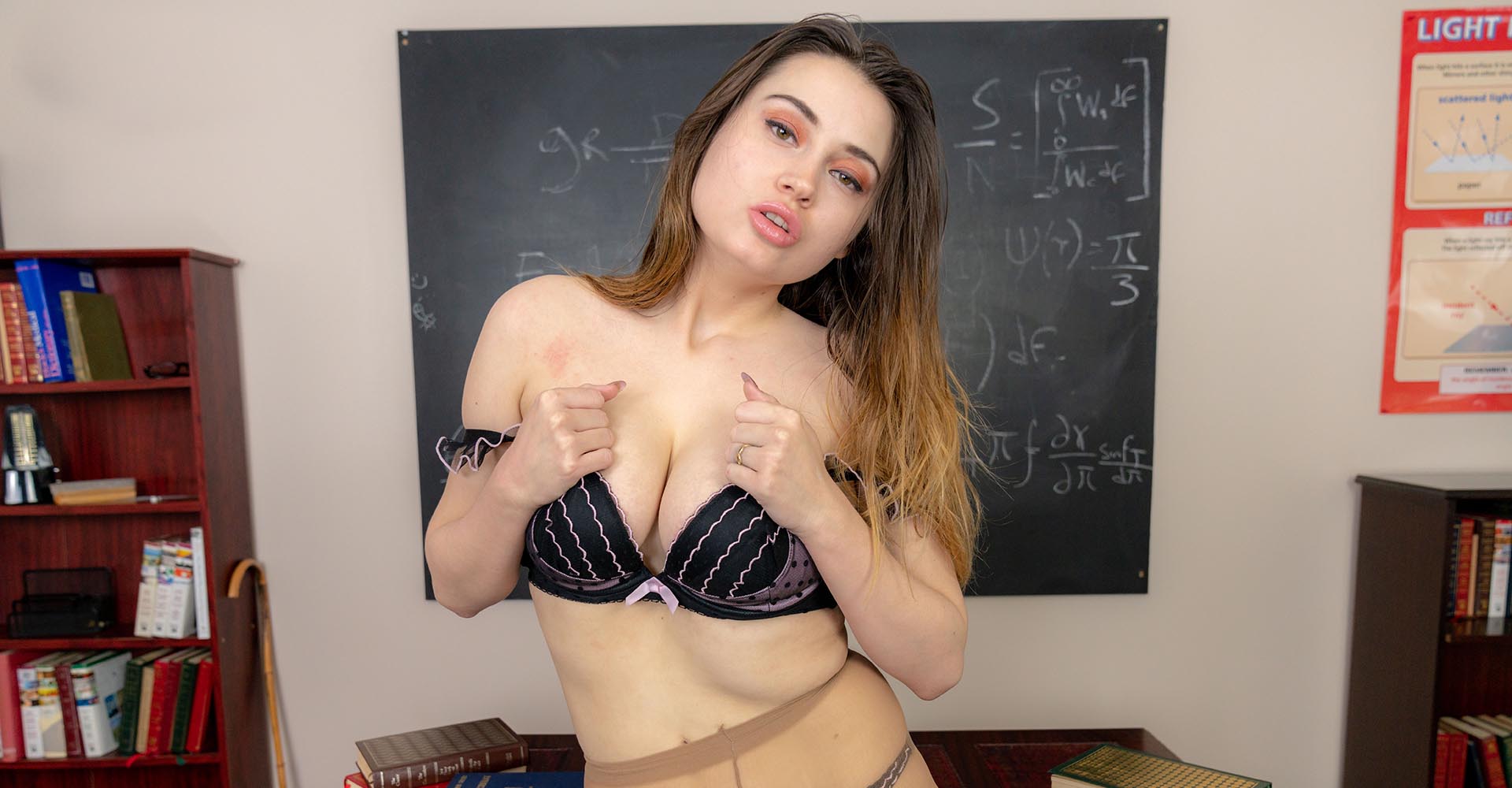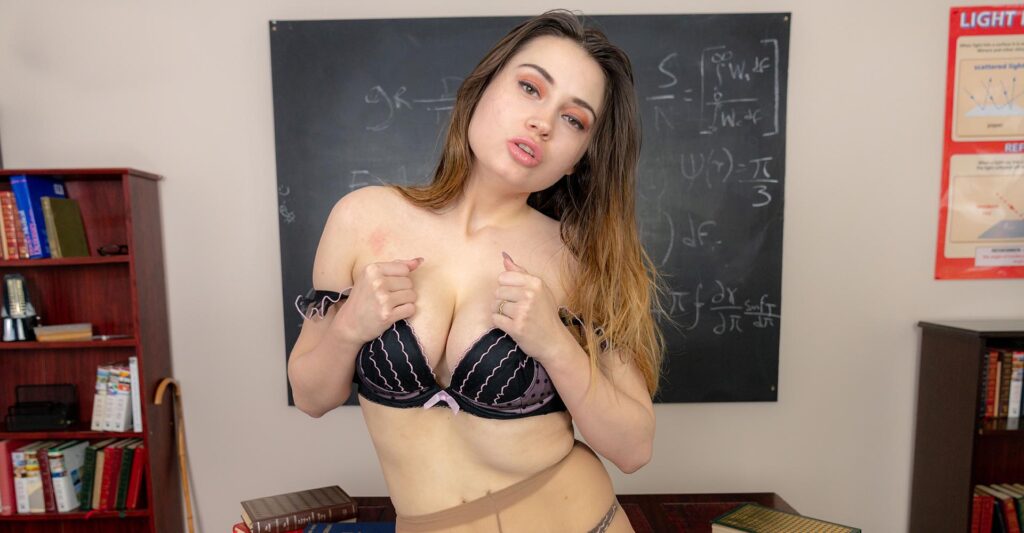 But it's not just hot teachers, of course. You'll get gym girls, professional models, girlfriend experiences, secretaries, hot kitchen striptease sessions, seduction, etc.… There are 930+ videos in their library, so you're bound to find something that revs your engine. Zexy VR has a simple but excellent formula. Get a super hot chick, dress her in some incredible lingerie, put on some nice music, and let her tease us. No over-the-top locations, nothing complicated. And that works great! It's much more intimate. You get a girl stripping for you in a regular room or a kitchen. Much easier to relate to.
4.5/5!
Audiovisual quality of ZexyVR
Nowadays, ZexyVR offers 8K, 3D, 180 DOF, and 60 FPS videos with Binaural Sound. They started churning out 8K content in 2023. Before that, they used to offer 5.7K quality videos. Even though they were not 8K, those videos were simply amazing. It just goes to show that numbers matter less than talent. Their videos were crystal clear; the sound was as good as it gets, and they were immersive as hell. That's one talented VR Porn studio.
Now imagine all this but in 8K quality. It could only get better.
Zexy VR's videos are like small slices of VR Porn Heaven. That's if you're into teasing, of course. When I'm in the mood for a long masturbation session, I always put on a ZexyVR video to warm me up. My idea is to switch to some POV fucking next, but more often than not, I just find myself watching my fourth or fifth Zexy video in a row. You just get mesmerized in a way. The video is crystal clear, the lighting is amazing, and the camera work and the postproduction are just crisp.
5/5!
ZexyVR's site is simple to use and navigate. I love the use of colors they have. There's just something satisfying about a simple, white background. Simplicity is the key.
When you enter the site, you land on the home page that immediately shows you an image carousel showcasing the upcoming releases. Scrolling downward, you'll find a library of their Latest Releases, Newest Girls and Featured Girls. The videos are neatly organized by date of upload, and I like that. There is a lack of a search bar, though. I think it's really important to have one, so, Zexy, there's something you can improve. The top of the page is the same, with tabs like Videos, Models and the Login/Join options.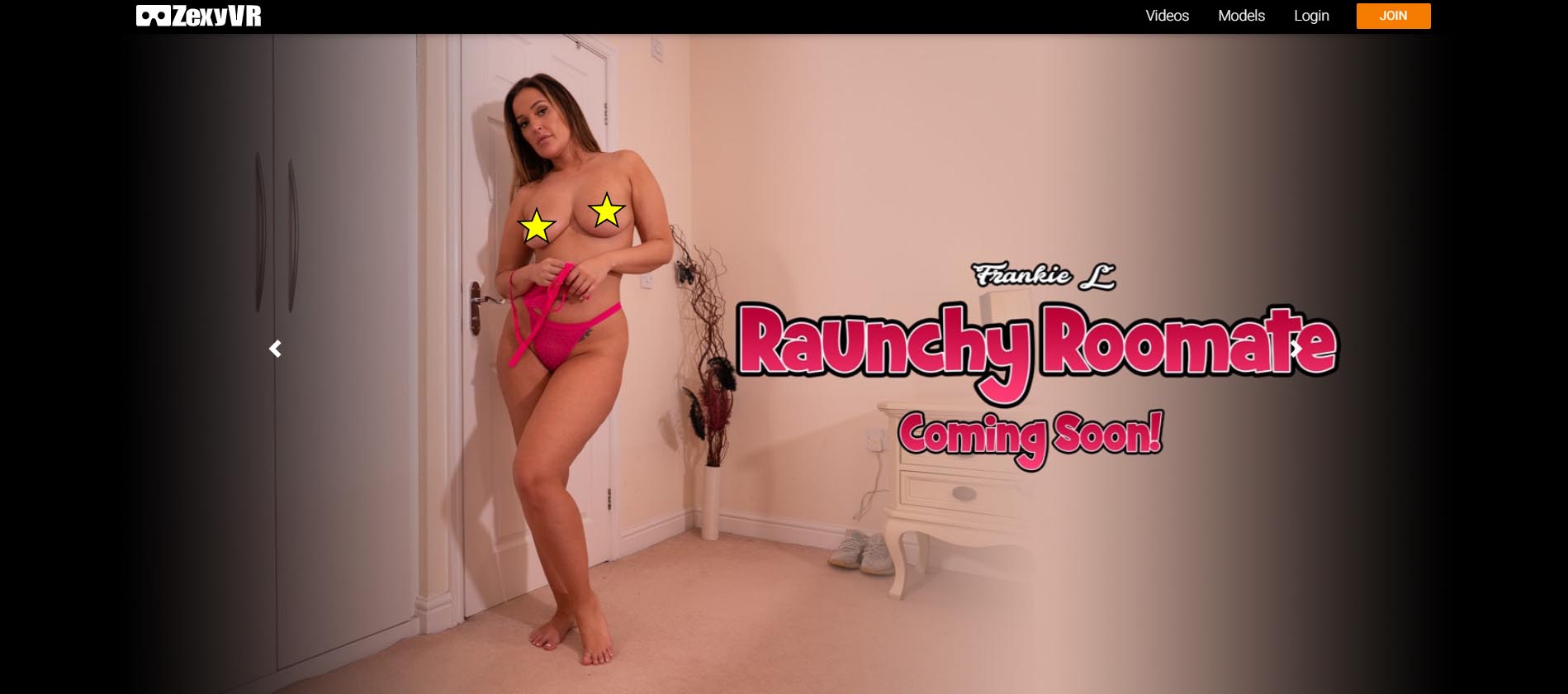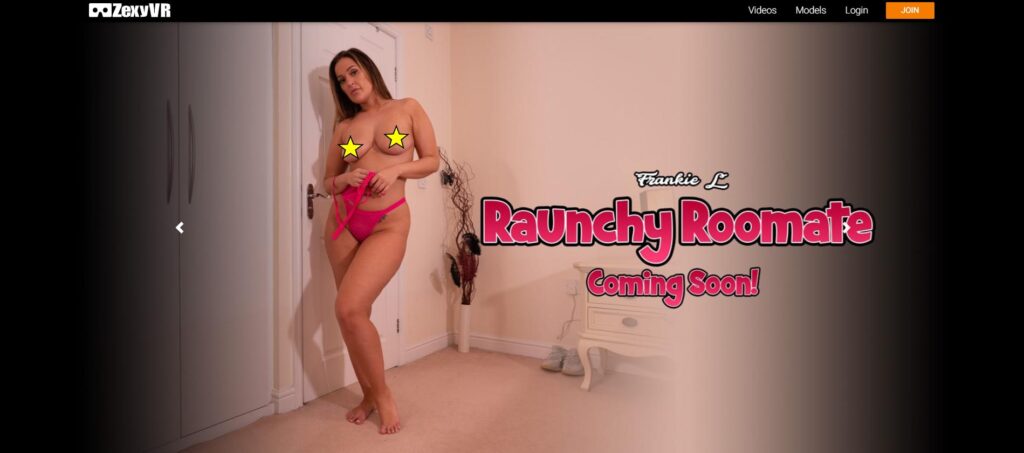 Regarding extras, don't get your hopes up too much. You don't get access to additional sites, but you do get a professional set of photos from the sets. It would be cool to include some more extras, like some videos from WankitNowVR, but hey.
ZexyVR is all about making sure you have options for enjoying their teasing VR Porn. So, you've got plenty of options! You can dive into their fantastic content using Meta headsets, like the ⇒ Quest, ⇒ Quest 2, and ⇒ Quest 3. Also, there's the ⇒ Oculus Go, ⇒ Samsung GearVR, ⇒ Daydream, ⇒ Mixed Reality, ⇒ HTC Vive, ⇒ PSVR, and your reliable ⇒ Smartphone!
Now, let's say you're scratching your head about how to get your gear ready for Zexy's VR action. No worries, we've got your back! We've got some super helpful ⇒ Guides on watching VR Porn on every device. So, you're in good hands!
How expensive is a ZexyVR subscription?
ZexyVR is not among the cheapest VR Porn Sites out there. Their Monthly subscription is close to $30, while their Yearly subscription comes around $13.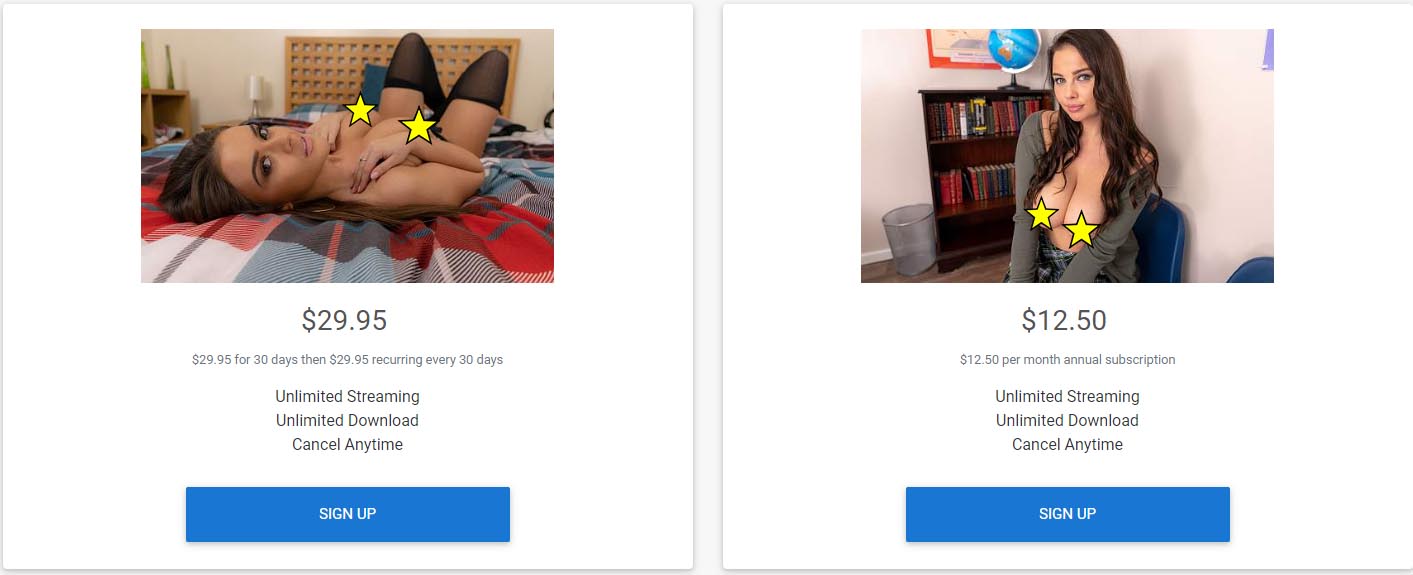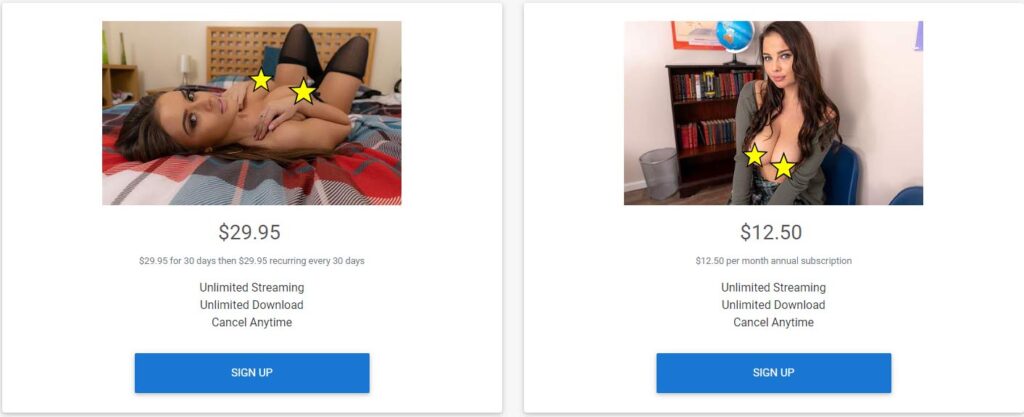 The price may be like this because the cost of living in the UK is really high right now, or maybe it's just the price they've put on their product. Nevertheless, they promise regular exclusive updates (a new video every two days) with a discreet and safe billing process. And that's a must for ⇒ every serious VR Porn Site.
What's the future of ZexyVR?
Zexy VR is on a good path. They've been around for quite some time, and they are doing well. Sure, they could improve a few things, such as adding a search button to the site or adding some more ethnic variety to their model roster, but overall, they are doing a great job. They have a bright future ahead if they keep listening to their fans.
5/5!
Conclusion: Is ZexyVR worth it?
If you're into teasing and glam striptease, go for it. 
ZexyVR has a ton of videos that you can enjoy for a long time, and with unlimited streaming and downloading, you can own the videos forever. This studio is an absolute master of its niche, so make sure you check them out!
You know what to do, my fellow fappers!
At ZexyVR, you'll get a ton of glam stripping and teasing videos with some of the hottest British models! Their videos are brilliantly shot in 8K quality that's crystal clear and super sexy!