World-class models
Amazing niche content
Real amateurs
Awesome porn network
8K
Safe and anonymous
Needs more Ebony, Asian and Latina models
Czech VR Casting is another gem from the network of ⇒ Czech VR (Review), one of the best and most successful VR Porn Sites in the entire industry! We've already reviewed ⇒ Czech VR Fetish (Review) - a fantastic site that covers all the fetishes we love so much! Now it's Czech VR Casting's turn. Let's see what it's about and what sets it apart from the crowd! Read on!
What kind of content does Czech VR Casting offer?
Do not, for a second, make the mistake of thinking these are just some old fake casting couch videos. They talk for a couple of minutes, and then they fuck. Yeah, that's 2D porn stuff. 3D is something entirely different! And Czech VR Casting did a great job taking advantage of that. Here, you'll be the one doing the interviews - about 230+ of them! And you'll get to fuck such a fantastic bunch of chicks, you won't believe it. From all over the world! Don't worry; you'll have a translator by your side. First, you'll get the lowdown on the girls in each video – their age, where they're coming from, and how they feel about being in adult films… You know, the standard stuff. After that, you'll participate in their real-deal first-time VR Porn scenes.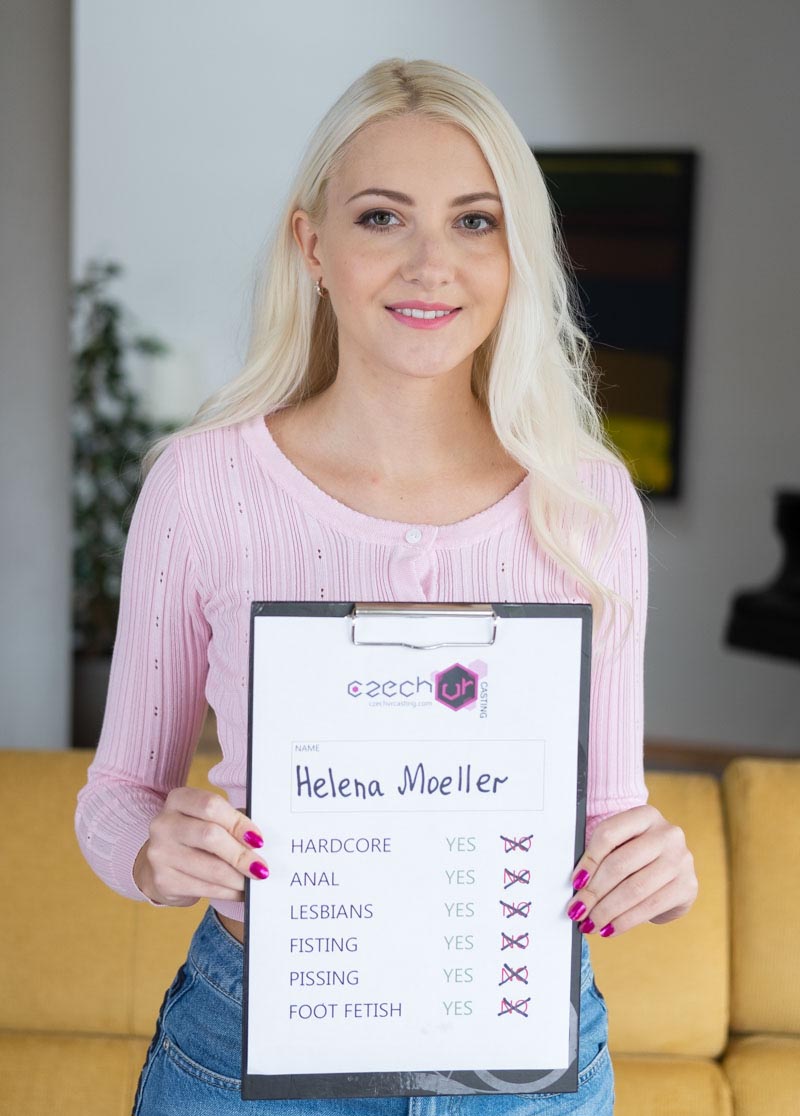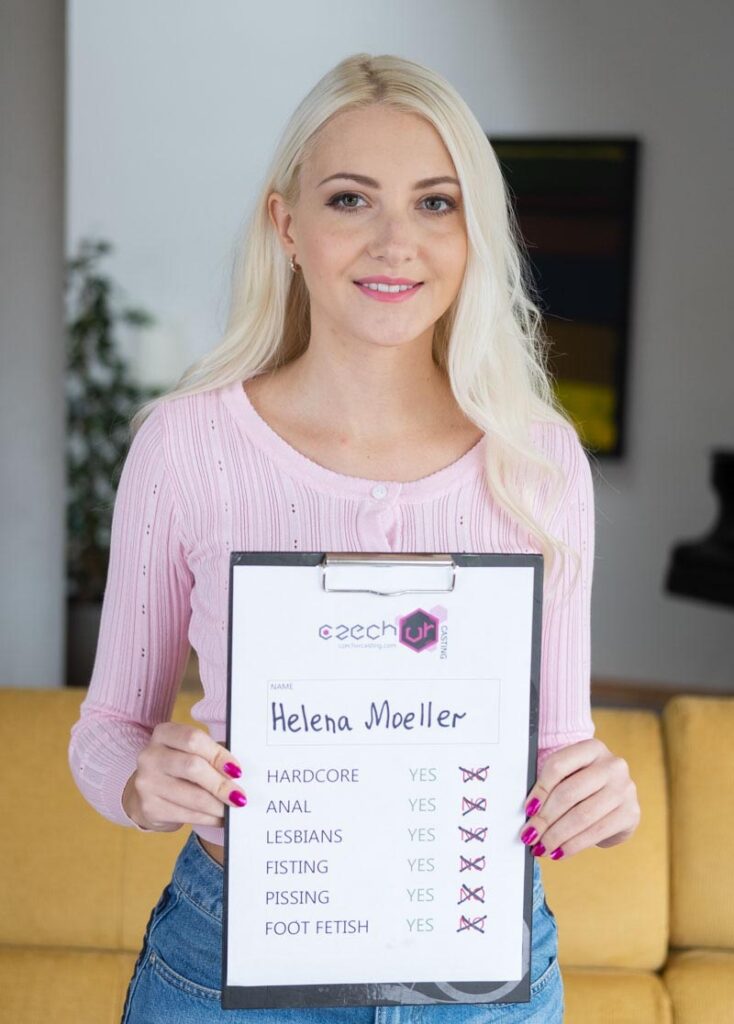 Now, you won't be able to really tell them what to do, but you will get the next best thing. You can always filter by category and find the stuff you like. And in the classic Czech VR manner, the categories are endless! Tons of ⇒ Anal, ⇒ Blowjobs, Fingering, Gagging, Gaping, Cum play, a lot of different positions… You see where this is going. I love their gaping videos. Make sure you check the video number 145 - "Helena's First VR Experience" with Helena Moeller. How she handles that dick, you immediately know she's pornstar material.
Also, Czech VR Casting has an excellent selection of ⇒ Interactive VR Porn videos, and if you have one of those amazing ⇒ VR Sex Toys, you're in for a real treat!
Awesome content - 5/5!
Is the variety of scenes and models as good as the content?
Let's first say that this is a niche VR Porn Site and as such, it operates within a specific framework. You won't find outdoor scenes or anything like that. It's casting, after all. You'll get to fuck those tight asses and pussies in a bedroom, kitchen or a living room. Even so, Czech VR Casting makes every video a fun and steaming-hot experience!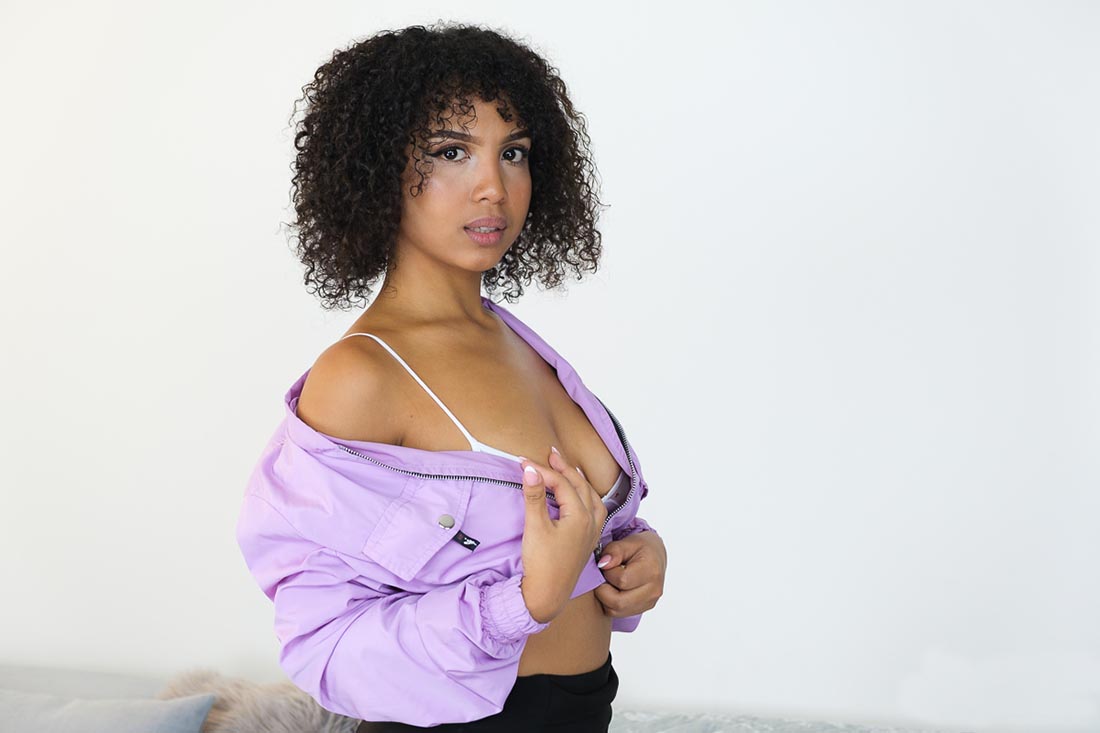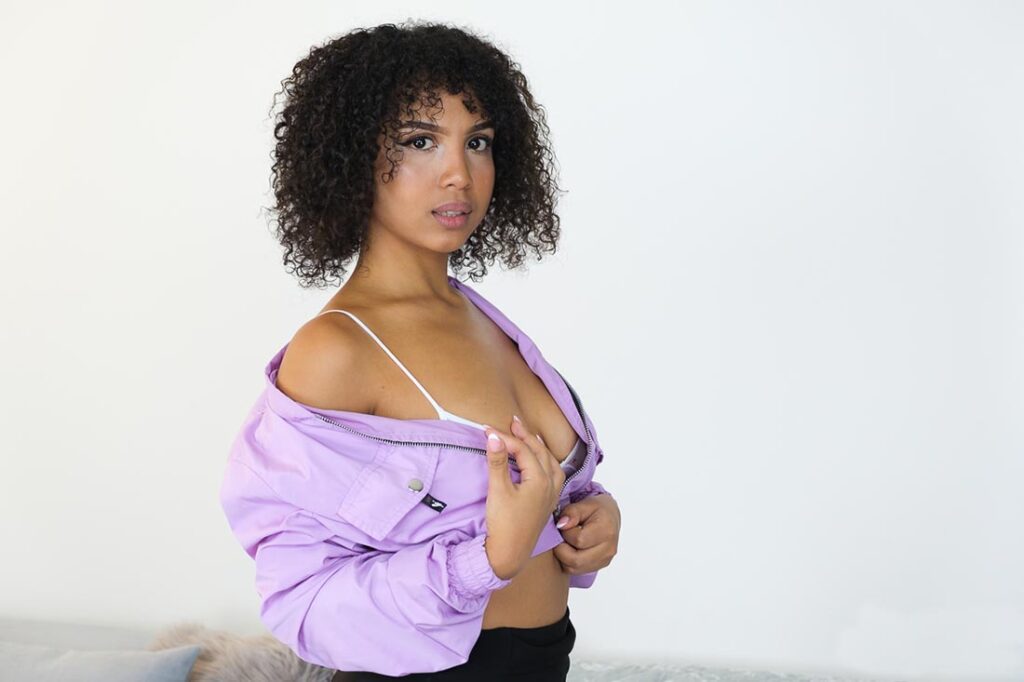 The models you'll meet are just amazing. All of them are simply hot! Yes, you'll mostly fuck Caucasian chicks, but there are some ⇒ Asian, ⇒ Ebony and ⇒ Latina babes on their roster as well. There should be more, in my opinion. Anyway, you'll find all the body types you want - chicks with ⇒ Big tits, ⇒ Big asses, even a couple of chubby ones, tattoed, ⇒ Teens, ⇒ MILFs, ⇒ Blondes, ⇒ Brunettes, Curly hair, tied-up hair, etc. Just about everything you might desire! Hell, you can even filter the content by the looks of their pussies. If you like them with big or small lips, big clits, trimmed or clean-shaven, Czech VR Casting has got your back! The models are all very natural, and the scenes do not feel forced in any way.
That's very important in VR Porn because the immersion factor is so high you need to feel that everything is just right. And they manage to nail this every time!
4.5/5 here.
What about the graphics and the sound quality?
Well, it's Czech VR's sister site - of course, the audiovisual quality is amazing! They offer a maximum of 8K (the current industry standard), 60FPS, 180-degree FOV videos with a binaural sound system. And all of it looks like it's happening right there in your room! The visuals are stunning, and the sound system will easily trick your mind into believing you're actually fucking that gorgeous piece of ass! The lighting, the post-production, the angles… everything is just as we like it!
The website is basically an identical copy of Czech VR's site, except for the colors – Czech VR Fetish went with red, and Czech VR went with green. On the other hand, Czech VR Casting uses purple.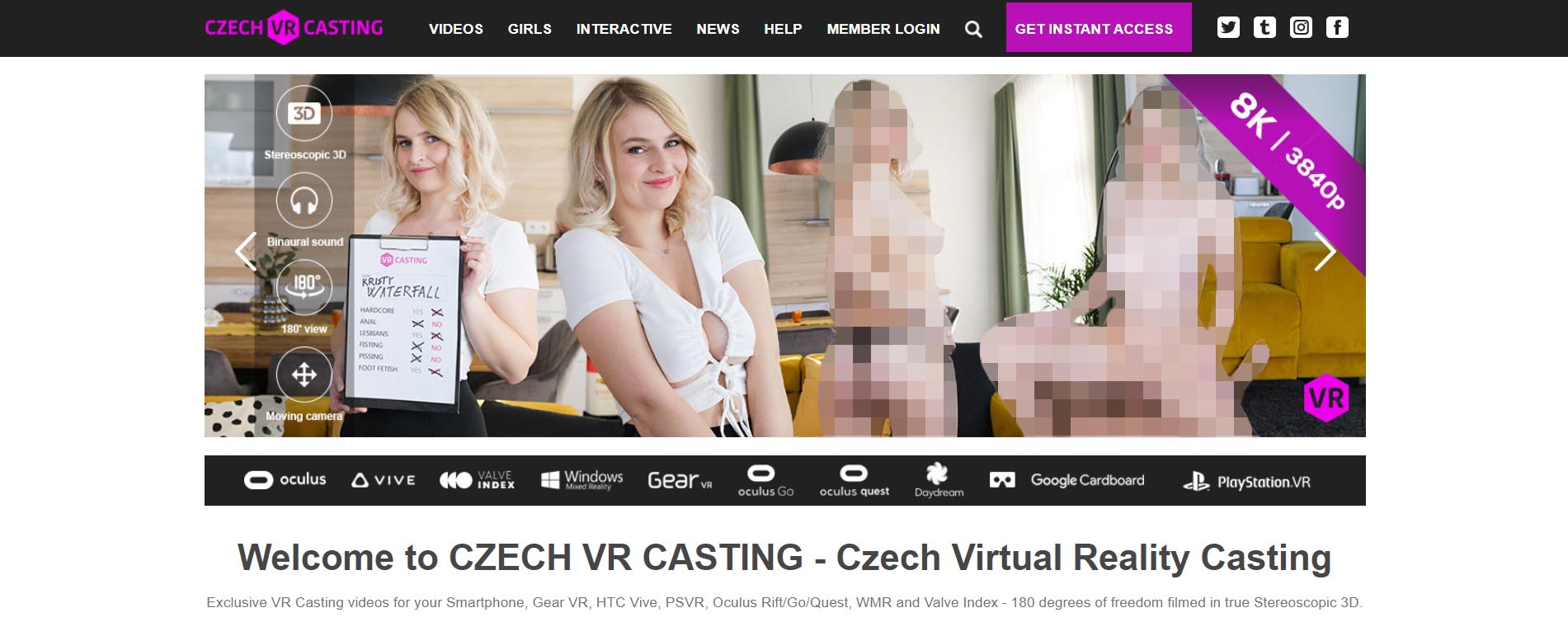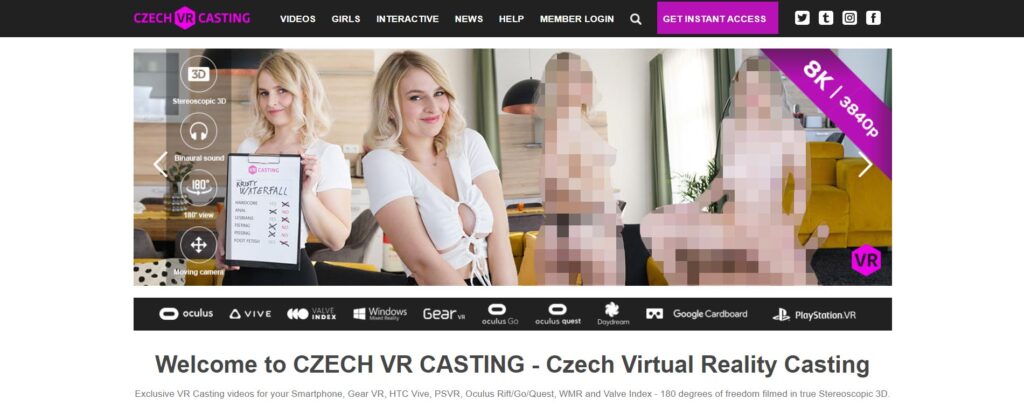 When you land on the main page and start scrolling, you'll see their Top videos, the Newest stuff, and their whole porn Network. Up at the top, there are some more tabs – Videos, Girls, Interactive (for videos you can use with VR sex toys), News (blog), Help (guides on how to set up your VR headset), and Log-in options. All in all, the site is really easy to use, and they've got a search button (which is always a plus), so you won't find yourself lost.
Bummer alert: no ⇒ VR Porn Games in the mix, but you do score a bunch of other cool stuff – behind-the-scenes pics, free trailers, and a whole porn network to dive into!
Czech VR Casting's headset compatibility
No matter which VR headset you're using, Czech VR Fetish has it on its list of compatible machines! They're all about making sure you have a blast, whether you've got the ⇒ Quest, ⇒ Quest 2, ⇒ Oculus Go, ⇒ PSVR, ⇒ Smartphone, ⇒ HTC Vive, ⇒ Samsung Gear VR, ⇒ Daydream, ⇒ Windows Mixed Reality, or ⇒ Valve Index. You can bet your bottom dollar that you'll have a kickass time watching their videos. And hey, they even have super helpful guides for syncing up the videos with your VR Sex Toy – think ⇒ Kiiroo Keon (Review), ⇒ Kiiroo Onyx+ (Review), ⇒ The Handy (Review), ⇒ Lovense Max 2 (Review) – whatever tickles your fancy.


And if you're a bit lost on how to set up your gear, don't sweat it – check out our ⇒ Guides on How to watch VR Porn on Any Device!
How expensive is Czech VR Casting?
Czech VR Fetish's subscription is honestly a steal, considering what you're getting. And you're not just getting their regular stuff – you're getting access to their whole network of sites: Czech VR, Czech VR Fetish, Czech VR Casting, and even all those MentalPass sites, all bundled up in that one subscription price.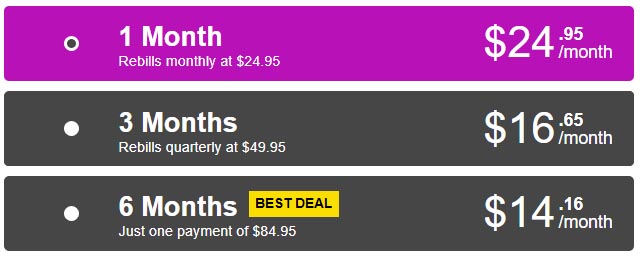 You can pay with your credit card or even toss in some cryptocurrency. The cool thing is that they've locked down the whole billing process – it's safe and anonymous. No need to worry about any nasty malware, scams, or sketchy stuff you might stumble upon on those less-than-legit VR Porn Sites. When it comes to a legit VR Porn Site, safety and privacy are a big deal, and these guys got it covered.
Conclusion: Do we recommend Czech VR Casting?
I've been having a blast with this site. They've got top-notch modes, some of which you'll recognize from the other big studios - which means they made it through. You know the drill, fellow wankers!
Czech VR Casting: Our Summary
Czech VR Casting as a ton of newcomers who are just waiting on you to fuck them and be the judge of whether they'll make it in the porn industry or not. Super hot chicks, amazing sex, all in 8K!