Quick & Easy: Is Czech VR Fetish worth it?
Awesome content
An insane number of fetishes
Super hot pornstars
8K
Excellent network of porn sites
Safe and anonymous
It needs more model variety
Czech VR Fetish, along with ⇒ Czech VR Casting (Review), is a cousin of the world-famous ⇒ Czech VR (Review) - one of the top VR Porn sites in the industry. But why did Czech VR launch a fetish sister site, and what sets it apart from the rest? Let's dive balls-deep into the world of Czech VR Fetish and find out. Read on.
What's the content like at Czech VR Fetish?
The content is what we love the most about Czech VR Fetish because these guys are trying to cover every niche and category. If you're a fan of fetish porn, you know how broad this term is. Tons of sub-niches. Asses, pussies, tits, feet, cum fetishes, piss fetishes, milking… everything. Their list of categories is just too long to count. So you'll get your classic stuff here, such as ⇒ anal, ⇒ blowjobs, toys, ⇒ masturbation, fingering, etc., but it all comes with a twist. You'll get giant toys, prolapses, fisting, cum eating, latex stuff, domination, ass and pussy gaping, and you'll cum in every place possible on those models - their faces, mouths, tits, they'll swallow, swap cum, there's a ton of creampies as well. Just everything.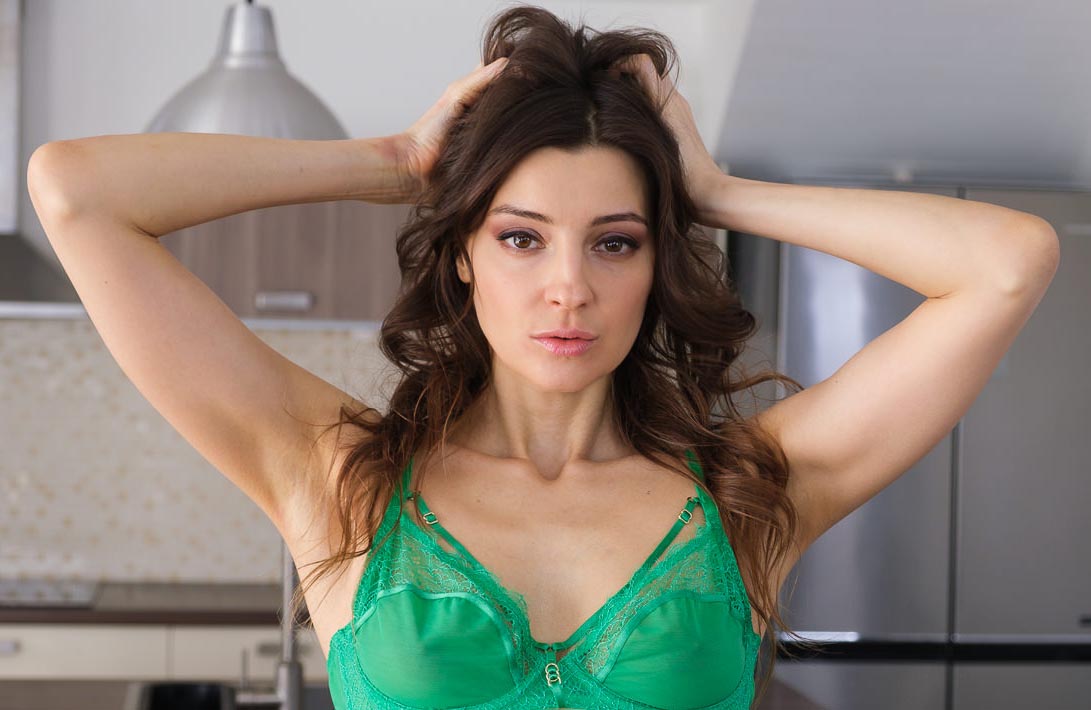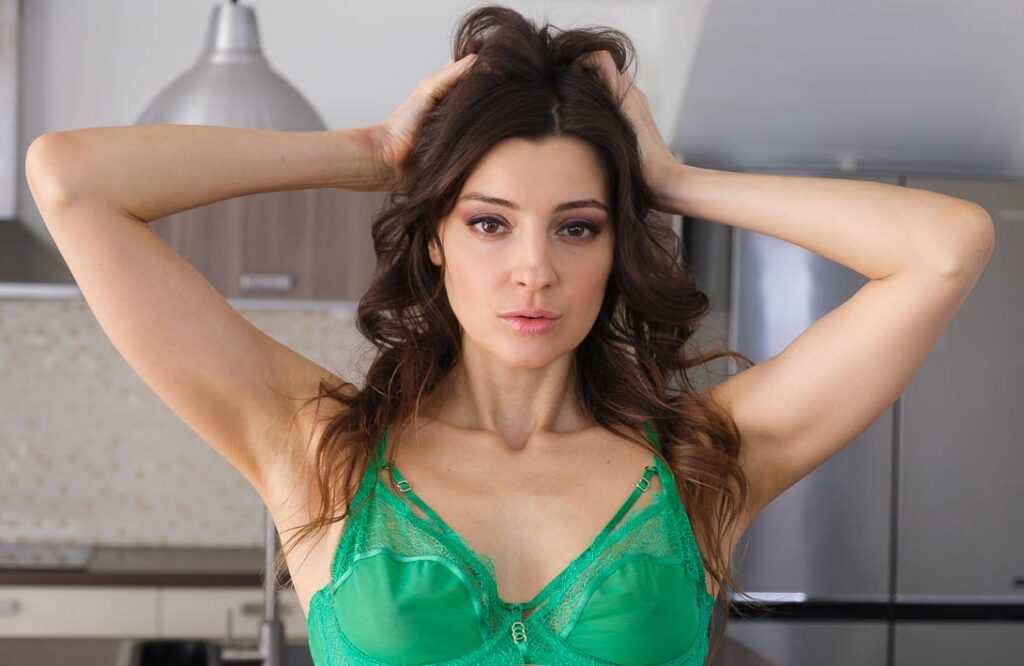 My favorite are the fisting and the giant toys videos. There's just something about seeing those lovely pink buttholes stretched to their absolute limits. Check out Melena Maria Rya's show in their video number 392, called "Teasing Front and Back." God, what a delight! Czech VR Fetish knows how to make the most of the flexibility the fetish niche has to offer! If I wanted to list every single category they offer, I'd need this whole page.
They also have a fantastic selection of ⇒ Interactive videos so that you can increase the immersive factor as much as possible with the help of those awesome ⇒ VR Sex Toys!
The bottom line is that you get 400+ videos with all the fetishes you crave, in stunning quality with even more stunning models! You get even more videos when you count their network! Clean 5/5!
Is their variety of scenes and models as good as the content?
It sure is. Czech VR Fetish was launched in 2016, and they've gained a lot of experience since then! That only means one thing - great VR Porn! We already established that they belong to a network of one of the world's most successful VR Porn Sites. So, it stands to reason to assume they're attracting the top talent. And not only that - for all of us who love seeing a fresh face from time to time, they've got that too!
The chicks are just awesome. Any body type that turns you on - you'll find it here. ⇒ BBWs, skinny, perfect bodies, ⇒ MILFs, ⇒ Teens, ⇒ Big tits (fake and natural), ⇒ Big asses, pale Caucasians, dark ⇒ Ebony queens, awesome ⇒ Latina mamacitas, ⇒ Asians… Truth be told, however, most models are European. They started working with Asian, Latina and Ebony models, and there are more and more of them each day in their library, but as a fan of chocolate skin, I say: give us more.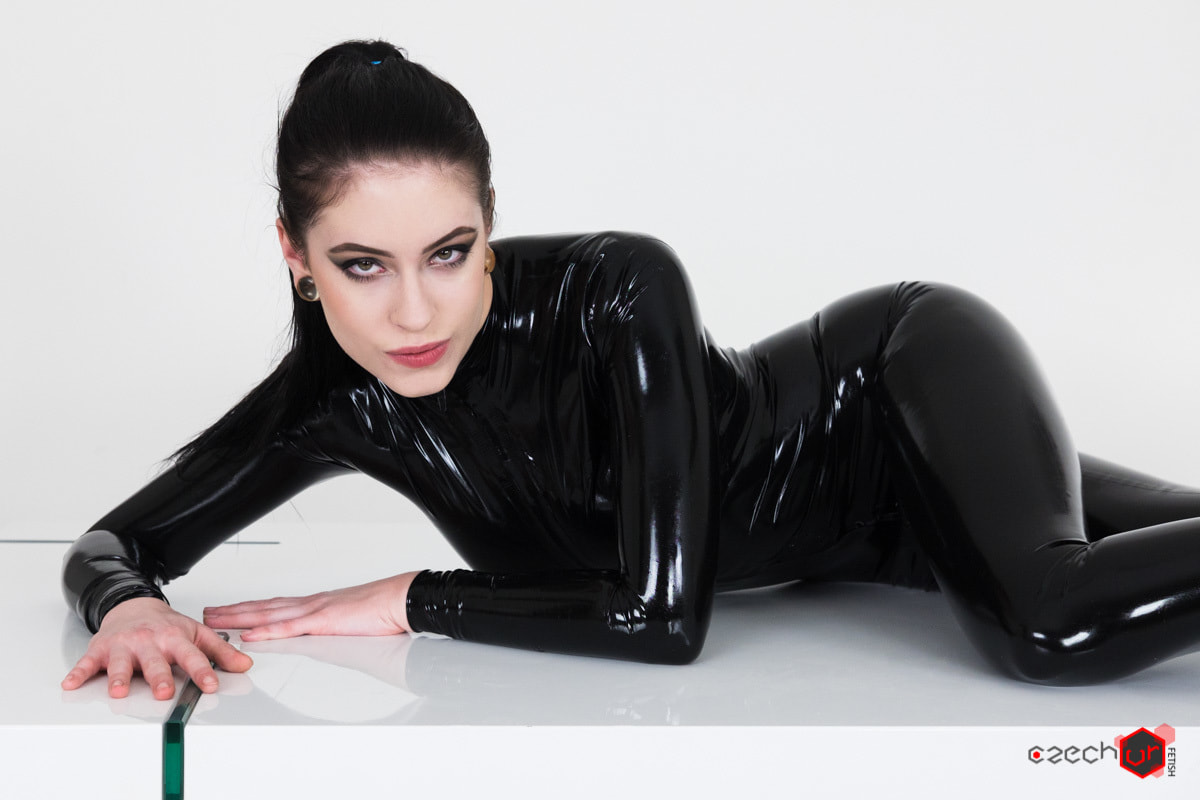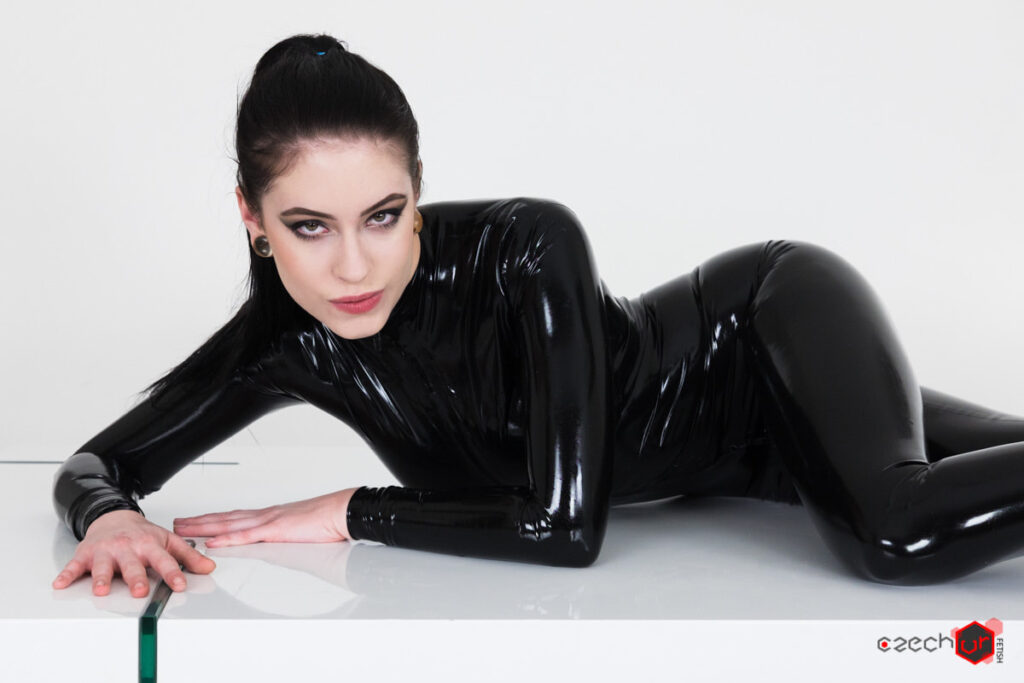 There's a great amount of variety here in all other aspects - age, body type, hair color - ⇒ Blondes, ⇒ Brunettes, ⇒ Redheads, and even a separate category called "Hair Bun" for all of us who like them with their hair tied. Clean-shaven pussies, hairy pussies… The list goes on and on. I especially love the videos with their models dressed in latex (and there's a lot of those) because the lighting and the sound are so well done - you can see every surface reflection and every small sound that the latex makes that turns us on so much.
4.5/5 from me here.
Audiovisual quality - You won't believe how good it is!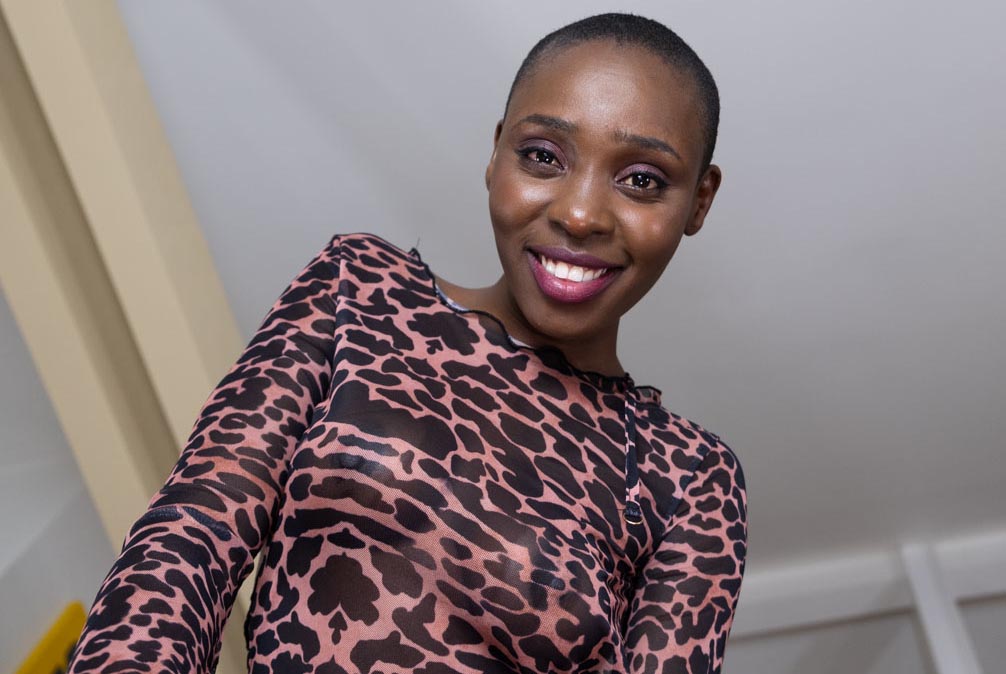 Ah, the legendary audiovisual quality of Czech VR and its sister sites. What else can I say besides the fact that they keep churning video after video in 8K? Very few VR Porn Sites managed to get there. Only a handful, such as ⇒ VR Bangers (Review), ⇒ VR Hush (Review), ⇒ VirtualRealPorn (Review), etc. Czech VR Fetish also offers 4K and 5K, which were the industry standards when they started. Their videos are almost all shot at 60FPS, except a few videos shot at 120FPS. You get 180 degrees FOV and a binaural sound system for that extra crisp! The definition of heaven, man!
The videos are as professional as they get - from the lighting to the post-production. The closeups are perfect (not many studios master that technique), and the angles are just right. 
I have nothing else to say but to give them a clean 5/5!
The website is an almost identical copy of Czech VR's site, except for the coloring. Czech VR Fetish uses red instead of green, which goes well with the whole fetish theme.
As you land on the home page and start scrolling, you'll find their selection of Top Videos, Newest Videos, and their porn Network. The top of the page comes with a few more tabs - Videos, Girls, Interactive (Videos compatible with VR Sex Toys), News (Blog page), Help (Guides on how to set up your headset), and the Login options. Overall, the site is really user-friendly, and with the added search button (always appreciated), it's impossible to get lost.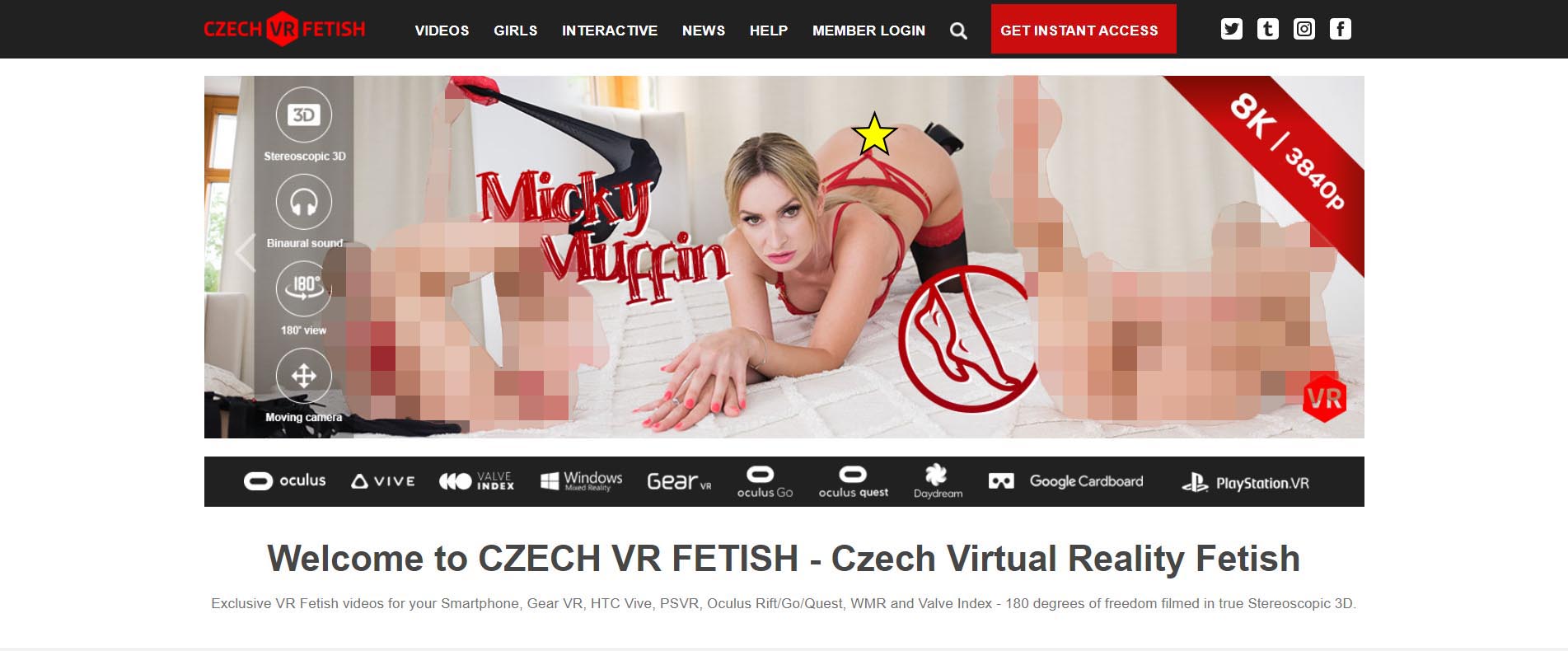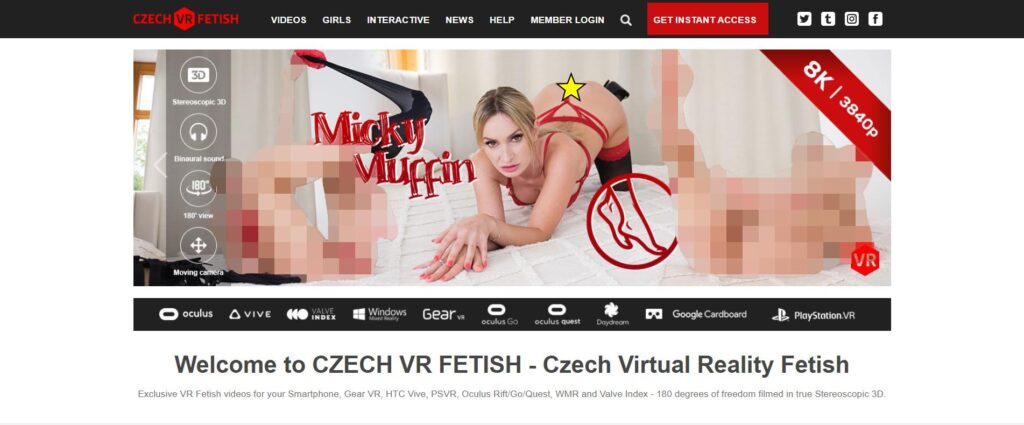 Unfortunately, there aren't any ⇒ VR Porn Games, but you do get a lot of other extras - A set of professional photos from the sets, free trailers, and an entire porn network!
5/5!
Czech VR Fetish's headset compatibility
Whichever headset you're using, you'll have a blast because Czech VR Fetish supports all the major ones! Whether you're using a ⇒ Quest, ⇒ Quest 2, ⇒ Oculus Go, ⇒ PSVR, ⇒ Smartphone, ⇒ HTC Vive, ⇒ Samsung Gear VR, ⇒ Daydream, ⇒ Windows Mixed Reality, or ⇒ Valve Index, rest assured you'll have a fantastic experience watching their videos. They have great guides on how to sync the videos with your VR Sex Toy as well. ⇒ Kiiroo Keon (Review), ⇒ Kiiroo Onyx+ (Review), ⇒ The Handy (Review), ⇒ Lovense Max 2 (Review)… whatever you're using, they've got your back.
Pricing - How expensive is this VR fetish paradise?
Czech VR Fetish has a standard subscription price for a VR Porn Site. This is a bargain for the quality and quantity you get. And not just that - you get their ENTIRE network of porn sites - Czech VR, Czech VR Fetish, Czech VR Casting, and all MentalPass sites for the price of one subscription. Call me crazy, but that's a lot of wanking material.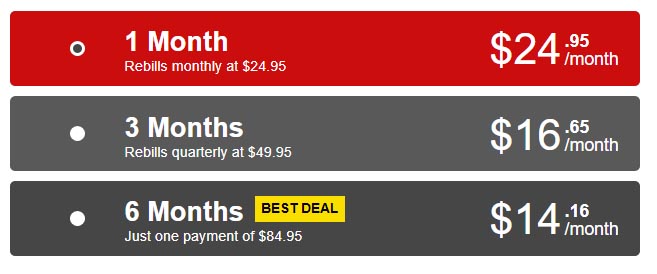 You can pay with your credit card, or you can even use cryptocurrency. The important thing is - the billing is all safe and anonymous, and you won't have to worry about malware or scams o whatever kind of shit you can get from non-legit VR Porn Sites. Safety and discretion and a must for any serious VR Porn Site! I've been a subscriber for years and never had a single problem.
Future: Will we be seeing more of them?
It's safe to say that we will. These guys have been around for a long time, and this is the kind of industry where you can only make it if you know what you're doing. And they sure have a lot of experience and know-how! So, keep churning out great content like this, and we're happy!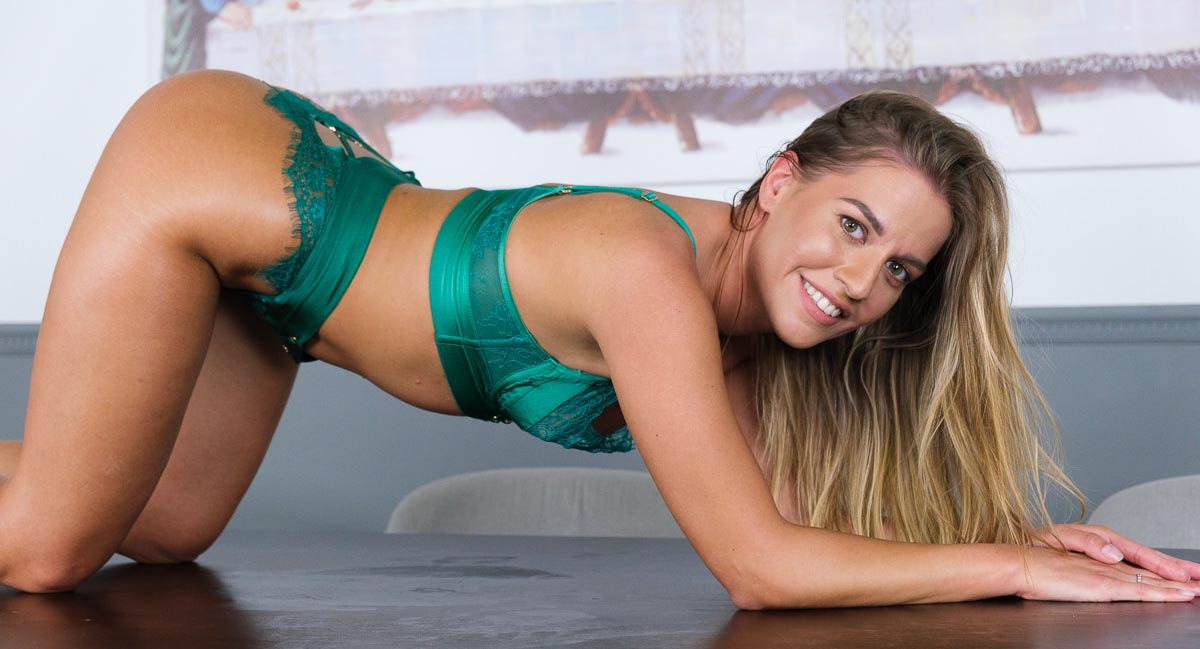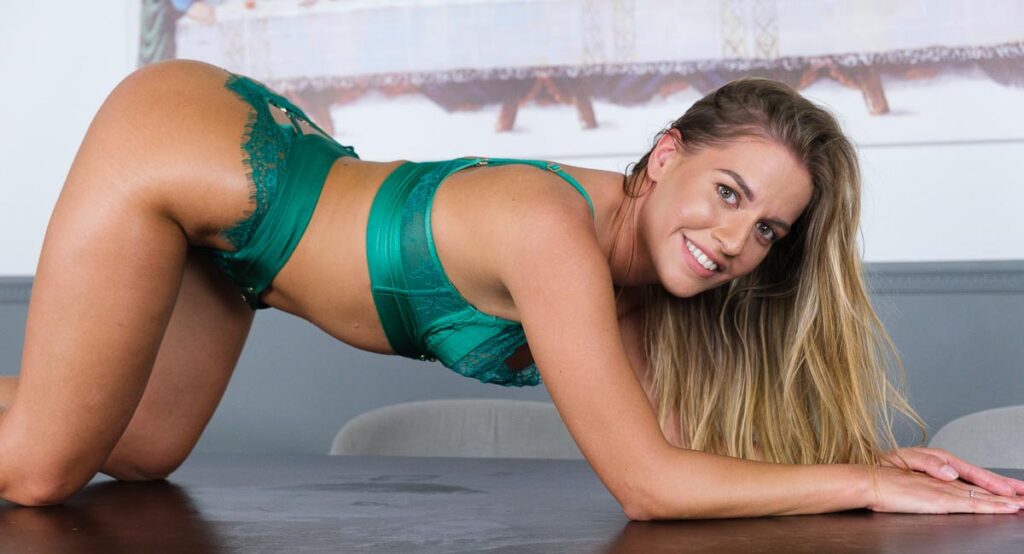 I'll give them 4.5/5 here, with hopes they start stretching more Asian, Latina and Ebony asses soon!
Conclusion: Do we recommend Czech VR Fetish?
Oh, massive recommendations! I've had so much fun with this site! All the fetishes you love and all the best pornstars plus fresh faces! And they'll all do whatever it takes in front of the camera. God, I love VR Porn. You know what do to, my fellow fappers!
Czech VR Fetish: Our Summary
Czech VR Fetish is an incredible fetish-oriented VR Porn Site where you'll get tons of awesome content, covering all the fetishes we love! Top-of-the-line pornstars and fresh faces, plus an incredible network of porn sites!