This is a step-by-step guide on how to watch VR porn with the Samsung Gear VR!
Download the "SideloadVR" APK from a trusted source (APKPure.com is your best bet).
Download a good VR Porn Player (We recommend PLAY'A from ⇒ VR Bangers (Review)).
Find a good VR Porn Site - ⇒ VRPorn.com (Review) - make sure you check them out - they have THE BEST VR Porn out there AND are having a SALE at the moment).

Put your Samsung phone into your Gear VR headset.

Find a video you like and play it.

Use the touchpad on the side of the Gear VR to navigate through the video and play/pause it as needed.

Have fun!
Note: Streaming is the easiest way to watch VR Porn, but it's also very bandwidth-intensive, so do this only if you have a strong enough Internet connection. Also, remember that streaming takes away from the quality of the video.
Find a good VR Porn Player (PLAY'A or Samsung VR are good options).
Subscribe to a good VR Porn Site (If VRPorn.com is not your thing, check our ⇒ list of the best VR Porn Sites out there - They all offer WORLD-CLASS service safely and anonymously.
Go to the site you subscribed to, find a video you like and download it on your phone.
Open the VR Porn Player you chose, find the downloaded video and play it.

Put your phone into the Gear VR headset and adjust the straps to fit your head.

Use the touchpad on the side of the Gear VR to navigate through the video and play/pause it as needed.
Note: If high video quality is what you want, downloading is the best way to go. This way, you can watch your favorite VR Porn videos offline and on the go. However, remember that you need a lot of free space on your phone to download these movies, as they are huge!
Is Samsung Gear VR good for VR Porn?
Samsung Gear VR needs your phone to work, but it's still better than cardboard headsets (Samsung collaborated with Oculus on this project, so the quality is expected). Prices range from 15 to 30 dollars (depending on where you are and if you buy new or used). While it's true that technology has gone a long way since Gear VR's introduction (with other VR headsets like ⇒ Oculus Quest 2 (Review) dominating the VR Headset market), the Samsung Gear VR is still a great choice. 
Of course, using your phone as a VR Headset does have its limitations. But don't let that stop you - the experience is still unique! And with the option to use a wireless controller, you can play games, use apps, and quickly select your favorite VR Porn movies.
Where can I find the best Samsung Gear VR Porn?
There are a ton of places you can go to find porn, but let's be real; nothing good in life comes for free. VR porn isn't any different. I understand we aren't used to paying for porn, but keep in mind that producing these amazing videos takes some serious cash and time, so it's only fair to pay and play. It's possible to find some freebies here and there on the Internet, but I would stay away from those as they are super low quality. In the end, you'll feel like you wasted your time.
You can still taste some steamy VR action without breaking the bank. Most sites offer annual plans for less than 10 bucks a month! That's less than the price of a fancy coffee or a few slices of pizza! Also, plenty of websites offer full VR porn trailers for free, so you can see what you will pay for in advance. Neat, huh?
1. VRPorn.com - The most visited VR Porn site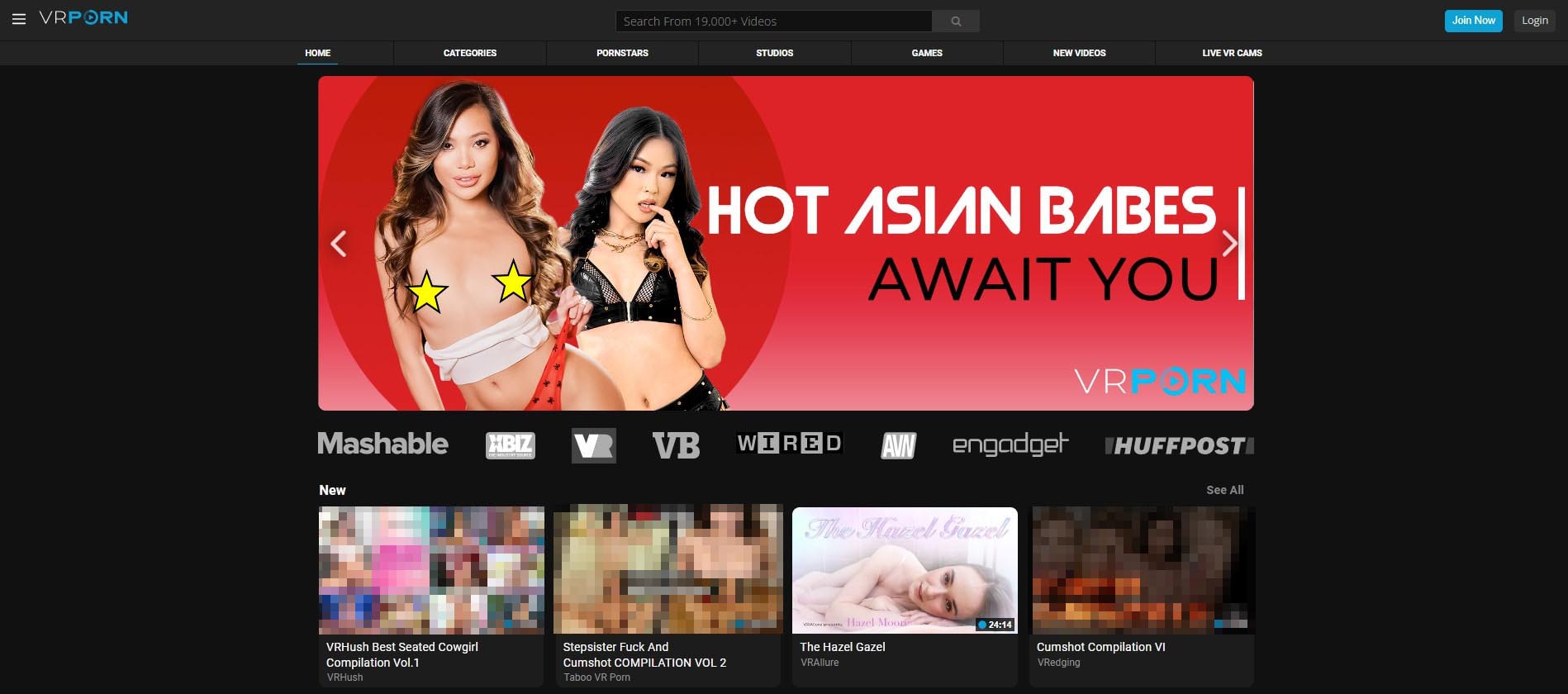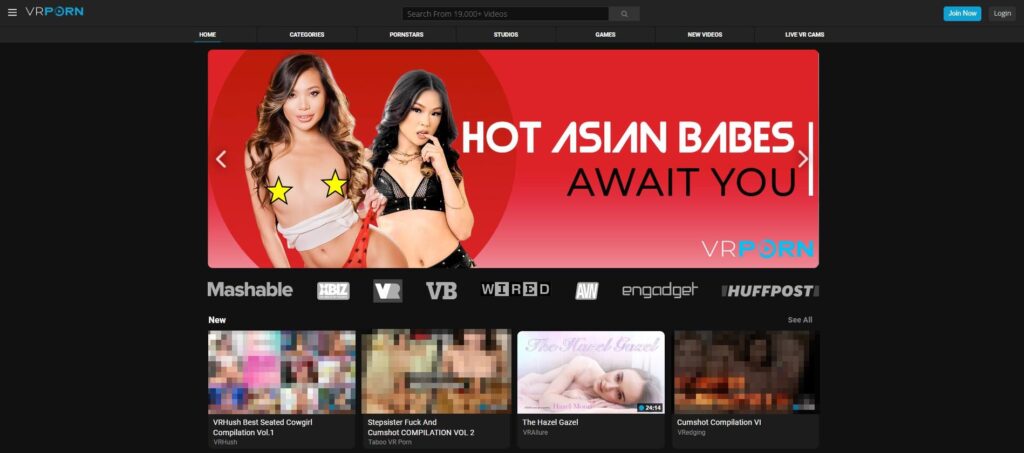 ⇒ VRPorn.com (Review) is the ultimate destination for the sexiest VR porn scenes straight from the hottest studios! They've also got an epic collection of VR porn games to take things up a notch. These games allow you to tailor your VR experience to your exact preferences, ensuring that you're getting the most bang for your buck! 

2. Virtual Taboo - 7K kink paradise!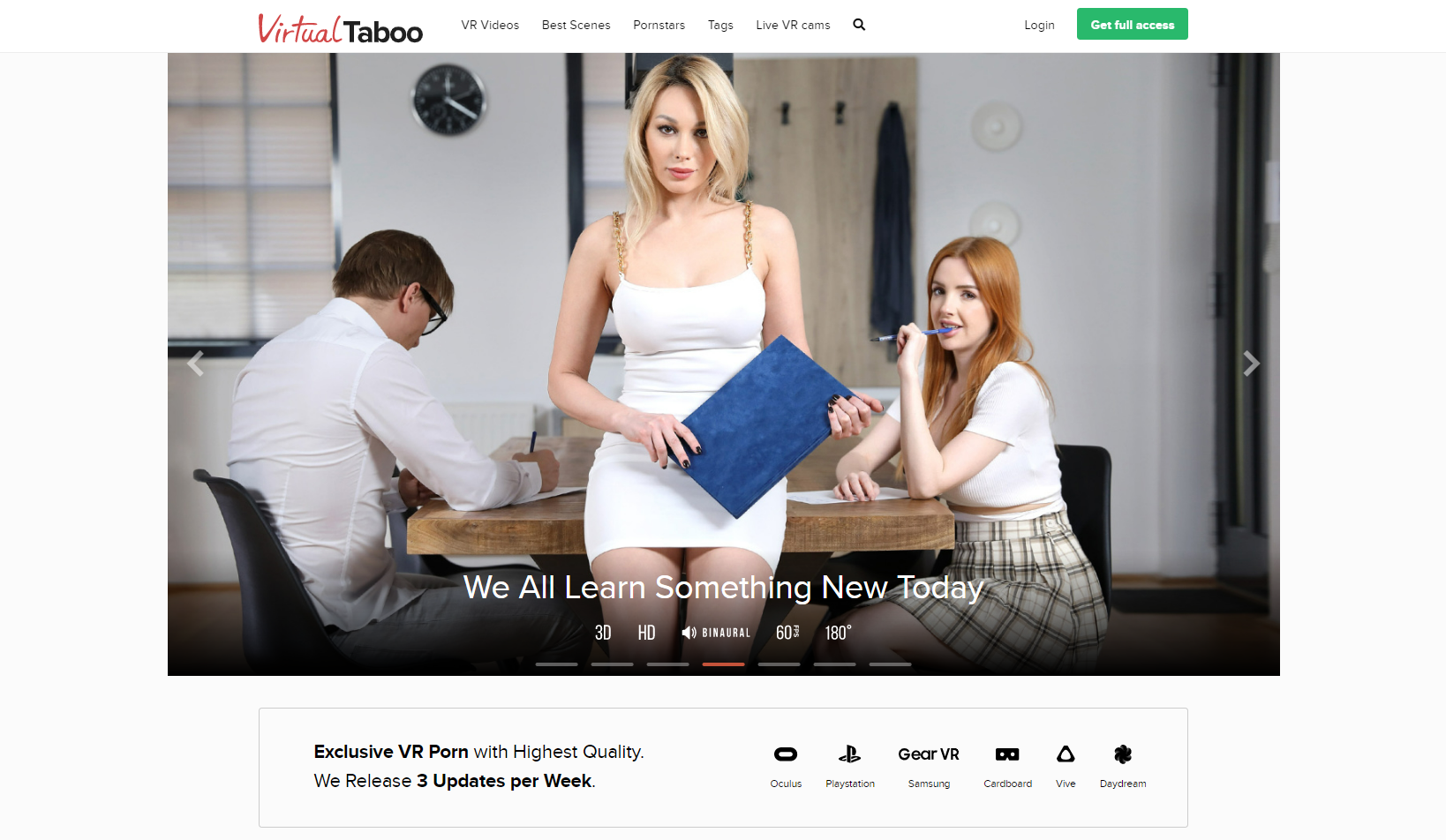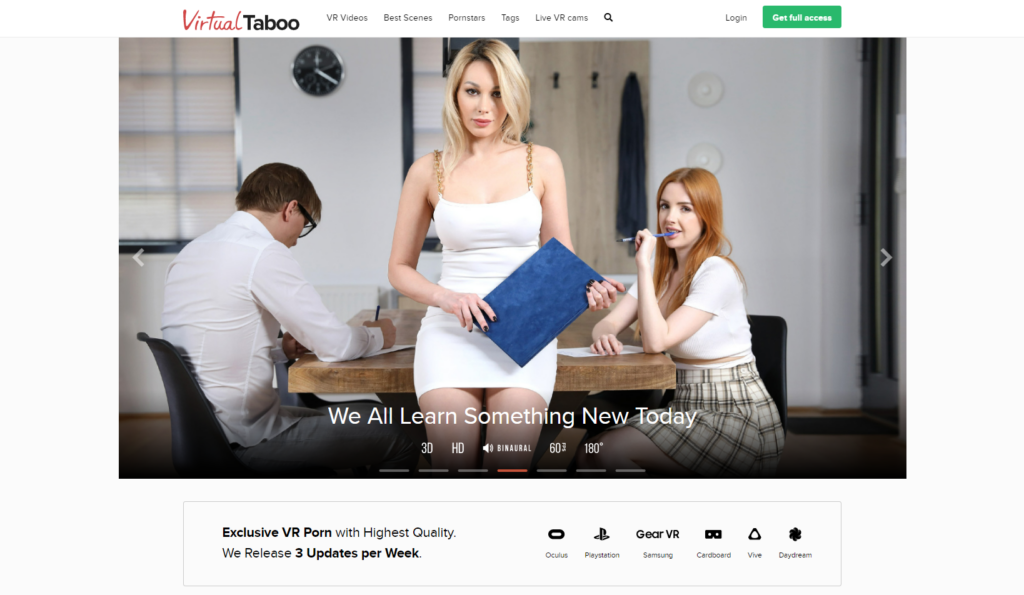 ⇒ Virtual Taboo (Review) is where you need to go if you're into BDSM, taboo scenarios, or any other wild fetishes. They cater to all your desires and offer some of the most incredible VR porn content out there! Even if you're new to the whole VR porn world, Virtual Taboo has got your back. They've expertly crafted their content to transport you straight into the action and make it super easy for VR novices to jump right in. But be warned - it's almost impossible to stop once you start. 

3. WankzVR - Mind-blowing content from a huge network of high-quality porn sites!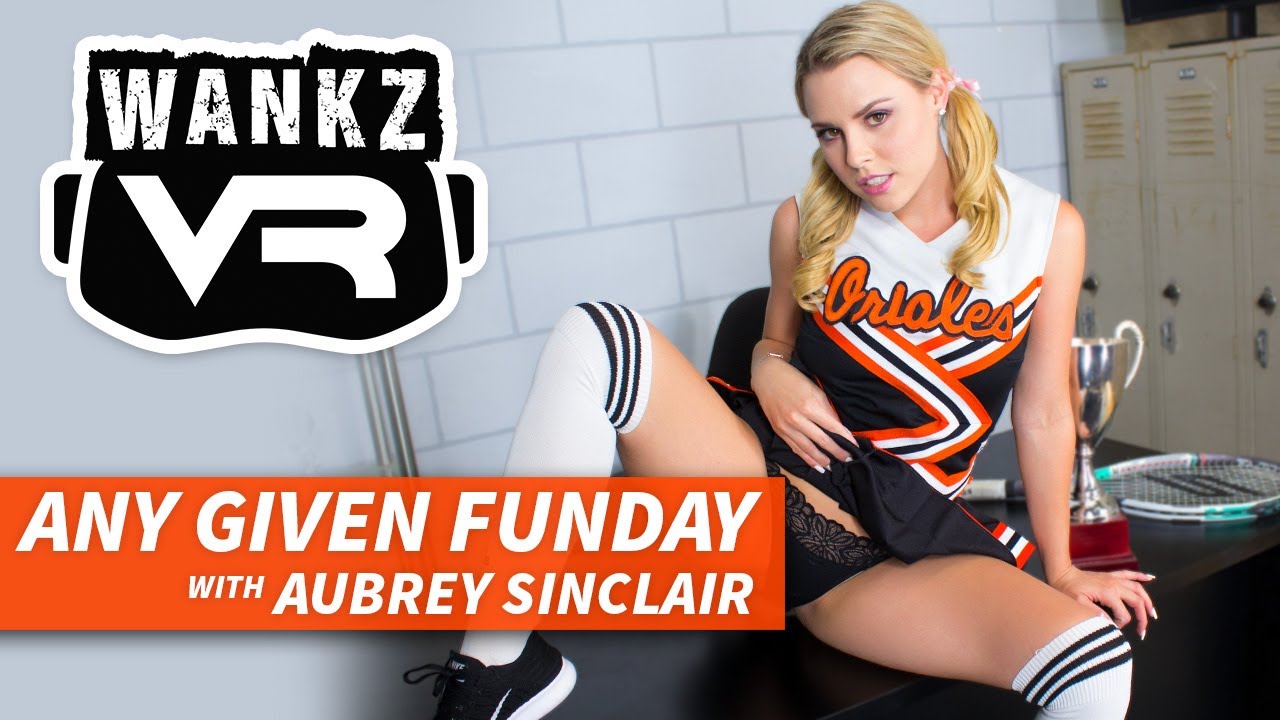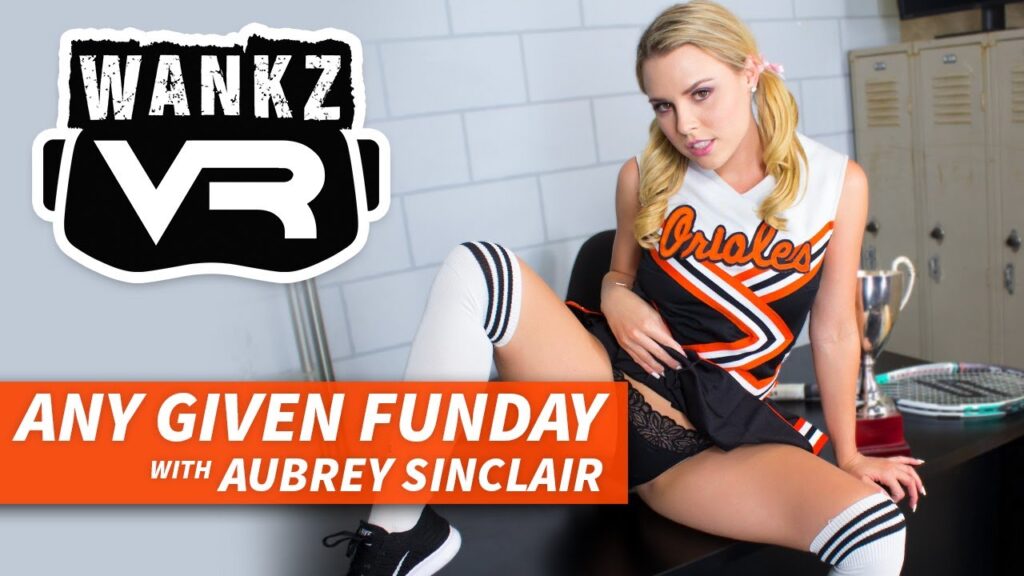 ⇒ WankzVR (Review) provides the ultimate VR porn experience! These guys have been leading the charge in VR porn since before it was cool, and they've only gotten better with time. Their videos are out of this world, and they're constantly churning out fresh, new content - two new videos every week, baby! With 30-45 minutes of premium VR porn every week, you'll never run out of steam.
Conclusion: Do we recommend Samsung Gear VR?
The Samsung Gear VR is a fantastic option for an affordable yet high-quality VR experience. It's cheap but still incredibly well-made. But there are a few downsides to keep in mind:
The Gear VR only works with Samsung phones, and you're limited to using the Oculus Store for apps.

Only a few apps utilize the controller.

The Gear VR doesn't have room tracking, so you're limited to the power of your device.
All in all, if you have a Samsung phone and are looking for an affordable VR experience, the Gear VR is definitely worth considering – just be aware of the limitations.