Quick & Easy: Is Naughty America VR worth it?
Excellent visual quality and scaling
New videos uploaded every week
Cheap subscription for a gigantic porn network
The best MILFs, big tits, and FFMs
MASSIVE amount of hot pornstars
Girls are mostly Caucasian
The content could be a little more varied
A lot of people know Naughty America, and it's no wonder! They are one of the biggest porn companies in the whole world. Since 2001, it has grown and adapted to the ever-changing adult entertainment market.
Is their website easy to use?
This is, without a doubt, one of the simplest websites I have ever seen or reviewed. They offer so much with such an easy website to navigate!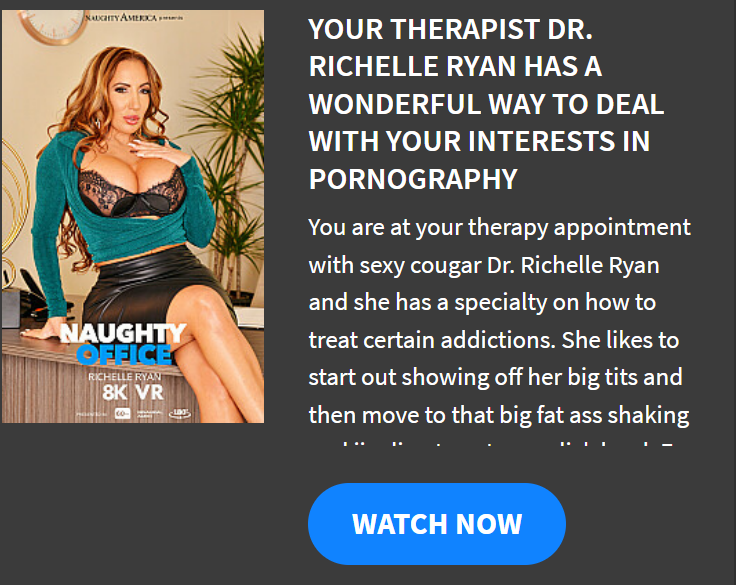 As you enter, you will find a selection of the latest scenes shot by their team. And what a selection it is! Their videos are unique and guaranteed to keep you coming back for more! What I like about these recommendations is that they have a short description for every single video, so you can see what it's about before even getting inside.
Now here comes the kick and one of the reasons I love Naughty America VR. If you scroll down a bit further on the home page, you will find a section called "Free VR porn scene" that lets you experience the world-rocking quality of their videos without having to subscribe! Man, that video is AWESOME! Neat, huh?
What kind of content do you get at Naughty America VR?
Well-crafted stories are what these guys are after. I think it's incredible because it's much more immersive than a regular "Hi, let's bang" video. It's an excellent way to get a little more personal with the steamy hot pornstar just grinding away on your dick. With 700+ exclusive videos, 500+ models, and two new weekly updates, this studio is a giant. Naughty America is a network that also offers 2D porn with 47 porn sites and 7.000+ exclusive videos. But that's not why we are here!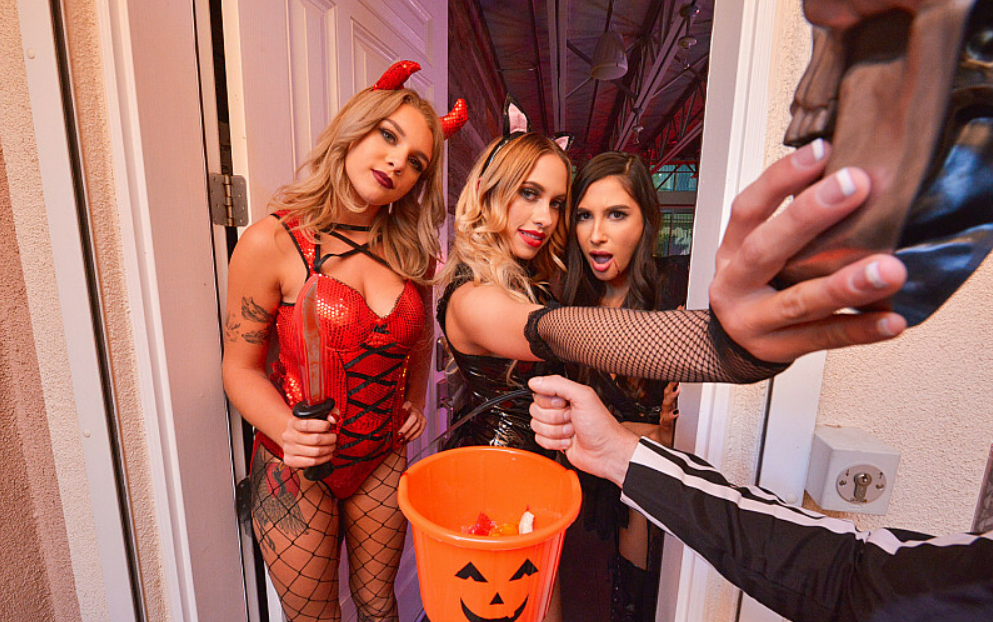 The number of categories that these guys offer is just staggering! There was something for every fetish and fantasy you might have, and they made sure to satisfy them! Whether you are looking for ⇒ ass or ⇒ tits, natural or fake, pairs, ⇒ threesomes, outright ⇒ orgies, cuckolding, different ethnicities, ⇒ lesbian action… brother, just name it. Threesomes in VR porn full-length videos are something you will never forget!. This isn't something you want to miss. Two girls are following your rules, trying to please you however you want.
Naughty America VR is what you are looking for!
I'll give their content an easy 4.5/5.
Does Naughty America VR offer the best variety of scenes and models too?
Variety is the name of the game for these guys!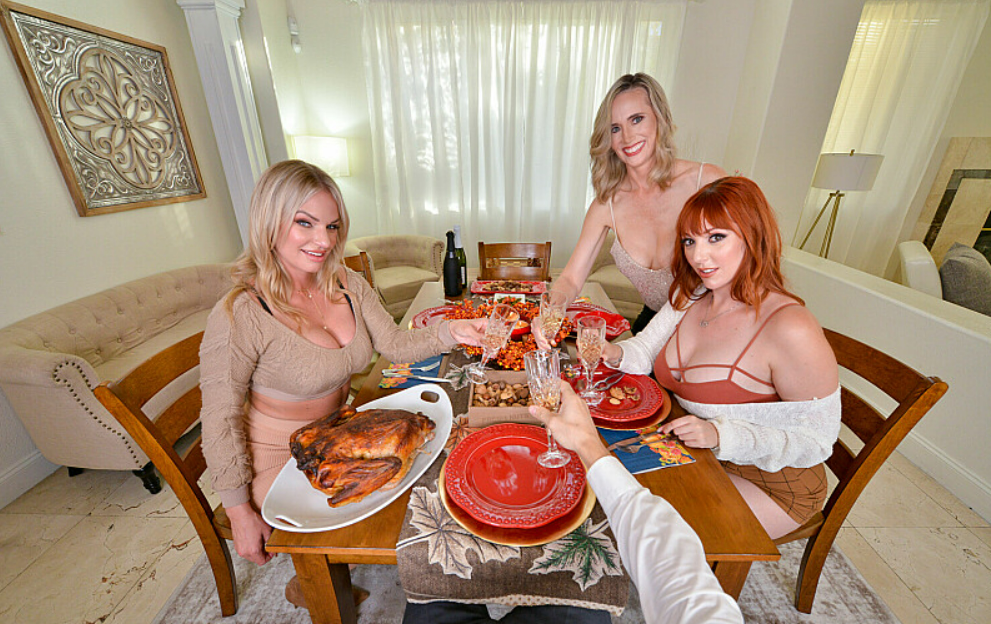 The models that work with Naughty America VR are just something else! They are very well trained on how to perform before the camera. In VR, that's even more important because whatever they do in front of the camera directly affects how you feel. Speaking of pornstars, Naughty America VR has the best models! They work with big names such as Adriana Chechik, Brandi Love, Kendra Lust, Spencer Scott, and Jade Kush, to name a few. These chicks will take your world and rock it to pieces!
Definitely get a subscription if you're a fan of any of these pornstars. No chance you will regret it! 
The only thing missing here is ⇒ VR porn games.
I'll give them 4.5/5.
What is the audiovisual quality of Naughty America VR like?
In a nutshell, Naughty America VR uses cutting-edge technology to give us the best possible quality! They underwent a couple of technological changes since they appeared on the scene, indicating that they always want the best equipment around!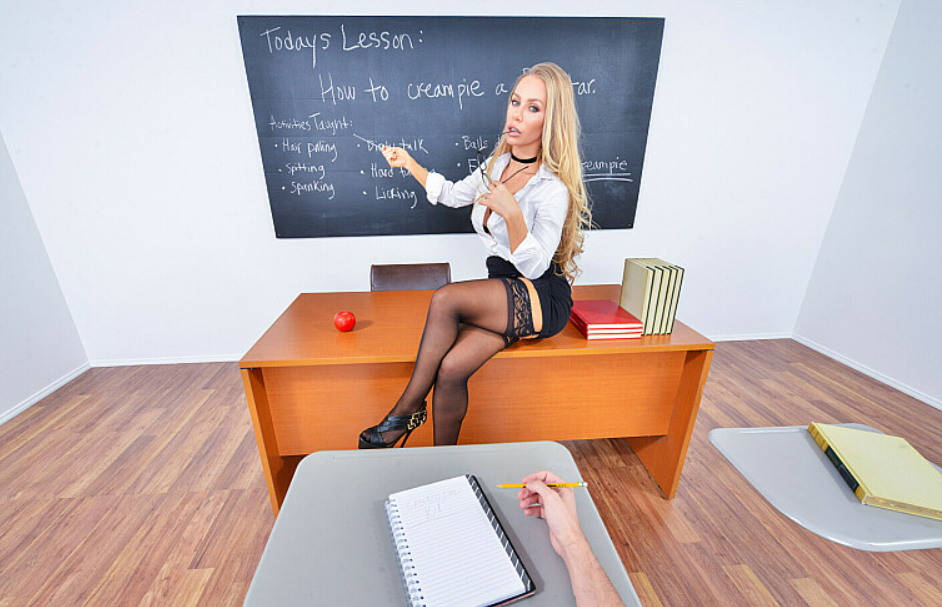 It's standard today to have a 180° field of view (FOV), and they offer videos up to 8K resolution, which is a big plus! You won't believe the clarity of the videos! It's so easy to get fooled into thinking you are actually in the damn movie! I wanted to grab that giant boob so badly. Every video has juicy close-ups. The image is as good as it gets!
The audio quality itself is something to behold. With a binaural sound system, it's easy to understand how your mind gets tricked! It simply feels unreal! Some old movies still have good quality, but some devices didn't work with them. Fortunately, this problem was fixed long ago, and all new & relevant videos look great.
A definite 5/5 from me!
The future of Naughty America
These guys are among ⇒ the best VR Porn Sites out there! Their videos are typically used to illustrate how fantastic VR porn is, and that says a lot! The VR industry needs progress and investments, and they are constantly trying to push the industry forward. I mean, let's face it. VR porn has always been the one to push the boundaries and test the limits. And it's going to keep doing just that! One thing is sure - Naughty America VR is leading the field!
I have zero doubt that these guys are here to stay! 
Is my VR headset compatible with Naughty America VR?
Being among the best means you have to think about everything and everyone. And that's precisely what Naughty America VR's team has been doing all these years! Whether you have a top-notch headset or some of the lower-class ones, they will ensure you get your money's worth!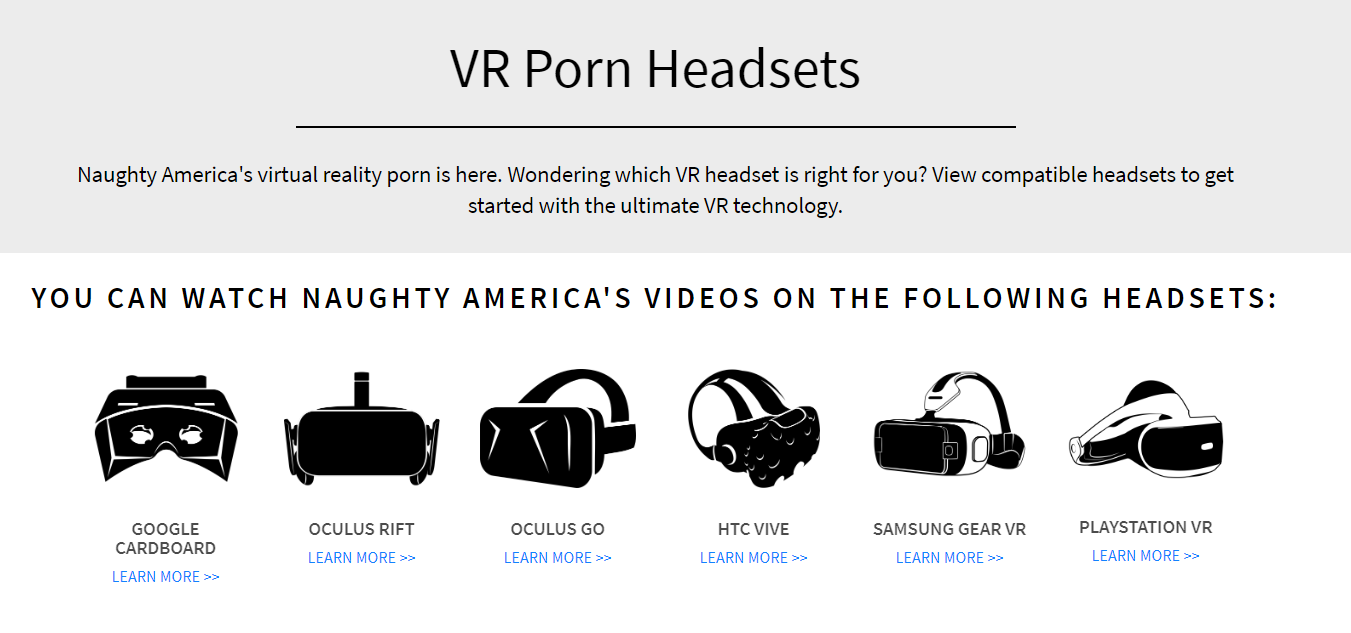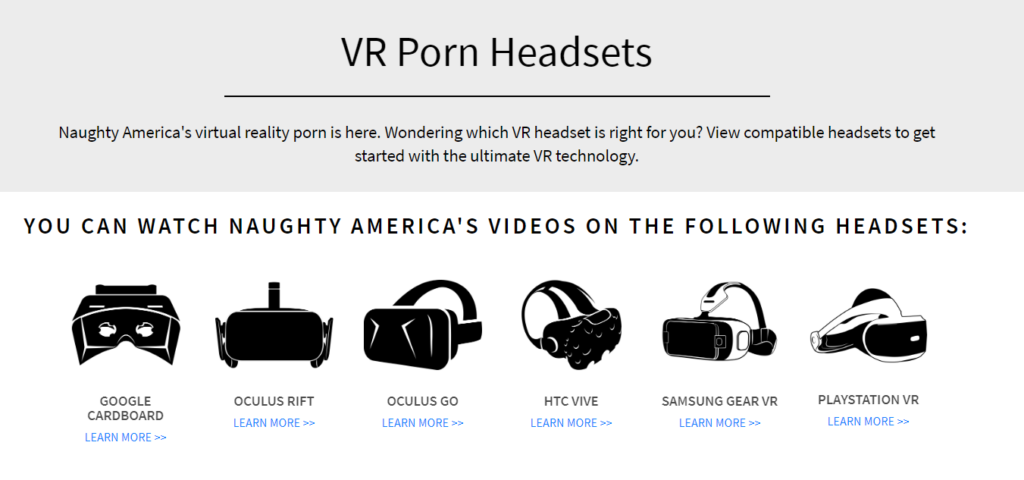 As always, high-class headsets are the recommended option. However, Naughty America VR supports everything from ⇒ Google Cardboard to Oculus devices like ⇒ Quest and ⇒ Quest 2, ⇒ PSVR, ⇒ HTC Vive, ⇒ Samsung GearVR, etc. So, whichever device you have in your room, strap in, lay back and enjoy this massive world of pure enjoyment! Of course, if you have any doubts about how to set up your device to watch VR Porn, check out our  ⇒ Guides on How To Watch VR Porn on every device!
Naughty America VR offers four basic filtering options you should check out on the home page - "VR videos," "VR pornstars," "VR headsets," and "Join."


In addition, by clicking the VR HEADSETS button, you can see guides on setting up VR porn players for all the major VR headsets. So you won't have any issues when starting things up for the first time!
Great website, guys! A solid 4.5/5 from me!
Is the subscription to Naughty America VR worth it?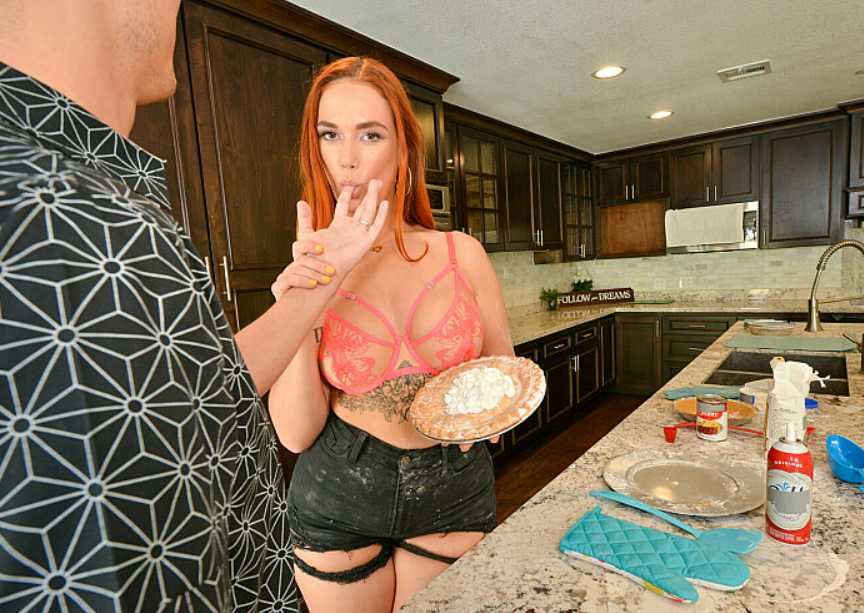 Naughty America VR's most vital selling point is its 47 sites and over 7,000 videos, many in 4K. With Naughty America VR, you get the whole NA porn network! Anything you find, you can download or stream. But, naturally, watching VR porn makes you only care about those juicy 6K scenes! You can't beat this price-performance subscription!
First, you can try it out for $1.95 for 3 days! It doesn't get better than a cheap tryout! For $29.95/month, you can access all Naughty America VR sites! They're pretty generous sometimes, so look for discounts! If you sign up for a year, the price drops to $7.95/month.
At this price, it's a no-brainer – a bargain!
What are my payment options and how safe is Naughty America VR?
Don't forget that Naughty America is a huge porn company that's been around for a long time. Nothing has ever gone wrong with my membership payment or anything related to it, and I don't know anyone else who has complained about them. These guys are pros!

There are a lot of ways to pay at Naughty America VR. You can use your standard credit card, for example. If that doesn't work for you, you can always use cryptocurrencies! You'll be protected from any association with adult stuff - everything's anonymous!
Conclusion: Do we recommend Naughty America VR?
Most definitely!
It's all good: content, pricing, and talent. It's hard to complain about the lack of diversity in plots and genres with the quality being so good, but we'll see what the future brings! It's cheap, and you can start right away! Warning: you're going to get addicted! 
Naughty America VR: Our Summary
Naughty America VR is a world-class site with some of THE BEST pornstars in the whole world! They are constantly adapting to the ever-changing world of VR porn, and they keep coming up with amazing results!