Quick & Easy: Is VR Ero-Beat worth it?
FREE
Fun, cheerful and sexy
Different modes of gameplay
Good graphics
No download required
Customizable characters
Only Oculus platform is supported
VR Ero-Beat is an amazing VR porn game created specifically for the ⇒ Oculus Quest (Review) platform. This is a FREE entertaining rhythm game (quite like Beat Saber, if you like) with a sexy twist! The principle is the same, it's just instead of cutting boring blocks to catchy music, your job is to touch, slap, and play with multiple hot girls!
You gotta' stay on beat, my man! So strap in as we explore this amazing mix of sexy bodies and cool music!
The Graphics in VR Ero-Beat – Are they good enough?
As I already said, VR Ero-Beat is a browser game. Having that in mind, the game still looks great despite the fact that you don't need to download anything. I think the developer did a great job making the girls look as good as they possibly could! If you have an Oculus Quest 2, you're in for a treat!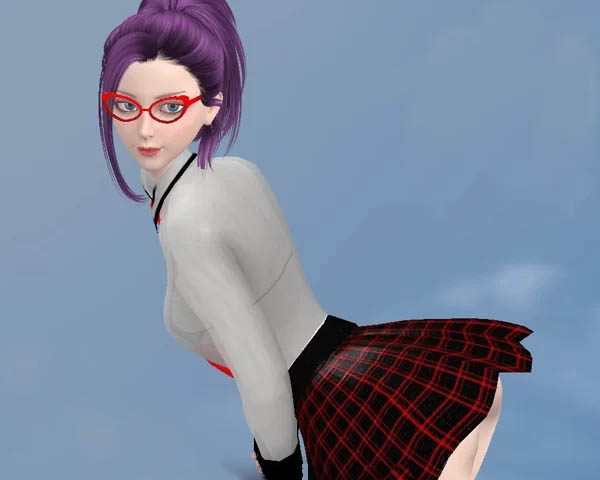 You really won't expect so many details from a browser game, that's for sure. You'll be surprised once you get started with VR. I know I was, and I played a ton of VR porn games before! It's not just that the girls look good, but the details are on point too. They move very fluidly while dancing and switching positions. Animations and backgrounds are very basic, though. However, that's not a bad thing. In the end, all the details are on the girl's clothes and body, which is, of course, awesome!
Great job guys, 4.5/5 from me!
What kind of content does VR Ero-Beat offer?
The content is varied, even though the game follows one concept.
Before starting, you can customize every girl's breast size, but the default model is skinny and pale. She's blue-eyed and long-haired, and she loves slapping. What a sweetie!
In the beginning, you'll play with Marie Rose – a sweet blonde with small tits and a pretty face. The next character is called Sophitia and you'll meet her when playing on Medium difficulty. You'll love her curvy body and attitude! You can see her moving like a stripper, and she loves to be touched. It was great hanging out with her!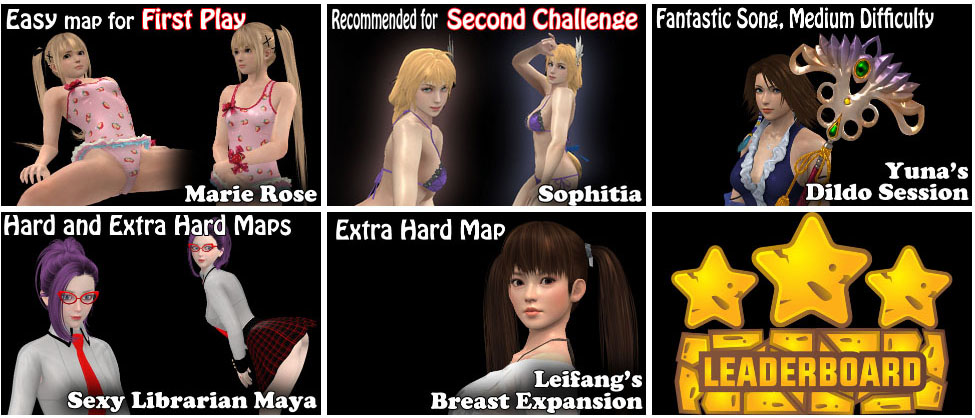 Yuna is next: a gorgeous brunette with a panther-like movement. She's stunning, and her clothes are very stylish and unique! Sexy Librarian Maya waits for you on the next levelt. This sexy cougar will be the main character in the "Hard" and "Extra Hard" difficulties. She wears a sexy pair of red glasses and purple hair! Shooting cum at her is a thing of mine, in all honesty! Let's not forget Leifang, a cute Asian with big tits on the "Extra Hard" map. That outfit of hers won't last long, she's really horny!
Great content. 5/5 from me!
What's the story of VR Ero-Beat?
VR Ero-Beat is all about doing the right thing at the right time to get the best score. Dpending on where the cursor appears along with the beat, of course. Sometimes the girl will face you, sometimes she'll bend over and show you her butt, and sometimes she'll be sitting. There's one thing for sure - she'll always show give you a very sexy view.
There are three different ways to play VR Ero-Beat:
Laser Mode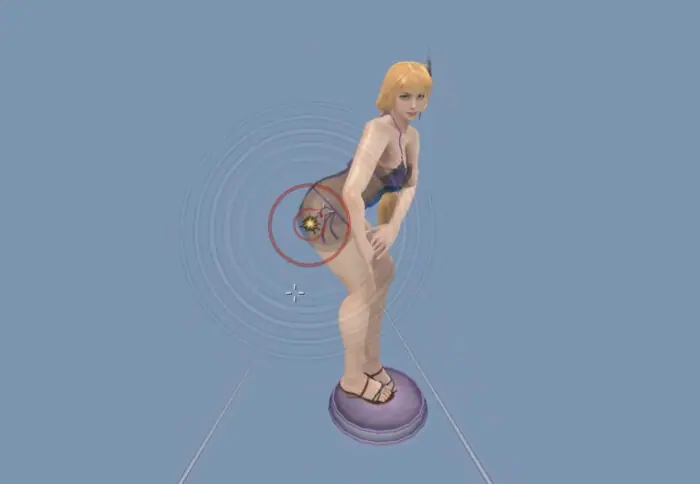 Let's start with the easiest. It's great for you if you love those chill sessions where you get to sit and play. Still, you need to aim right, and your timing has to be perfect! Think of it this way - It's a classic shooter with some pretty hot protagonists. There's nothing too challenging about it, so if you want just to sit back, relax, and enjoy - go for this one!
Hand Tracking Mode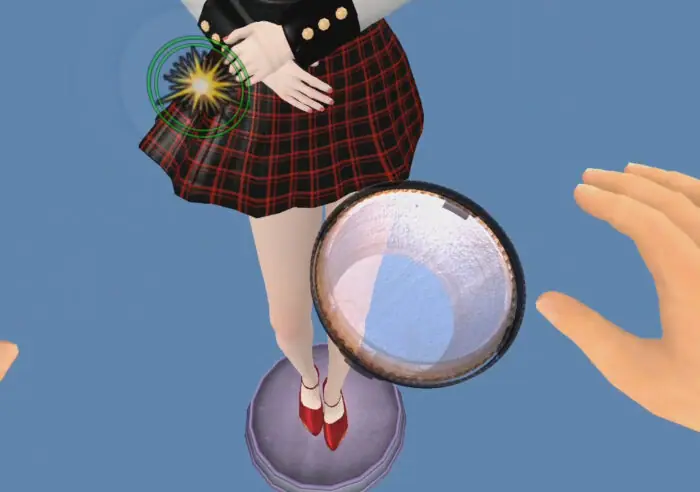 You can play without a controller here. You'll play the game by touching or hitting different spots on the 3D models with your palms instead of your controllers. There's something really fun and wacky about it, and it makes the game seem more realistic. It goes without saying that you'll have to stay "on beat" for a high score here, too!
Two-Handed Mode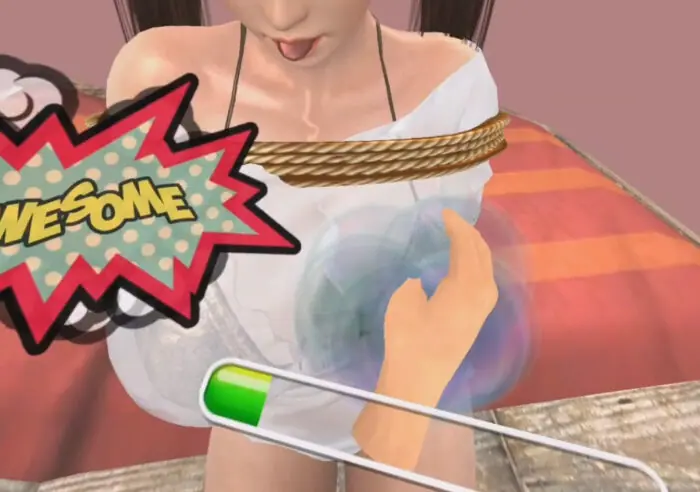 You'll have to use both of your controllers to play VR Ero-Beat in this mode. It's the hardest, but it's also the most rewarding. You'll have to work hard if you want to get the best score in this mode! And if you want to sit back, enjoy, and watch the game play by itself without errors, you can activate "auto-mode." It's honestly super mesmerizing to watch!
I'll rate their story 4.5/5.
Is VR Ero-Beat an erotic experience?
Oh definitely! The gameplay is quite straightforward and sexy at the same time: you get a beautiful 3D girl in front of you, and the music starts playing. It won't take you long to slap her butt, grab her boobs, or shoot your load on her. Even though you have to stay focused and maybe multitask a little, you're going to love slapping and touching the models. This is a game I've played a lot, and I can tell you that every single session is fun (and the girls love it)!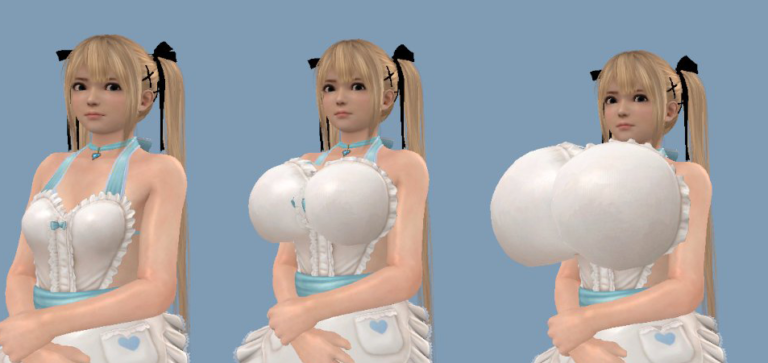 I'll rate it 4.5/5.
Playing a VR Porn game has never been easier!
VR Ero-Beat is a VR game that's played directly inside the browser. Basically, you don't have to download anything! With your Quest VR headset, you just open the Oculus browser, visit the game page, and you're good to go! You'll be playing in seconds! So get ready to have some fun! But trust me, this thing is addictive!
Conclusion – Is VR Ero-Beat worth it?
Oh yes, VR Ero-Beat is most definitely worth playing!
Considering it's a free game, it's got everything: hot girls, catchy sounds, even some competition. The game will keep you playing until you get the best score. Sometimes I come back to play the Hard maps or just have some quick fun sitting down.
In any case, it's free, it's catchy, and it's perfect for Quest 2 VR!
Overall, I'll rate VR Ero-Beat 4.5/5.
VR Ero-Beat is a VR porn rhythm game created for the Oculus Quest platform. The game is similar to Beat Saber but with a sexy twist. The graphics are impressive for a browser game, and the game offers a good amount of content with different characters to interact with.