Quick & Easy: Is Holodexxx worth it?
Great graphics
Sensual character rendering
A LOT of content that can be purchased
Very good interaction in-game
Girls you know and love
Great VR implementation
Could use a bit more interaction
Holodexxx is a revolutionary new adult game that aims to change the way people experience Virtual Reality. The game combines cutting-edge technology with stunningly realistic 3D models, and I'm sure this combination will take VR to the next level!
As you know, you always watch VR porn movies from a fixed angle. On the other hand, in a lot of VR Porn games, the characters are simply not realistic enough. Holodexxx tries to overcome both of these by giving us realistic models (just like in VR Porn videos) and 6DoF (6 degrees of freedom) at the same time. What does this mean for our favorite branch of the gaming industry? Well, you'll be able to move around freely while interacting with your favorite character!
What kind of content does Holodexxx offer?
Basically, Holodexxx gives us photorealistic digital avatars of our favorite pornstars. The game offers two modes - the "Free mode" and the "Home mode."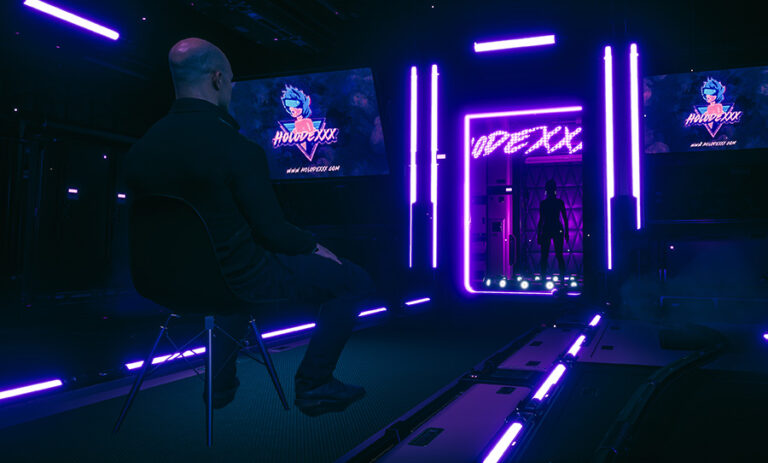 In the Free mode, you get to interact with girls in a dark strip club. The Home mode, or the paid version, puts you in a house with a solo pornstar. And that pornstar is the famous Marley Brinx! Just imagine a 3D eyepopping, sexy virtual reality version of Marley Brinx inside your home – willing and ready to please you. Let me tell you, she is so damn good, the whole thing feels unbelievable! The team behind Holodexxx made sure everything was perfect. They even got her tattoos right! I mean, come on!
You can change everything from their clothes to their hairstyles, eye colors, chest and butt sizes, and more. This makes the whole experience much more enjoyable because it lets you personalize your favorite pornstar! Holodexxx has one downside, though: there are only a few girls. But it's understandable since they have to work with famous pornstars and license each of them. It kinda makes you appreciate the game even more!
I'll rate their content 4.5/5.
What are the graphics of Holodexxx like?
When it comes to graphic quality, Holodexxx is THE BEST so far! I guess you could compare some segments of the game with Virt-a-Mate (⇒ Review), but then you realize all the models in Holodexxx are perfect 3D recreations of real pornstars. Try and beat that if you can!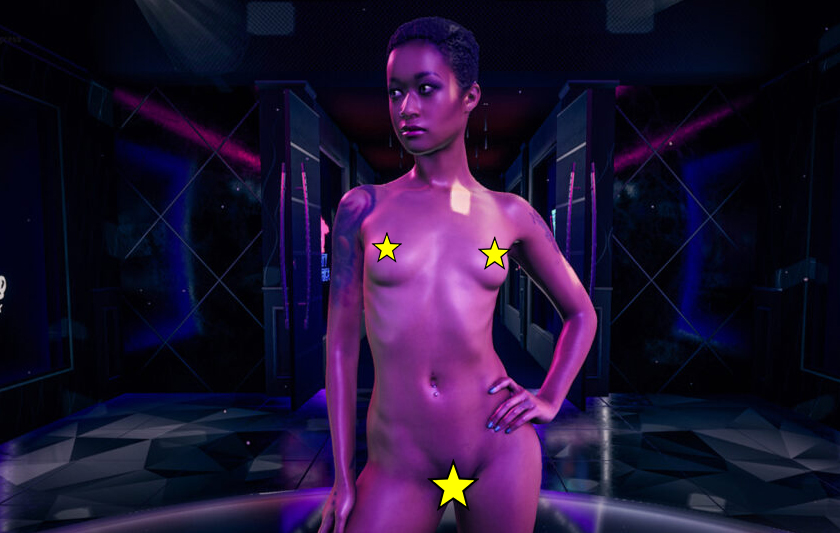 The characters are designed to be as realistic as possible, providing users with an incredibly immersive and lifelike experience. It's hard to describe the feeling… Almost uncanny. Their bodies are very detailed, the skin textures are flawless, and the animations are as perfect as they get! Undeniable quality! Almost like a 6DoF Porn Video. To achieve this insane quality, they're using 112 DSLR cameras to capture every single part of their bodies. The environment looks awesome, too. Your apartment has great lighting and a futuristic vibe with high-quality textures. The same goes for the strip club!
Easy 5/5 from me!
Is the interaction good in Holodexxx?
For now, this game doesn't have such a high level of interaction, despite its unique graphics and content. 
VR Porn Games are primarily about interacting with models: touching, jiggling their tits, fucking, whipping and punishing them. Only Lady Euphoria (the main character) has such an interaction in Holodexxx, but the chances are too few for it to be meaningful. Yes, you are able to touch the bodies with your virtual hands, but it doesn't do much honestly. You're just there to watch photorealistic 3D Virtual bodies from every angle.  As I said before, you're able to connect and interact with Lady Euphoria - you can choose between different lines of dialogue and talk to her. While you can make her do various things to you, there's no sexual intercourse yet - the main goal is to make her cum with your... seductive words while you watch her masturbate. There's a little bit of slapping involved too!
For interaction, I'll give Holodexxx a 4.5/5.
How good is the Story in Holodexxx?
I like the story - it's straightforward and adds a nice futuristic twist to the game. The future of VR is here with this game!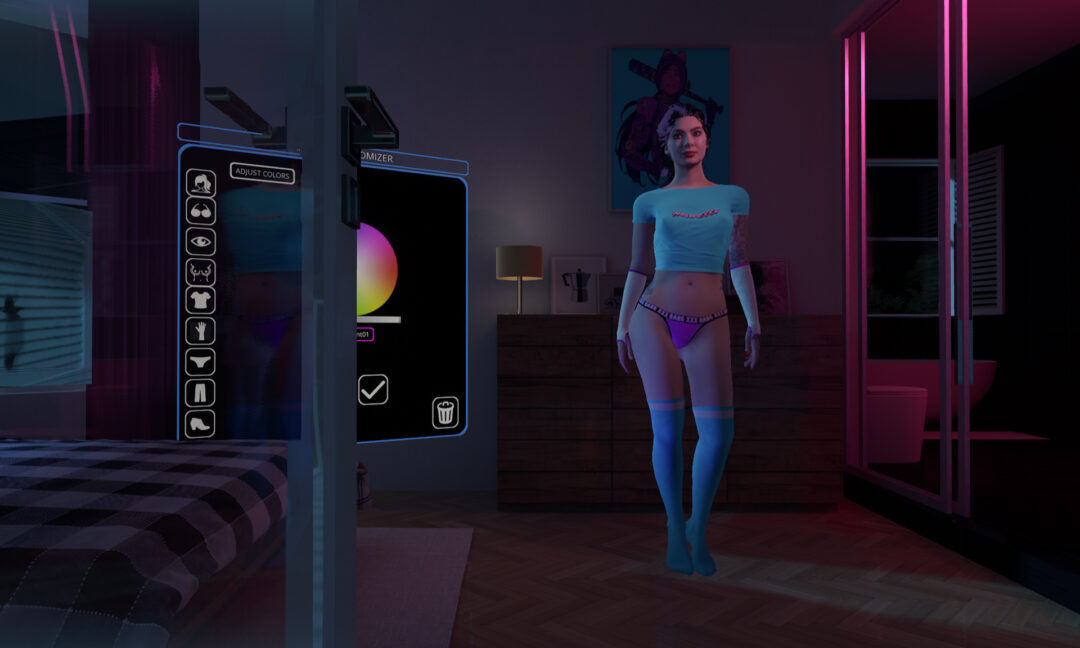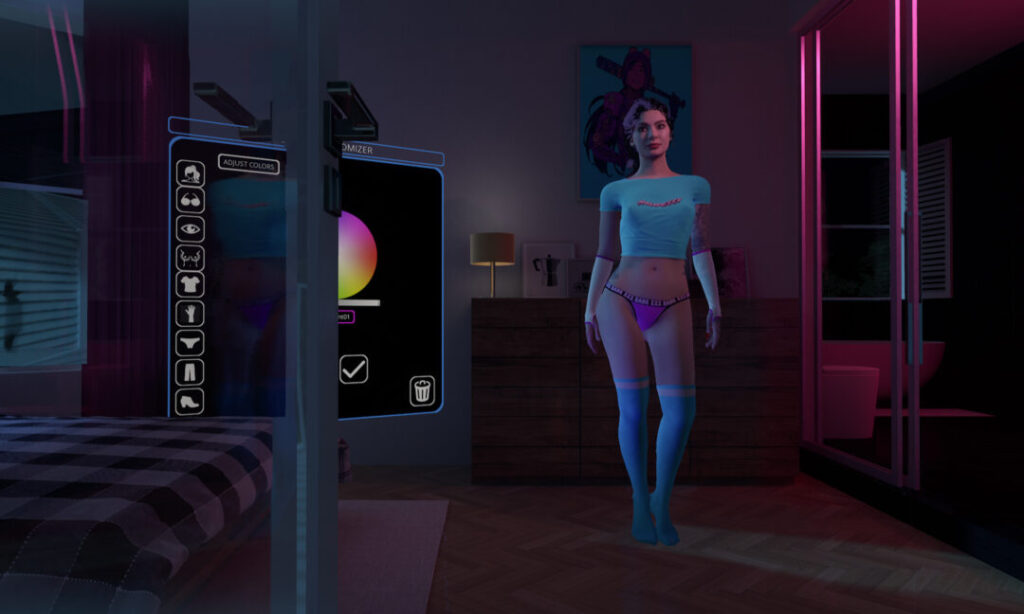 Basically, you get a new Virtual Companion that you can see as a photorealistic hologram whenever you like. The dialogues are great and they put a lot of work into them - not your typical "Hey, let's fuck" stuff. Well, It can be like that too if you want. You choose what you want to say to Lady Euphoria.
All in all, it's a really exciting plot that ties together the whole game concept nicely but I still think it needs more dynamics.
I'll give them a 4.5/5 for Story!
What are the system requirements of Holodexxx?
 The minimum system requirements for Holodexxx are these: 
Operating System: Windows 10 64-bit or higher

Processor: Intel Core i5-4590 or AMD FX 8350 or better
Memory: 8GB RAM
Graphics: NVIDIA GeForce GTX 970 / AMD Radeon R9 290 or better
DirectX: Version 11
Storage: 20GB available space
Internet: Broadband internet connection
Additional Notes: VR headset required
Conclusion: Do we recommend Holodexxx?
Oh, God, YES! I mean, the graphics are so awesome and it's so cool that they are working with real pornstars - It's the stuff of dreams!
Head over to ⇒VRPorn (Premium) and you'll get every Holodexxx plus 13 more VR Porn games!
HolodexxxVR is The MOST popular VR Porn Game! Photorealistic 3D Models, BEST Graphics and unmatched experience! This is a premium game that's extremely popular among the fans of VR Porn games!