Quick & Easy: Is VRCosplayX worth it?
Fantastic pornstars
Great cosplay porn
Amazing sets and costumes
Great audiovisual quality
Compatible with a lot of VR headsets
Safe and secure billing
It's kinda hard to find one
If you've ever had a nerdy spot like me, VRCosplayX is the place for you! I mean, who hasn't dreamed of fucking Princess Leia, Padme Amidala or Alyx Vance? This VR Porn Site got me to subscribe in an instant!
What kind of content does VRCosplayX offer?
VRCosplayX is a sister site of a VR Porn giant - ⇒ BaDoinkVR (Review), along with ⇒ 18VR (Review), ⇒ BabeVR (Review) and ⇒ KinkVR (Review). You know that only high-quality stuff is associated with this studio!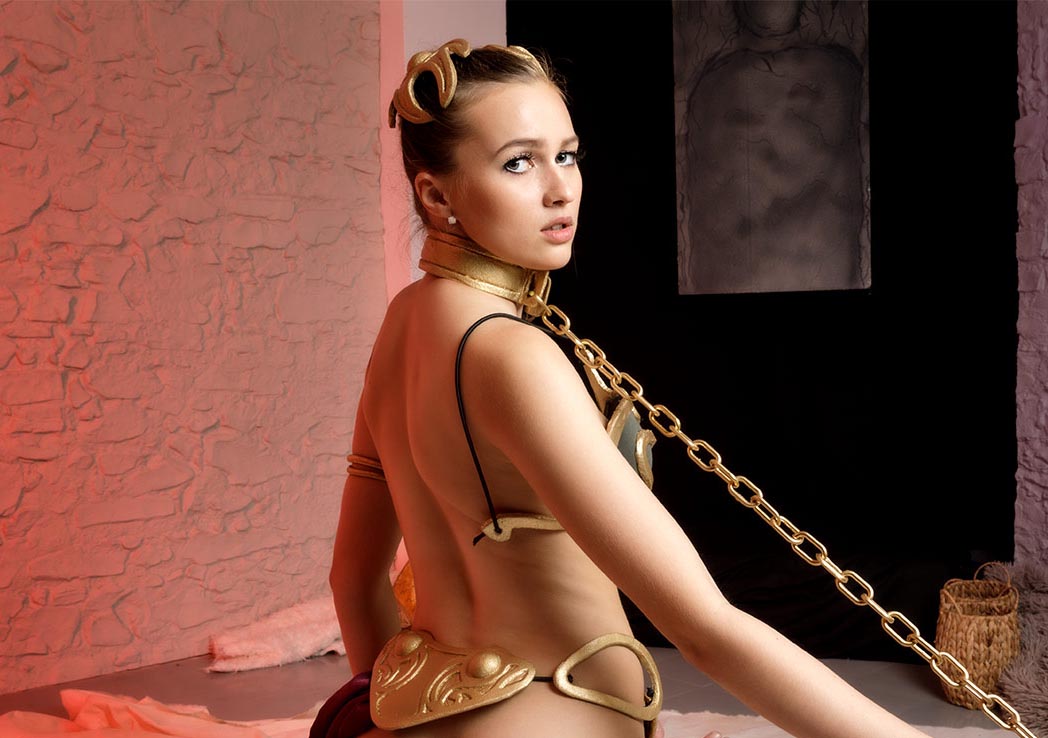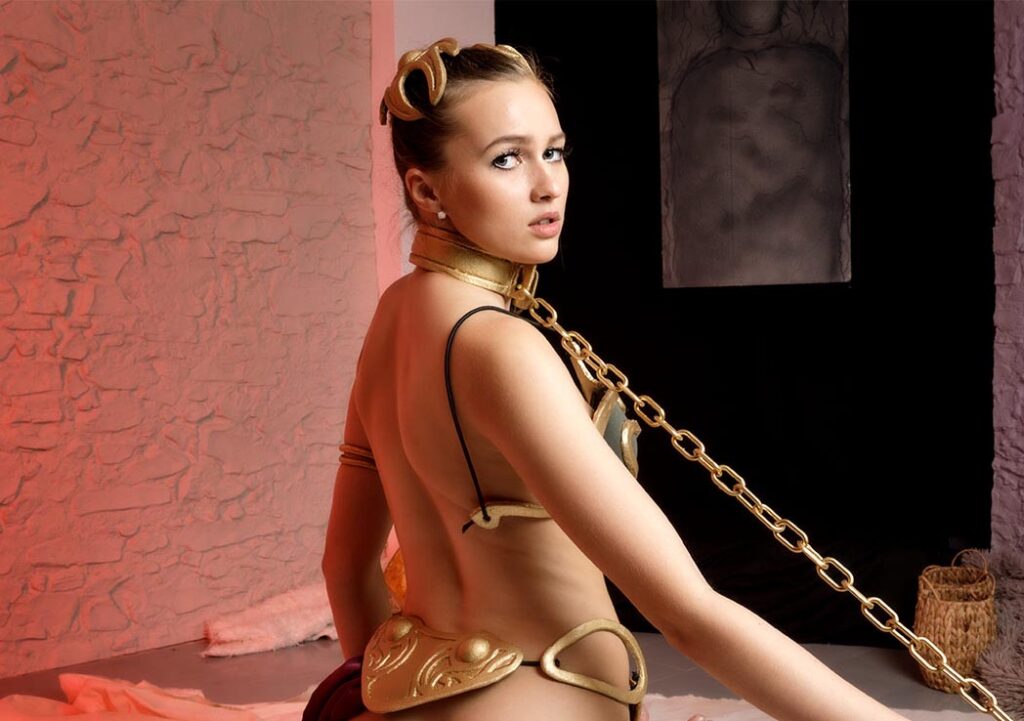 As you can guess from the name, VRCosplayX specializes in Cosplay VR Porn, just like ⇒ VR Conk (Review). Now, the concept may be geeky, but the porn is off the hook! They've got everything you like about traditional ⇒ VR Porn Sites but with a twist! All our favorite categories - ⇒ Anal, ⇒ MILF, ⇒ Blowjob, ⇒ Latina, ⇒ Asian, ⇒ Ebony, ⇒ Teen, ⇒ Big Asses, ⇒ Big Tits, Anime… The list goes on forever. All your favorite characters from movies and video games are just waiting for you to fuck them! Talk about a dream come true!
VRCosplayX has racked up 340+ amazing videos so far, and they are updating twice a week! You'll never run out of fictional characters to fuck! Moreover, they have a great selection of ⇒ Interactive videos ("Funscript" category), so you can connect your favorite ⇒ VR Sex Toys to the video for maximum immersiveness! If you've ever wanted to know what it really feels like to have your dick sucked by Princess Peach, here's your chance!
Great content, guys! The nerd in me says thanks! 5/5!
Does VRCosplayX have a good variety of models and scenes?
Oh, yeah. VRCosplayX pays attention to every detail on the set, which makes the whole experience so much more immersive! You'll get to have sex in locations that entirely fit the video's theme. And that makes sense. I mean, if I'm going to fuck Wednesday Addams, I won't be satisfied with her costume only. The whole package is what I want. I mean, this is VR Porn, after all. It's not regular porn where you just watch a guy fuck a chick, and that's it. VR Porn is all about making you feel like you are actually there in that room with that fantastic piece of VR Porn ass! And boy, does VRCosplayX deliver!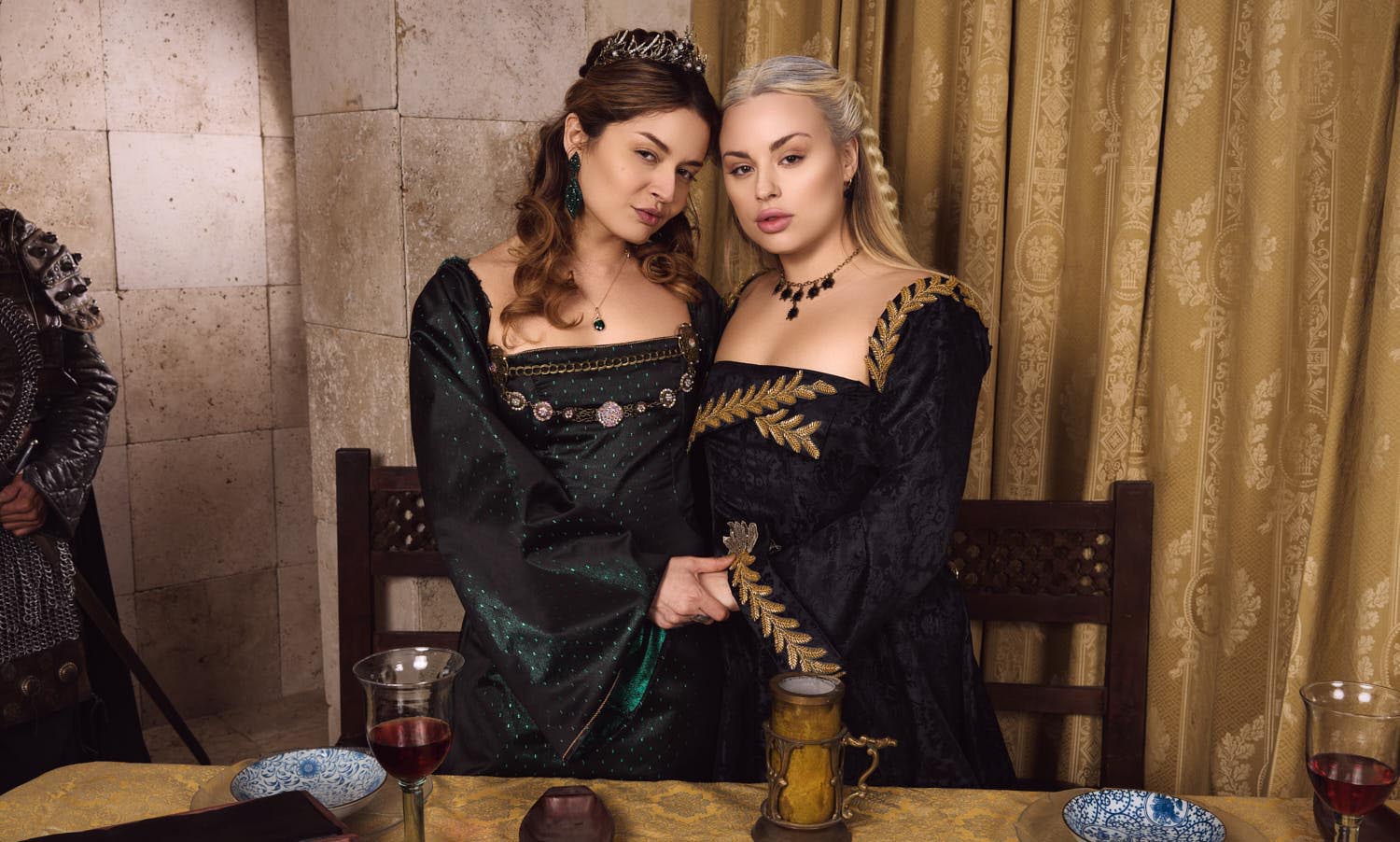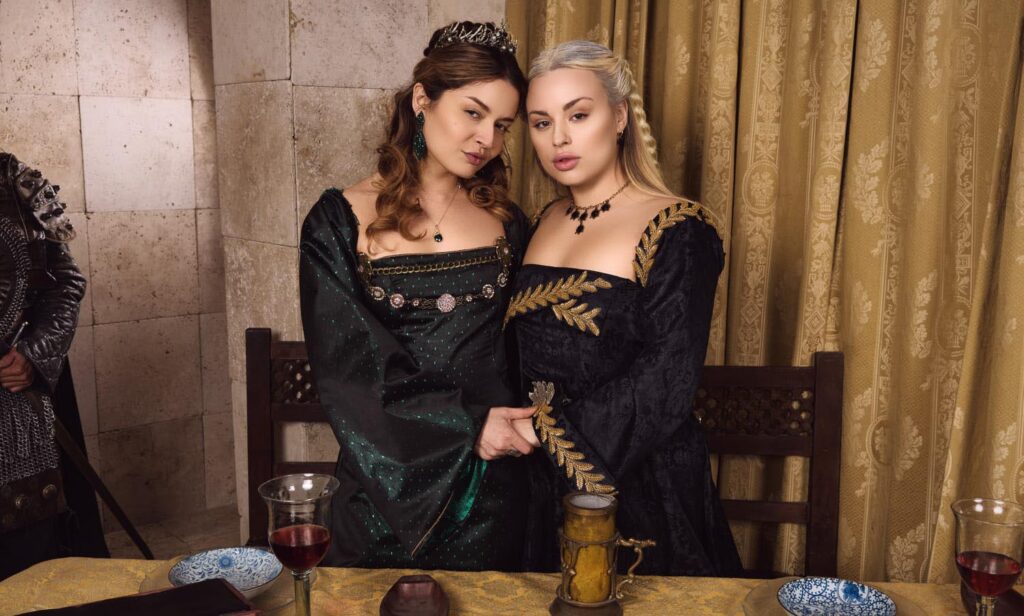 The models that VRCosplayX works with are something else. They have some pretty well-known faces in the VR Porn industry (Avery Black, JewelzBlu, Blake Blossom…), but they've also got many newcomers, which I really like because all the girls are chosen to fit their roles! Also, I've never been against seeing a new set of tits in the VR Porn industry.
Clean 5/5 from me here!
What's VRCosplayX's audiovisual quality like?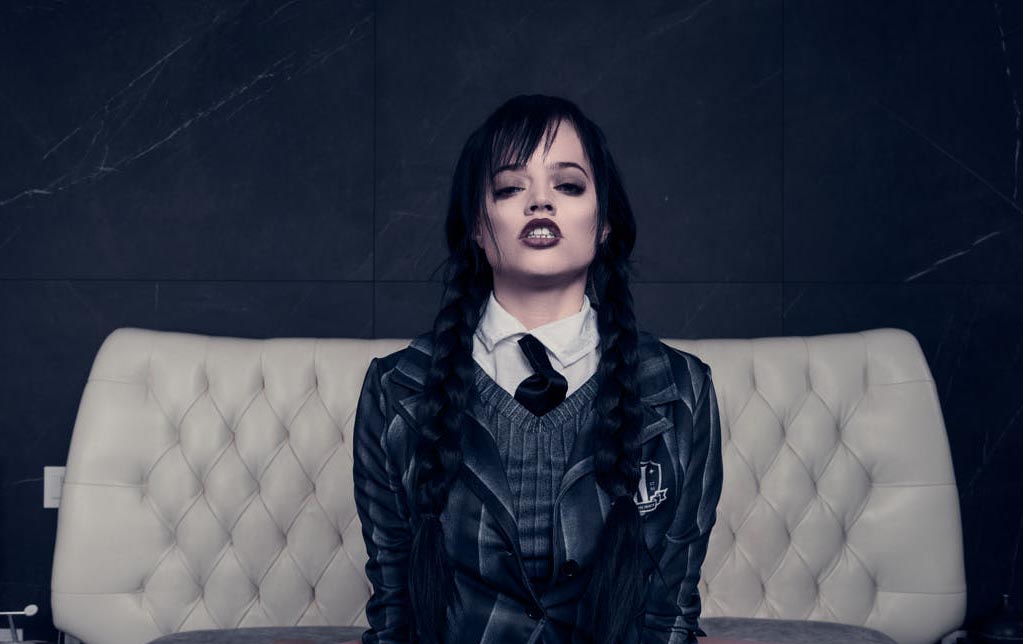 Like 18VR and KinkVR (Other BaDoinkVR's sister sites), VRCosplayX started shooting 4K videos. And in a very similar way, they first progressed to 5K and now offer 7K, 3D, 60 FPS, 180 and 360-degree VR Porn masterpieces with binaural sound that's so good - you'll forget about the real world instantly. And I'll completely understand.
As I already mentioned, this product is associated with BaDoinkVR, so you can expect some masterful camera work, great angles, great lighting, amazing post-production, scaling, etc. Make sure you check out the cowgirl stuff - it always makes my day.
5/5 from me here.
I like the design of VRCosplayX's website. The black background really emphasizes the video thumbnails and adds a professional atmosphere to the whole thing. 
The home page has your typical content selection and filters to help you browse the videos. Of course, they added a handy search bar - we always appreciate that! As you scroll down on the homepage, you'll come across their selections of Top Rated Videos, Latest Videos, and Models. The filters they offer are "Videos," "Girls," and "Free," where you can find their video library, pornstar library, and this cool section where they'll give you a free video ("X-MEN: Selene Gallio" with Katy Rose) to get a feeling of what kind of content they have for you.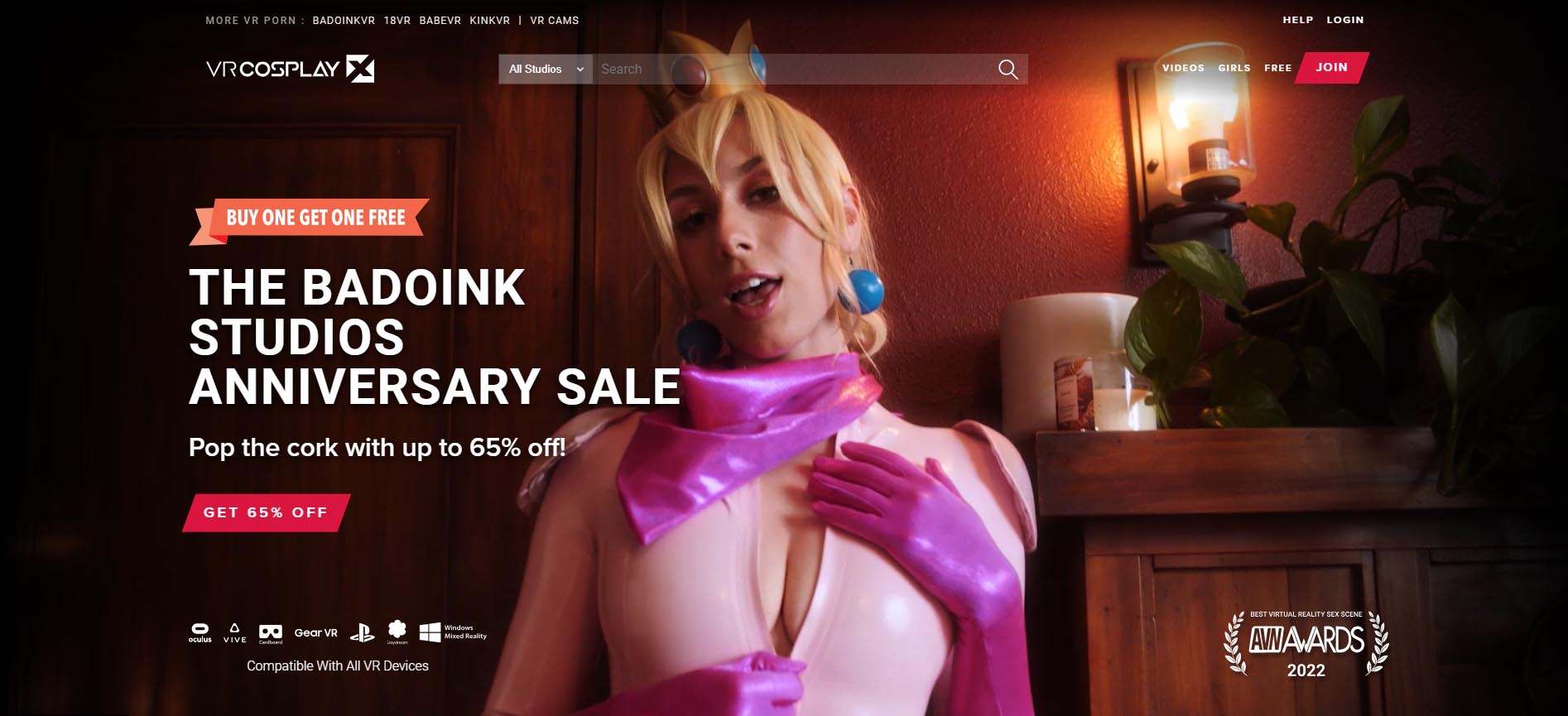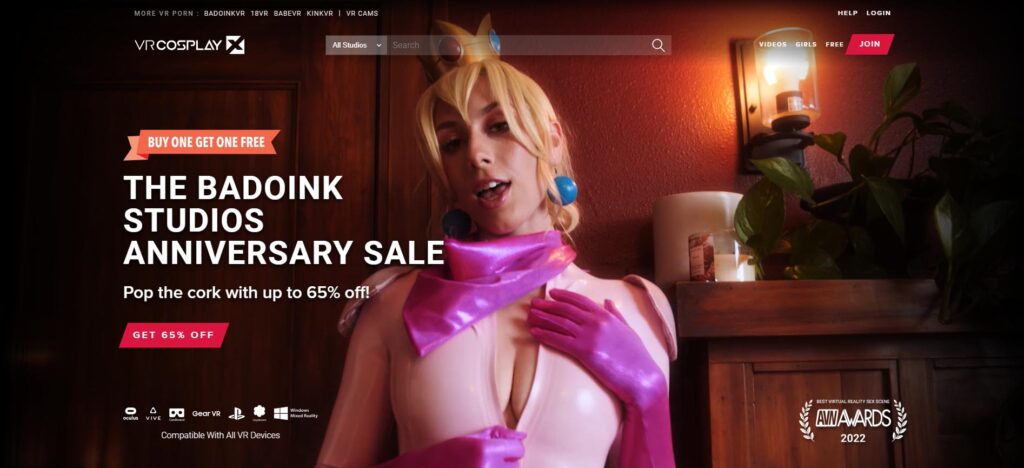 Now, with a subscription, you'll get access to their network of VR Porn Sites AND a free ⇒ Google Cardboard-style VR headset! Neat, huh?
4.5/5 from me.
Is my headset compatible with VRCosplayX?
VRCosplayX is compatible with all the major VR Headsets. So no matter if you're rocking your ⇒ Smartphone, ⇒ Daydream, ⇒ PSVR, ⇒ Quest, ⇒ Quest 2, ⇒ Quest Pro, ⇒ Oculus Rift, ⇒ Oculus Go, ⇒ HTC Vive, ⇒ Valve Index, ⇒ HP Reverb G2, ⇒ Gear VR, etc., they've got you covered.
I can't wait to see what VRCosplayX porn will look like on the new ⇒ Meta Quest 3 and ⇒  Apple Vision!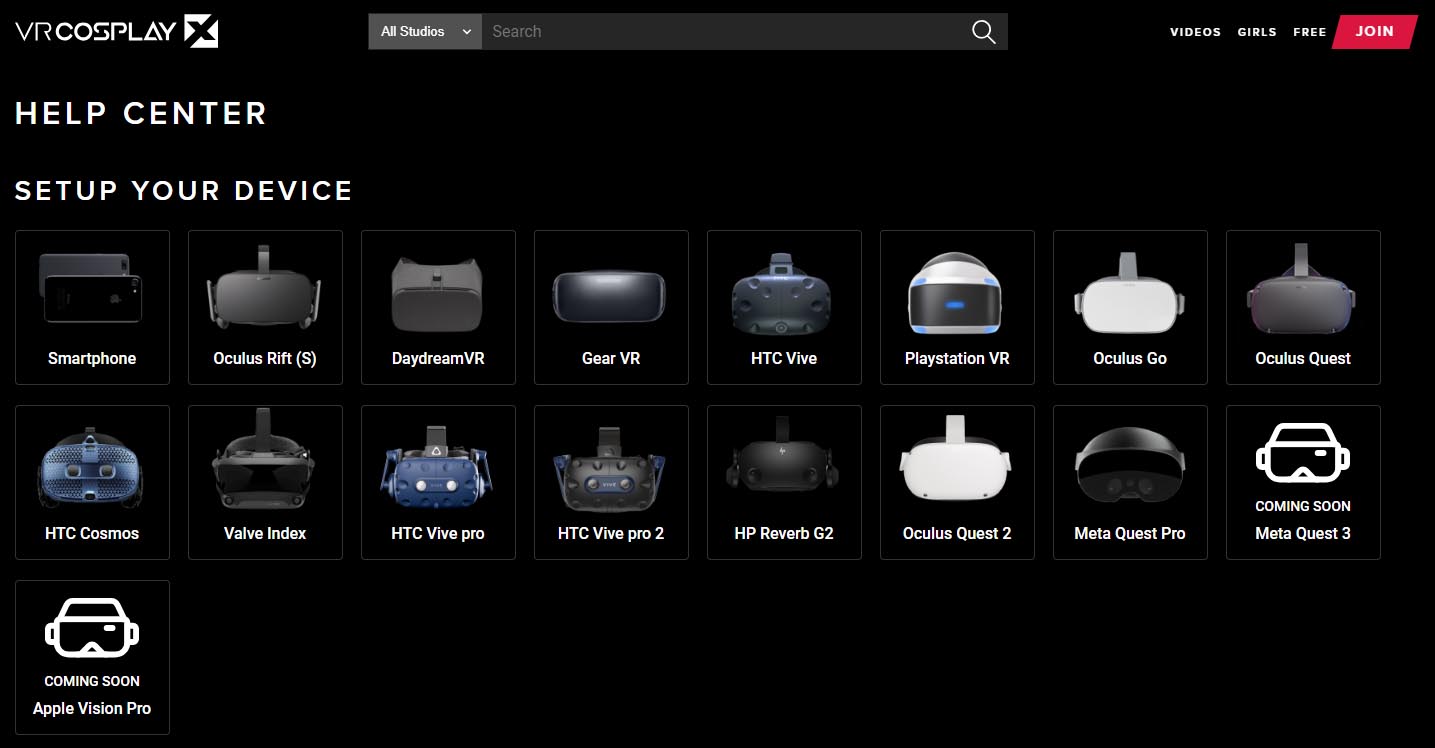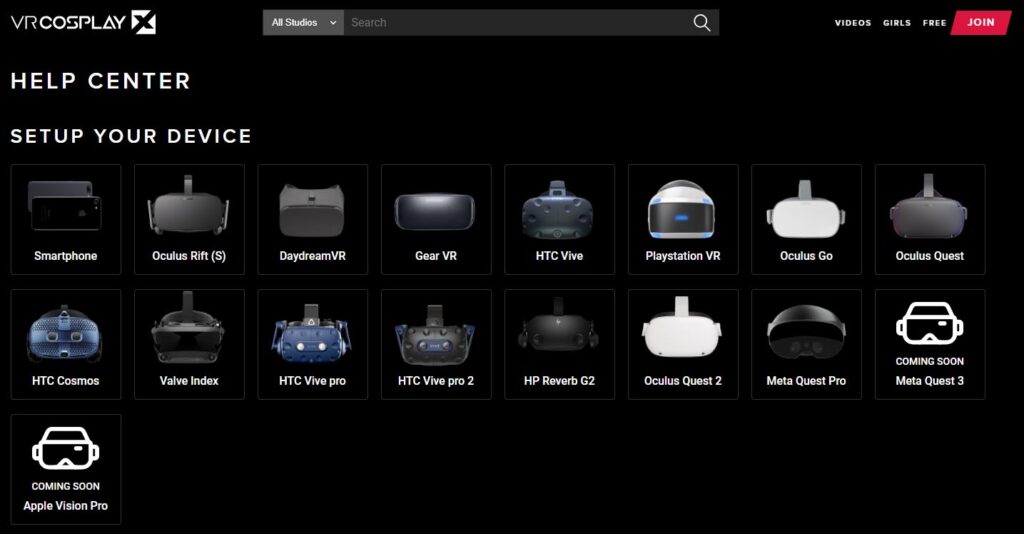 If you ever have a problem setting up your device, they have a handy guide on setting up your headset to enjoy their videos. You can also check out our ⇒ Guides on How to Watch VR Porn on every device!
Judging by what I've said so far, you'd think that VRCosplayX is expensive. It's not.
You can choose between two types of subscriptions -"Super Bundle" or "Regular Plans."
With the "Super Bundle," you'll get access to four extra VR Porn Sites at the same time (BaDoinkVR, 18VR, KinkVR, and BabeVR). And you get the "Monthly" or "Yearly" payment options.
The "Regular Plans" is cheaper, and you get one free extra VR Porn Site for 1 month (BaDoinkVR, KinkVR or 18VR). The payment options to choose from are: "One Day Access," "Monthly," "Yearly," or "Lifetime."
You can pay safely with a credit card or PayPal for unlimited streaming and downloading (except for 1 Day Access).
Conclusion: Do we recommend VRCosplayX?
If you're into cosplay VR Porn, you just have to add VRCosplayX to your collection. The subscription price is low, and the quality is high - if that's not a sweet deal, I don't know what is! Check them out!
VRCosplayX are specialists in the field of cosplay VR Porn! With amazing pornstars, costumes and sets, this studio makes dreams come true. At a low price!