Quick & Easy: Is KinkVR worth it?
Great BDSM VR Porn
Both amateurs and famous pornstars
Great audiovisual quality
Safe and anonymous billing
Free headset
What kind of content do you get at KinkVR?
KinkVR released their first video in 2018, and they currently have 190+ videos available on the website, and they add 2 new VR videos every week! The main category they operate within is BDSM, along with all the other sub-categories that are a part of it. A great thing about KinkVR is that they keep the videos focused on BDSM, regardless of the sub-category!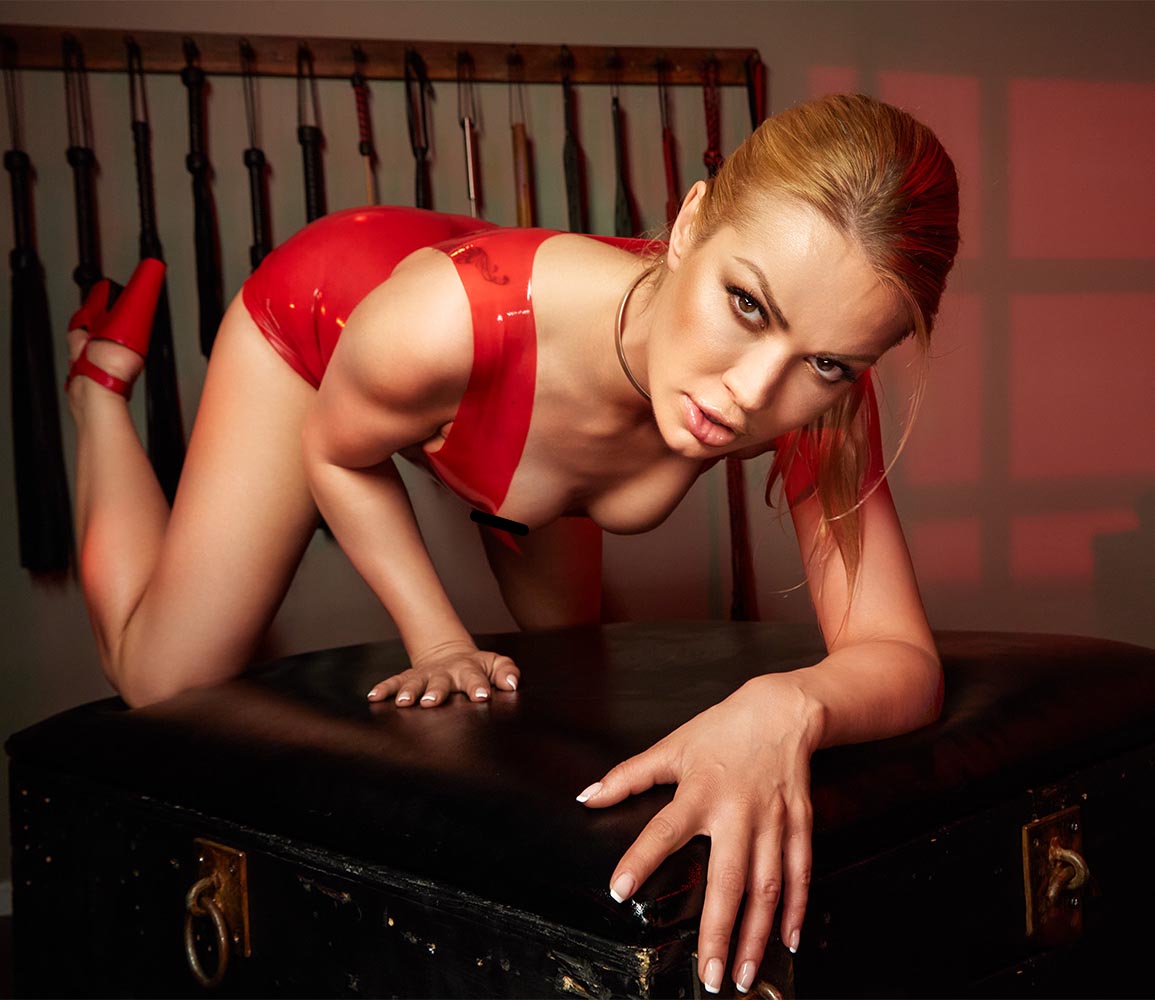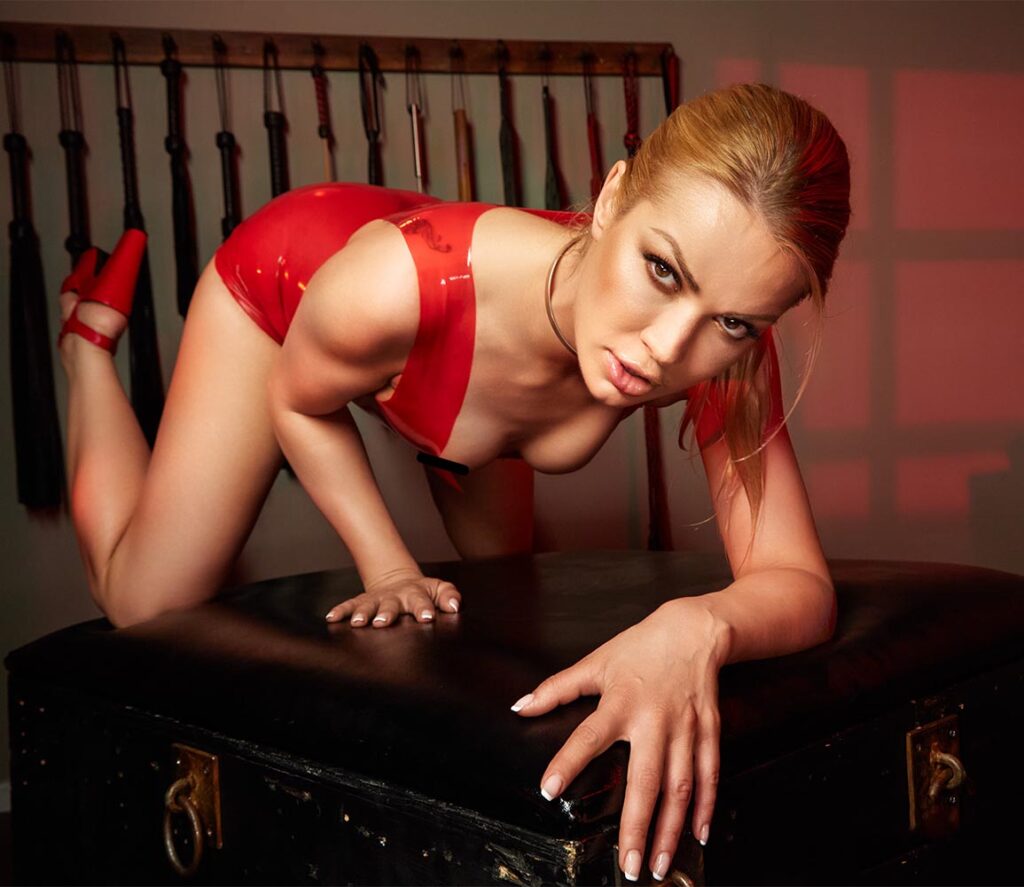 So, what you can expect from KinkVR is ⇒ hardcore sex followed by all the fuck machines, rope bondage, giant dildos, dungeons, ball gags, hot wax, handcuffs and sex slaves you can possibly desire. If you're looking for anal gaping, rough sex, training, lezdom, femdom, etc., you're at the right place. If, on the other hand, you prefer something lighter, I suggest you check out ⇒ Dark Room VR (Review).
Anyway, what I really like about KinkVR is that they shoot videos for both sides of the dom/sub spectrum. In other words, to quote KinkVR, "You can lick boots, or you can have your boots licked." I like it when a VR Porn Site thinks about everyone and tries to make content that will hit home for more than only one group of people. 
Great job, guys; 5/5 from me!
Does KinkVR offer a good variety of scenes and models?
KinkVR works with some of the kinkiest and most famous pornstars in the whole of VR. I'm talking names like Kira Noir, Cherry Kiss, Anna de Ville, Candy Licious, Amari Anne, etc. If you are familiar with these names, you know what these chicks are capable of! And boy, do they show off their capabilities in KinkVR's videos. Make sure you check out Kira Noir's video called "Phase 2: Tight Testing" with Lily Lane! This is hands down my favorite! As far as the chicks are concerned, they have a large variety of body types and ages! So no matter if you prefer ⇒ big asses, ⇒ big tits, ⇒ BBW, ⇒ teens, ⇒ MILFs, ⇒ Ebony, Caucasian, ⇒ lesbian or straight, they've got you covered. If there is one thing I could suggest, it's to bring some killer videos with ⇒ Asian or ⇒ Latina pornstars as well! We love them!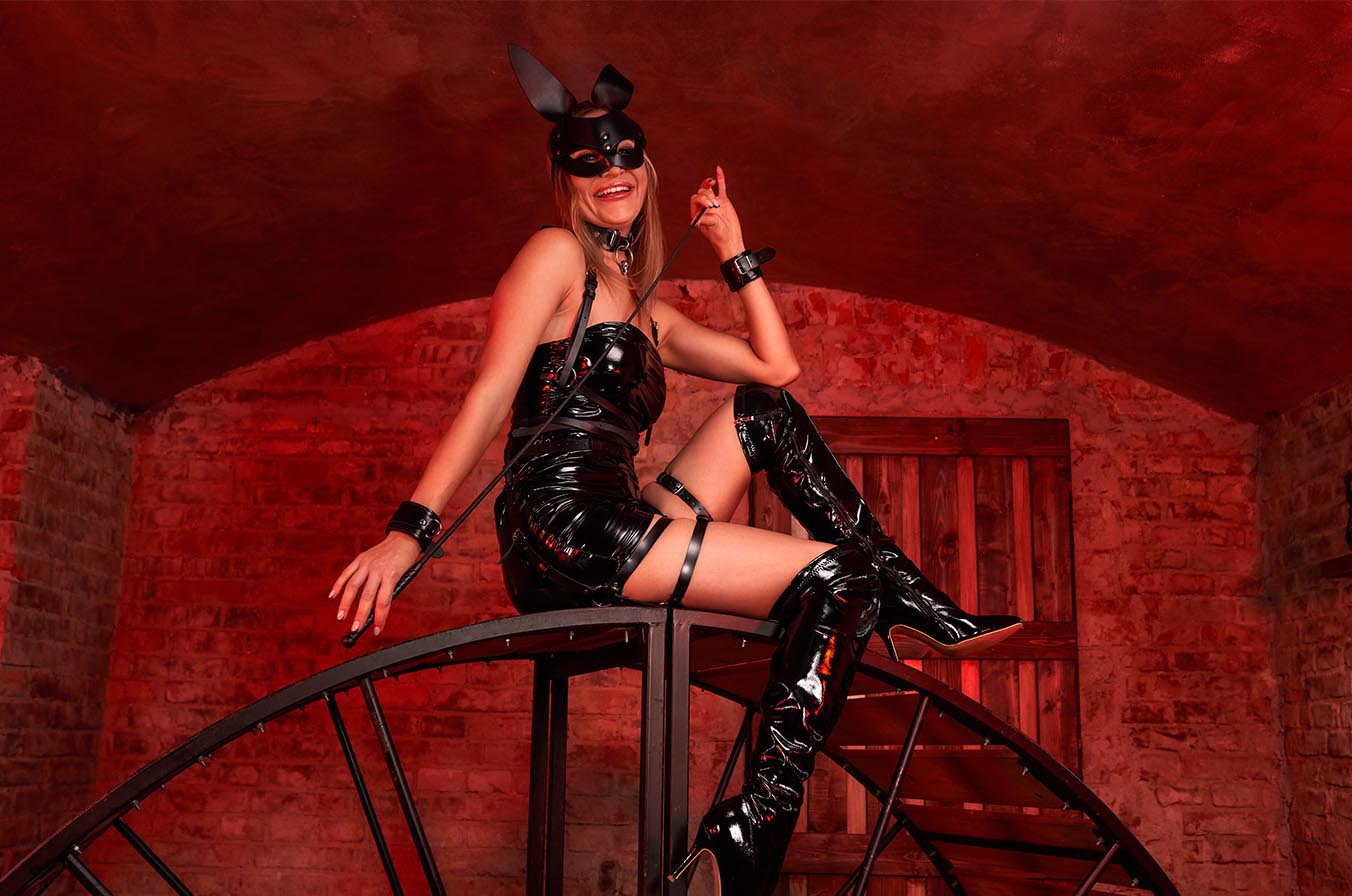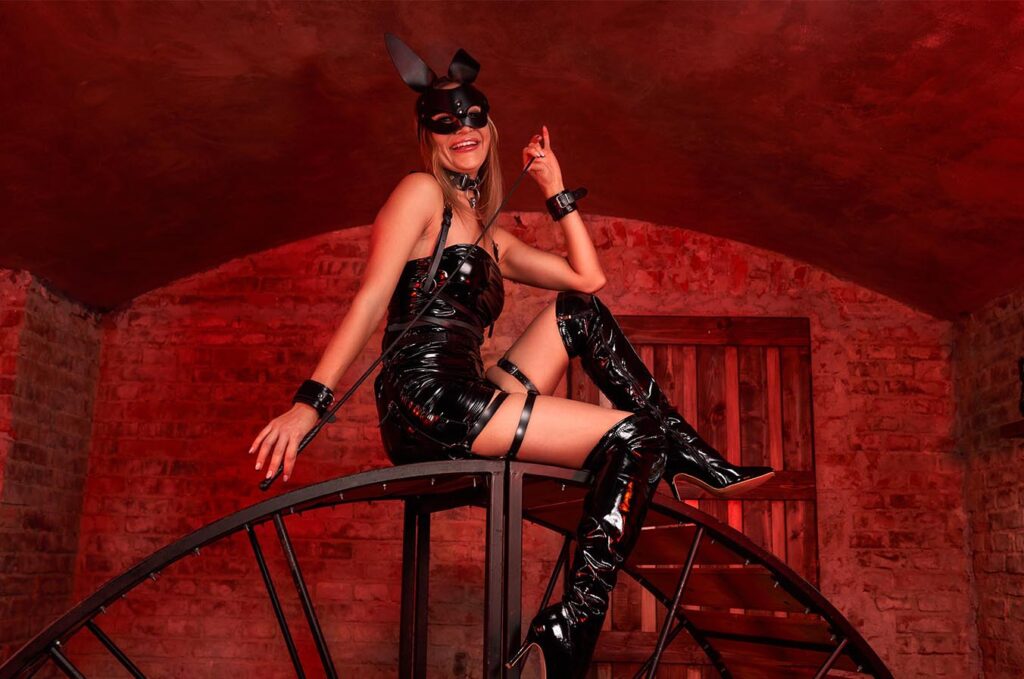 The videos are shot in your typical BDSM setting. You get your sex dungeons a lot, but there are also a lot of regular places like a bedroom or a living room, etc. Now, these places may be every day, but they are very tastefully decorated to fit the whole BDSM atmosphere. Their average video is between 20 and 60 minutes long, which gives you plenty of time to make the most of your fapping session! 
By the way, if you're a fan of teledildonics, you'll love their scripted videos! Just check the category "Funcscipt," grab your favorite ⇒ sex toy and get ready to get your mind blown!
4.5/5 from me here.
What's KinkVR's audiovisual quality like?
When KinkVR first appeared in 2018, they were shooting 4K videos which was (more or less) the industry standard at the moment. Over time, they switched to 5K, now offering a maximum of 7K, 3D, 60FPS, 180-degree videos that are just crystal clear! Pair that with a binaural sound system, and you get a BDSM VR paradise where you get to punish (or get punished by) some of the hottest chicks in the whole damn industry, with crystal-clear audio and visuals! You'll hear every slap, moan and scream like you are right there in the dungeon with them!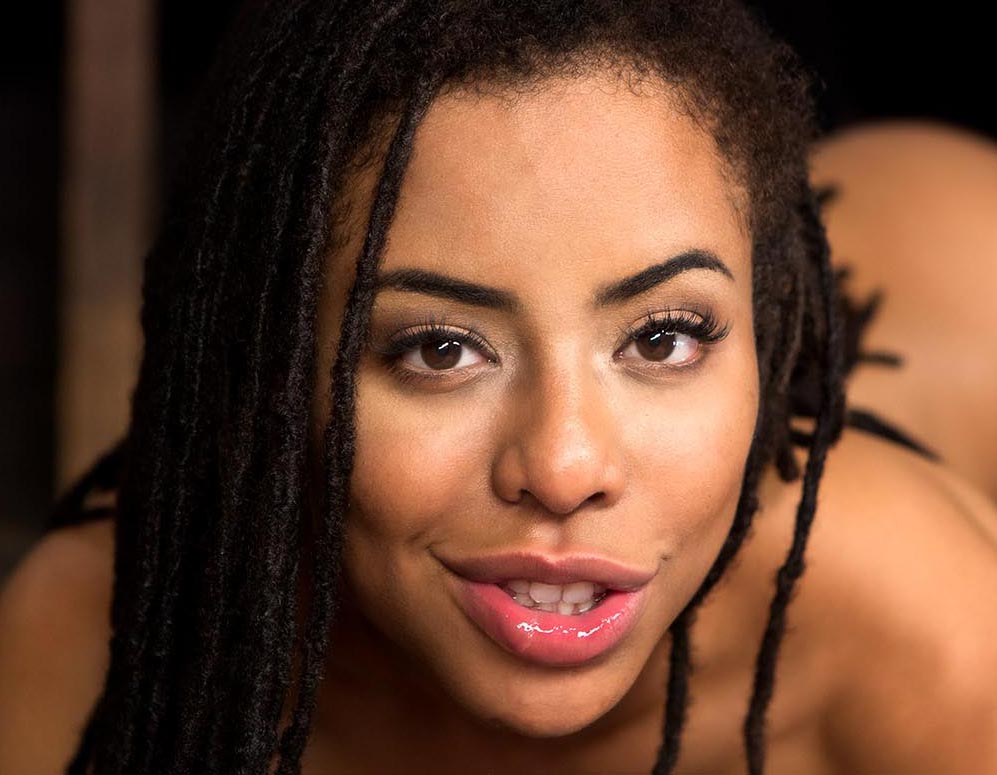 I mentioned at the beginning that KinkVR is a sister site of the mega-famous VR Porn behemoth - BaDoinkVR. This brand is associated with high-quality videos, and they don't fuck around with camerawork, angles, scaling and such. The same goes for KinkVR. At the beginning of their career, they had minor issues with scaling, but they quickly improved that, which only shows that these guys listen to their fans! They have a good future if they keep churning cool content like this! 
5/5 from me!
As you kand on KinkVR's homepage and start scrolling, you'll come across their selections of the "Top-Rated Videos," "Latest Videos," and "KinkVR's Models." You get your pretty standard filters here that help you browse the content - "Videos," "Girls," and "Free." The first two explain themselves, whereas the "Free" tab will take to a free video ("Crushing Convictions Part II" with Charlotte Sartre & Leigh Raven) that KinkVR gives you to get you acquainted with the kind of content they provide. In addition to "Top-Rated"/" Newest" filters, you can filter the videos also by "Category," and you can filter the models by "Newest" or by the first letter of their name. I'd want them to include the option to watch the video trailer for free. I like it when a studio offers that possibility!


Speaking of free stuff, with a subscription, you'll also get a free ⇒ Google Cardboard-style headset! 
4.5/5 from me.
Is KinkVR compatible with my VR Headset?
KinkVR is compatible with all the major VR Headsets. So no matter if you use a ⇒ Smartphone, ⇒ Daydream, ⇒ PSVR, ⇒ Quest, ⇒ Quest 2, ⇒ Quest Pro, ⇒ Oculus Rift, ⇒ Oculus Go, ⇒ HTC Vive, ⇒ Valve Index, ⇒ HP Reverb G2, ⇒ Gear VR, etc., they've got you covered.
I can't wait to see what it will look like on the new ⇒ Meta Quest 3 and ⇒  Apple Vision!
KinkVR has two subscription options for you: the "Regular Plans" and the "Super Bundle."
Now, let's talk about the Regular Plans. They're a bit cheaper and allow you to choose one extra VR Porn Site for free. Take your pick from BaDoinkVR, 18VR, or VRCosplayX. You've got four payment plans to choose from: "One Day Access," "Monthly," "Yearly," and "Lifetime."


When it comes to the Super Bundle, things get a bit pricier but more exciting. You get full access to four additional VR Porn Sites at the same time: BaDoinkVR, 18VR , VRCosplayX, and BabeVR. This bundle allows you to opt for the "Monthly" or "Yearly" payment options.


Payment is a breeze. You can use your credit card or PayPal. Whichever you choose, you'll get unlimited streaming and downloading (except for the One Day Access plan). And don't worry; the payment process is totally secure and anonymous, just like any top-notch VR Porn Site!
Is there free BDSM VR Porn?
This is a common question in the VR Porn industry. If you browse the Internet, you'll find some free stuff. However, in my experience, they're just a waste of time. These videos cost a fortune because they aren't like regular porn. The camera rig, the performers, the location, the post-production… These are really expensive aspects of VR Porn, and it's only fair that we pay to play. That's why I'm always very suspicious when I randomly see a free VR Porn video on the Internet.
Also, I'd avoid sites that aren't legit, well-tried, and tested. For the price of a fancy coffee and pizza, I'd rather get a subscription to a legitimate VR Porn site and not worry about malware and things like that.
Conclusion: Do we recommend KinkVR?
If you are into BDSM and such, go for it! You'll get a ton of fantastic content here for a low price! And considering the quality of these videos, as a long-time BDSM fan, I'd just see this as a pretty sweet deal. That's how I actually subscribed to KinkVR in the first place.
KinkVR is a must-visit VR Porn site if you are into BDSM! For a low price, you get amazing content with both amateurs and well-know names in the industry!