Awesome pornstar roster
Good audiovisual quality
Eastern European accent (so hot)
Both sucking and POV fuck sessions
Safe and anonymous
Good headset supports
More categories, please
Model variety could be better
I've seen and written about a lot of kinks over the past couple of years. Some of them get me going, and some of them don't. I love the ones that include the geographical background of a model. There's just something about fucking a chick who speaks another language. And if you're the same, I have a treat for you today. We'll take a look at Suck Me VR - a VR Porn site that'll knock your socks off with an excellent roster of pornstars straight from Eastern Europe!
Read on!
What kind of content can I get at Suck Me VR?
Suck Me VR is a VR Porn Site with a deceptive name. Reading it for the first time, you'd expect to see a blowjob-oriented site. Something like ⇒ SwallowBay (Review), maybe. You wouldn't be completely wrong. Also, you wouldn't be entirely right.
At Suck Me VR, you'll get your fair share of those steaming ⇒ blowjobs we all love. But that's not all. You know how, when you're watching a hot pornstar sucking you off, and towards the end of the video, you just wish she would turn around and let you put it in her? That's what you'll get here - the best of both worlds. In a nutshell, there's a hot Eastern European pornstar in front of you, she warming you up, she'll then suck your dick and let you fuck her afterward. Oh, it's a great strategy.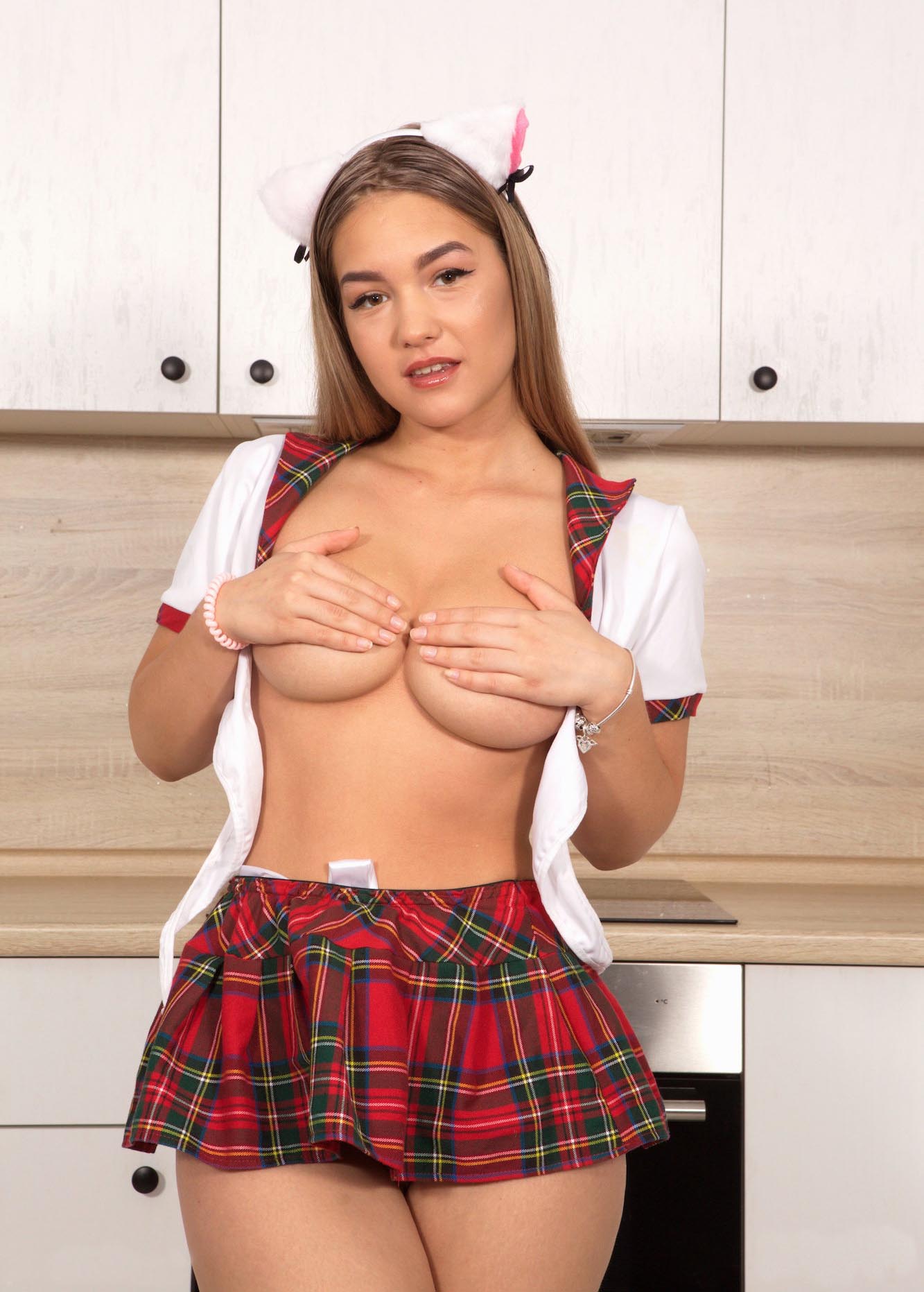 Now, onto the fucking itself. Suck Me VR has front-door fucking mostly. Sure, there's some ⇒ anal action in their library, but not too much, honestly. So, if you're a fan of tearing up those perfect, tight, pink assholes, you won't get too much of that. You will get videos with fingering (something I really like seeing), ⇒ creampies, titjobs, closeups, cumshots, and a ton of blowjobs, of course. There are videos with footjobs and handjobs as well on the site, but not too many. And if you like watching models spread their pussies for you, you'll absolutely love spending your time here. 
SuckMeVR is a part of the BaberoticaVR network. Now, ⇒ Baberotica VR (Review) is an absolute legend in the solo & masturbation niche. So, you know they have a good background with an experienced team. The thing is, Suck Me VR is a young site. They uploaded their first video in 2022, so it's reasonable to expect they will soon start exploring all those other categories we like. So far, we can say this is a traditional VR Porn Site. If you're into other kinks, check out our list of ⇒ the best VR Porn Sites in the industry!
5/5 from me.
Does Suck Me VR have a good variety of scenes and models?
We rate variety based on a straightforward system. The more models and scenes they have, the more different and engaging they are, the better!
The models on this site are fantastic. But where do they come from? SuckMeVR, as we already said, works with pornstars from Eastern Europe. And there's just something about those chicks! They all look very natural. You won't really find many fake tits or asses in their roster. And that's something brilliant! It adds so much to the authenticity of the whole thing. A big part of the industry nowadays focuses on "the perfect pornstar" image. So you end up with chicks that look like a flawless dream come true. And if you're into that, you know how good it can get! But, for VR Porn Fans who prefer something more raw and authentic, Suck Me VR is the way to go.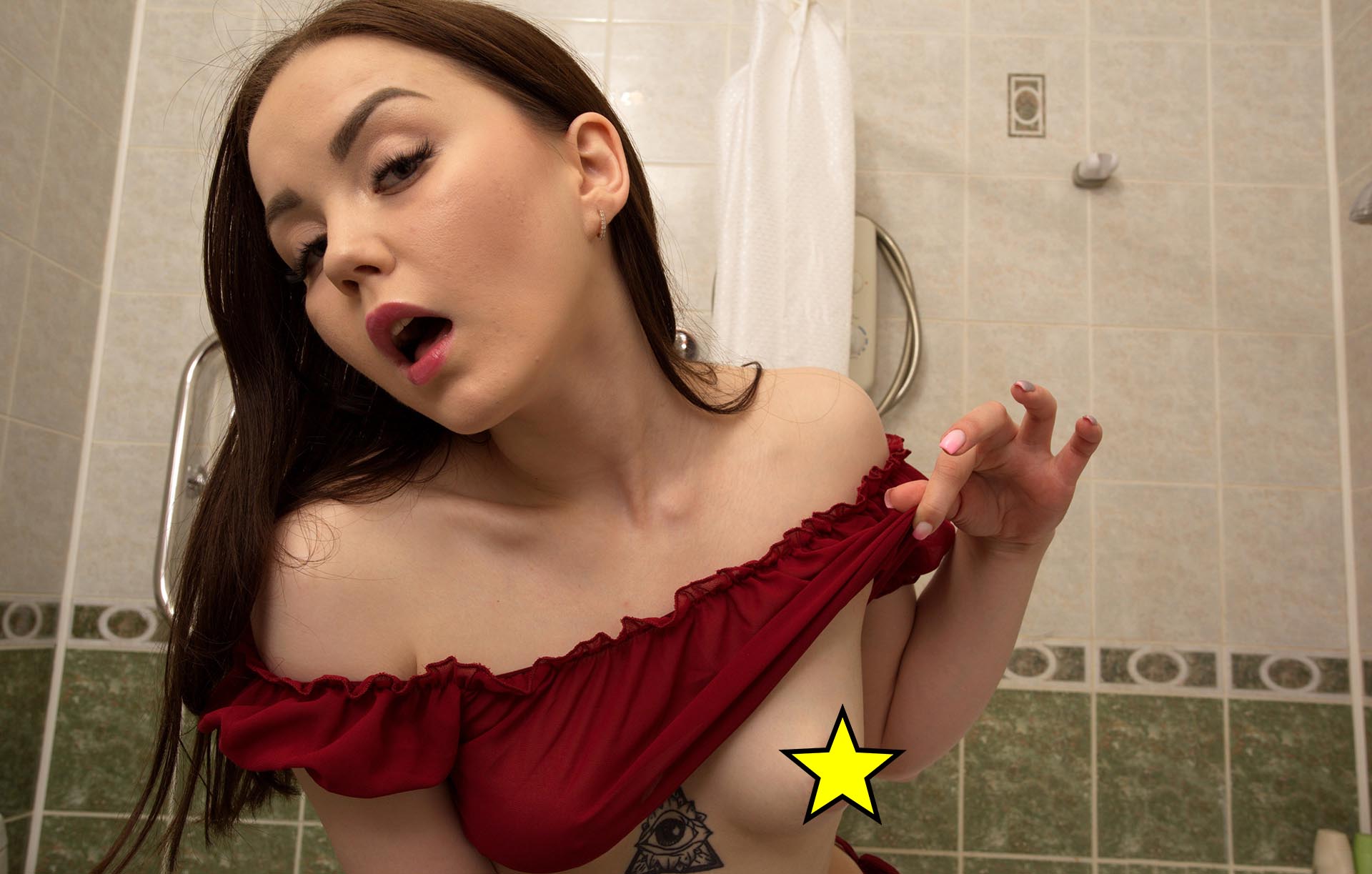 You'll get your classic body type variety here. Babes with ⇒ Big Tits, small tits, ⇒ Big Asses, perfect bodies, and are primarily ⇒ blondes or ⇒ brunettes. Sure, there are also ⇒ Redheads (who doesn't love those?), but the previous two hair types are more dominant. There isn't a wide age variety as most models are young and would fall into the ⇒ Teen category easily. They are mostly between 18 and 35. So, no traditional ⇒ MILFs here, unfortunately. But that works for me; I'm all for those juicy, petite-looking 25-year-olds. Also, ethnic variety can be better because Suck ME VR (at least for now) works with Caucasian models: no fiery ⇒ Latinas, exotic ⇒ Asians or ⇒ Ebony Queens. 
On the other hand, interracial sex seems to be popular on the site. You'll get a good number of videos where hot Eastern Europeans are trying a black cock for the first time. Now, you'll get to fuck these hotties in a more "everyday" setup. It's usually the bedroom, bathroom, kitchen or living room. Again, this goes well with the natural look of the models. 
4.5/5 from me.
The audiovisual quality of Suck ME VR
At SuckMeVR, you'll get videos up to 5K quality and 180 degrees FOV. So, the production is more or less the same as BaberoticaVR'S.
The quality is crisp. The video is crystal clear, and you can tell that the team has experience making these. The lighting is spot-on, and so is the camerawork and the post-production. You can see that, especially in the close-up scenes. They are just perfect.
Now, even though they don't shoot 8K videos, they have a talented team of filmmakers and models, and that's a winning combo. A lot of my favorite VR Porn Sites don't film in 8K, and they still kick ass. That being said, it's still important to keep up with the industry standards, so upgrading the camera rig may be something Suck Me VR could think about.
4.5/5 from me.
Suck Me VR uses a straightforward and effective website design - nothing flashy and nothing that's not necessary. 
As you land on the home page, you're greeted by their selection of their Most Popular Videos. As you scroll down, you'll see their library of the Latest Videos as well. Now, their site is just a bit different than the VR Porn Sites we're used to because most of them have their "Videos," "Models," "Categories," "Network," and the Login options at the top of the page. At SuckMeVR, you'll find those tabs at the bottom. You can also open up the same menu from the upper left corner. There is a handy search bar on the site, and I always give credit for that!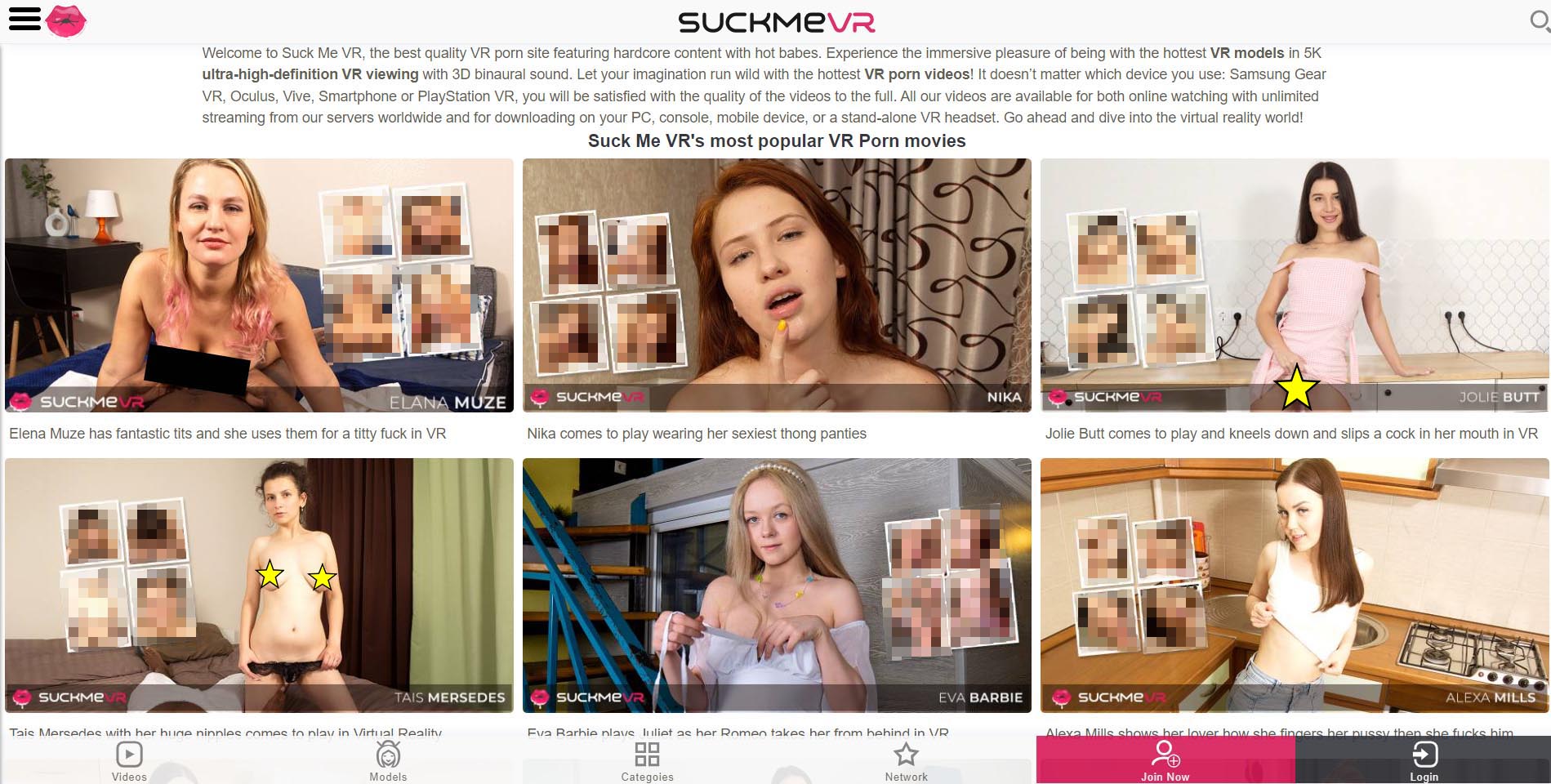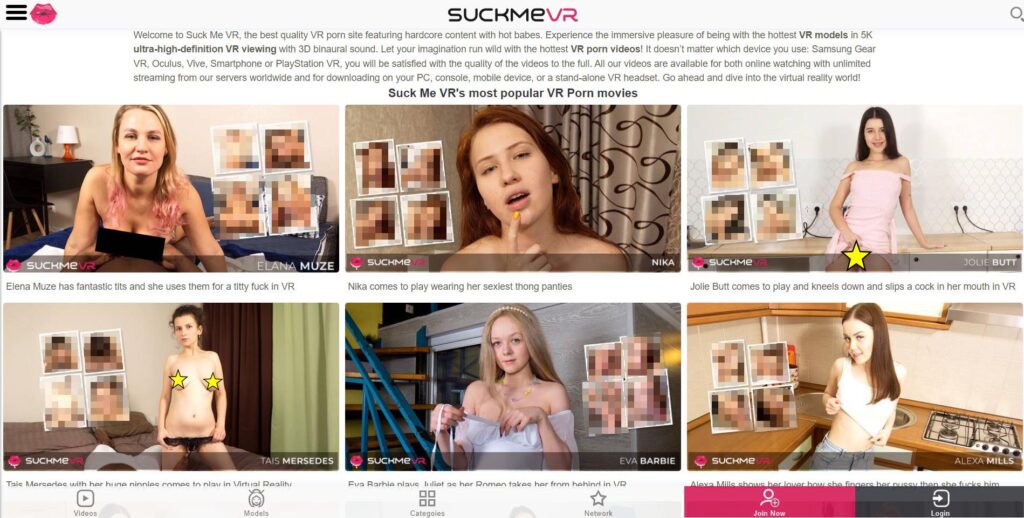 As far as extras go, you'll get a good deal here. For the price of one subscription, you get access to their network of 10 Porn Sites (only 2 of them are VR). And the network is really good. They seem to have covered a couple of big fetishes there, perhaps the biggest one being Asian porn. You'll get some ⇒ cosplay sites, ⇒ Japanese, Thai, Chinese, etc. Of course, you also get access to BaberoticaVR. Moreover, with every video, you get a set of professional photos if you're into that.
5/5 from me here.
Suck Me VR wants to make their content available to as many people as possible. You can check out their excellent content on devices like ⇒ Samsung Gear VR, Oculus (both ⇒ Go and ⇒ Rift), the Quest lineup (⇒ Quest, ⇒ Quest 2, and ⇒ Quest 3), ⇒ HTC Vive, ⇒ PSVR, and your trusty ⇒ smartphone. So, regardless of what you're using, you'll have a blast.
If you need any help setting up your device to watch their content, we have handy step-by-step ⇒ guides on how to watch VR Porn on every headset.
How expensive is Suck Me VR?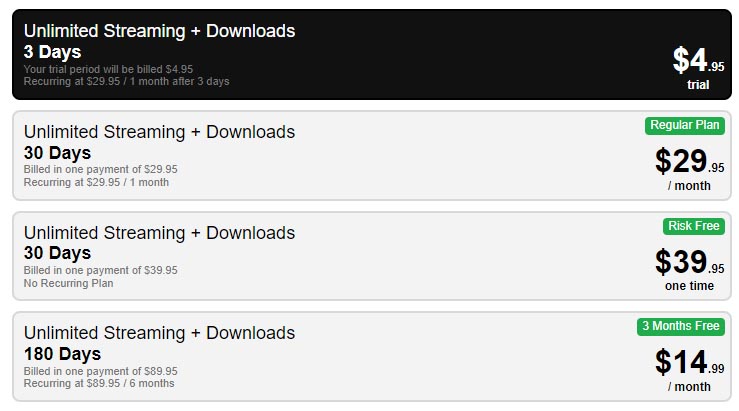 SuckMeVR has 3 different subscription plans - 1 month (recurring), 1 month (non-recurring), and 1 year. They do have a Trial option as well, which is a good thing because you can always check to see if you like their content before you subscribe. 
Regardless of the subscription plan you choose, you'll get unlimited streaming and downloading. The billing is safe and secure, so you won't have to worry about scams. Your bank statement won't show anything related to the adult industry, so only you will know what you bought.
Conclusion: Is Suck Me VR worth it?
I love this site because I'm a fan of Easter European chicks. I love the accent, I love how they fuck, so in my book - it's worth it.
It's still a young site, so we'll see what will happen with them in the future, but if they keep on going like this and keep on listening to fans, they'll be pretty alright.
If you like their content, make sure you give them a shot. You know what to do, my fellow fappers!
Suck Me VR is a VR Porn Site that gives you some of the best Eastern European Pornstars! These hot-as-hell chicks will suck you off, let you fuck them, and then ask for more! Awesome 5K VR Porn!