Quick & Easy: Is SwallowBay worth it?
A niche we needed
Great audiovisual quality
1-week trial
An amazing roster of pornstars
Safe and anonymous billing
SwallowBay may well be the VR Porn Site we all were waiting for! You know how, from time to time, you're watching a VR Porn Video and just think - I wish that blowjob scene was longer? If you've ever found yourself thinking that, say no more. This is the site for you.
What kind of content does SwallowBay offer?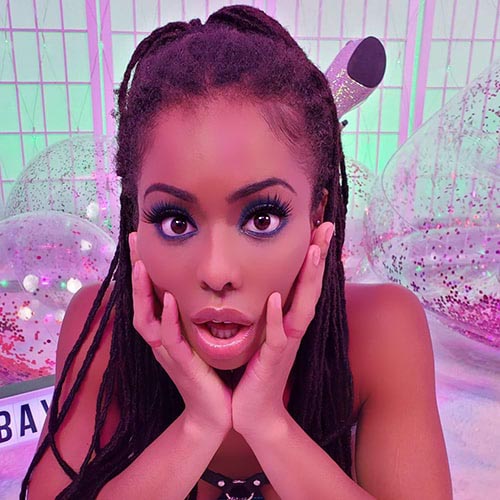 SwallowBay, as you can guess from the name itself, takes you to the world of blowjobs. And not just any old blowjobs! Here, you'll get sucked off by the creme-de-la-creme of the VR Porn industry! Mind you; this is a blowjob-oriented site. There are videos that include fucking scenes (MAKE SURE you check out the one called "Willow's Starlight Lollie" with Willow Ryder), but the main focus is on the sloppy blowjobs, deepthroating, balls-licking and jerking off. Oh, just the best stuff. Even though SwallowBay is a relatively young VR Porn Site, they've already racked up 90+ videos in their library, and every single one of them will keep your attention and your boner!
And how would it not? I mean, you get to put it in the mouth of a super-hot VR Pornstar! And that's not all. Not only is the content super cool, but you'll also get to shoot up the immersiveness factor to the max with their ⇒ Interactive videos! Just connect your favorite ⇒ VR Sex Toy, lay back and get your mind blown by the sheer awesomeness!
Great content - 5/5 from me!
Does SwallowBay offer a good variety of scenes and models?
What's SwallowBay's audiovisual quality like?
Audiovisual quality is crucial in VR Porn. Of course, right next to the models and the storyline. The top VR Porn Sites like ⇒ WankzVR (Review), ⇒ VR Bangers (Review), ⇒ Virtual Taboo (Review), ⇒ CzechVR (Review) always nail both, and when that happens - you get a mind-blowing experience! SwallowBay is one of those sites.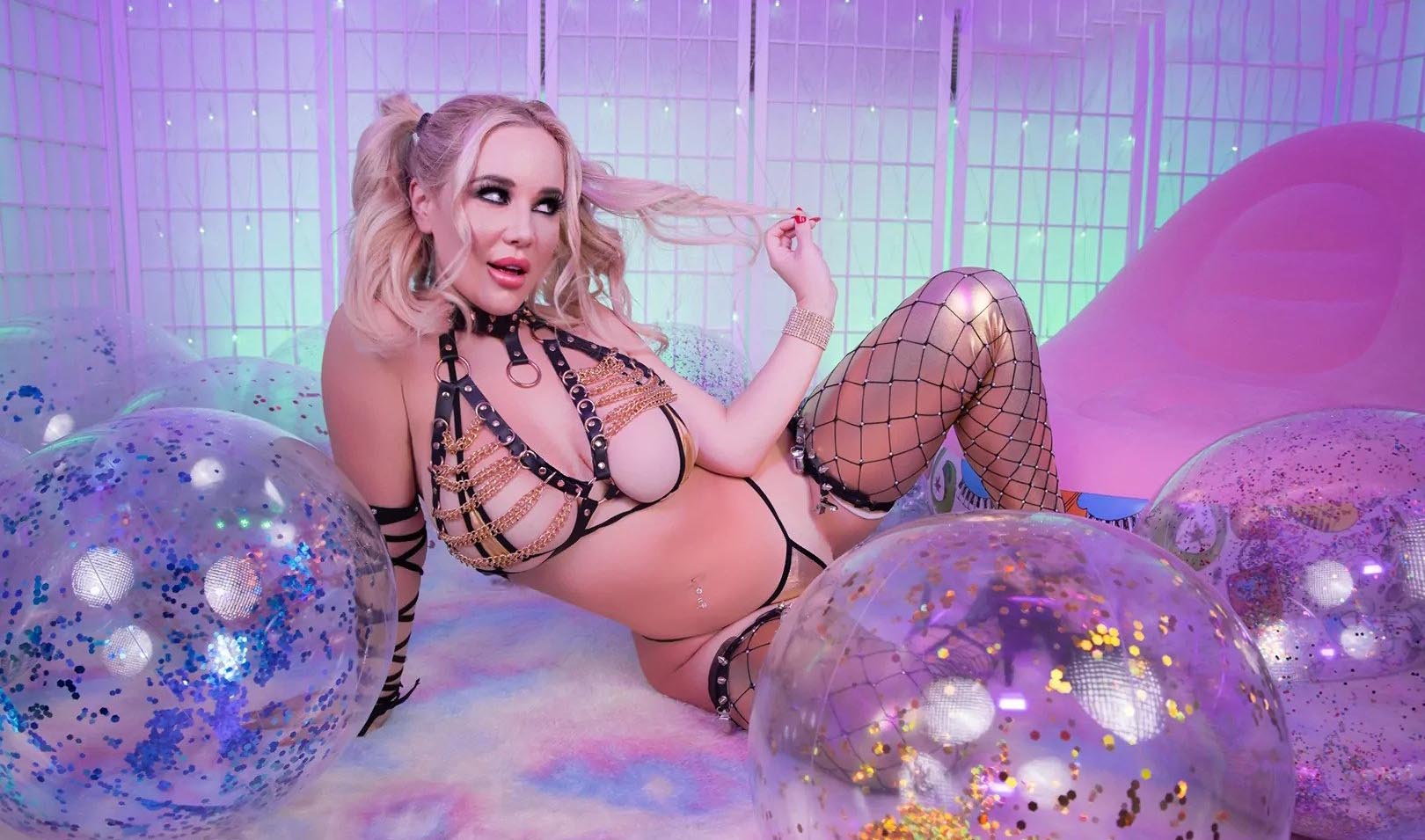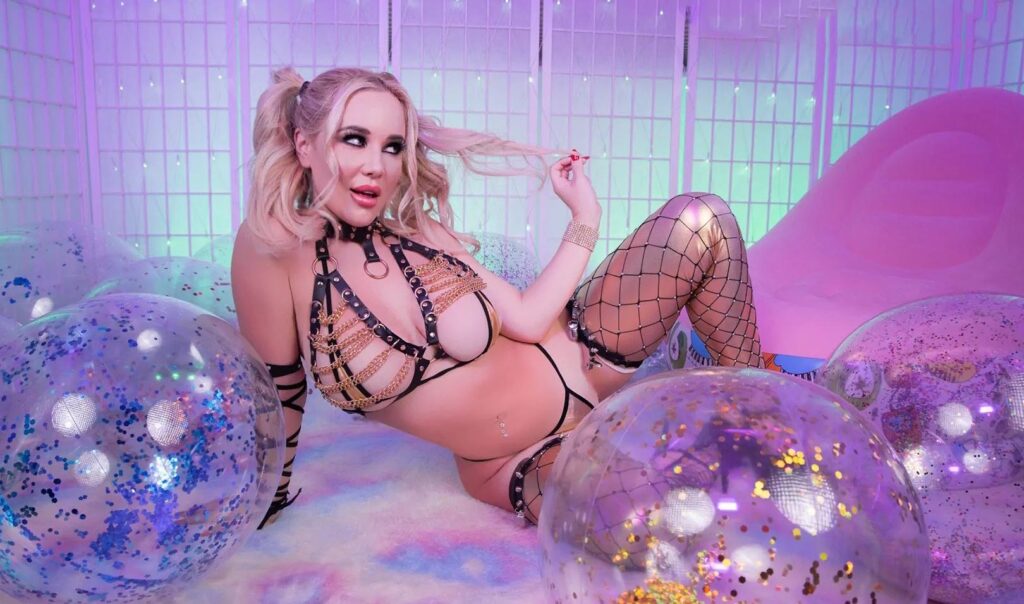 Not only do they have a great theme, but the videos' quality is also excellent. The filming, the lighting, the angles, the post-production - you can see that this is one dedicated studio. Their videos are shot in 6K, 60 FPS, 180 degrees FOV, and binaural sound that lets you hear every moan or gag with crystal clarity. You can see every detail on the model's body, and watching them suck you off is as close to the real thing as you can get. That's what I love the most about SwallowBay's VR Porn - everything is about you. Your dick is the models' favorite toy, and they'll do their best to make it an experience of your life.
5/5 from me.
Swallowbay's philosophy is practical minimalism. The set in their scenes always stays the same, and there's a good reason for it. They're going for a specific style. Everything is cotton candy-colored, with a bright backdrop and props like candy scattered around. The show is all about being colorful and playful. It all looks innocent until you get your dick swallowed by a chick who looks like she'll give you a heart attack! And she won't waste time before she dives into some sloppy oral action, and true to the site's name, every scene ends with a fantastic swallow.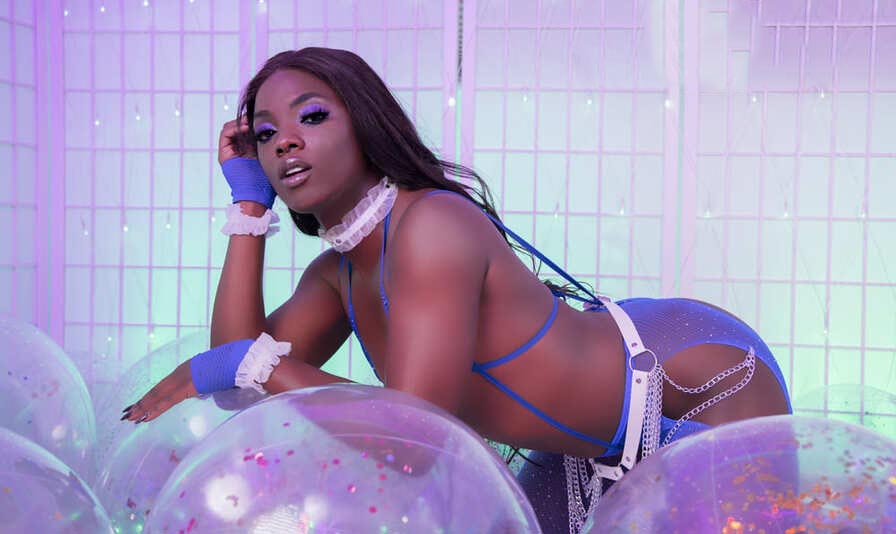 SwallowBay's models are always dressed in slutty lingerie. And with names like Blake Blossom, Melody Marks, Kira Noir, Ana Foxxx, Gizelle Blanco, Avery Black, etc., you know you're in for a pretty wild ride! They have chicks of all ages - from ⇒ teens to ⇒ MILFs, with all body types. So no matter if you prefer ⇒ big asses, ⇒ big tits, ⇒ blondes, ⇒ brunettes, ⇒ Asians, ⇒ Latinas, ⇒ Ebony, hairy or clean-shaven, you'll have a fantastic time because SwallowBay's got you covered!
4.5/5 from me!
SwallowBay's website is straightforward and intuitive to use. It looks professional, and you can tell they put a lot of thought and effort into designing it. As you land on the home page and start scrolling, you'll come across their selection of the most popular/most recent videos and models and a really cool counter that lets you know when to expect the next update. Neat, huh?
You'll get your standard filters here: "Videos," "Categories," "Tags," "Models," a cool tab called "More," and a handy search bar as well. Thanks, we always appreciate that!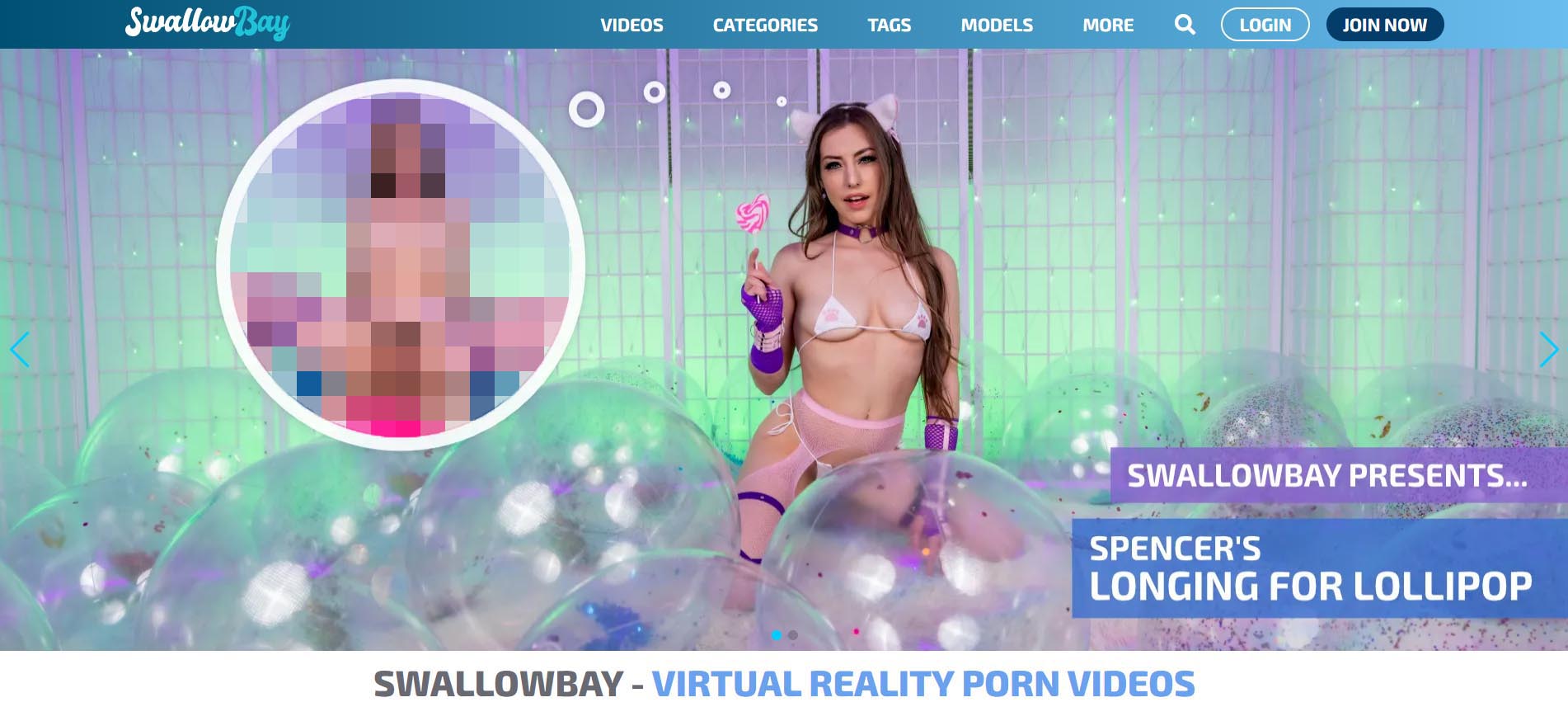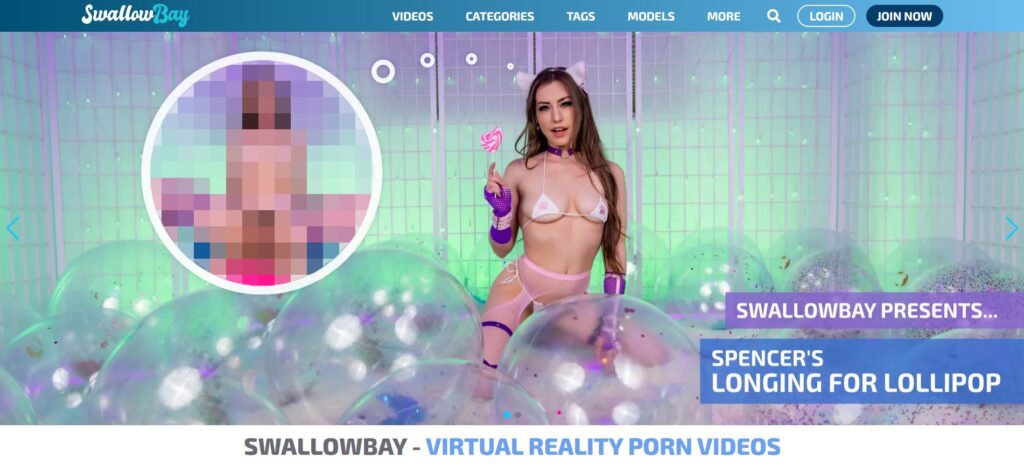 The first four are pretty self-explanatory, "More" tab will let you look at their collection of photos and GIFs from the sets (scorching ones!), their blog and news from the VR Porn industry, and their guides on how to set up your VR device to watch those fantastic hotties giving you a sloppy blowjob of your life! Swallowbay has a promising future if they keep shooting amazing content like this!
5/5 from me here.
Which headsets are compatible with SwallowBay?
Swallowbay supports all the major VR headsets. So no matter if you use a ⇒ Smartphone, ⇒ Oculus Go, ⇒ Quest, ⇒ Quest 2, ⇒  HTC Vive, ⇒ Gear VR, ⇒ PSVR,  ⇒ Daydream, ⇒ Valve Index, ⇒ Windows Mixed Reality, etc., Swallowbay's got you covered. If you ever have any issues setting up your device, you can always check their help section or visit our ⇒ Guides on How To Watch VR Porn!
For the content and the quality they offer, Swallowbay is cheap!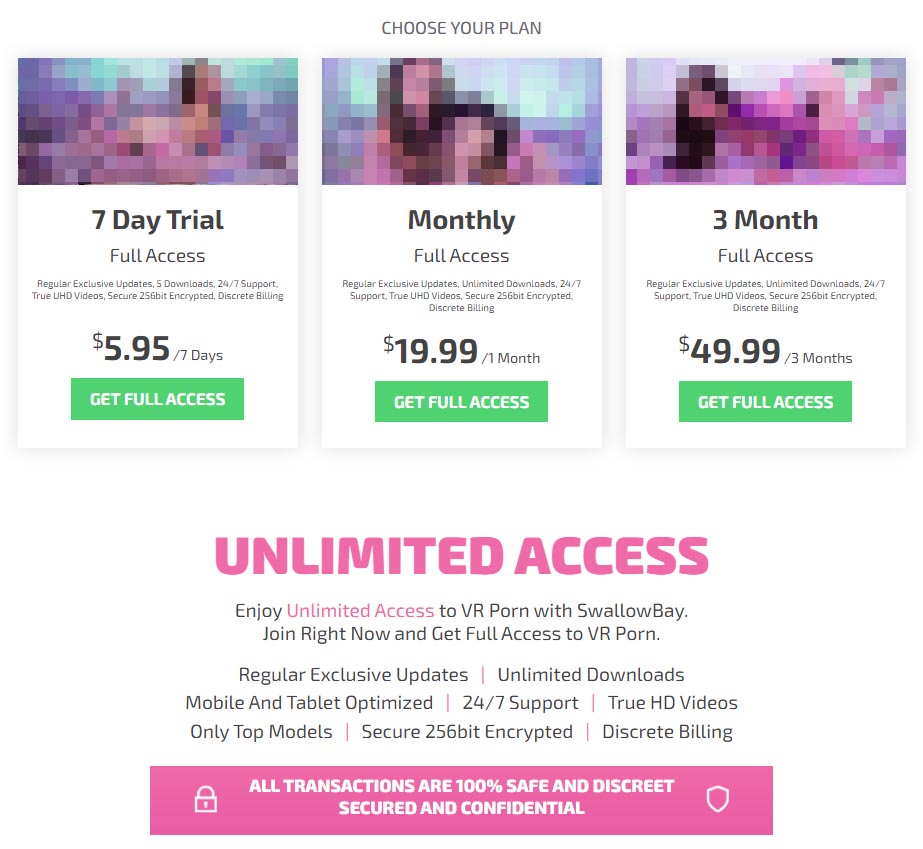 They offer 3 plans - "7 Day Trial," "Monthly," and "3 Months." I love it when a VR Porn site has a trial period. And it's a whole week with Swallowbay for less than 6 bucks. That's a price of a fancy cup of coffee. And I think the choice is pretty obvious for the sheer amount of sucking you can get for those 6 bucks.
For the price of a subscription, you'll get unlimited streaming and downloading. And in case you're wondering - their service is completely safe and anonymous. Your bank statement won't show any adult-related stuff. I've been subscribed to SwallowBay for a long time, and I've never had an issue with my subscription.
Conclusion: Do we recommend SwallowBay?
Oh, we do! SwallowBay is a great VR Porn Site that gives a lot for a low price. If you've ever wanted a long VR blowjob session with a smoking-hot pornstar, go for it! It's an incredible experience, and if you're into that - make sure you check them out! 
SwallowBay is a VR Porn Site specializing in sloppy blowjob scenes with high-quality visuals and audio. If you've ever wanted those amazing VR blowjobs with your favorite pornstars to last longer - this is the site for you!