Quick & Easy: Is RealHotVR worth it?
Not your average VR Porn content
Amazing pornstar roster
Not expensive
Good audiovisual quality
Safe and anonymous billing
The site needs to be improved
No extras
VR Porn is getting cooler by the day, drawing in more and more people to try out its incredible immersive experiences. From time to time, a site comes up with something different, and RealHotVR is one of those. And they are doing well for a pretty young site in a sea of ⇒ world-class VR Porn Sites!
What kind of content does RealHotVR offer?
RealHotVR specializes in solo and duo scenes, where these gorgeous ladies tease you, pleasure themselves in front of you, and act like they're getting absolutely ravished by you. There's great ⇒ JOI, ⇒ lesbian, masturbation and toy content on RealHotVR, and if that's something you enjoy, make sure you check them out!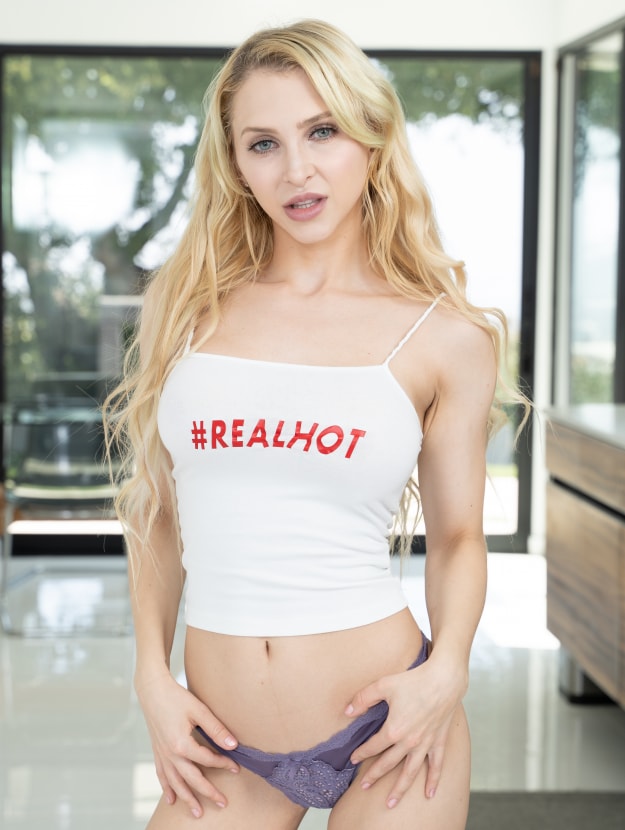 The thing is, you won't really find any dicks in their videos, as they don't have any male performers. It's all about the ladies, and that's something a lot of folks dig. The girls use toys to fuck themselves while dirty-talking straight into the camera, giving the impression that it is you whose cock they are grinding on. It's a cool idea, considering that most traditional VR Porn Sites only have this kind of content as a category. RealHotVR is a site dedicated to it exclusively. Don't be fooled into thinking this is a ⇒ softcore-only site. Yeah, if you want that, you can find it. But they've got you covered if you're into some good ⇒ hardcore toying or fingering. It may not be the traditional hardcore you expect, but it's still a lot of fun!
Currently, they have 180+ videos in their library and churn out (with some irregularity) about 6 new videos per month. 
Cool content, guys - 5/5 from me.
Does RealHotVR offer a good variety of scenes and models?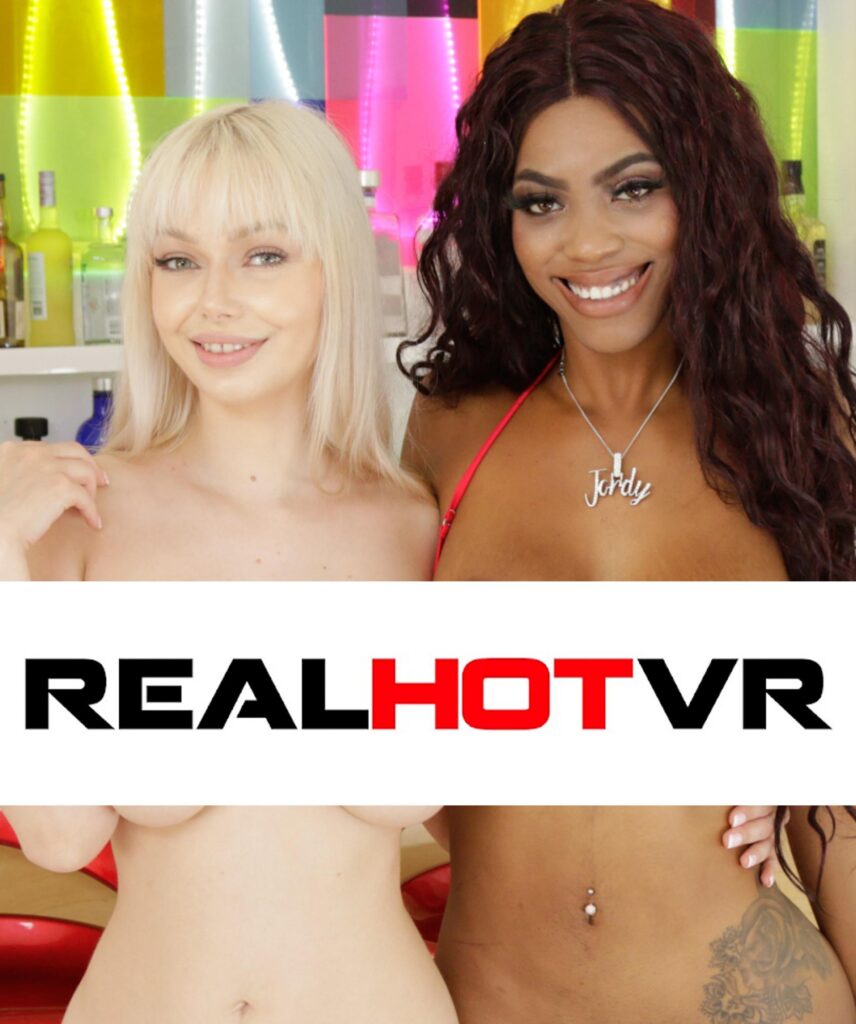 RealHotVR has an excellent model variety. There's plenty of Caucasian, ⇒ Latina, ⇒ Asian, and ⇒ Ebony hotties, including Jessica Starling - the queen of JOI in my book. I don't know what it is about her, but she's got something that revs my engine. They've got a good range of ages, too - from ⇒ teens to ⇒MILFs, and they all know how to make it worthwhile. There are many girls to choose from, so they're trying to have something for everyone.
The plots themselves aren't mind-blowing, but they're not dull either. The plots aren't the main focus if you're into this niche anyway. But hey, even if you like a good VR Porn story, RealHotVR has something for you! You can get down and dirty with a hot teacher, a stepmom, a stepdaughter, a female cop, your brother's best friend, etc. The plots aren't primarily story-oriented, but they'll surely keep your attention if you're in it for the action.
I'll rate their variety 4.5/5.
What's RealHotVR's audiovisual quality like?
RealHotVR started producing solo/JOI-style scenes in 6K quality, which is a huge leap from the 4K videos they had before. All their scenes can be streamed or downloaded in 4K and 6K without pesky limits. You get 180 degrees FOV, 60 FPS, 3D Stereoscopic library of pure fapping pleasure.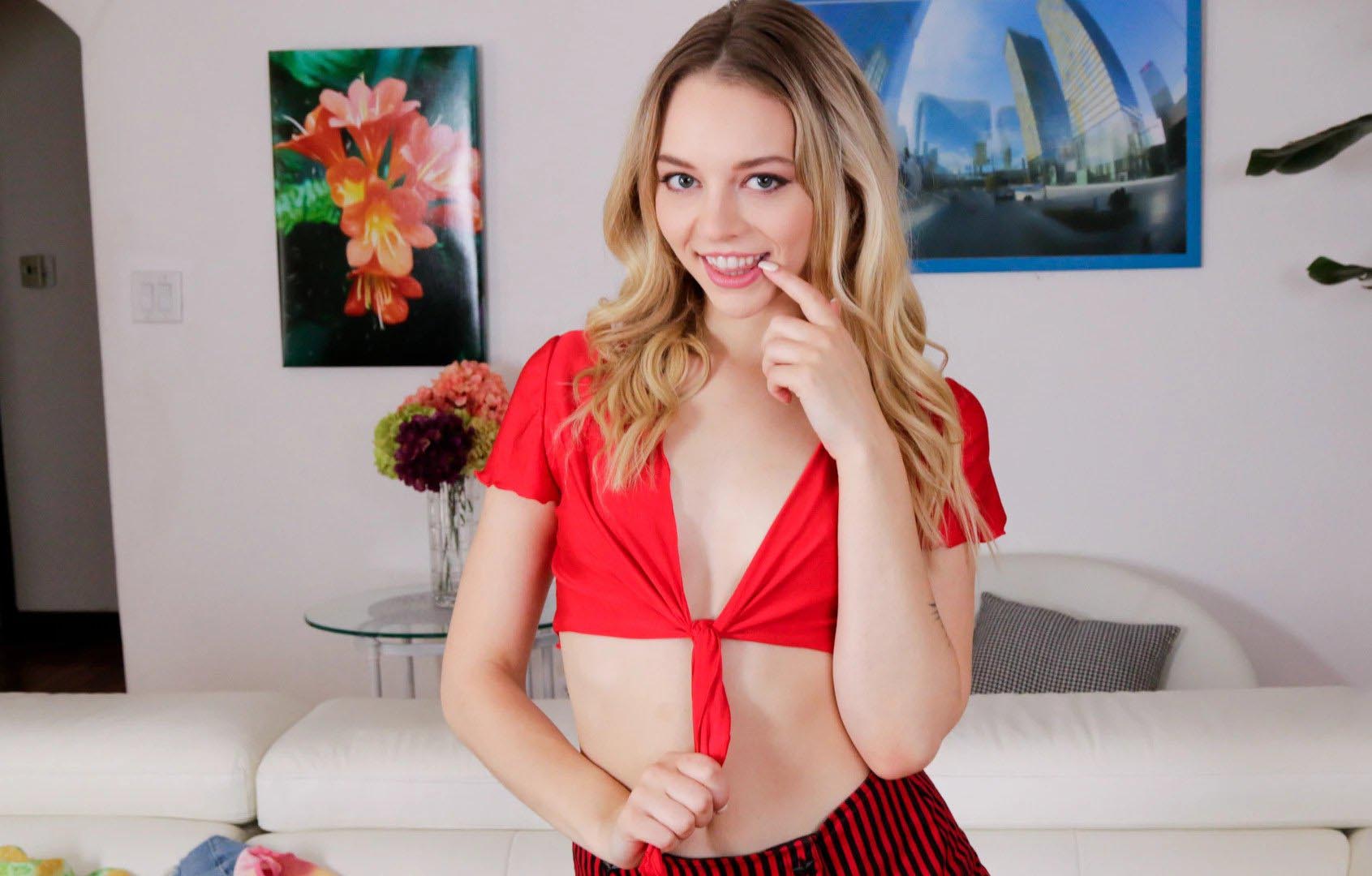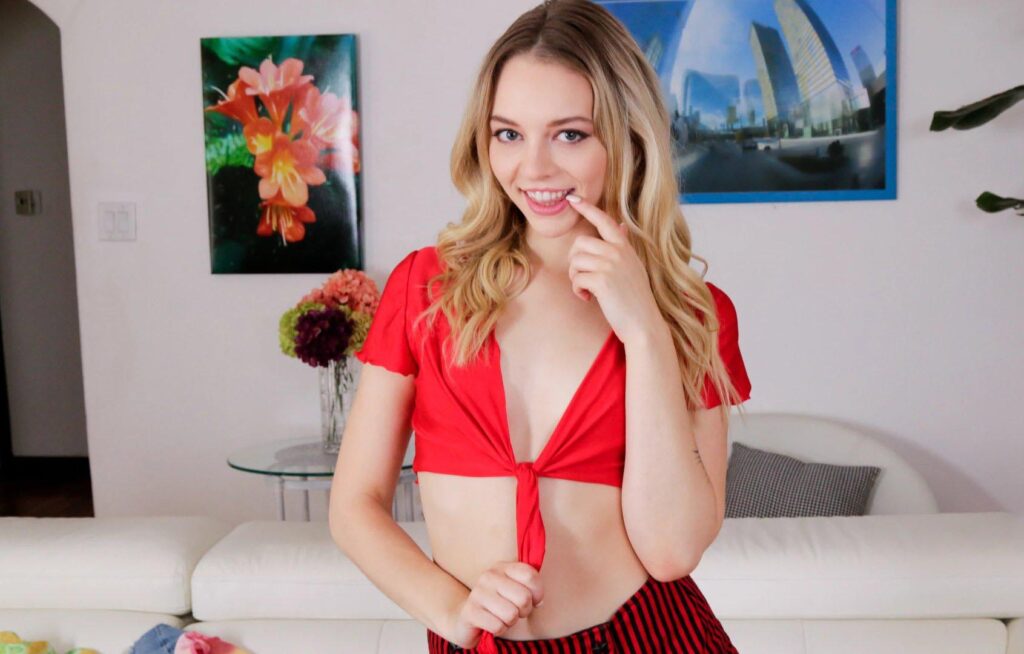 The video length varies, but on average, the videos are about 30 minutes long. Sure, you can find videos that run well over an hour, but you can also find shorter ones of about 8 minutes. I like that. Depending on how much time I can dedicate to my VR companion, I can choose a video accordingly and not have to skip through the video to get to the action. RealHotVR's audio is also good; the girls sound natural, and you feel like you are in the action. And that dirty talking makes that whole thing so much better. So much more intimate.
5/5 from me.
RealHotVR's site is easy to use. I like the contrast between the dark theme and the bright video thumbnails. You get your standard filters here: "Home," "Videos," "Models," "VR Support," and a nice little tab called "Photos." Commonly, VR Porn Sites give you some professional photos from the set, and RealHotVR is no exception. You can filter through the videos and models based on the "Most Recent," "Most Popular," and "Name/Title" (alphabetical order) parameters. You also get an interesting YouTube channel where RealHotVR uploads SWF material so you can check out some of their babes in a more 'live' setting.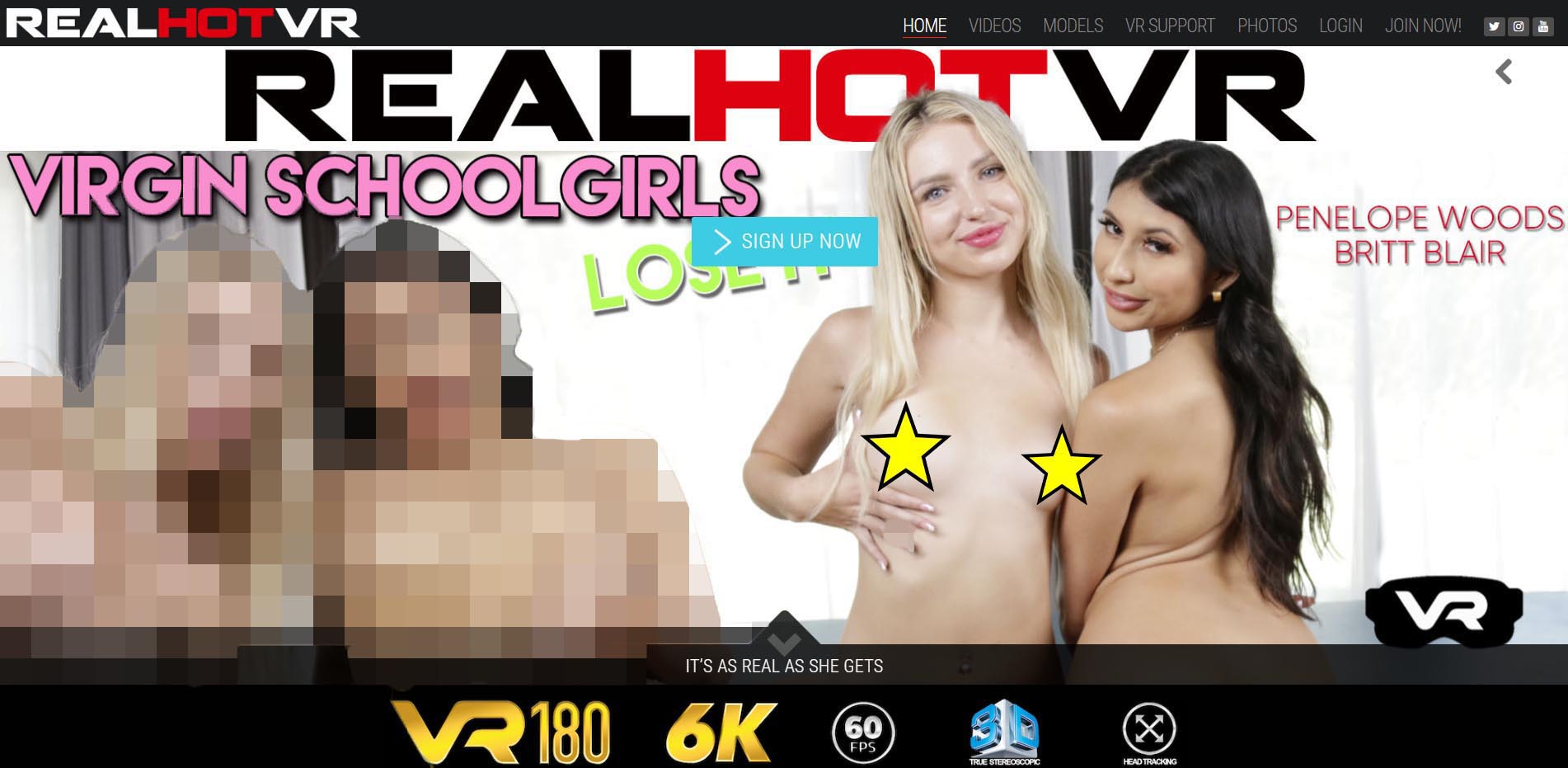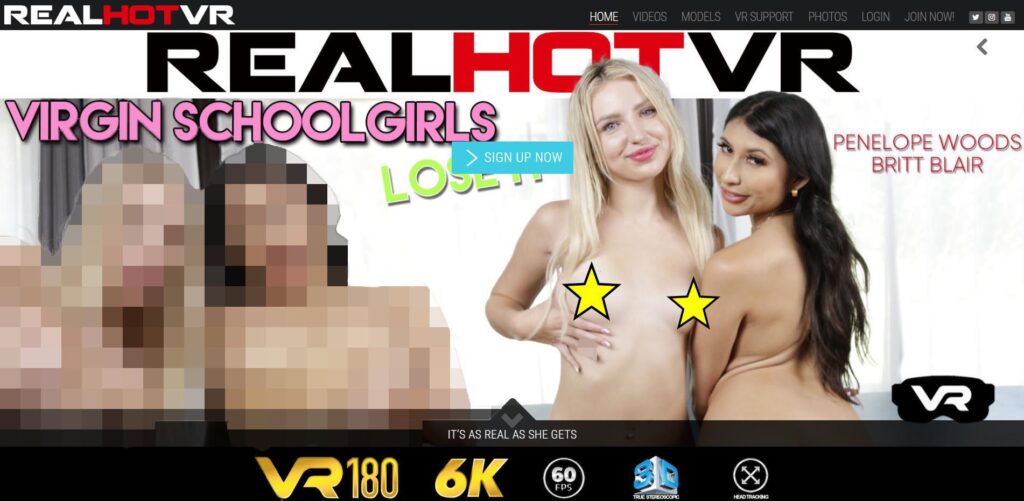 The website has its disadvantages, though! The first thing is noticed is the need for a search bar. I like those, I find them really useful, and I'm sure I'm not alone. Next, you only get three chances to watch a trailer for free. After that, you'll have to subscribe to keep watching. Also, you'll need a subscription if you want to check out the "Photos" tab. The best VR Porn Sites, like ⇒ WankzVR (Review), ⇒ VR Bangers (Review), ⇒ Virtual Taboo (Review), ⇒ CzechVR (Review), etc., let you watch the trailers as much as you want and give you at least a few photos from the set. So yeah, other than these, no extras are included.
RealHotVR has a good future, the idea is cool, but they need to improve a couple of things. 4.5/5 from me.
RealHotVR is not expensive. They offer three plans - "1 Month," "3 Months" and "1 year". Of course, you can cancel whenever you want, and the payments are all safe, anonymous, and professionally handled - so you won't get any adult-related stuff on your statement. They offer two payment options - Credit Card or PayPal.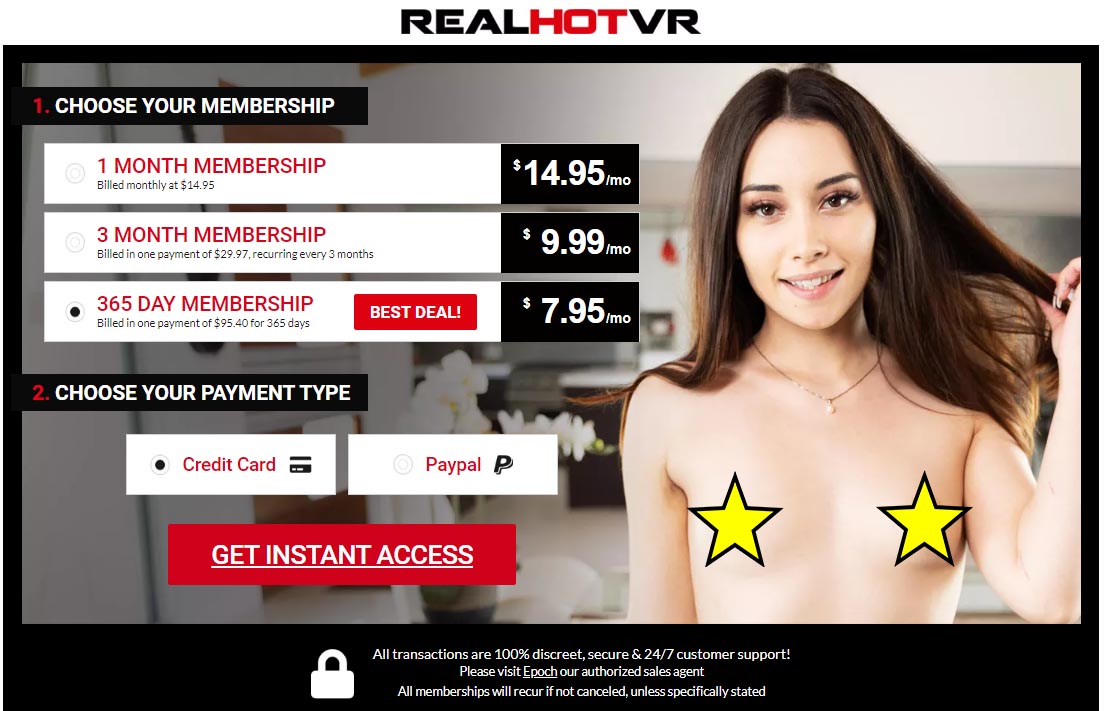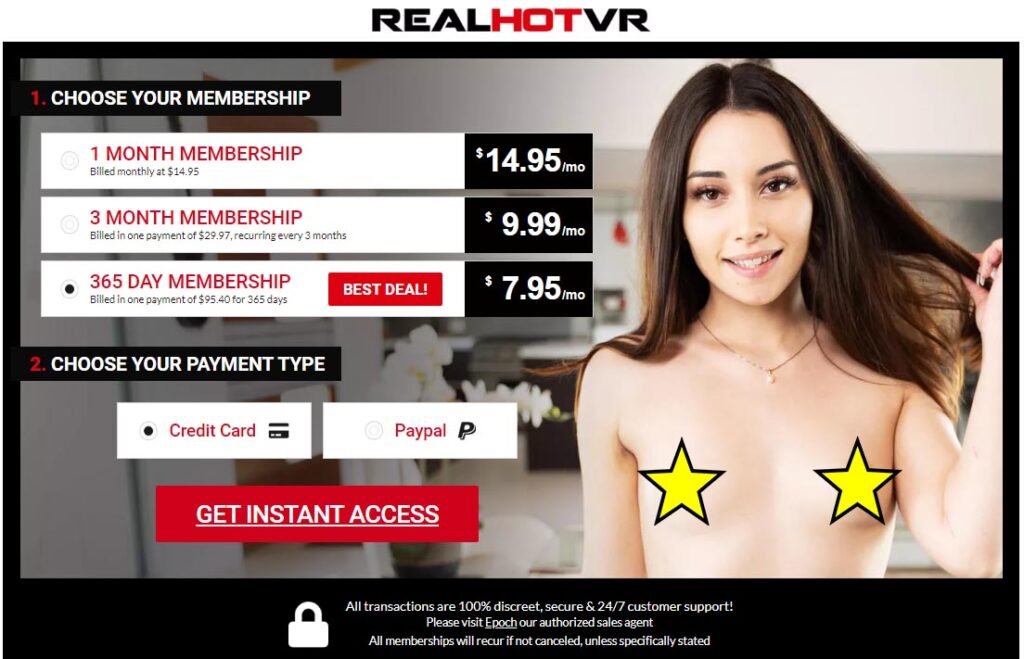 All good VR Porn sites offer this anonymous and professional service - that's how you know you should stick with them.
Conclusion: Do we recommend RealHotVR?
If you are into this particular niche, sure - go for it! The site is not expensive, and they have a good amount of videos and a great roster of models! Sure, there's some stuff they need to iron out, but overall - I've had some pretty amazing fapping sessions thanks to them. 
RealHotVR is the place for you if you are into JOI, masturbation, toys, etc. They offer a GREAT roster of pornstars - from teens to MILFs, steaming-hot chicks with all body types!