If you're on the lookout for an awesome vibrator that can bring your pleasure to new heights, Lovense Nora is worth checking out. But, in a sea of G-post vibrators, what sets Lovense Nora apart from the competition? And is it worth buying? Read on.
Lovense Nora is a versatile and innovative pleasure toy that's been making waves in the world of ⇒ VR Sex Toys. This smart rabbit-style vibrator offers a unique combination of technology and sensuality. Lovense designed Nora to provide powerful stimulation and unforgettable experiences, and with it, you get the best of both worlds – it's a dual-action vibrator that can simultaneously target your G-spot and your clitoris for mind-blowing orgasms.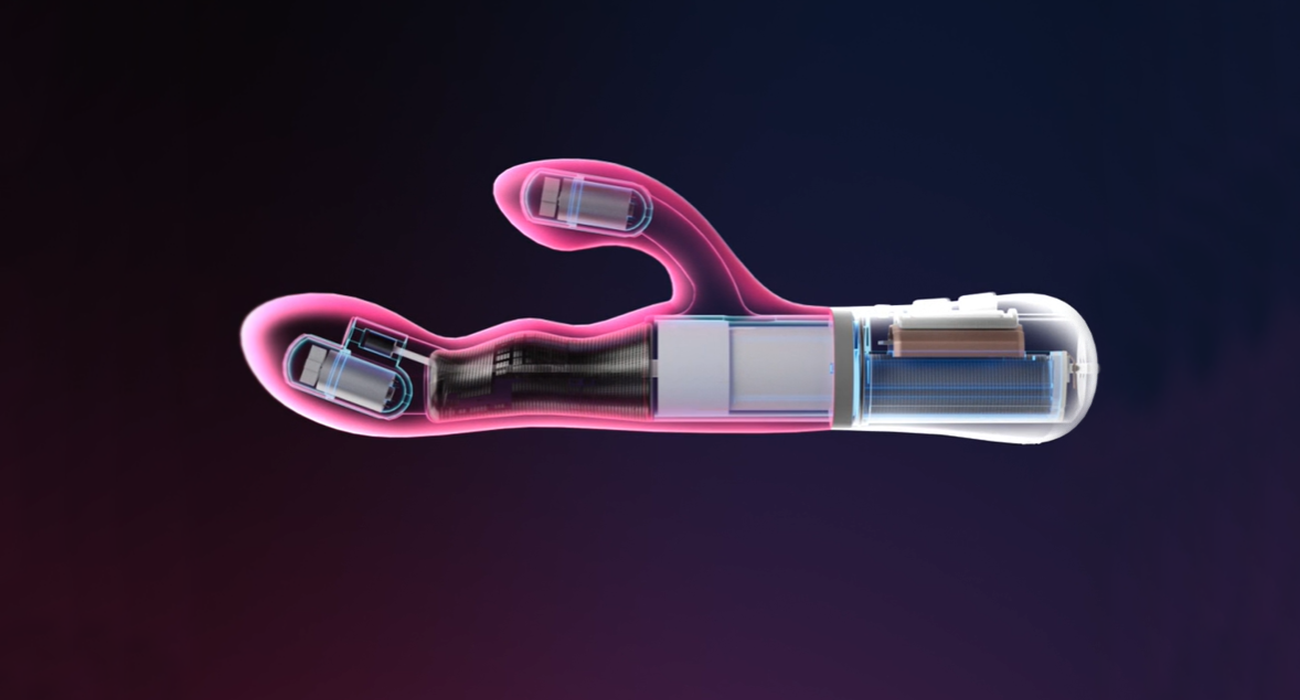 This fantastic vibrator has a sleek, ergonomic design with body-safe silicone that'll bring a comfortable yet mind-spiralling experience. You see, a lot of it comes down to the shape. We mentioned that a lot when we talked about the ⇒ Kiiroo Pearl3. And Nora's body isn't just ideally suited to give your G-spot a night to remember. It also includes a rotating head and a clitoral stimulator, making it perfect for exploring various erogenous zones. This way, you get to both G-spot and clitoral stimulation simultaneously.
Lovense Nora's well-rounded design is one of many benefits. Combine its shape with customizable vibration patterns and app-controlled features, and you get a toy that'll cater to all your desires, no matter how unique it might be. But more about that later.
Whether stepping up your solo game or sharing the fun with a partner, Lovense Nora has your back.
Why is Lovense Nora so good?
Lovense Nora is a smart vibrator you can control remotely through the Lovense app.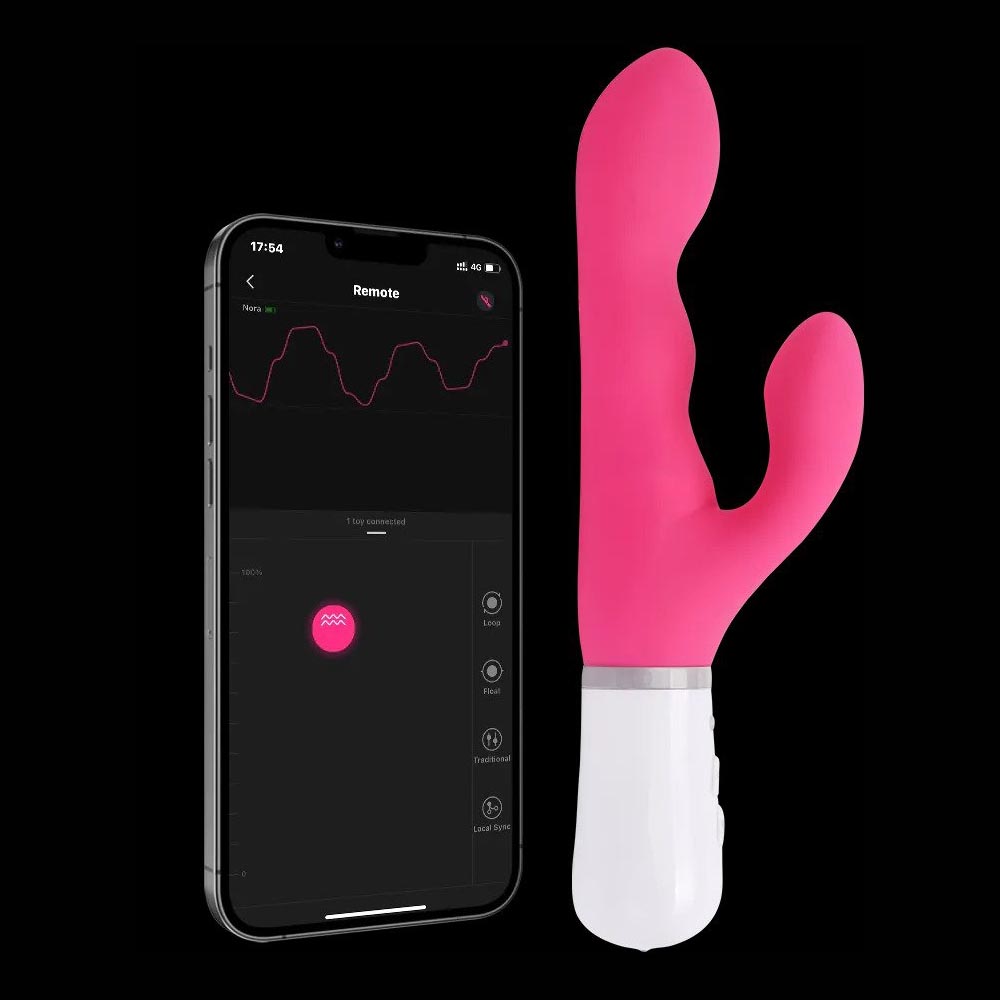 It's a great addition to the world of ⇒ VR Porn for Women! On one hand, it's perfect for long-distance couples. If your partner has the ⇒ Lovense Max 2 (Review) or the Lovense Calor, you're both in for a treat! And on the other hand, the app will give you a ton of options to add a new dimension to your intimacy. The app allows you or your partner to customize vibrations and patterns, and it can sync to your favourite ⇒ VR Porn Videos. Oh, it's a unique sensory experience. Just imagine watching your favorite ⇒ Female POV VR porn and actually being able to feel what you see on the screen!
Another feature that sets Nora apart is its ability to respond to your body's movements, thanks to its built-in sensor. This means that as you move or thrust, the vibrator changes its intensity accordingly, so you end up with a tailor-made experience. 
We already talked about Lovense Nora's carefully designed shape. But it also comes with a twist - literally. The head of the toy can rotate, and it makes for a super exciting and dynamic sensation during use. This way, you get a precise G-spot stimulation that many users find incredibly satisfying. Now, couple that with the clitoral stimulator, and you've got yourself a vibrator that delivers a one-of-a-kind dual-action experience.
How do you control Lovense Nora?
Lovense Nora has two modes of operation: Manual mode and Bluetooth mode.
Controlling the Vibrations:
Turn on Lovense Nora. Press and hold button A for 3 seconds (the one closer to the pink silicone).

Press the same button once and activate the "low vibration" mode.
Press it again to activate the "Medium vibration" mode.
The third press activates "High Vibration."
Controlling the rotating head:
Turn on Lovense Nora. Press and hold button A for 3 seconds.

Press button B (the one further from the pink silicone) once to activate "Slow head rotation" mode.
Press button B again to activate "Medium Rotation" mode.
Press it again for "Fast Rotation" mode.
Note: Press and hold button B to switch the head rotation from Forward to Reverse.
Connecting the Lovese Nora with your phone (both iPhone and Android):
Turn on Nora.

Download the Lovense Remote app.

Register an account or log in if you already have one.

Tap the "Connect" icon in the top right corner. 
Tap "Add," and the app will look for your toy. When it finds the Nora, tap "Done." (When the toy is connected, its green indicator light will stay on).
Tap "Remote" and experiment with the vibration levels or head rotation.
Note: Connecting the Nora with your PC is the same; you will just need the Lovense Bluetooth adapter for this.
Connecting the Lovense Nora with your partner:
Repeat steps 1-5.

Tap the "Long Distance" icon, and tap "Add."
Type in your partner's username and tap "Done."

After your partner accepts the request, you can tap on their name to enter a private chat.

Tap "Add" (the plus button on the right of the chat bar) and tap "Sync Together."
Connecting Nora with a VR Porn video:
Find a good VR Porn Site and subscribe (or log in if you're already a subscriber).

We recommend ⇒ VirtualRealPorn (Review). They have a great network of VR Porn Sites for everyone's taste, including ⇒ VirtualRealPassion (Review) (Female POV VR Porn).
If you're already familiar with the VirtualReal family, check out our list of the ⇒ Best VR Porn Sites in the industry!

Find a video you like.

Inside the video, there will be a "Sync with Lovense toy" option that you need to click.

When you click that, a pop-up will appear with a code.

Turn on the Lovense Remote app.

Click the "+" icon and input the QR code number.

Confirm the connection and enjoy!
How does it feel to use the Lovense Nora?
The main body of Lovense Nora is made from body-safe silicone, so you can count on both comfort and safety during your playtime. The handle is made of hard plastic, and it may be a bit challenging when you grab it with your hands all wet with lube. But it's still a joy to hold.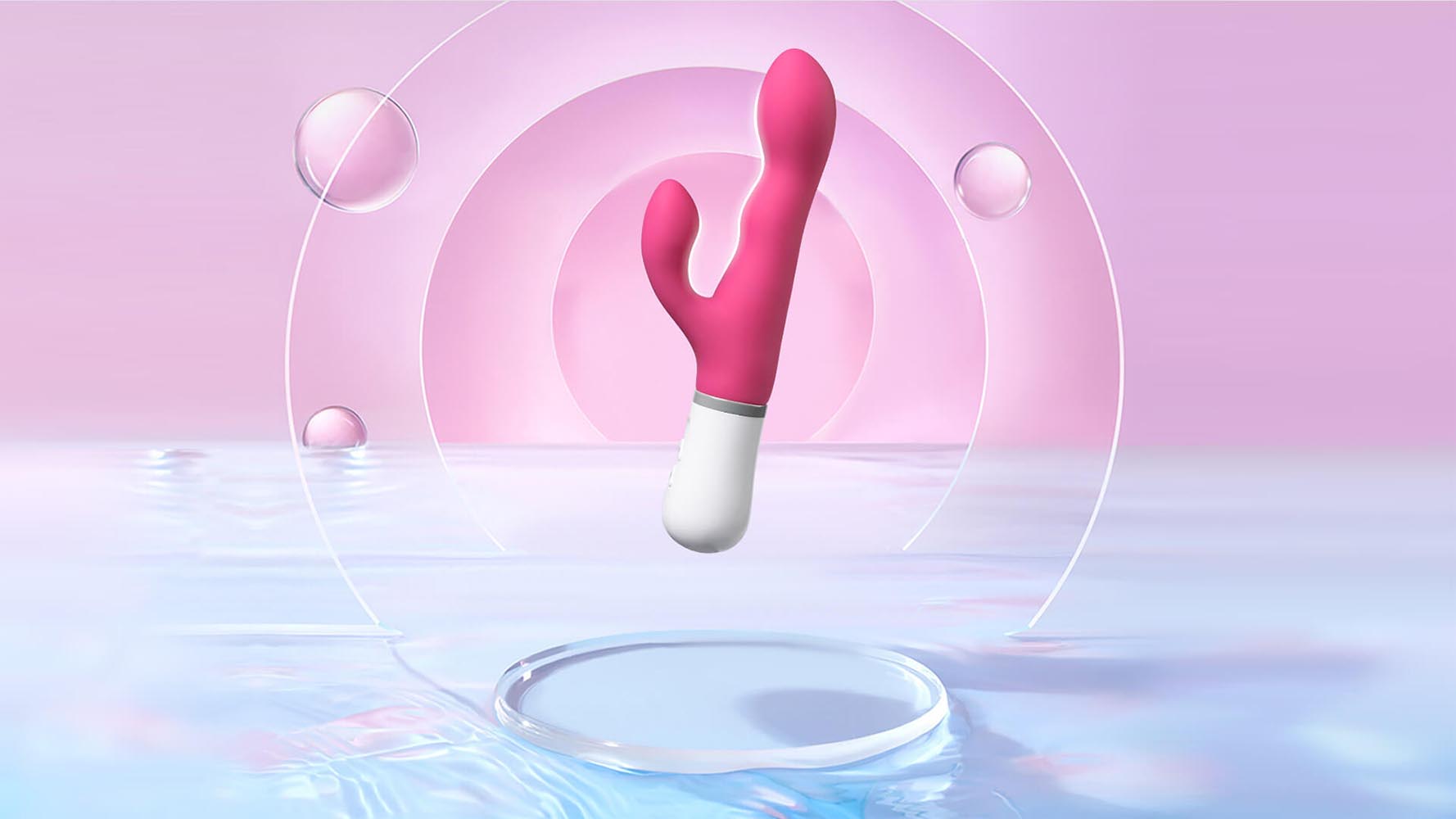 Now, Nora has somewhat of an unusual girth. Compared to other VR Sex Toys for women, it's a bit thicker. So, you may need to warm yourself up a bit before inserting it. Another thing we should mention is that Nora's vibrations are all located in the clitoral arm. So, no vibrations in the shaft or the rotating head. 
Finally, this is not the quietest toy out there, especially on the high settings. It does have a good kick, and it's awesome to use, but there will be a bit of noise.
Battery life and charging
When you want to juice up your Lovense Nora, make sure it's switched off before plugging it in for a recharge. You can connect the cable to any USB port or a USB/AC power adapter – they'll all get the job done. It'll take roughly 2.5 hours to charge your toy fully, and you'll know it's ready when the solid red light stops shining.
The battery will last you about 3.5 to 4 hours of continuous use. Now, that's one hell of a session! Who'll get tired first?
Is Lovense Nora easy to clean?
Cleaning your Lovense Nora is a breeze.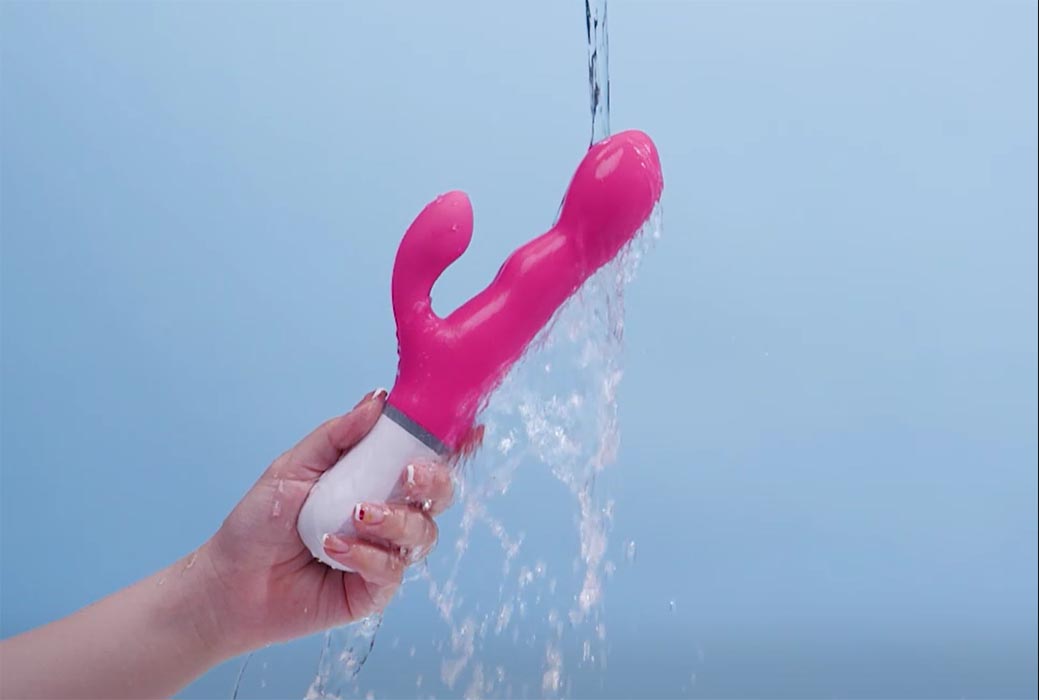 Since it's designed for intimate use, it's crucial to keep it hygienic. The good news is that Nora is waterproof, so you can easily wash it with mild soap and warm water.
After cleaning, make sure to rinse thoroughly and dry it before storing it in a cool, dry place. Keep in mind that Nora's charging port is located on the vibrator's handle, which is safely sealed to prevent water from entering.
Conclusion: Do we recommend Lovense Nora?
Lovense Nora is a remarkable dual-action vibrator that's changing the game when it comes to personal pleasure. 
With its smart technology, long-distance capabilities, and body-safe materials, it's no wonder Nora is gaining popularity in the world of VR Sex Toys. Plus, cleaning and maintaining is a simple process, so you can enjoy its benefits easily.
So, whether you're exploring alone or with a partner, Lovense Nora is a fantastic choice for those looking to take their intimate moments to the next level.