Quick & Easy: Is Stockings VR worth it?
Cool and unique content
An excellent roster of pornstars
Cool extra sites
A bunch of fetishes
Safe and discreet payment
Needs more ethnic variety
Let's face it - Porn makes up much of the VR industry. And with the rise in popularity of VR Porn, different sites dedicated to various VR Porn niches started emerging. Stockings VR is one of those. And what a site it is!
What sort of content do you get at Stockings VR?
As the name says, Stockings VR specializes in ⇒ fetishes revolving around lingerie and stockings. This is generally speaking, as Stockings VR doesn't really commit to one fetish in particular. Think of it more as a site that embraces sexual freedom and caters to many different fetishes while focusing on stockings and lingerie. And when I say "a lot of different fetishes," I mean that exactly. These guys have got it all. Foot fetish, piss fetish, panties fetish, humiliation, strap-ons, striptease, ⇒ anal, outdoor, ⇒ lesbian, straight, femdom, ⇒ blowjobs, whipping, pussy and ass licking, fisting, face sitting, upskirt watching, teasing… you see where this is going.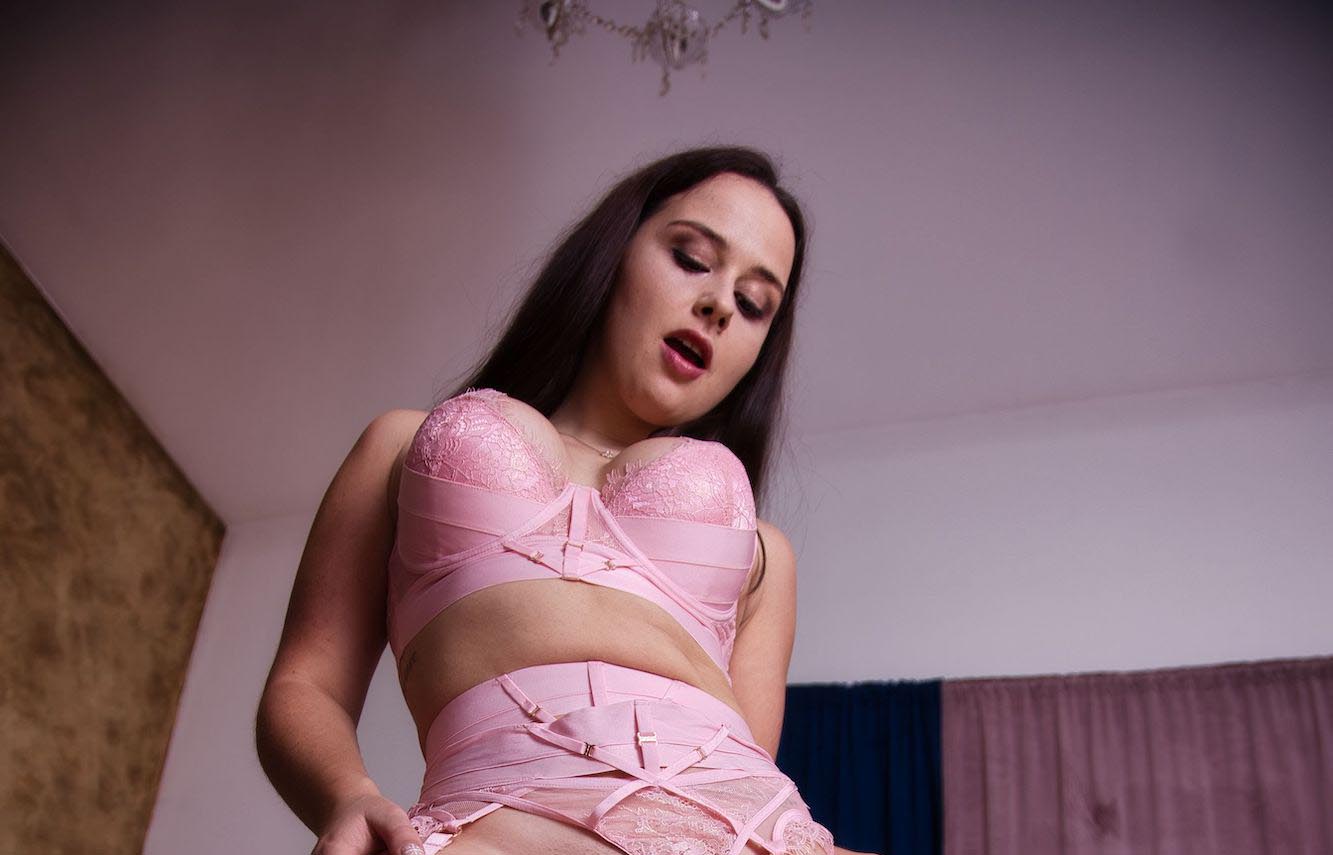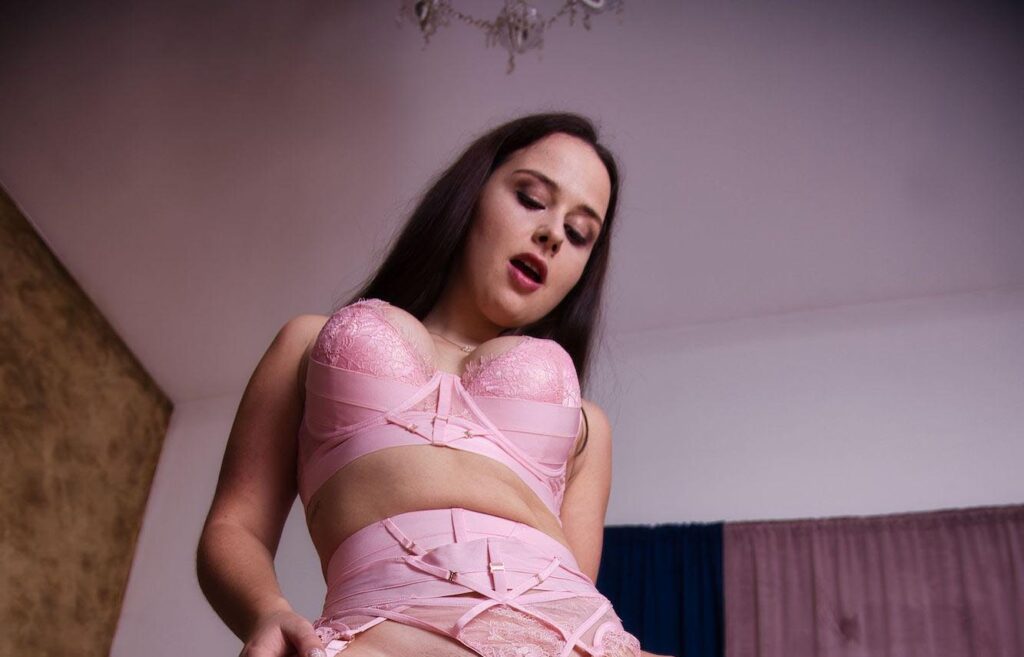 But is this site only for those with a lingerie fetish? Well, Stockings VR is a studio that tries to cover as many kinks as possible, and I love that! This is clearly the work of someone who understands the erotic power of a perfect, round, juicy ass dressed in lace. But also someone who understands that VR Porn fans are a pretty colorful bunch, and there are a lot of things that turn people on. Things you can't really see every day on a classic VR Porn Site. So far, StockingsVR has 120+ original videos to offer. Their update schedule is a bit confusing, but overall, you can expect one new scene per week. 
P.S. If you're into feet, check out the video "Ready Whipped," starring Nathaly Cherie and Victoria Puppy. God, those whipped cream scenes are really something…
Great content - 5/5 from me!
Does Stockings VR offer a good variety of scenes and models?
Yes! There is one thing I really like about Stockings VR - either you're a voyeur, or you're fucking those hot chicks. Most VR Porn Sites focus on POV only, and voyeuristic VR videos are something I'm very fond of. You'll watch or fuck these chicks mostly in setups around a house - bathroom, living room, bedroom, front yard, kitchen, on the porch, and even on the stairway! I like that because, at least for me, it makes the whole experience feel more intimate. Outdoor VR Porn scenes aren't really something you see every day, and I think that's something we need in VR.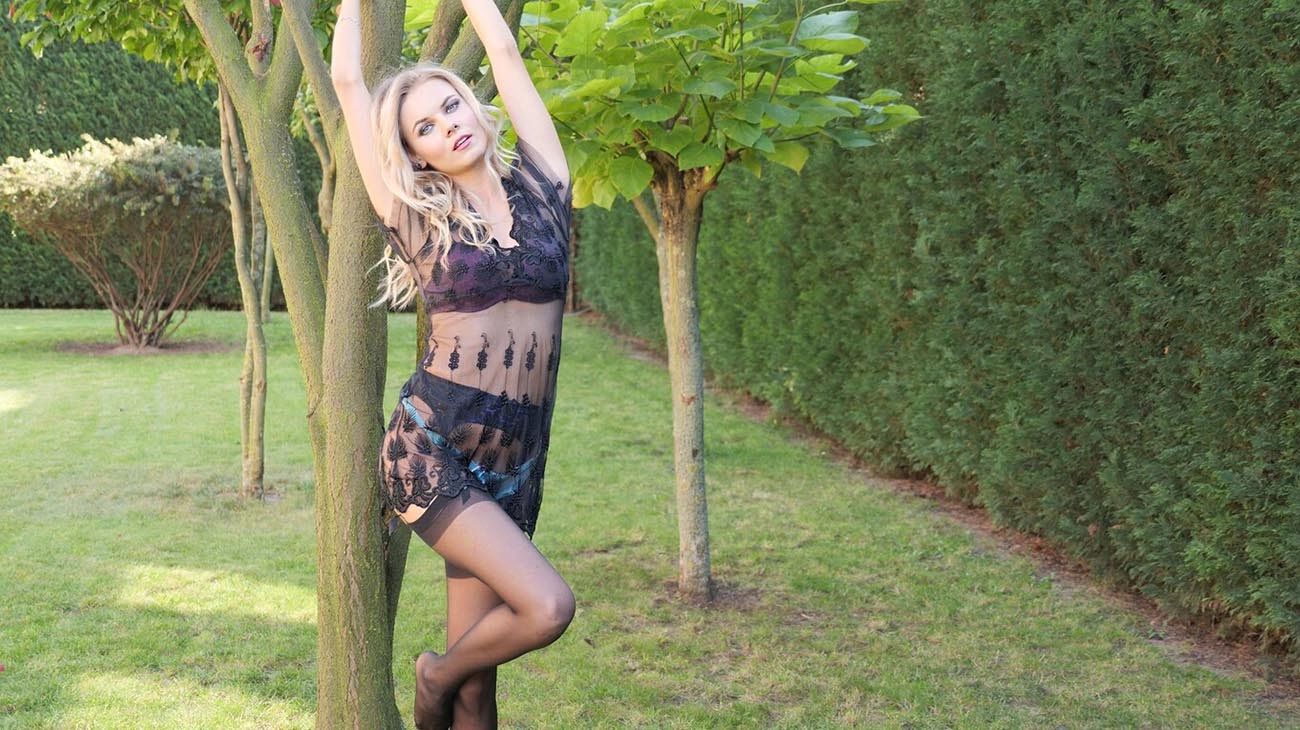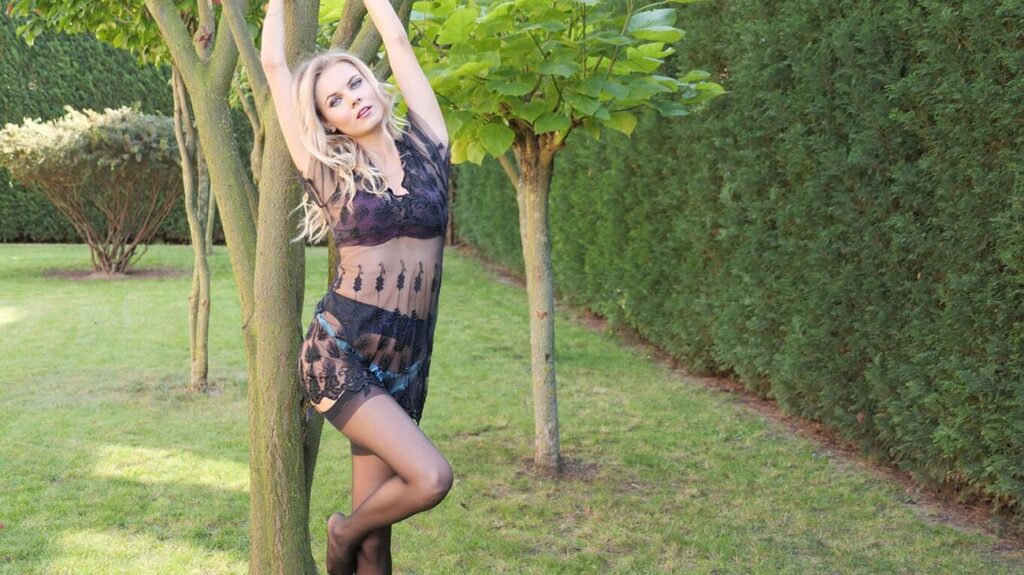 Now, the models at Stockings VR are great. All shapes and sizes. ⇒ Big tits, ⇒ big asses, ⇒ BBW, ⇒ MILFS, ⇒ teens, ⇒ blondes, ⇒ brunettes, dominant, submissive, etc. They are predominantly Caucasian, with no ⇒ Asian, ⇒ Ebony or ⇒ Latina chicks. Give us some of those, guys; you know red lingerie on an Ebony queen is something heavenly! And I wouldn't mind watching up Mih Ninfetinha's skirt at all!
4.5/5 from me here.
The Audiovisual Quality of Stockings VR
At Stockings VR, you get 6K, 180-degree FOV, and 60 FPS videos with binaural sound.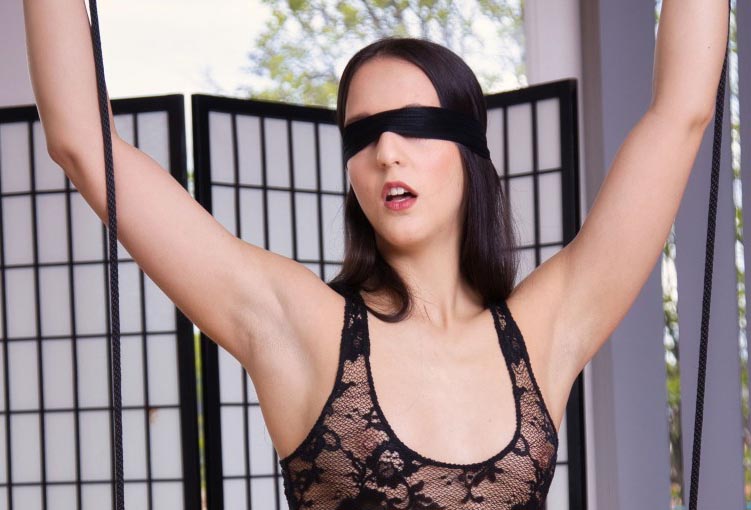 The industry standard now is 8K, and all the top VR Porn Sites are already there, so that may be something Stockings VR needs to work on. Nevertheless, the video quality is really good! The scaling and the camerawork hit the sweet spot, which is really important because if a studio nails these aspects, the videos will rock! If not, the videos are fuzzy. The sound is also good, but many of the videos (especially the solo scenes) could use more dirty talk. ⇒ JOI is a favorite category of many a fellow fapper, and it can be another addition to the already great list of fetishes you guys are covering! 
The length of an average Stockings VR video is about 10 minutes. Compared to the length of a traditional VR Porn scene, they are a bit short. That's not necessarily bad; I often find myself playing shorter videos when I need to rub one out, and I'm a bit short on time.
4.5/5 from me.
As you land on the homepage of Stockings VR and start scrolling, you'll come across their "Featured videos," "Latest videos," and a section dedicated to their pornstars. They offer additional filters at the top of the page as well. You get "VR Movies" (Their video library), "VR Girls" (Their pornstar roster), "Help" (Guides on how to set up your VR headset) and the "Login" options.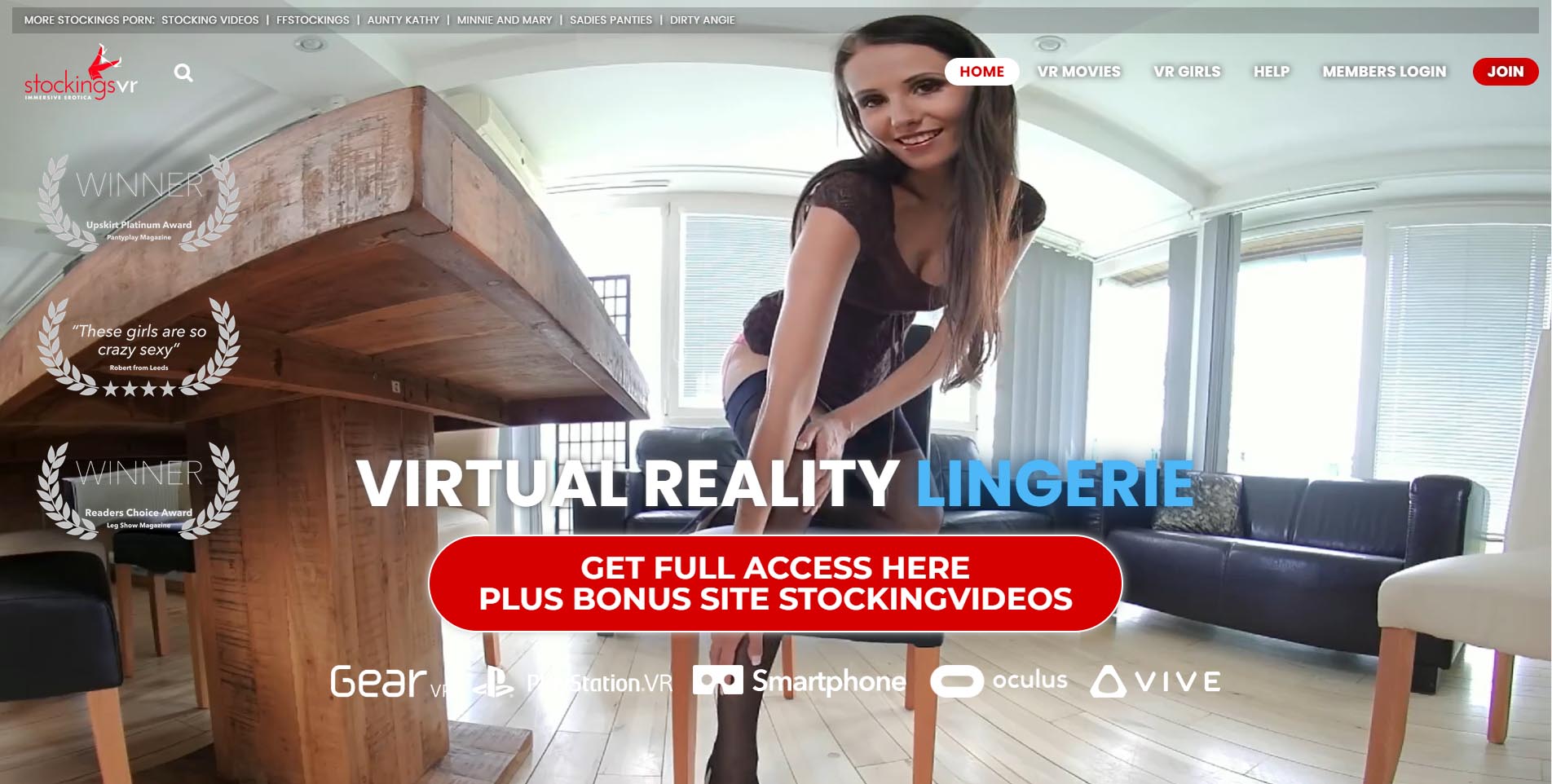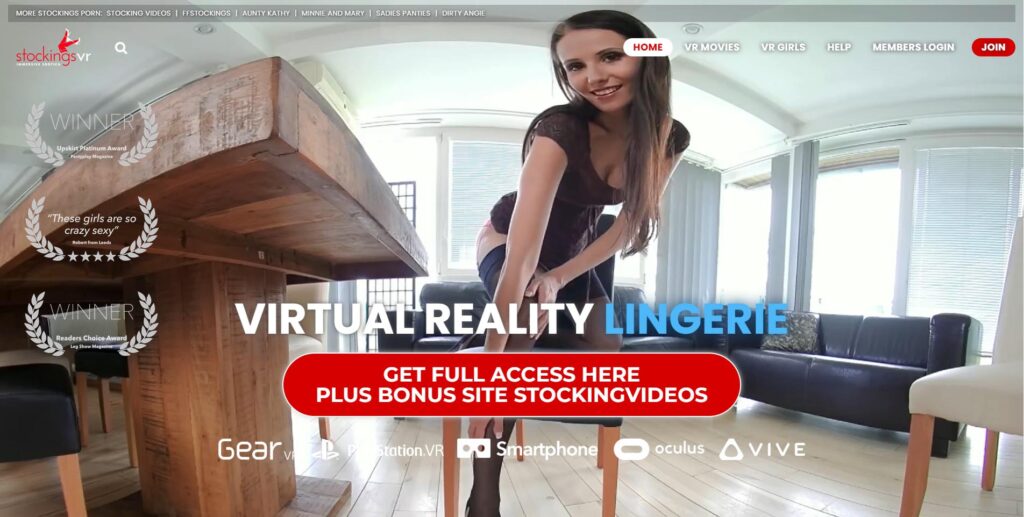 Overall, StockingsVR's site is straightforward to use. It's intuitive and user-friendly. You don't get bonus content like ⇒ VR Porn Games, unfortunately. Still, you do get a network of all their sister sites - FFstockings, StockingVideos, Minnie and Mary, DirtyAngie, Nylons Only, Aunty Kathy, and Abigail Fraser. 
5/5 here.
How expensive is the Stockings VR subscription?
Stockings VR has 2 subscription plans - "Stockings VR" and "Network Join."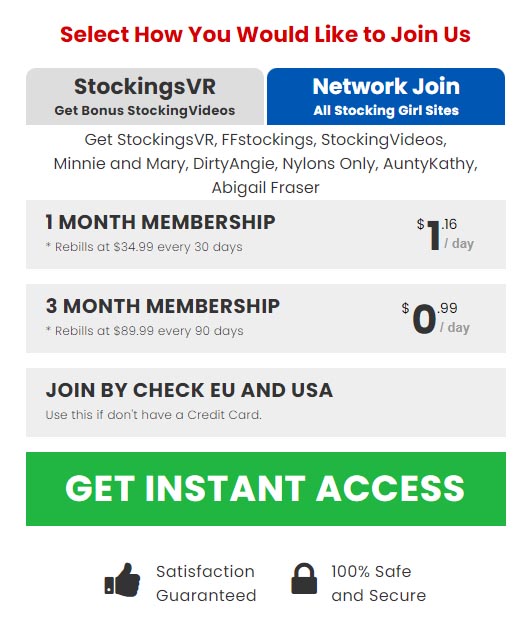 "Stockings VR" is the cheaper option, but you can only access one of their sister sites (StockingVideos). On the other hand, "Network Join" is a bit more expensive, but you get access to the entire network of their sister sites (StockingsVR, FFstockings, StockingVideos, Minnie and Mary, DirtyAngie, Nylons Only, Aunty Kathy, and Abigail Fraser). Both subscription options offer "1 Month Membership" or "3 Month Membership." The price is OK, the standard subscription price in the VR Porn industry, and considering that this is a pretty unique niche site, I think the price is fair. The payment is safe and anonymous, as it should be for a professional VR Porn site.
Unfortunately, there are no free trials at StockingsVR and no "1 Year" or "Lifetime" subscription plans.
Is my VR headset compatible with Stockings VR?
Conclusion: Do we recommend Stockings VR?
If you're into lingerie, you can't afford to miss this site! If you're into other fetishes mentioned above, go for it! StockingsVR is a site that gave me a lot of hours of fun, and with the subscription, you get a ton of content you can't really find elsewhere. You know what to do!
Stockings VR: Our Summary
Stockings VR is a unique sexy lingerie-oriented VR Porn Site that looks to cover as many fetishes as possible. Whatever rocks your boat, the chances are you'll find it here!