Awesome content
Super hot models
Great variety
All major headsets supported
Safe and anonymous
Free video
Different POVs
Grooby VR is one of the best Trans-oriented VR Porn Sites out there. And I'm not just saying that. These guys have managed to stay afloat in the VR Porn industry for a couple of years now, and anyone who's researched the industry at least a little knows how hard that actually is. 
But they didn't only stay afloat. They climbed the ⇒ Trans VR Porn ladder and are now among the top studios, right alongside ⇒ VRB Trans (Review), ⇒ VirtualRealTrans (Review), and ⇒ TSVirtualLovers (Review). 
What kind of content can I expect from Grooby VR?
Grooby VR started their independent VR Porn journey in 2017. Since then, they've racked up 330+ fantastic Tgirl scenes, and their quality only improves over time.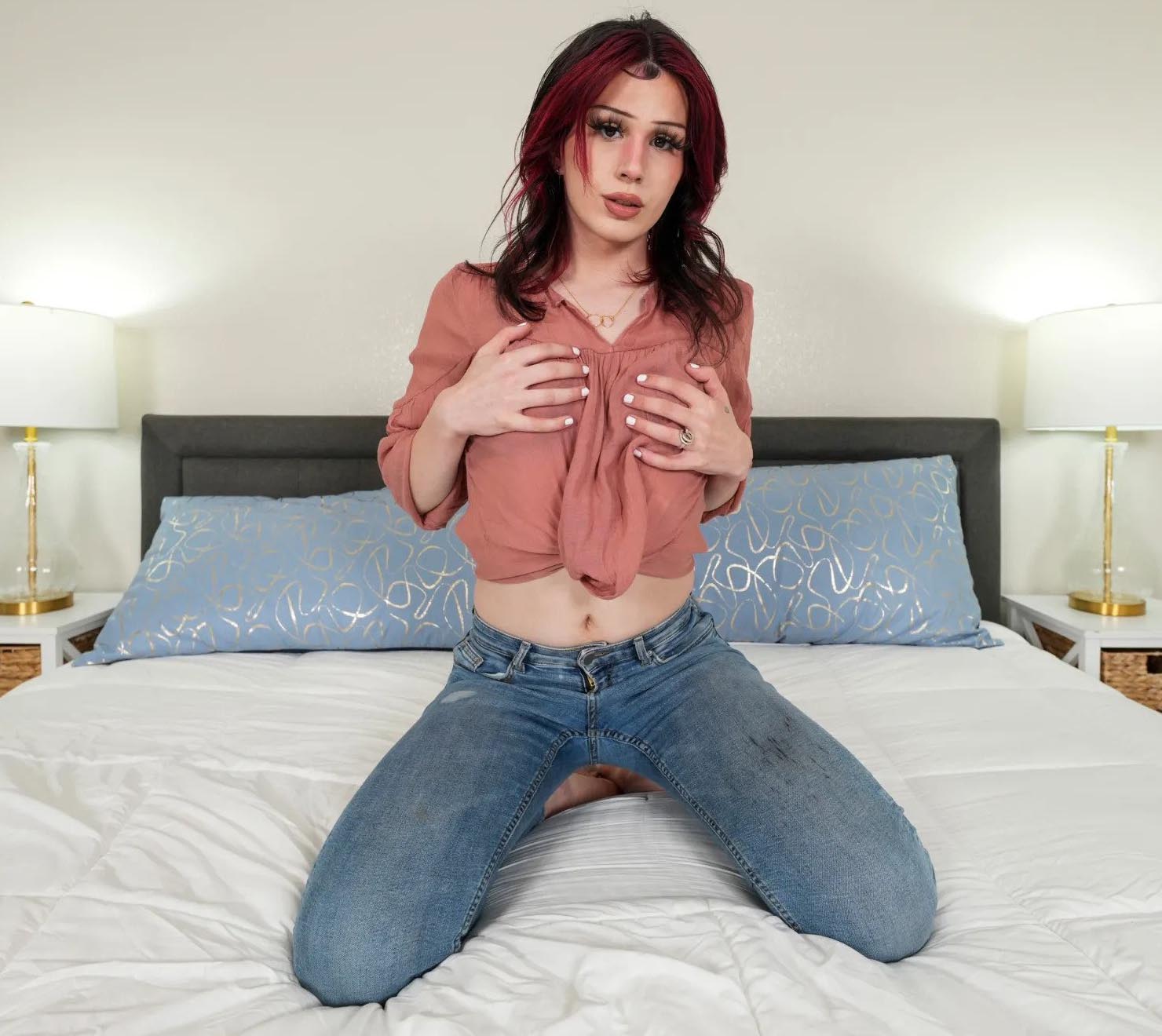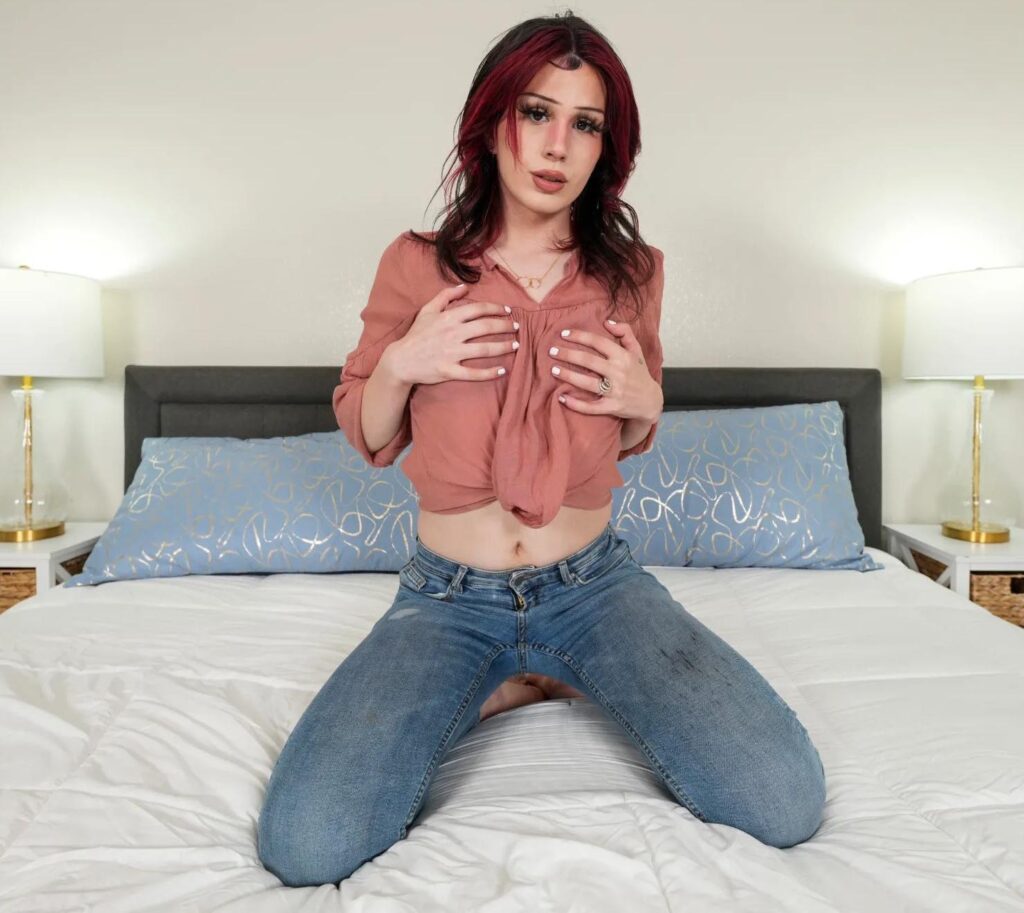 As you've guessed so far, at Grooby VR, you'll get a ton of fantastic Trans VR Porn. This is a niche VR Porn Site, mind you. So, it stands to reason that they operate within a specific framework. Even so, they manage to make every scene feel so damn original. I really like that about a VR Porn Site. Unfortunately, a ton of studios fall into the trap of recording the same stuff over and over again. Sometimes, they change the models. Sometimes, they don't. But the content remains pretty much the same. Not Grooby VR. Even though it's harder to run a niche VR Porn Site (the competition is bigger, and there's always the financial stuff), they're doing amazing work!
So what you'll get here is… basically everything a Trans VR Porn fan needs. Masterful sloppy blowjobs, excellent anal action, solo scenes that'll get you drooling, and everything else in between. Massages, wives, schoolgirls, swingers, peeping, and a lot more. A roster of incredible pornstars follows all this action, but more about that in a second.
Clean 5/5 for content!
Does Grooby VR have a good variety of scenes and models?
Let's start with the models. In VR Porn, a lot of it comes down to the model's performance. They either make or break the scene. At the beginning, we mentioned that Grooby VR is among the top Trans VR Porn studios. That means they can attract the top talent, and that more than matters! Grooby VR's babes are not only hot as hell but also really talented.
Where's the guy who said that pornstars aren't real actors? Try watching VR Porn, buddy. It's so important that the models transfer the emotion to the screen well. I mean, the whole point of VR Porn is to make us believe that an awesome steamy fucking session is happening in front of our eyes. And Grooy VR's models are great at that! With names like Jade Venus, Korra Del Rio, Daisy Taylor, Chanel Santini, Khloe Kay, etc., you know things can only get good!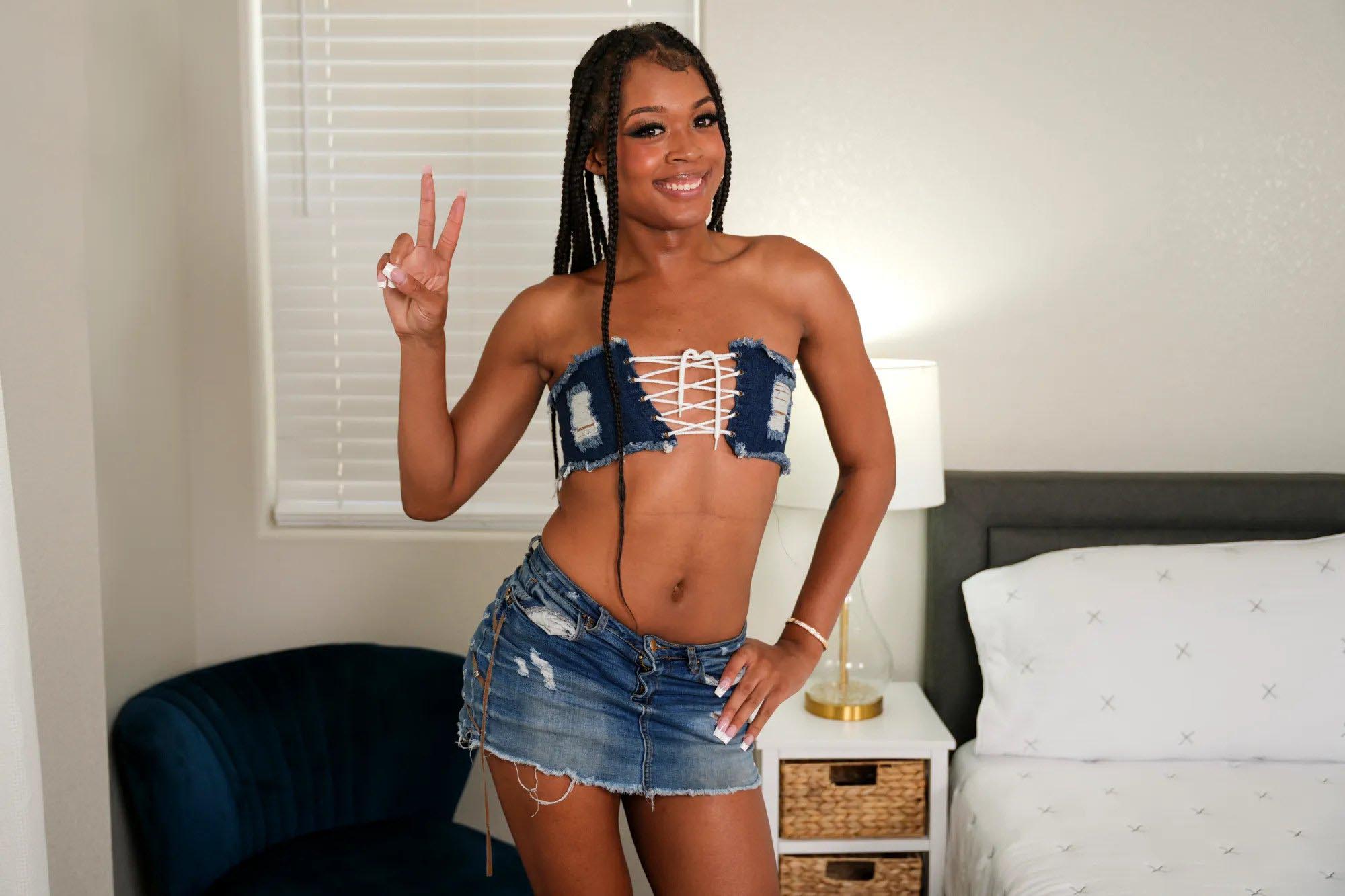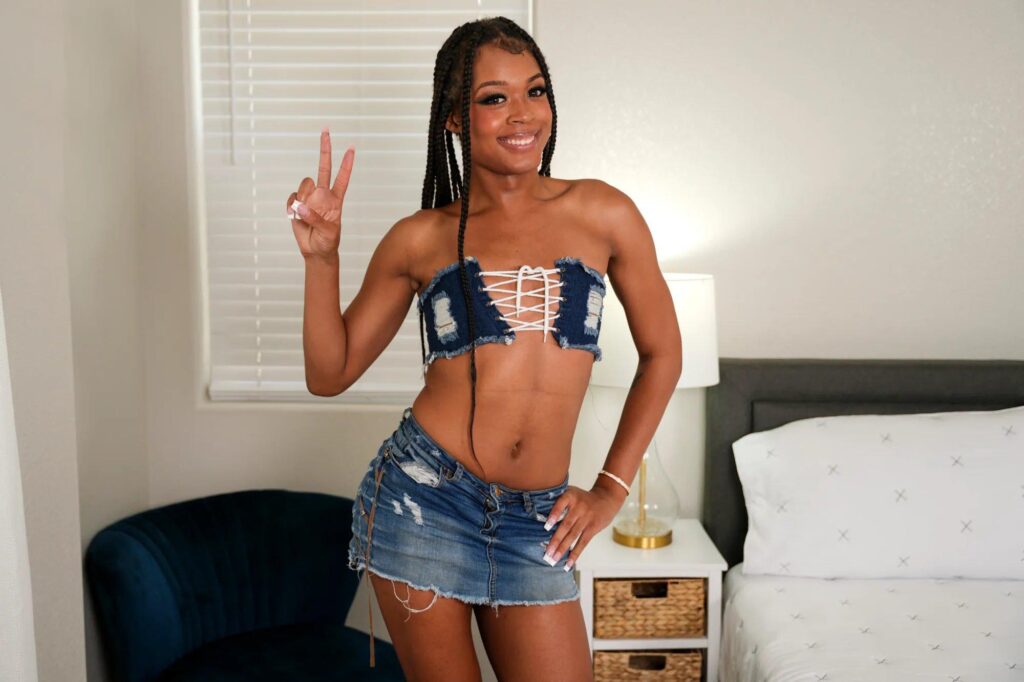 Now, what I love about Grooby VR is its variety of POVs. You don't see this often, really. You can choose between Male POV, Trans POV and Voyeur POV here. How awesome! Usually, when I'm in the mood for some voyeur action, I have to choose a specific VR Porn Site that offers that. It's so cool that you get all three here. 
You'll get to fuck Ebony hotties, Asian, Caucasian, Latina, with long or short hair, different hairstyles and colors. Grooby VR has a good variety when it comes to body types and age as well. What more can I say… they're awesome.
5/5 here.
Grooby VR's audiovisual quality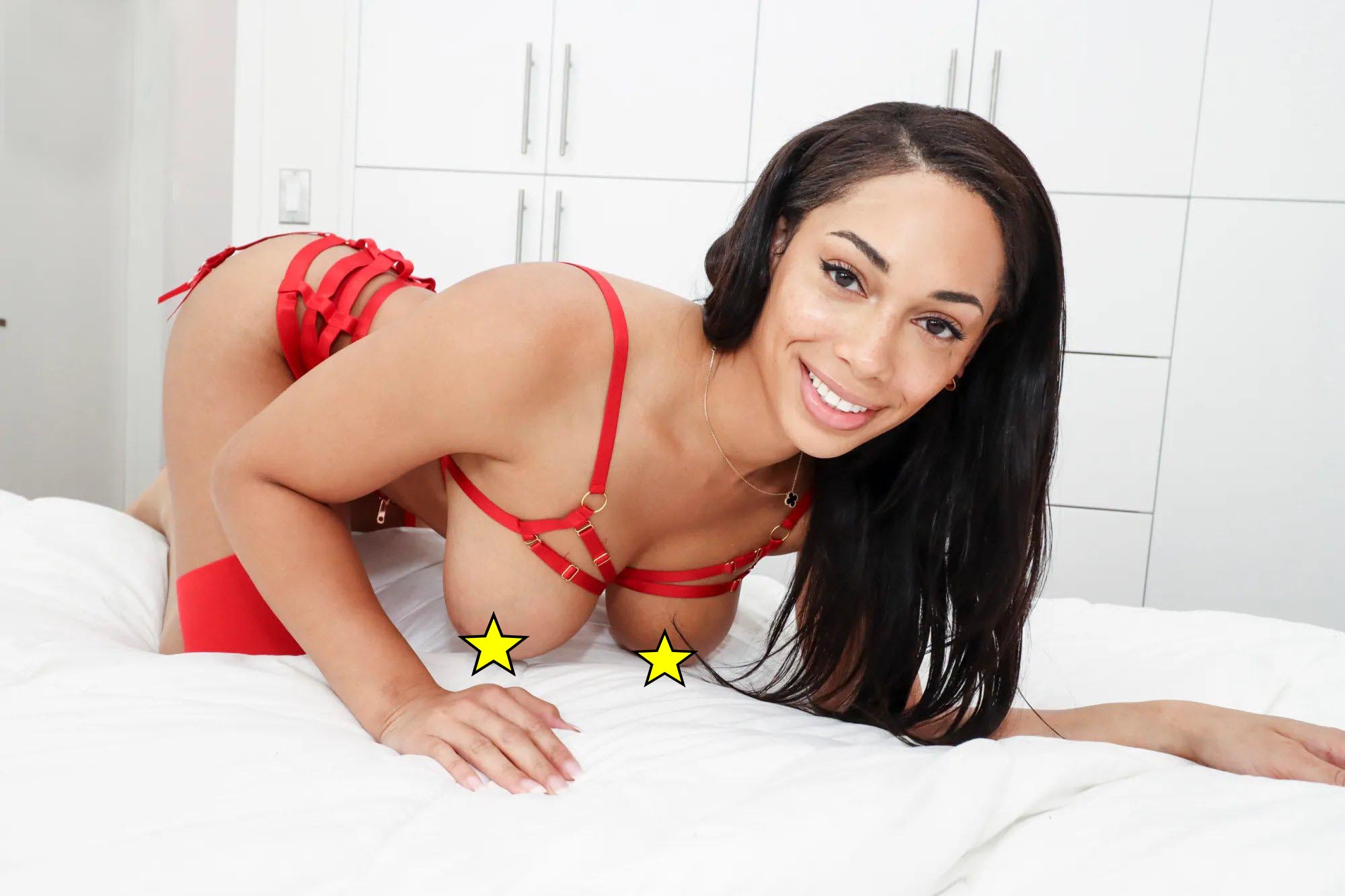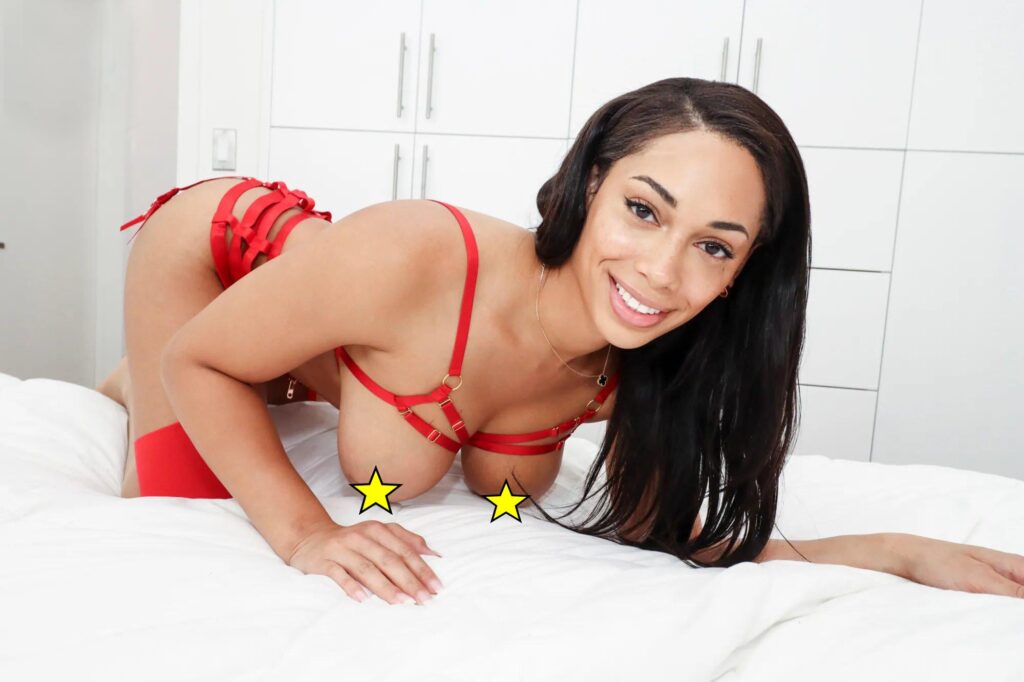 Grooby VR started shooting 4K videos. That was the industry standard at the time, more or less. Over time, they upgraded, and they now give us 5K Ultra high-definition videos. Now, however, the industry standard has jumped to 8K, with some of the ⇒ top VR Porn Sites uploading 8K videos exclusively. Grooby VR should upgrade their rig if they want to keep their position among the top studios.
But even with their 5K quality, their videos are excellent. The lighting, the angles, the camera work and the post-production are excellent. The videos are super smooth, running at a cool 60 FPS, and they've got that awesome binaural sound to make it feel real. Plus, every single video is like stepping into another world because they've all got this awesome 3D stuff going on. And they're shot with this super-wide 180-degree FOV, so you don't miss a thing!
4.5/5 here.
Is my headset compatible with Grooby VR?
Grooby VR tries to make their content available to as many VR Porn fans as possible. So, no matter if you're using ⇒ Oculus Rift, ⇒ Oculus Go, ⇒ Quest, ⇒ Quest 2, ⇒ HTC Vive, ⇒ Samsung Gear VR, ⇒ Daydream, ⇒ PSVR, or your ⇒ Smartphone, you'll have a blast watching their videos! They have cool guides on setting up your rig in the Support tab.


If you need in-depth guides on how to set up your headset, check out our ⇒ Guides on how to watch VR Porn on every device. We have all the info you need and all the tips and tricks to boost your immersion level through the roof!
Grooby VR has a really cool site. The colors are great, and you can see they've put in a lot of effort to make the site as user-friendly as possible.
The home page has a collection of their latest videos, and as you scroll down, you'll find a cool button to download a free sample video. It's sort of like a test drive. And the video is awesome! It's called "Roommate Wanted," starring Daisy Taylor. God, this hottie can suck! And that sex on the kitchen floor is just beyond words. 


The top of the page has a couple of options: "VR On Demand," "Models," "Scenes," a handy search button (always appreciated), and the "Login" options. The tabs are pretty self-explanatory, except maybe VR On Demand. Here, you can buy individual videos. It's nice that they have that option, but I've always preferred just to get the full subscription.
Other than that, you get tags underneath every video to make your browsing easier, and you get a pack of professional photos from the sets. No ⇒ VR Porn Games, unfortunately.
4.5/5 here.
Pricing: How expensive is Grooby VR?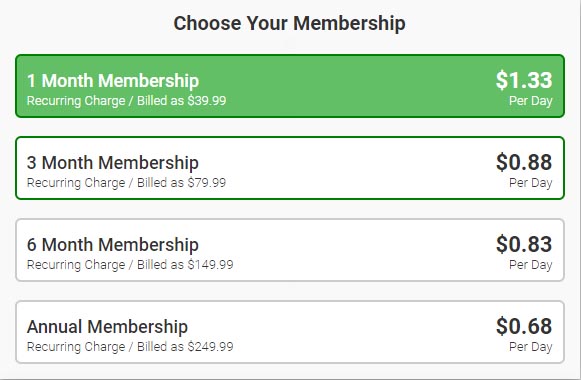 Grooby VR won't break the bank. They do ask a bit more than other VR Porn Sites, but hey, it's their content - they have the right to set the price they want. You get a couple of subscription options: 1-Month, 3-Month, 6-Month and 1-Year. You can use your credit card, Paypal or crypto, so you get a lot of options. What's important is - the billing is safe and anonymous. I've been a subscriber for a couple of years, and I've never had any issues. No scams, malware or other shit you come across online. Your bank statement won't show anything related to the adult industry, so all your info is safe.
What's the future of Grooby VR - Will we be seeing more of them?
Oh, you bet we will! These guys have been here for a long time, and they're planning to stay. With such great content and talented pornstars, I think they will be popular for years to come. 
I will give them 4.5 here, with hopes they'll soon upgrade their rig and start shooting 7K or 8K Trans VR Porn masterpieces.
Conclusion: Do we recommend Grooby VR?
Grooby VR is one of the top Trans VR Porn Sites, and if that's your cup of tea, go for it! You'll get tons of great content, you'll fuck, get fucked by, or watch the hottest Trans pornstars get fucked, and there isn't a chance you'll get bored. You know what to do, my fellow fappers!
Grooby VR has some of the hottest, steamiest Trans VR Porn videos out there! The content is awesome, the pornstar roster is excellent, and you'll get so much porn, you won't need to go out for days!