Quick overview: Is Stripchat worth it?
A massive number of models to choose from
You can tell the model what to do
Very authentic and personal
Compatible with any VR Headset
Easy and secure billing
Compatible with a variety of sex toys
A massive number of models but no other extras
Looking for the hottest VR sex cam site around? Look no further than Stripchat! You're in charge of the action, with tons of girls waiting to play with you and bring your fantasies to life. No boring pre-recorded stuff here - you can tell the model exactly what you want her to do, and these babes are down for anything! And the camera quality? It's so crystal-clear you'll forget you're watching virtual reality. Trust me; it's better than some of those fancy VR porn videos!
Is Stripchat's website easy to use?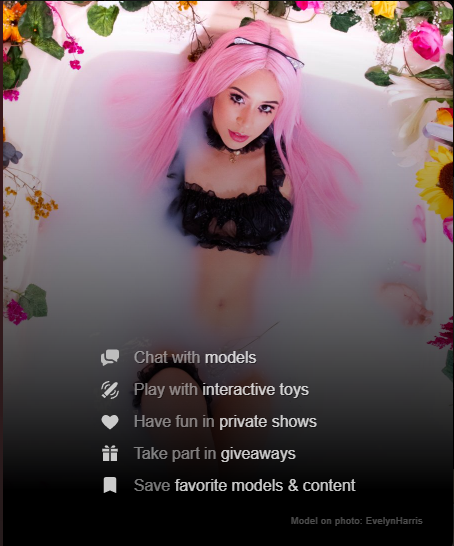 Stripchat's website is very detailed and super user-friendly. You can filter through a lot of options to find your ideal babe - body type, ethnicity, hairstyle... you name it. Plus, their homepage is packed with hot models and tons of video categories. It's like a candy store for adults!
And if you're into specific fetishes, Stripchat's got you covered. They've got models down for anal, using fuck machines, and even humiliation. Their list of kinks is so long that I'd need a whole extra day just to read them all. Bottom line? Stripchat gives you complete sexual freedom. Oh, and there are even more filters to discover on the website, but we'll save that for another time. It's easy to get around and find what you're looking for. 
What kind of content does Stripchat offer?
Stripchat's content is diverse and impressive, with many models and profiles. You'll find something to suit your mood, whether you're looking for a specific body type or sexual preference. They have a massive amount of models, including couples and male and trans performers, so everyone is welcome. And these models will do anything for you!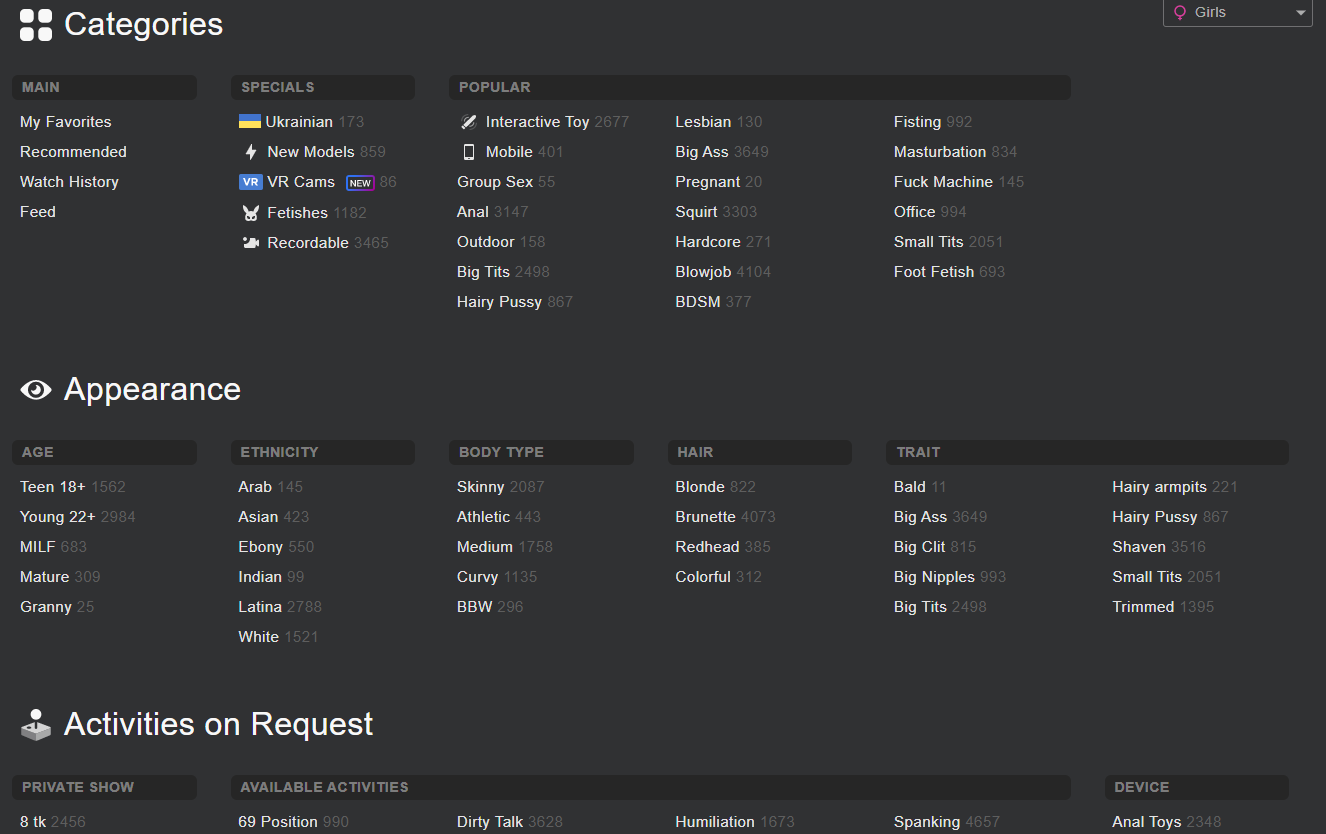 Do you care for curvy or skinny girls? Maybe athletic? Any particular hair color you want? Any particular nationality - ⇒ Ebony, ⇒ Latina, ⇒ Asian? Do you want her in her office or somewhere outside? Do you want her to use a toy or her own hands? Do you like ⇒ teens or ⇒ MILFs? Maybe a ⇒ big ass? Or ⇒ big tits? See what I mean? They offer such a tremendous amount of content that you are bound to find something you will enjoy here!
Stripchat's content is amazing! I'll give it 5/5.
Does Stripchat have enough VR live models?
Oh, you bet it does! Stripchat has it all! With thousands of girls online at once, you won't run out of options to choose from. And the best part? The number of live VR girls is growing every day! From just 10 VR girls initially, I now see at least 60 VR sex cam models online every time I log in. That's a lot of hot and sexy girls to choose from! Who knows, soon enough, there might be more VR girls than 2D girls on the site. VR sex cams are simply the best!
I'll rate their model variety an easy 5/5.
Audio and visual quality of Stripchat
It's hard to believe it until you try it, but it's incredible how you can see every detail on their face and body. Stripchat models all use low FOV 4K cameras. But what does this mean? You see less of her room and more of her. Or better, the parts of her you are interested in the most. It's amazing how much detail you can see in 4K low FOV. The girls look like some of the best VR porn videos on VR Bangers or Virtual Taboo. I mean everything from make-up to skin imperfections to their beautiful, horny eyes. That first experience was one of the best things I've ever done in VR, and it wasn't even expensive.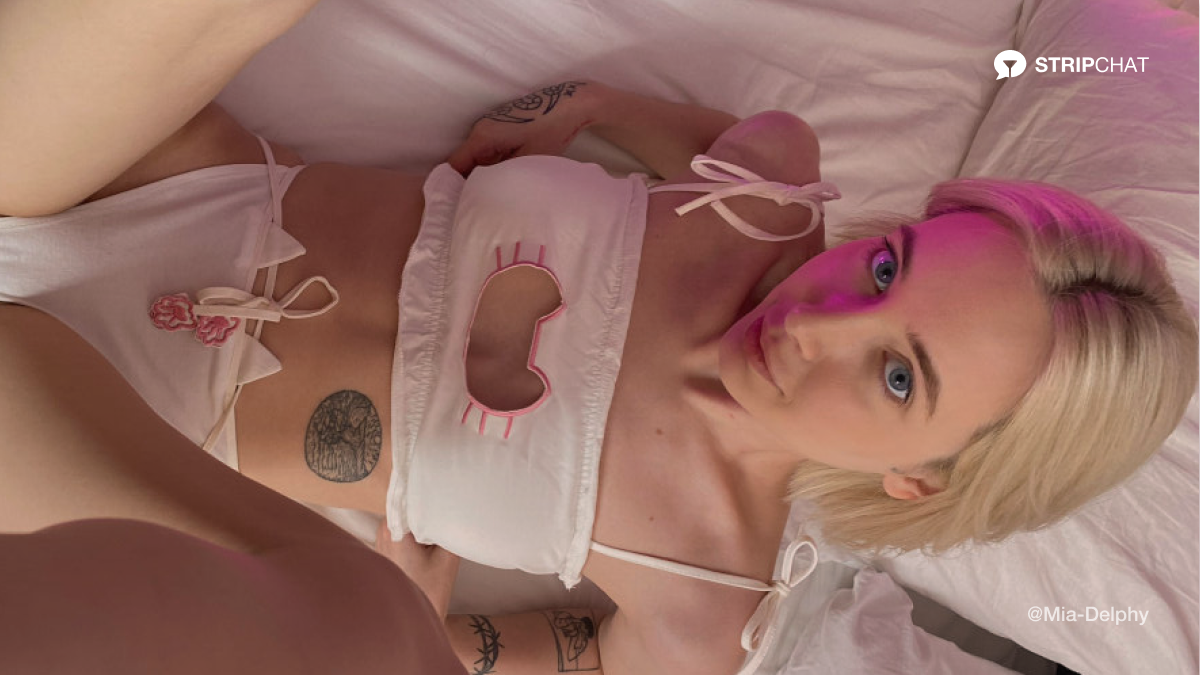 The audio quality is fantastic as well. What I like about this is that you feel more in control of the situation. Unlike traditional VR Porn, you can make more decisions here, which boosts the immersiveness factor to the max! All recommendations!
An easy 4.5/5 from me.
Do Stripchat VR cam girls cost more than 2D girls?
On live cam sites like Stripchat, the official currency is a token. Buy as many as you want and use them however you want. Luckily, the VR girls don't cost more than the 2D live models!
Seeing them in 3D right in your room while masturbating might make you think they're more expensive, but they're not. The majority of VR girls ask just as much as 2D girls. You can pick a show or something else they have on their list. Another reason to stop watching 2D and start watching VR cam girls!
Is StripChat a scam site? Is it safe to buy tokens?
I've been using Stripchat for years. It is quite probably the most popular video live sex cam site. Back then, they were known for their 2D cameras and hot models. Eventually, they realized that virtual reality could push this industry forward. 
The bottom line is - StripChat is safe; millions of people use it daily. There's no hassle with the subscription process, and billing is secure. It will be easy to buy tokens or spend them all on the hottest girls of your liking.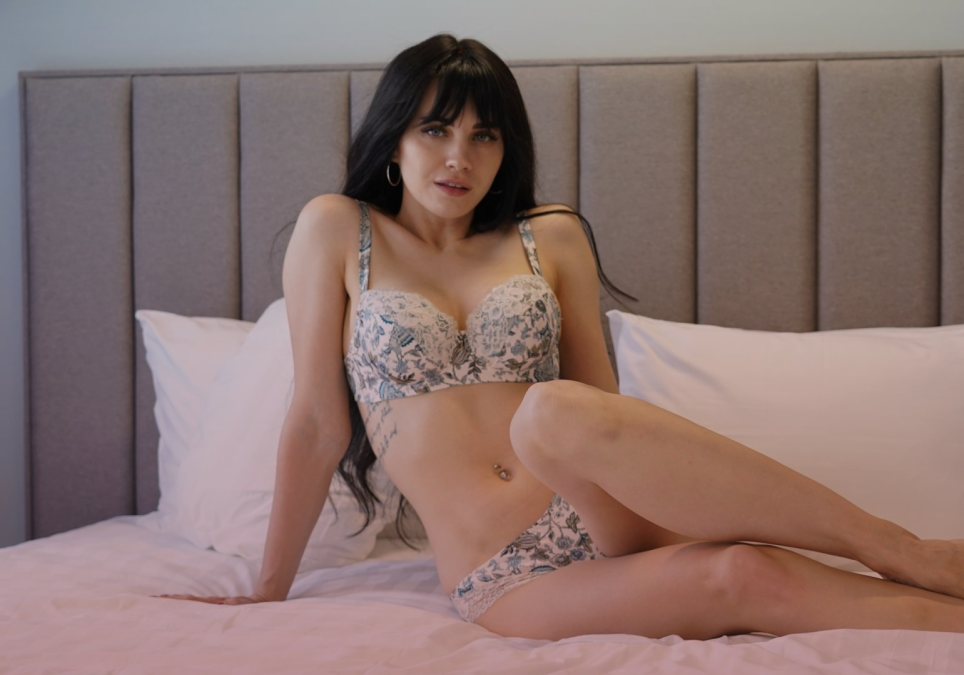 Prices of Stripchat tokens start at $9.99 and end at $199.99. Considering the fact that the models will do anything you tell them, these prices are a bargain!
90 Tokens

$9.99

200 Tokens

$19.99

520 Tokens

$49.99

1085Tokens

$99.99

2255 Tokens

$199.99
The camera quality and model diversity of StripChat have made it famous. Safety isn't an issue. There's a chance you'll get addicted, however!
Does Stripchat offer any deals or discounts?
Stripchat gives its users bonus tokens at sign-up, plus regular sales and discounts. You might be able to have fun for cheap if you keep an eye on them!
They've got VR discounts, too. Visit their page!
StripChat VR headset compatibility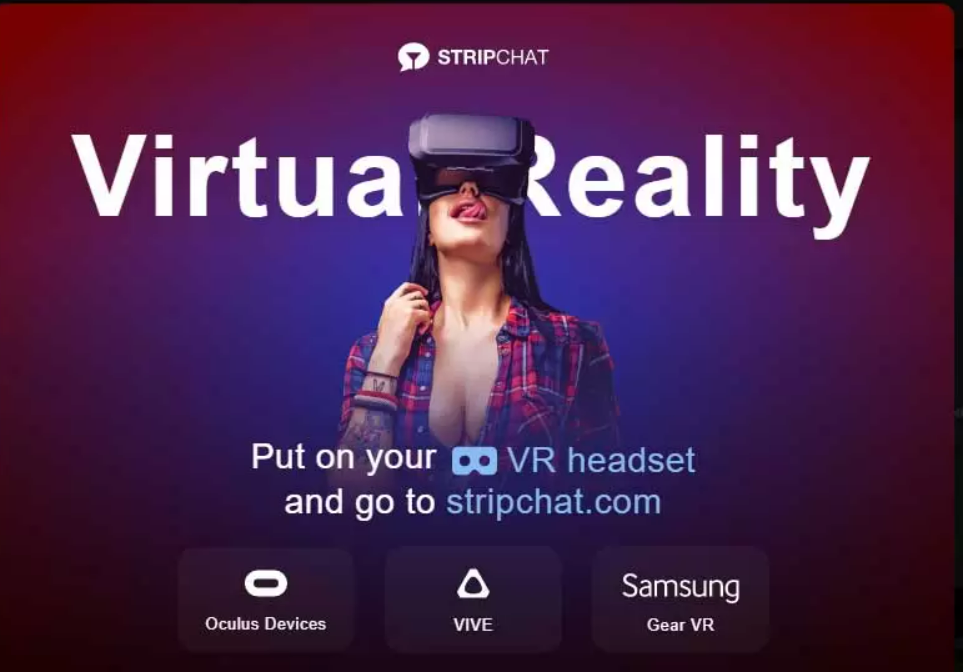 When it comes to headsets, Stripchat has a few options. There's ⇒ Oculus Quest, ⇒ Oculus Quest 2, ⇒ Oculus Rift, ⇒ Samsung GearVR and ⇒ HTC Vive, etc. My experience with Stripchat shows that Quest 2 works best. The quality is crazy good, and you don't even have to use both controllers, if you know what I mean!
Of course, if you have any doubts about how to set up your device to watch VR Porn, check out our  ⇒ Guides on How To Watch VR Porn on every device!
So, If you own any of these headsets, you are in for some crazy good fun!
As I already said, the site is very easy to use, and it offers a lot of filtering options to make sure you get exactly what you need.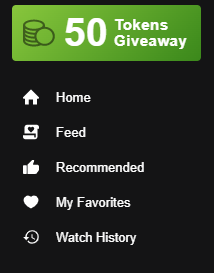 In general, the options they offer are "Home," "Feed," "Recommended," "My Favorites," and "Watch history." For example, "Home" offers selections of videos from different categories. Here, you can choose between "Free live cams," "Couple live cams," "New and trending live cams," and many more!
At the bottom of the home page, they offer the "Support" option should you have any issues.Moreover, if you want to become a model, they also offer an option right below the support section. So the process is super simple!
I'll rate their site 4/5.
Do we recommend Stripchat?
Oh, boy, YES! From time to time, I like to get more involved in the porn I usually watch. I like to take control a little bit. And Stripchat is always my go-to website whenever I feel like that.
There is a bright future for this site, and I have a feeling we'll be seeing more and more of them as time goes by.
All in all, a great website that I'll rate an easy 4.5/5.
Stripchat is currently the best sex cam site in the world and it offers a MASSIVE number of models you can watch right now!