How to use Kiiroo PowerBlow:
1. Take off your toy's cap, sleeve, and inner ring.
2. Put the vacuum piece you got with your PowerBlow into the toy's end and make sure it is properly aligned.
3. Reattach the inner ring and put the sleeve back in place.
4. Remove the upper cap and put the rubber ring on the top of the toy.
5. Carefully screw the PowerBlow onto the toy case.
6. Fire it up and go to your favorite VR Porn Site! In case you still haven't subscribed to any, here's a list of ⇒ the best VR Porn Sites in the entire industry!
If you own a Kiiroo FeelStroker, you're in for one hell of a ride! This nifty gadget is a supercharger for strokers of any brand that share a similar shape. Just unscrew the bottom cap of your stroker, pop on the silicone washer ring, and screw on this bad boy to turbocharge your pleasure game to the max!
So far, Kiiroo PowerBlow is compatible with ⇒ FeelSensation (Review), FeelVictoria June Mouth, FeelKayley stroker and FeelTanya stroker. More compatible devices are on the way!
In fact, the guys at Kiiroo are so cool they decided to give us an excellent discount if we bought Powerblow + one of their strokers. In this case, you can choose between the FeelSensation and the Victoria Mouth! Good job, Kiiroo!
What exactly is Kiiroo PowerBlow?
So, here's the deal with the PowerBlow – it ditches the default suction cap on your stroker and replaces it with an automated one. This means your dick gets treated to all sorts of suction levels and patterns while you're having a blast. It's a sweet upgrade for anyone rocking a stroker and wanting to crank up the pleasure. If you're up for some immersive action with some awesome ⇒ VR Porn Videos, this baby's got your back.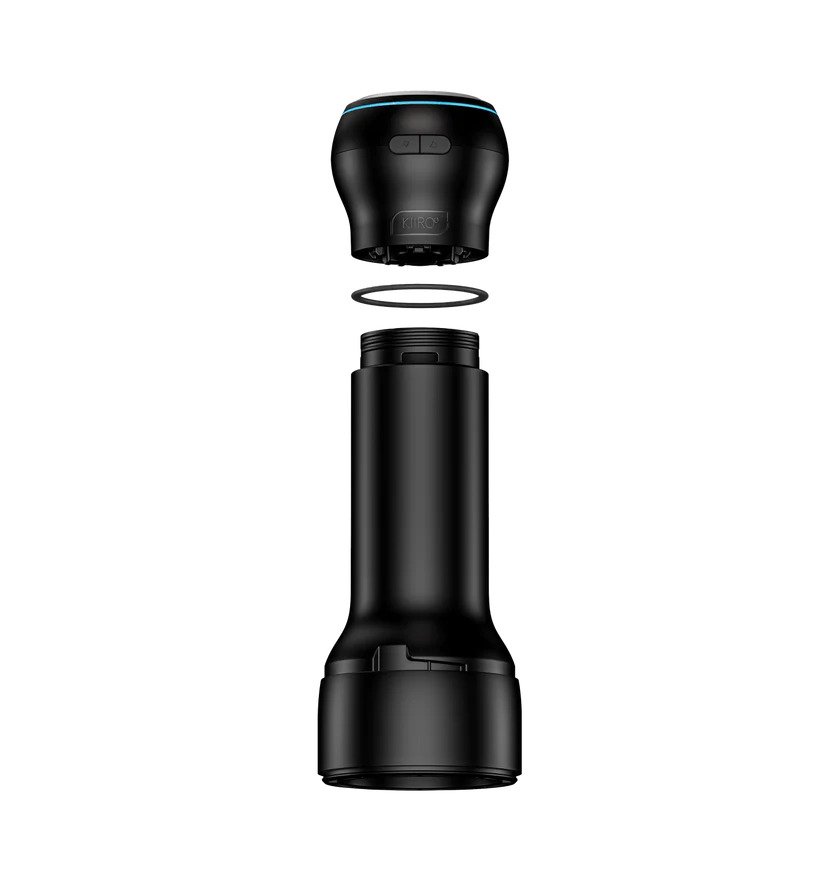 Kiiroo is known for making some seriously high-quality stuff, with gems such as the ⇒ Keon (Review), ⇒ Titan (Review), ⇒ Pulse Solo Interactive (Review), ⇒ Onyx+ (Review), etc. The PowerBlow is no exception. It's built like a tank, so you don't have to worry about it falling apart if you unintentionally drop it. The buttons are tough, and the motor does its job very well. And it's really quiet. Many of the toys I have had so far had this issue of being too loud. Not Kiiroo PowerBlow!
Kiiroo PowerBlow uses a rechargeable battery. Plug it into your standard USB-C wall charger, and it goes from zero to 100% in just around 90 minutes. Using a weak charger or a crummy cable might take way longer to charge up. 
An important note here, though: it's NOT waterproof, so keep it dry.
How does Kiiroo PowerBlow work?
The PowerBlow by Kiiroo is designed for Kiiroo FeelStrokers and other male strokers that are similarly shaped. Once you put it on, the PowerBlow transforms your stroker into an automated blowjob device, regulating the suction intensity and patterns. Now, you can control it via the app or manually.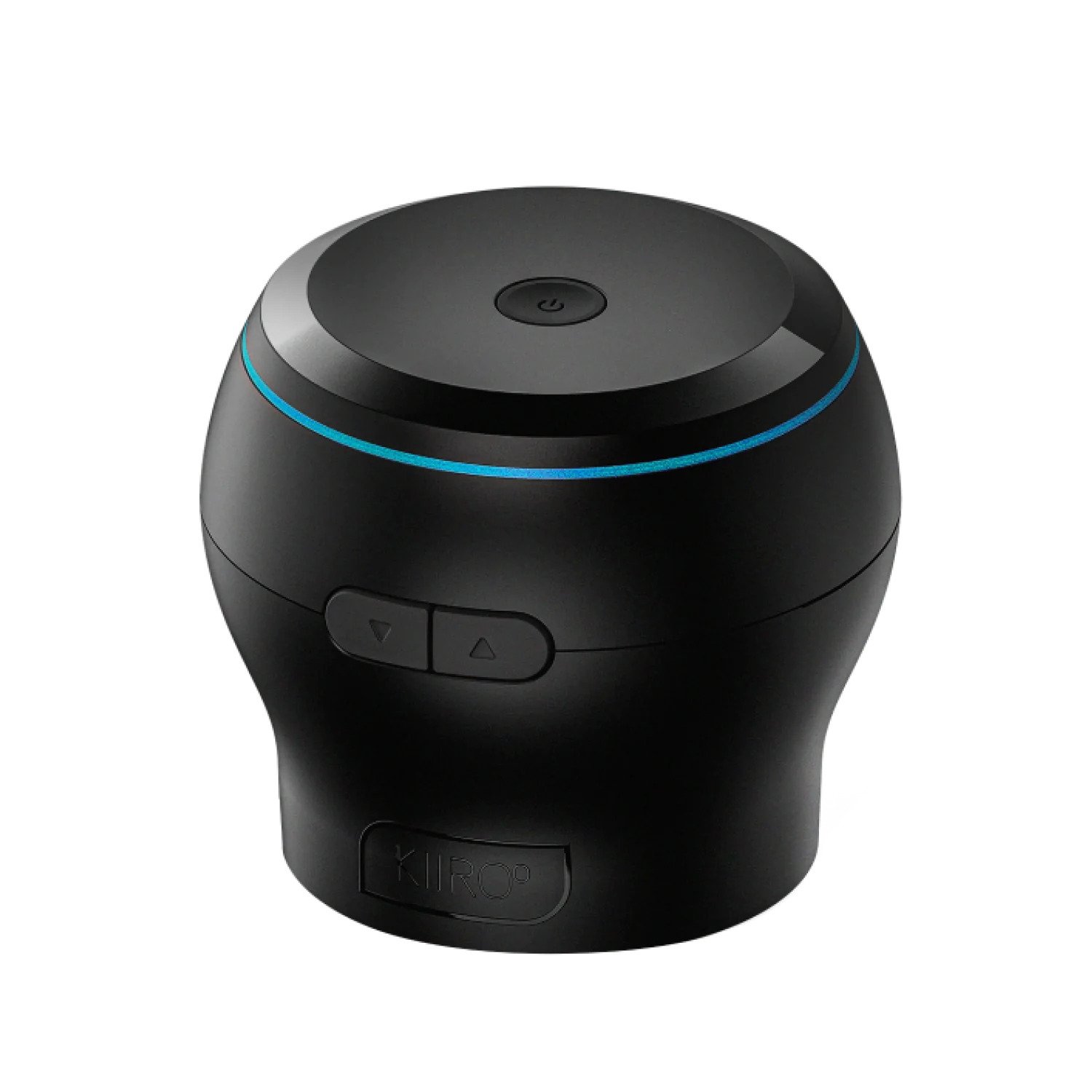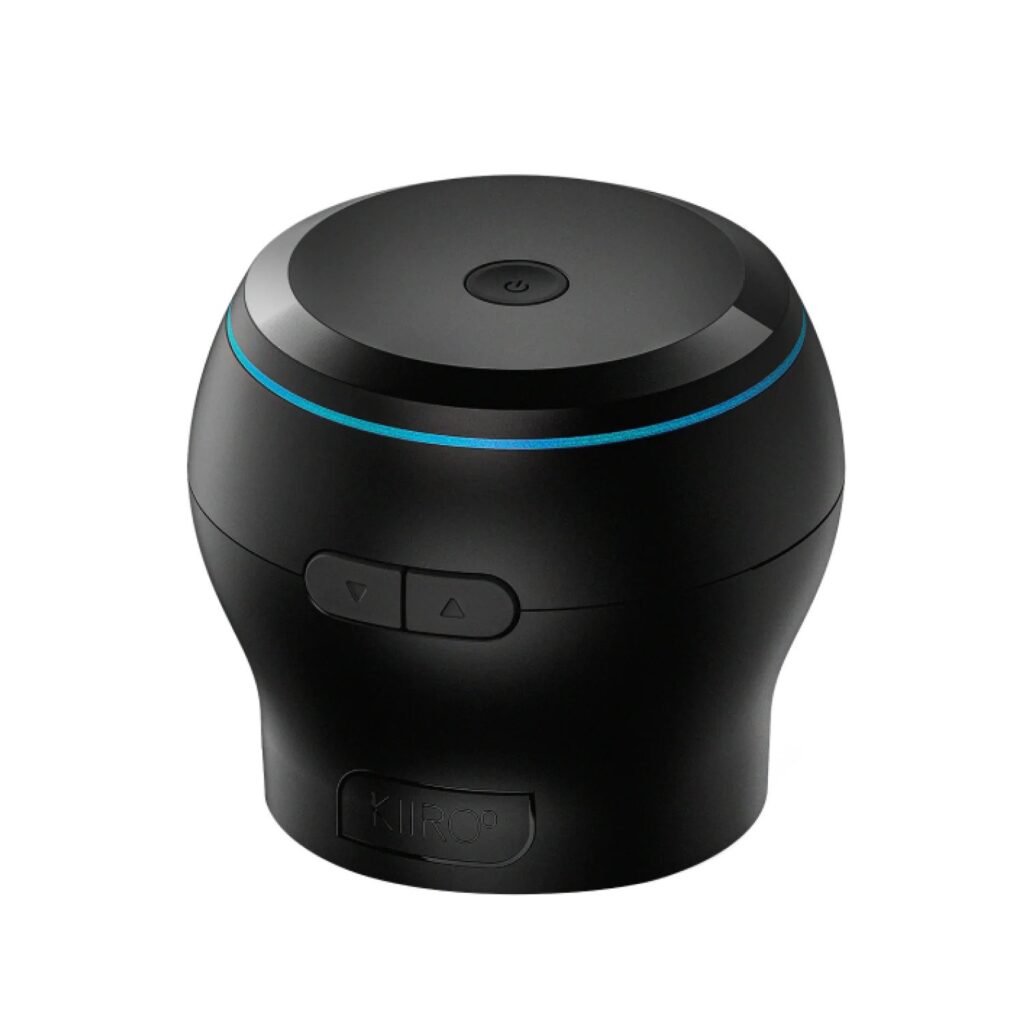 This bad boy comes with some easy controls – ON/OFF, Arrow Up, and Arrow Down – all right there on the surface. 
Firing up the PowerBlow is a piece of cake – hold down that Power button for 4 seconds. The Bluetooth turns on, lighting up with a flashy blue LED ring. That's how you connect with the FeelConnect, FeelMe AI, and Video Watcher apps and extensions. You'll want to download those apps, especially FeelConnect. You can make your patterns, tweak the speed and intensity just the way you like it, and even sync up with ⇒ interactive VR Porn Videos. Plus, you have a remote control at your fingertips, the option to connect to other devices, and the freedom to play around with touch and sound controls for real on-the-fly fun.
Make sure you check out ⇒ FeelMe AI (Review), it's a revolutionary platform designed by Kiiroo that turns any porn video out there into an interactive work of art!
Is the Kiiroo PowerBlow easy to clean?
The best thing about the Kiiroo PowerBlow is no messy cleanup! All your stuff stays inside the stroker's sleeve, so you need to wash it as always after you're done, and that's it. If the stroker case needs cleaning, unscrew the PowerBlow and wash it regularly. That's the magic of this wonderful device - it gives you the sucking of your life, and then you don't have to clean it. You do have to clean the sleeve, though.
If, on the other hand, you want to keep your PoweBlow attachment clean from dust and bacteria, use a damp cloth and wipe it. And that's it!
Conclusion: Do we recommend Kiiroo PowerBlow?
The Kiiroo PowerBlow is for you if you're curious about trying out one of those automated blowjob machines but don't want to break the bank. It's also a fantastic addition if you're tired of your old toys or have a whole treasure trove of them.
It's super easy to use when you're in for some solo action or syncing with your partner!