Awesome XXX parody game
Excellent graphics
Super hot models
Moans that'll turn you on instantly
Naked characters we all love
More customization options would be welcome
Overwatch VR Porn game will blow your mind and leave you craving more. This game comes from the same studio that created ⇒ SinVR (Review) and Banger Legends, so you know it's got a good pedigree! It's a super sexy twist on a super popular game we all know. But what makes this VR Porn experience unique, and is it worth playing? Read on.
What kind of content do you get from the Overwatch VR Porn game?
If you've ever been ready (and I know you always have) to dive dick-first into a world of pure lust, sexual fantasy, drop-dead gorgeous futa girls, and hotties who are ready to spread their legs at the click of a button, you've come to the right place. The Overwatch VR Porn game has got a bunch of fantastic characters (18, at this point) and some awesome locations for you to fuck these animated hotties as you've always wanted to.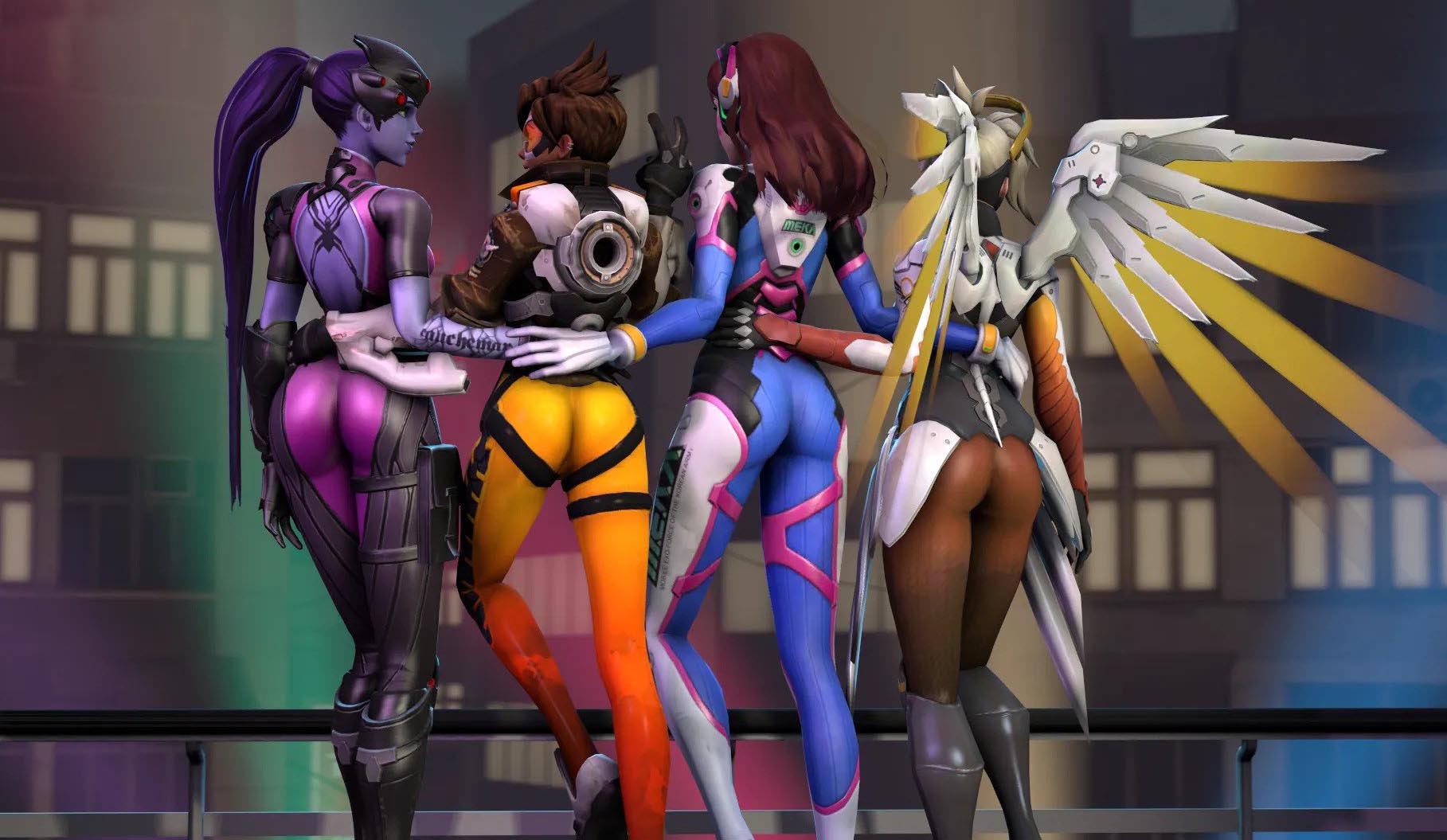 What I really love about this game is that you can mix and match the girls and the locations however you want. So, it's like choosing your own adventure type of deal, but way more fun! I mean, you get a bunch of expertly crafted boobs and asses and some fantastic fucking scenes. Of course, it's more fun! You'll get some incredible models here, like Hacker (Sombra), Brittney (Brigitte), Annika (Zarya), Tessa (Lena), Nefer (Pharah), etc. And they are all super hot.
But it's not all about the girls, either. There are some awesome locations you can choose from as well, such as the Swinging Room, Spank Arena, Space Base, and so on. Since the Overwatch VR Porn game is a 360° experience, you'll get to enjoy some awesome scenery if you're into that. Not that it will be necessary. I mean, having such a hot, animated chick moaning in front of you isn't really the time to go sightseeing, but if you get an urge to do that, feel free - you won't be disappointed.
Great content - 5/5!
Are the graphics of the Overwatch VR Porn game good?
The game developers absolutely nailed the graphics! The attention to detail is incredible. The models and the backgrounds are really lifelike. Yet, they manage to keep that Overwatch graphic style we all love. They didn't mess around. The pussies, asses, nipples, tits, dicks, etc., everything looks fantastic. All the characters and rooms - it's evident that they invested a lot of time into making them as good as possible.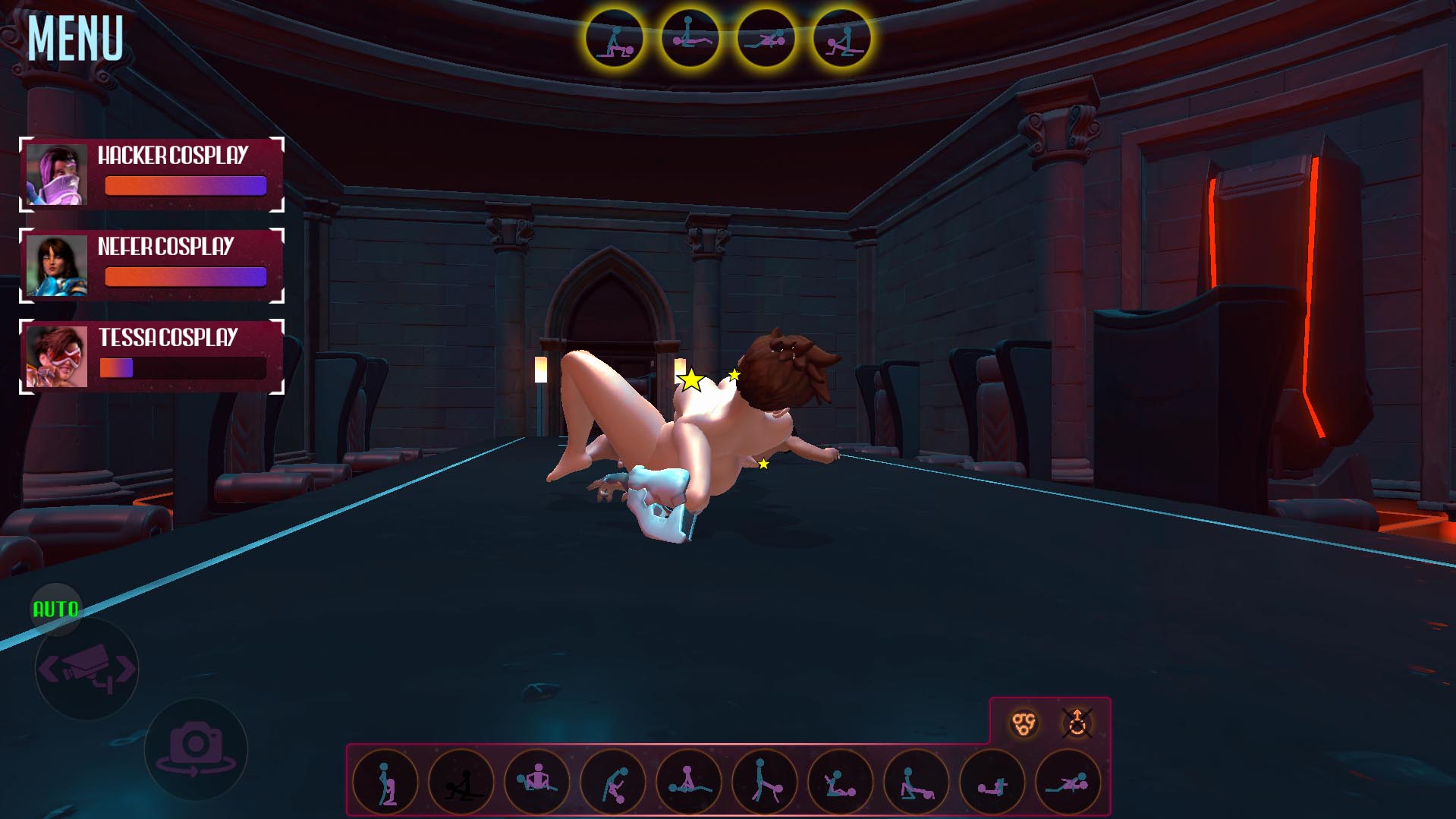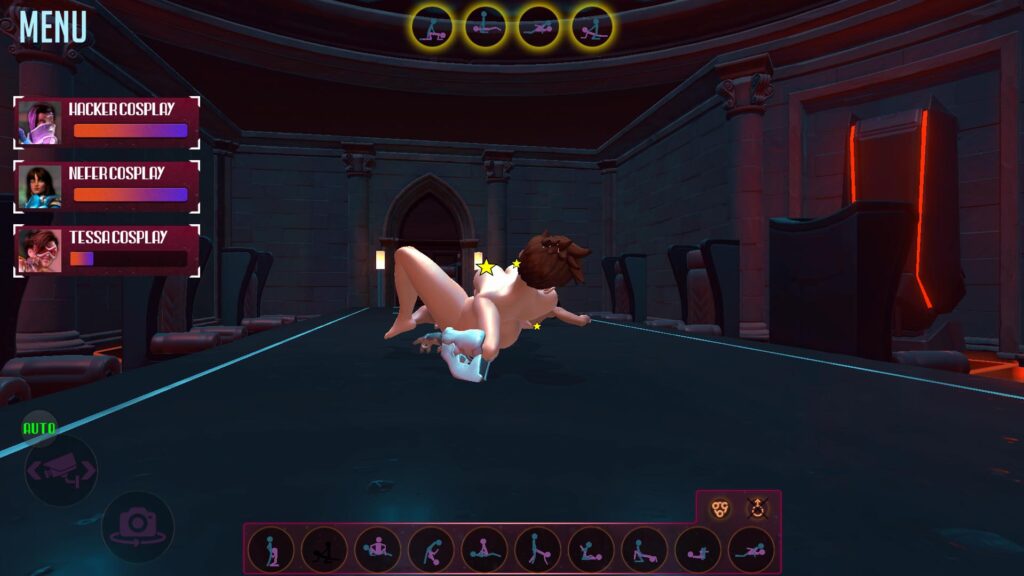 Now, the Overwatch VR Porn game is packing some serious heat with its tracking and motion capture wizardry. The characters' movements, expressions, and interaction is the real deal. From time to time, you may see a tiny glitch in the model's body (right after cumming), but really, you need half a second to fix that. Really, not a big deal.
5/5 here!
Does the game feel like an erotic experience?
Oh, you bet it does!
It's all about getting into the smallest details, and the Overwatch VR Porn game developers are nailing it again! Good detail quality adds so much to the erotic quality of these games; it's wild. I mean, nobody wants to see pixelated nipples and stuff like that when playing a game, especially if it's a game from our list of ⇒ The Best VR Porn Games out there! The team went all out to make sure every single detail on the models' bodies is as perfect as possible while keeping the Overwatch animation style. And hey, they didn't slack on the futa chicks either – their dicks are a bit huge (I'll give them that), but still, they look very good!
If there's one thing I'd point out for improvement - it's the cumshots. They look cartoonish, but then again - it's an animation, so I can't complain too much.
4.5/5 from me.
What's the story of the game?
So, first things first. You have two game modes - Quickie and Custom. 
In the Quickie mode, you choose between a number of types of quickie options based on the type of models, and the game will do the rest. 
The Custom mode gives you more customization options. First, you choose the main character (the one who will do the fucking), then you choose a location, and then the second model (the one who will be fucked).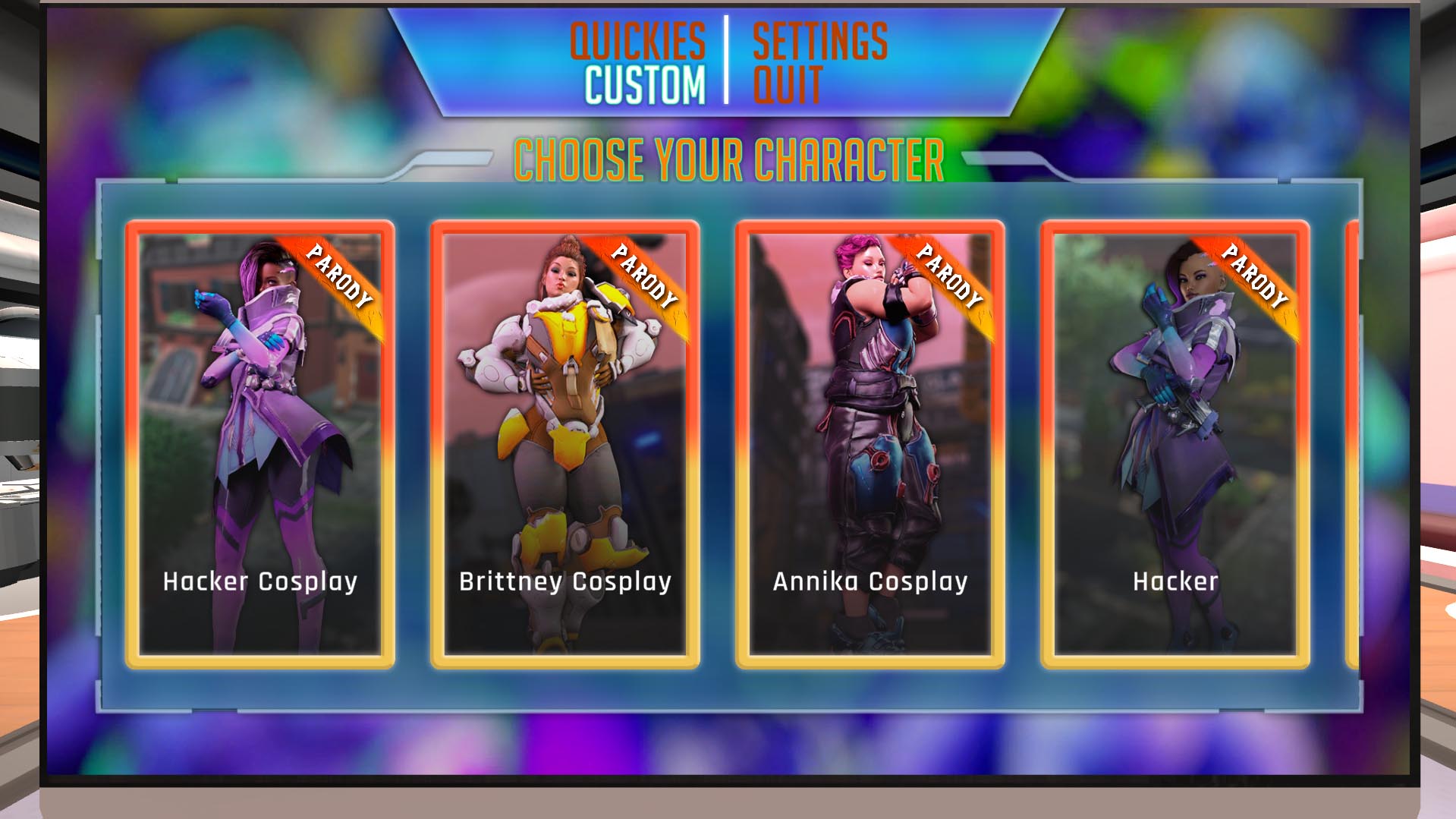 What I love about the Overwatch VR Porn game is that it will let you choose whether you want a threesome or a one-on-one fucking session. If you choose a threesome, you'll be able to switch between the models you're fucking, so no worries there. You'll get to fuck all of them for as long as you want.
Also, there's the option to "hide" the main character so you can only see the model who's getting fucked, and the model beside her (if you're in a threesome). So, if you ever feel like your vision is blocked, no worries; you can always hide the main character and enjoy the view. There are tons of sex positions you can choose from and a couple of positions for the cumshot. Totally hot! 
4.5/5 here.
Is the Overwatch VR Porn game interactive?
The Overwatch VR Porn game is like a full-on 360-degree experience, and if you've got 6DoF controllers - you're the puppet master. You'll love it. The option to tweak your experience however you want just makes the whole thing much better.
You're not only a spectator here. I love that you can fondle their tits, touch their asses, and generally move their bodies to speed up the whole process of cumming! And that will arouse both you and the models you're fondling! And the dirty talking is just of the hook! 
All models will follow you around the room as you switch between the camera angles. So it looks like they're fucking just for you! 
4.5/5 here.
Conclusion: Do we recommend the Overwatch VR Porn game?
Oh, indeed, we do! The Overwatch VR Porn game is super hot, incredibly sexy, and will give you tons of hours of pure fun!
If you're into the original game (even if you're not!) and you happen to love those awesome VR Porn Games, you owe it to yourself to check it out! With a subscription, you gain access to all the games in their lineup, so take advantage of this chance. 
You know what to do, my fellow fappers!
Overwatch VR Porn Game: Our Summary
The Overwatch VR Porn game is an awesome XXX Parody on the world-famous Overwatch. This game will blow your mind and leave you craving for more! Awesome graphics, great characters, and as always - amazing fucking!