Amazing graphics
Realistic character rendering
A lot of customization options
Additional downloadable content
Interaction needs to be better
VRParadise is the ultimate way to experience the thrill of a strip club from the comfort of your own home! This incredible game from Totem Entertainment is available on Steam, and it's already got a stellar user score! And for a good reason! You'll be blown away by the incredible atmosphere and attention to detail. With a range of stunning dancers and outstanding performances, you'll feel right in the club. And the best part? You get to interact with the dancers and experience the show a whole new way!
How good are the graphics of VR Paradise?
Regarding graphics, VR Paradise can compete with some of the best ⇒ VR Porn Games! The graphics are seriously impressive! From the sleek and sexy environment to the hot-as-hell girls, every detail has been meticulously crafted to bring you the most realistic strip club experience possible. Just check out the character models - they're stunning! The skin, the boobs, the asses and the pussies...everything is rendered with exceptional detail. And when you set everything to "high" on your gaming rig, you'll be stunned by how realistic it all looks.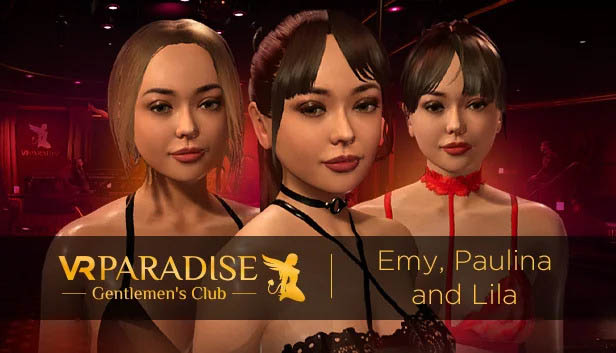 And the animations? Don't even get me started. I'm sure the developers went out and hired a bunch of professional dancers to create some seriously sexy dance moves. I love it when they use motion-capture technology in such a great way! The animation reminded me of ⇒ Holodexxx (Review), another VR Porn game with astounding animations! The girls on the poles are especially impressive, with their gravity-defying tricks and thrilling moves. Sure, the eyes of the strippers might seem to wander off into the distance from time to time, but let's be real - you're not here to look into their eyes, are you? You're here for the ultimate digital strip club experience, and VR Paradise delivers in spades!
Amazing graphics - 5/5 from me!
What kind of content does VR Paradise offer?
VR Paradise lets you build your dream strip club by customizing the number and type of girls you want. There are a dozen different girls you can hang out with. Mind you, all of them are insanely sexy!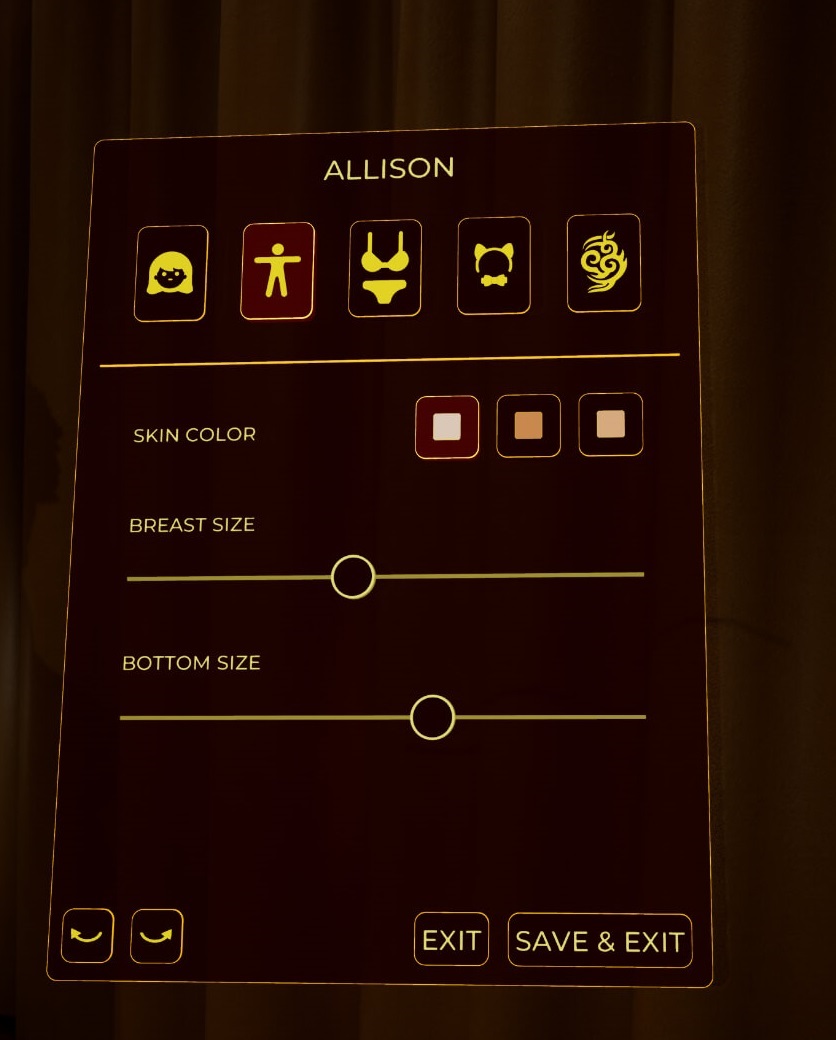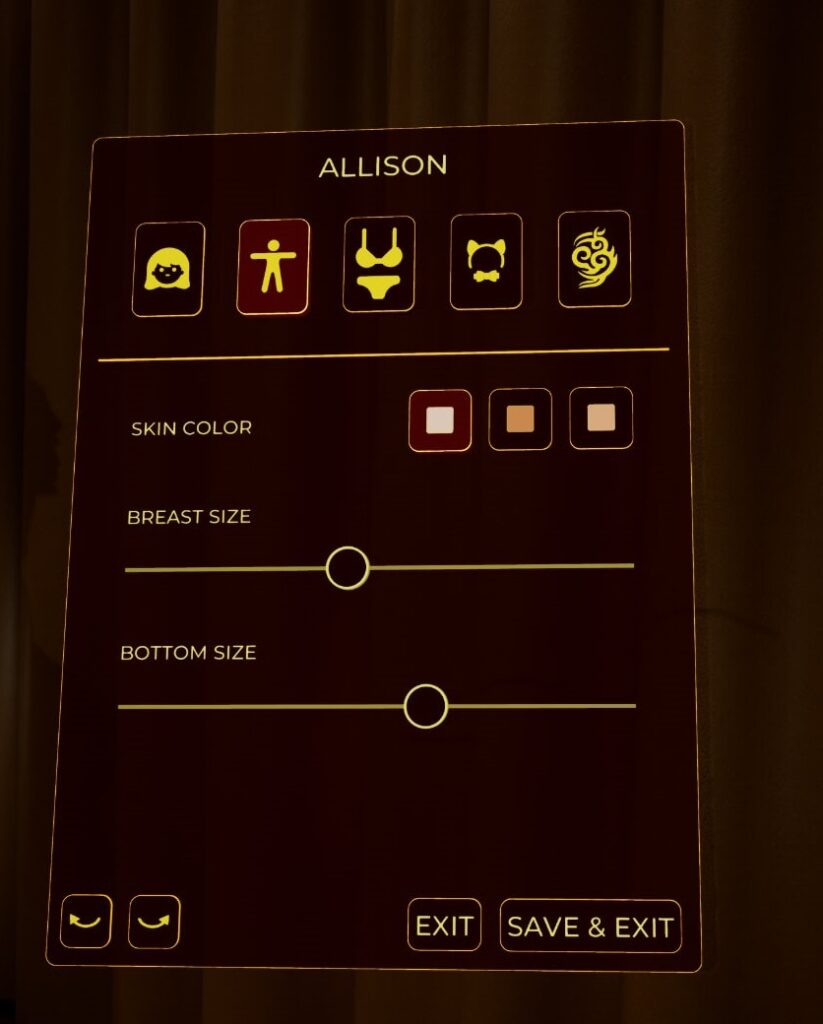 The game offers a good amount of modification options! The two main categories you can tweak are the club and the strippers themselves. When it comes to club customization, you can choose which NPCs or items you want to see. It's all up to you, so make sure to get those settings just right before you dive in! You get a maximum of 12 strippers for your club, and you can personalize each one before entering, making sure each babe is as smoking hot as you want her to be! You can modify almost every detail of the models, from changing their hairstyles and skin tones to tweaking their eyes and hair colors. You can also shape their tits and asses, choose from various outfits, add accessories and tattoos, and much more! The possibilities are endless. Of course, you can ignore the customization and dive straight into the action if that's what you're after. Plus, you don't have to worry if you forget to make a change during your club session - you can change your girls' appearances on the go, so you can keep fine-tuning everything while you enjoy your time in the club.
For their content, I'll give them 4.5/5.
What is the interaction like in VR Paradise?
You're in the driver's seat here. You can teleport to any location in the club and check out anything you want. I like that you can interact with bottles and glasses, kick back with a cocktail, and watch those gorgeous girls show off their moves on the pole. But I don't think you came here to drink. It didn't take long for me to start looking around for the hottest chick in the room and talk to her.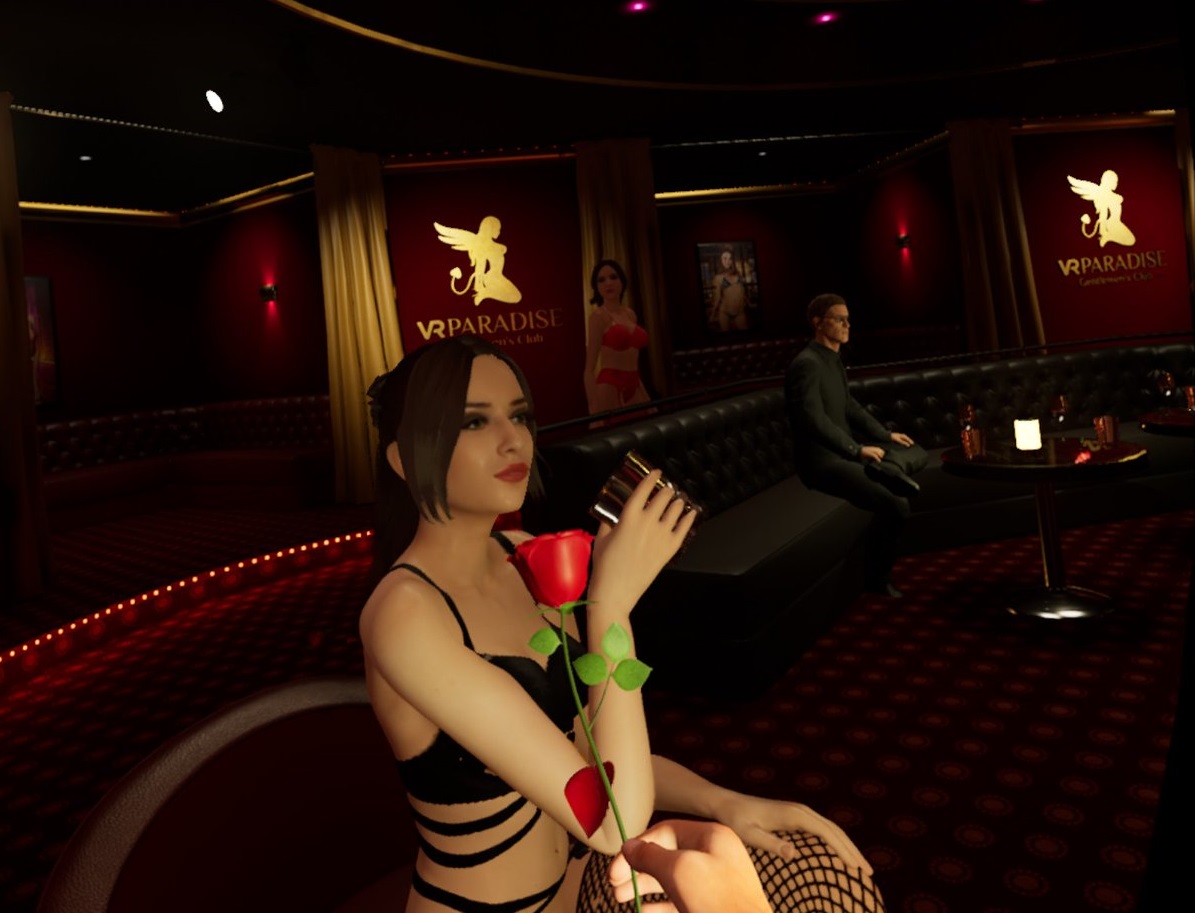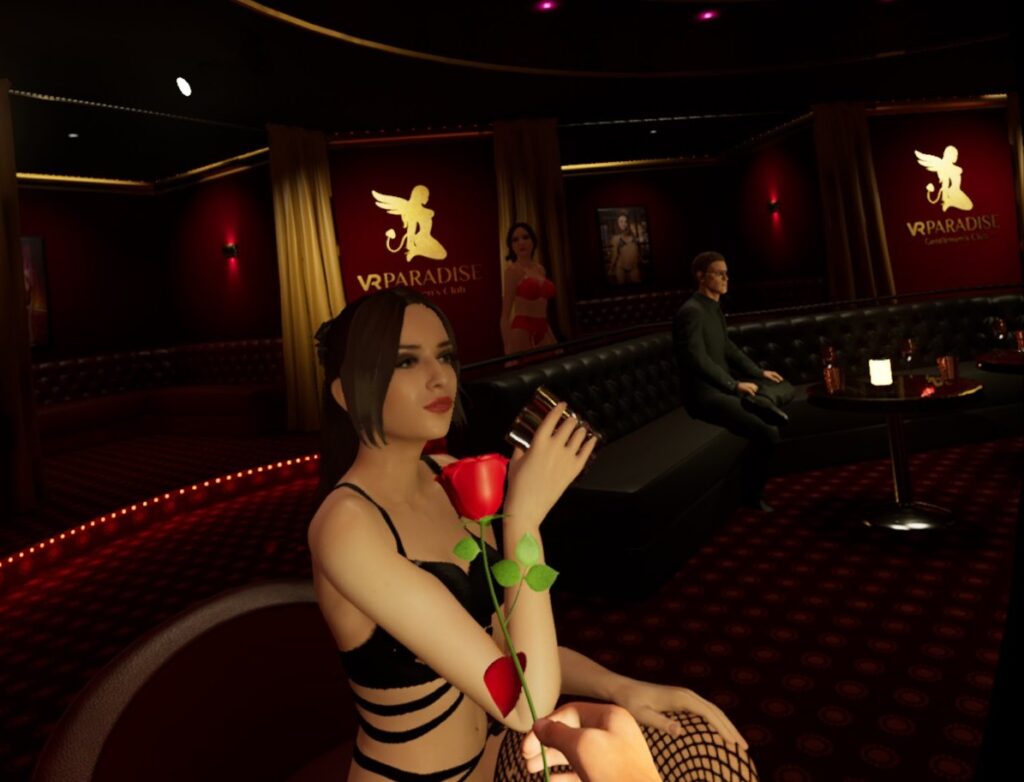 The interaction menu in the game offers some cool options like "Offer her a drink" or "Call her." However, her response was disappointing because she just drank and didn't do anything else. I was hoping for a more engaging experience. Maybe she could tell me her opinion on which VR Porn site is better - ⇒ VR Bangers (Review) or ⇒ VRPorn.com (Review)? I'm joking, they are both awesome! ⬇ Check them out ⬇! Anyway, when you "Call her," a couple of new options appear, including a "fully nude private dance," a "pole dance," and a "topless dance in the club." Naturally, being the horny dog I am, I chose the first one, which was amazing! It looks so natural, just like an actual strip club! But just a heads up, grabbing her boobs or pussy won't work. I tried the other two options, but the first one was the most interesting one.
The interaction in VR Paradise could be better. 4/5 from me.
What's the story of VR Paradise?
When you first launch VR Paradise, you'll get a quick tutorial on how to play. It's short but shows you how to interact with the dancers.
Once you're in the club's main hall, you'll see an incredibly realistic recreation of a strip club. And it looks authentic! You get all the usual stuff in there - Dancers on the poles, a bartender, security guards, a few guys watching the dances, and those nasty hot chicks you came to see in the first place! And boy, are they worth the trip! You can roam the club, check the scenery, and stare at the pole dancers. However, to get up close and personal with one of the girls, you must aim your controller at her and hit the "X" button. Environmental interactions are limited; you can only pick up some stuff and take a swig from your glass, but the interaction menu has plenty of options to keep you entertained while you chat with the ladies.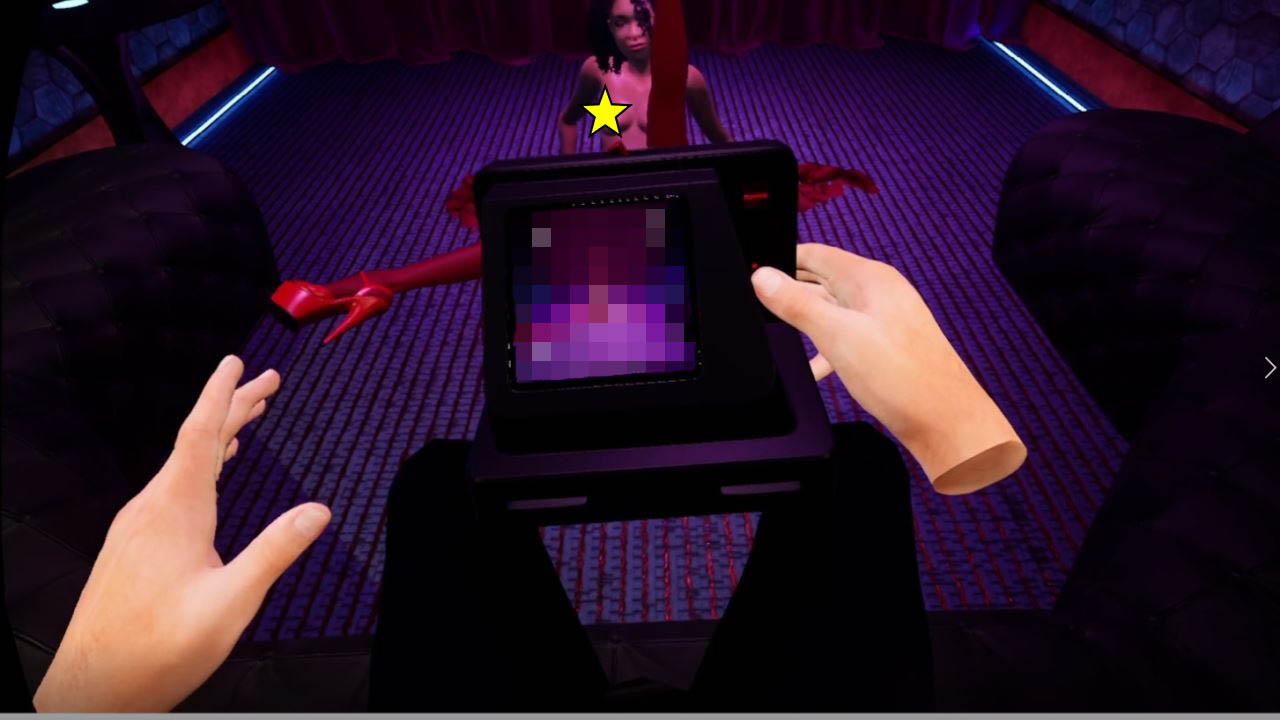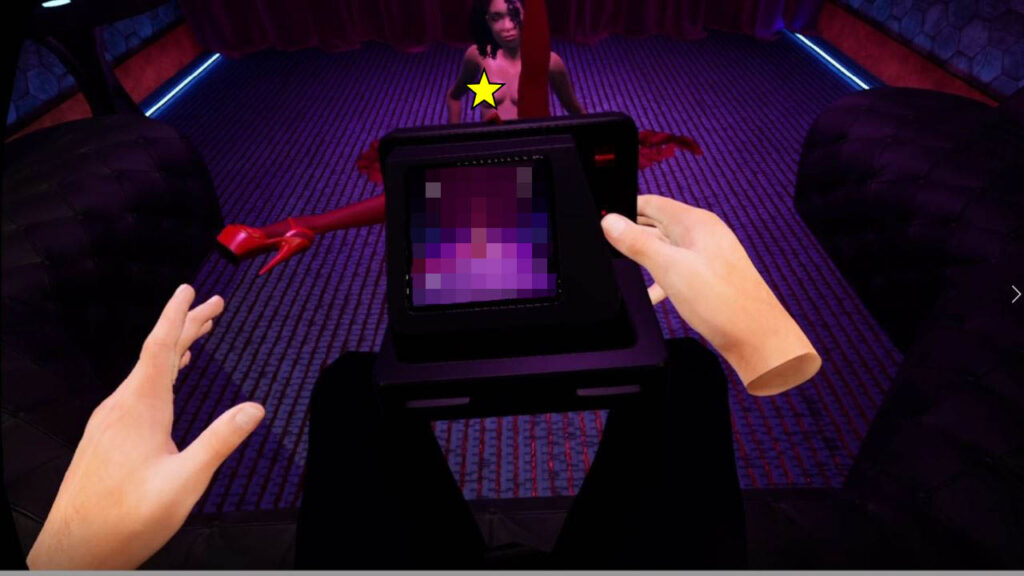 You'll also notice a wristwatch on your left arm. It offers a couple of options, like lighting up a cigarette, using a money gun (this one is exciting), banknotes to throw at the stripers, a rose and a polaroid camera that you can use to take photos in-game.
I'll rate the game 4.5/5 for its story.
Does VR Paradise feel like an erotic experience?
VR Paradise fully immerses you in the experience of a strip club. The attention to detail is what makes the game so erotic. From the ambient lighting to the seductive music, even the colors are specifically chosen to evoke a seductive and sinful feeling. As I said, the girls are stunning, with realistic bodies that leave little to the imagination. And it's hard not to feel curious when they get up close and personal during private dances. It reminds me of a ⇒ VirtualRealPorn (Review) scene called "Strip club at home." It's awesome - see for yourself ⬇!
But while the game does an excellent job of creating a sexy atmosphere, the lack of interactive elements can take away a little from the overall immersion. Sure, you can grab a drink or two, but beyond that, there's little to do. In addition, the girls need more dialogue, and the environment offers little interactivity. Overall, VR Paradise is a great way to experience the thrill of a strip club, but it could benefit from more engaging elements to keep you coming back for more.
For their erotic experience, I'll rate them 4.5/5.
Conclusion: Do we recommend VR Paradise?
VR Paradise is an excellent sandbox-style strip club simulator. It does an excellent job of making you feel like you're in an adult club. The graphics are impressive, especially the girls! The game already has some DLC and special events, like the Halloween-themed one. However, it needs to focus more on the interactions between the player and the girls, with a more extensive dialogue and a progression system with challenges to increase replayability. Hopefully, the developers are already working on making these improvements.
Bottom line, VR Paradise is a game that has a ton of potential and is worth considering for those interested in this genre!
VR Paradise is a sandbox-style simulator that'll make you feel like you're right in the middle of a strip club! And those graphics? They're straight-up impressive, especially when it comes to the lovely ladies!